Prior to the 2019 NFL Draft, the Washington Redskins locked up Matt Ioannidis for three more seasons with a three-year, 21.75-million-dollar contract extension.
Coming out of Temple, it was unclear as to what Ioannidis' role would be at the NFL level. There were concerns about whether his motor and strength would be able to make up for his lack of high-level athleticism and a strong collection of pass-rushing moves. However, now three years into his NFL career, it's safe to say that Ioannidis has silenced the doubters as a pass rusher and exceeded his fifth-round draft position.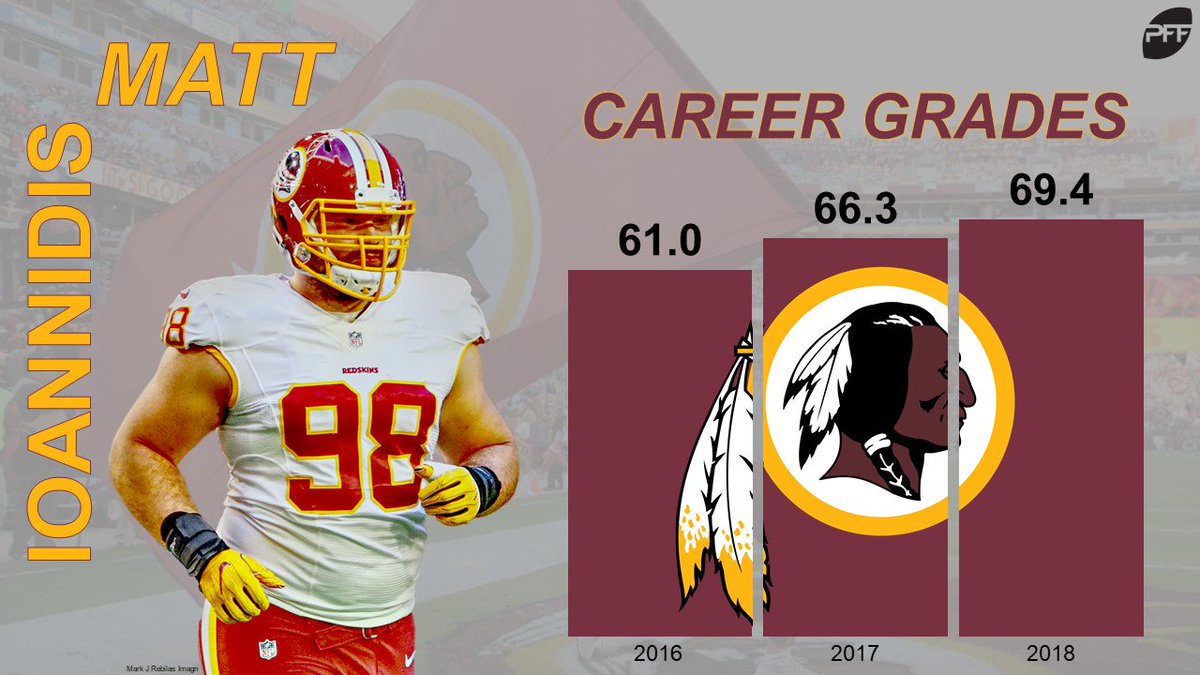 Since the start of the 2017 season – when Ioannidis began playing a significant role on the Redskins' defensive front – his 73.8 pass-rush grade ranks 15th among 103 qualifying interior defensive linemen. He consistently finds himself in the backfield on pass-rushing sets. Ioannidis has notched a 13.5 percent pressure rate and a 15.1 percent pass-rush win rate over these last two years; that pressure rate finishes behind only Aaron Donald, Fletcher Cox, and Geno Atkins – not too bad for a fifth-round pick in his third year coming into the league with concerns over his pass-rush repertoire and athleticism at the NFL level.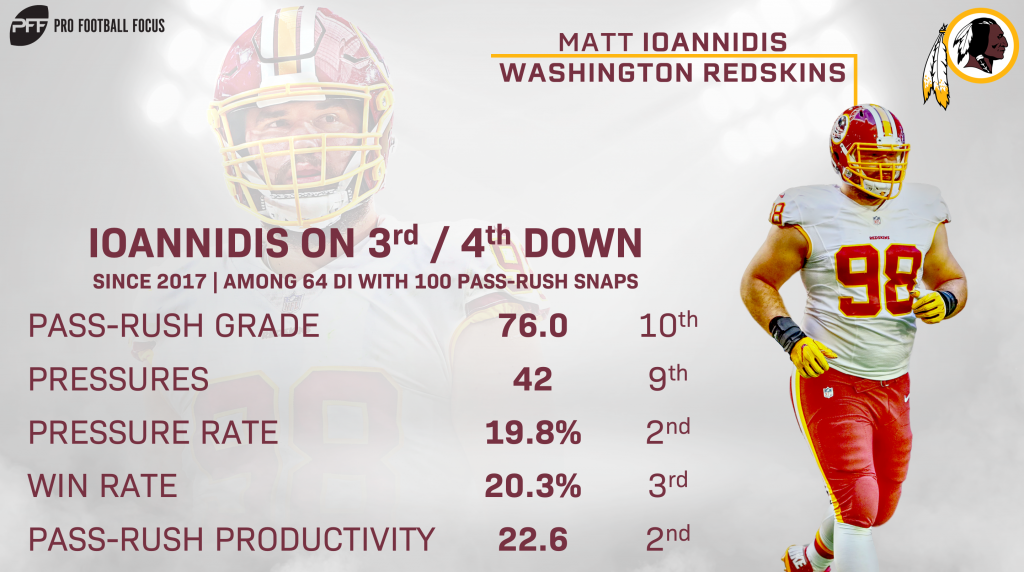 In third and fourth down pass-rushing situations, Ioannidis is able to take it up another level. His pass-rush grade over the last two years on those downs jumps up to 76.0, ranking 10th among interior defenders with at least 100 pass-rush snaps. What's really impressive is just how frequently he's able to beat his blocker. Ioannidis has a pass-rush win rate of 20.3 percent (third) and a pressure rate of 19.3 percent (second) on third and fourth down since the start of 2017. The only interior defender getting more pressure on the quarterback than Ioannidis on the money downs for a pass rusher is the reigning two-time defensive player of the year, Donald.
As a whole, Ioannidis has been able to increase his overall grade each year in the league, from 61.0 on limited snaps his rookie year to 66.3 in 2017 to 69.4 last season. As one might gather from those grades failing to crack 70.0 despite strong pass-rushing efforts, Ioannidis has been shaky in run defense. His highest grade in that facet of the game came back in his rookie season at 61.1. That being said, he has shown improvement overall year after year and his pass-rushing success warranted the new contract he signed last week. The ability to consistently disrupt the pocket is a valuable commodity in the NFL, and that is what Ioannidis has brought to Washington.