Up until a few weeks ago, the Baltimore Ravens' edge presence left a lot to be desired, which was a feeling that Ravens fans have seldom been exposed to over the recent years of the John Harbaugh era.
After all, led by Terrell Suggs, Baltimore's group of edge rushers have finished in the top seven among teams in pressure total in four of the last six seasons, which included a second-place finish in 2014, a seventh-place finish in 2017 and a third-place finish in 2018 — the latter being a season that saw the pass-rush duo of Suggs and Za'Darius Smith combine for 115 total pressures on the year, the sixth-best edge partnership in the NFL.
But when the first wave of free agency swept away Suggs and Smith to the Arizona Cardinals and Green Bay Packers, respectively, huge holes were opened up in the pass-rush, leading many, including we here at PFF, to wonder how it could ever be successfully replaced. And while it did take over two months and a draft to address the issue, those holes finally seem to be plugged in time for the 2019 season with the recent signings of veteran edge defender Pernell McPhee and former first-rounder Shane Ray.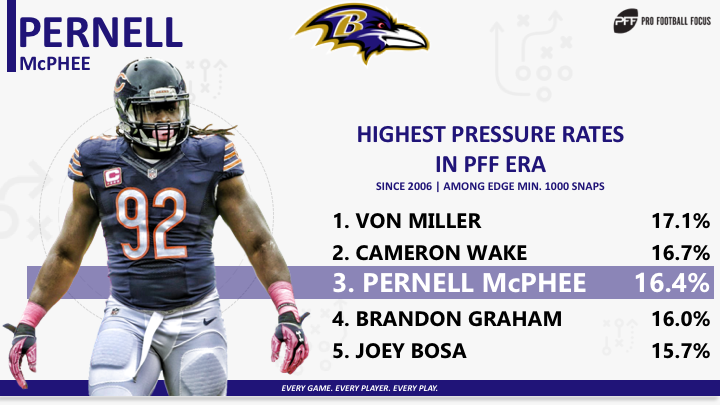 For McPhee, who was drafted by the Ravens in the fifth round of the 2011 NFL Draft and spent the following four seasons with the team, it'll be more of a homecoming than a new start, but it's still a hugely underrated move by the Ravens, who have acquired — for little in the way of money — a player who can bring the pressure with the best of them.
The former Mississippi State Bulldog performed admirably during his first stint in Baltimore. From 2011 to his last game with the team in 2014, McPhee produced 10 sacks, 28 hits and 50 hurries from his 536 pass-rushing snaps, and he earned a very respectable 78.4 pass-rushing grade that ranked 28th among the 115 edge defenders with at least 400 pass-rushing snaps in that span. And while his rotational role really kept him from the limelight (his 536 pass-rushing snaps were the 88th-most during that timeframe), McPhee regularly proved that he was among the league's best at winning his pass-rushing matchups and getting to the quarterback: Among the aforementioned group of 115 edge defenders, McPhee's pass-rush win rate (15.9%) ranked third behind only Brandon Graham (19.5%) and Von Miller (16.8%), while his pressure rate of 16.4% tied for fourth.
The Mississippi State product then spent three injury-riddled years in Chicago before landing a situational role in Washington for the 2018 season, but even though he'd suffered from injury and was limited to only 729 pass-rushing snaps in those four years, McPhee's ability to win matchups was still quite evidently intact, and he played his way to a 16.3% pressure rate and a 17.7% pass-rush win rate that ranked tied (with Khalil Mack) for fifth, and ninth, respectively, among the 138 edge defenders with at least 400 snaps from 2015 to 2018.
In eight years in the league, only once has McPhee failed to record a pass-rush win rate of more than 10.0%, and he's coming off a 2018 season in which he won 17.1% of his pass-rushing snaps — a figure that tied with Brandon Graham and flat-out beat the likes of Demarcus Lawrence and Dee Ford.
And the good news for Ravens fans is that those numbers get all the more impressive when we take away blitzes, stunts, play-action dropbacks, trick plays and quick throws — all data points that can somewhat skew a pass-rusher's pure numbers. Among the 42 outside linebackers with at 100 snaps on such plays since 2011, McPhee's 90.1 pass-rushing grade is tied with Justin Houston and Demarcus Ware for seventh, and his 30.5% win rate and his 28.2% pressure rate are both only beaten by Von Miller.
Put it together, and you get a player who has consistently shown that he's among the league's best at beating the blocker in front of him; a player who is more than capable of picking up from where Terrell Suggs left off.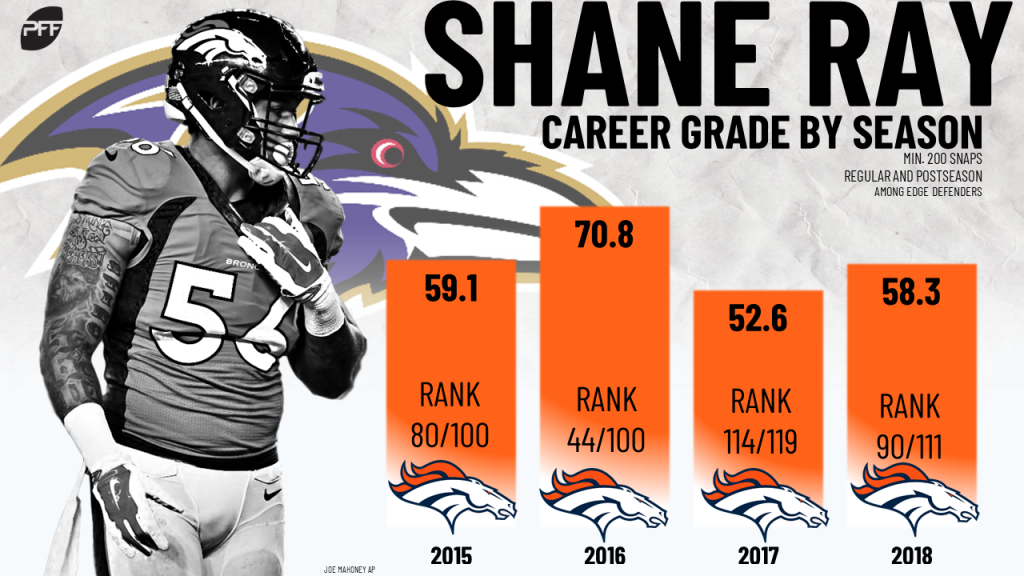 For Ray, it's a chance at a new start with a team that can finally give him the opportunity to live up to his first-round pedigree.
Coming out of the University of Missouri, there were few more productive than Shane Ray during the 2014 college season, and his consistency marked him out as a player capable of performing at the next level. The Missouri pass-rusher produced multiple pressures in 12 of his 14 games that season, and he produced at least four pressures in nine of those games. He ended the year with a 90.8 pass-rush grade that tied with Frank Clark for the second-best mark in his class, while his 13.0% pass-rush win rate tied for 12th among 45 qualifying players at the position.
After a disappointing rookie season with the Broncos in 2015, a season in which he played just 406 snaps and earned a subpar 59.1 overall grade, Ray had somewhat of a breakout year in 2016. He saw his playing time increase to 664 snaps — 358 of which came as a pass-rusher — and he impressed by racking up 10 sacks, 13 hits and 22 hurries throughout the year.
It was in this 2016 season when he really took a step forward as a pass-rusher and showed the same glimpses as he regularly showed in college. After winning 11.6% of his pass-rushing snaps as a rookie, a mark good enough for 61st among qualifying edge defenders (Pernell McPhee actually ranked first with a 22.6% win rate that year), Ray drastically improved during his sophomore year and won 15.6% of his pass-rushing matchups on the year — a mark that ranked 18th among qualifying edge defenders and just one spot below the perennially productive Ryan Kerrigan. Ray ended the 2016 season with a pass-rushing grade of 71.2 that was good for 32nd among 122 qualifying players at the position.
After such a promising sophomore season, a recurring wrist injury kept Ray from seeing significant snaps thereafter. He managed just 354 snaps in 2017 and a career-low 253 snaps in 2018, which led to his departure from the Mile High City. But now fully recovered, Ray has the chance to prove that 2016 season was no fluke, and he should be chomping at the bit to show everyone just what he's capable of with a full workload.
Final thoughts
The loss of Suggs and Smith is a big one, make no mistake. Suggs has registered at least 45 total pressures in each of the past three seasons and Za'Darius Smith racked up 61 total pressures — with 10 sacks — during his final year in Baltimore. But with the signings of McPhee and Ray, the Ravens get two players who, despite having the requisite talent and having made the plays that should have warranted an increased workload, have been pushed down the depth charts for the majority of their respective careers. And now that they're both fully healthy, and now that they have starring roles waiting for them, the two pass-rushers can set out to prove that they're both more than capable of filling the holes that were left behind.