As new General Manager Eric De Costa has taken the reigns in Baltimore, we have seen huge changes on the defensive side of the ball. Four starters from a year ago are already in new surroundings, but the biggest impact has been felt in their pass rush. Edge defenders Terrell Suggs and Za'Darius Smith are expected to sign with the Arizona Cardinals and Green Bay Packers when free agency officially opens today, leaving the team with two big holes to fill on the edge of their defense.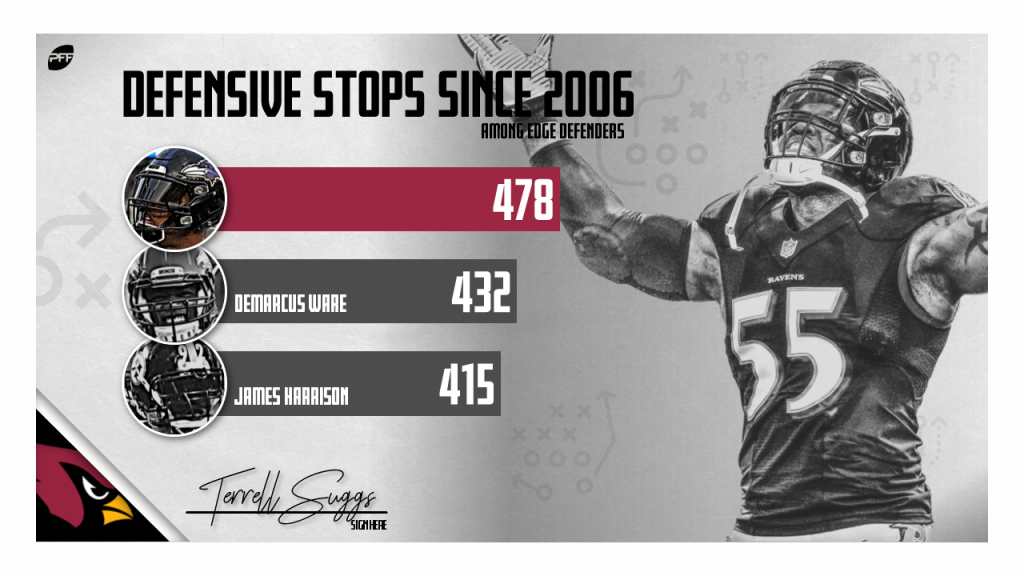 Suggs has been one of the core members of the Ravens defense since arriving in the NFL as the 10th overall selection out of Arizona State back in 2003. We began collecting data and grading players during the 2006 season, and over that span, the former Sun Devil has racked up 661 total pressures — including 121 sacks — on 6,246 pass-rushing snaps. While he is aging (he turns 37 during the 2019 season), Suggs has registered at least 45 total pressures, including eight sacks, in each of the past three seasons, and he produced a solid 70.0 PFF grade in 2018.
Za'Darius Smith had far less time to make an impact in Baltimore, but he is coming off the best season of his four-year career. In 2018, he racked up 61 total pressures — with 10 sacks — in the regular season and playoffs, finishing the year with a 78.7 PFF pass-rushing grade that was tied for 14th among edge defenders. His huge deal with the Packers suggests that they are gambling on him being able to continue to grow as a player, but he is still a big loss for the Ravens defense.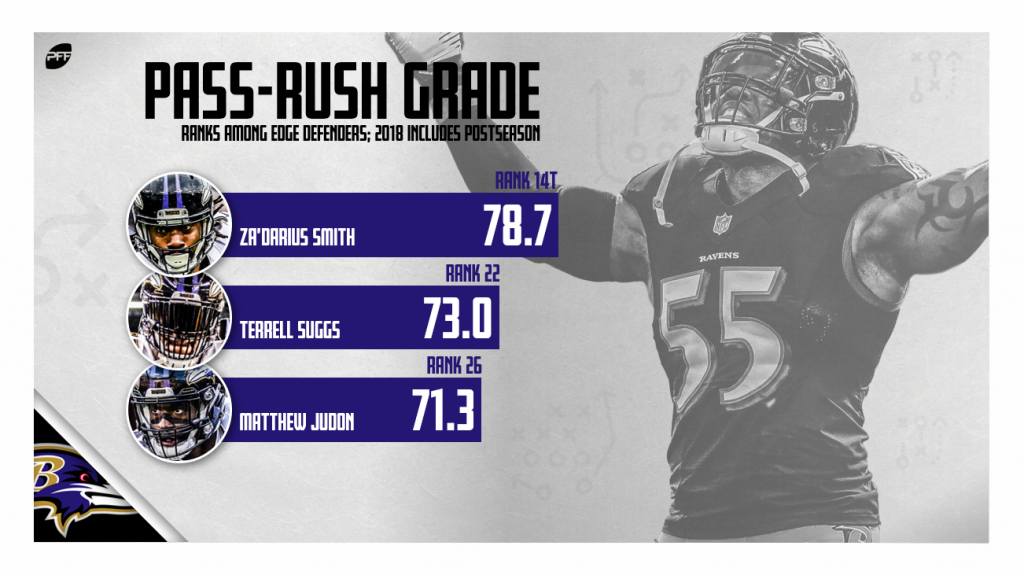 Adding in the losses of safety Eric Weddle and linebacker C.J. Mosley, who have far bigger roles on defense than as pass rushers, but still chipped in with some big plays of their own in that regard, the Ravens have lost 142 of their 343 pressures from a year ago, with Suggs and Smith combining for 34.7% of their pass-rushing production.
The Ravens have yet to make any noise in free agency, but their options to replace Suggs and Smith are limited. They can look to add to the team in free agency, hope for an increase in production from players already on the roster, or look to the NFL draft to bolster the unit.
Edge defender Matthew Judon was the next-highest-graded pass rusher on the roster last season, producing a PFF pass-rushing grade of 71.3. A 2016 fifth-round draft pick, it was by far his best season as a pass rusher in the NFL. What the Ravens will be hoping for is that Judon can step up in his fourth season as Smith did. Smith went from a PFF pass-rushing grade of 62.0 and 40 total pressures to a grade of 78.7 and 61 total pressures from year three to four, and if Judon can replicate that progression, he should make a big impact in 2019. Outside of Judon though, the Ravens next most credible options are Tyus Bowser and Tim Williams, who combined for 19 total pressures on 162 pass-rushing snaps in 2018.
There are options in free agency if the Ravens want to go down that route, with former Kansas City Chiefs standout Justin Houston the top option on the market, but with the way the Ravens have handled free agency so far, a big splash like that seems unlikely. Instead, someone like Shaquil Barrett may be a more realistic target. Barrett saw a career-low in snaps in Denver last season but has produced PFF pass-rushing grades of 71.0 or higher in each of the past four seasons. With 104 total pressures on 861 snaps, he has routinely impressed in a complementary role, so it would be interesting to see how he handled a bigger role.
Should the Ravens wait until the draft, you can pretty much rule out Ohio State's Nick Bosa, Kentucky's Josh Allen, and Florida State's Brian Burns, with all three expected to be drafted fairly early in the first round. In Steve Palazzolo's most recent mock draft he had Clemson's Clelin Ferrell and Boston College's Zach Allen come off the board in the second half of round one. They produced PFF pass-rushing grades of 89.7 and 90.3, respectively, in their final seasons in college, but picking at 22nd overall there are no guarantees for the Ravens and drafting for need is not usually a wise strategy.
What is clear is that the Ravens have big question marks on the edge of their defense. What is less clear is how they can fix that issue in 2019 and beyond.