Three years ago, the Green Bay Packers were coming off an NFC championship game appearance and a 12-4 season with a roster that was set to retain all of its starters except cornerback Tramon Williams over the offseason. Instead of using their draft picks that offseason to fill needs, the Packers had the luxury of doing some future planning. They selected safety-turned-cornerback Damarious Randall in the first round, then basketball-player-turned-cornerback Quinten Rollins in the second.
They might not have been 100 percent NFL ready prospects, but with Casey Hayward (one year left) and Sam Shields (three years left) under contract, the rookies didn't have to be thrust into a starting role right away. Fast forward to the present day and Hayward has turned into an All-Pro after they let him walk in free agency, Shields' time in Green Bay was cut short with concussions, Randall was dealt to Cleveland this offseason after his three seasons were mired with inconsistency and Rollins isn't even assured a roster spot this fall after playing only 1,229 snaps in three years.
The Packers cornerback room that showed so much promise crumbled into one of the worst in the NFL over the past two seasons and cost them two chances at a Super Bowl. It doesn't take an analytics expert to tell you it had to be addressed. Even after selecting Kevin King at the top of the second-round last year, the Packers would have been irresponsible to let their previous faith in player development forgo contending another season of Aaron Rodgers' prime. And now after the chips of this year's draft have fallen into place, it's clear new GM Brian Gutekunst had learned his lesson.
Positional Value Meets Need
When evaluating the moves the Packers made this past weekend, its very likely that drafting defensive backs in Rounds 1 and 2 was the plan all along. On the clock at No. 14 overall with Derwin James and Jaire Alexander on the board, the Packers traded down to the Saints for the 27th overall pick and the Saints first pick in 2019. Once James was selected at No. 17 though, the Packers jumped right back up to the very next pick to select Alexander. The Louisville cornerback allowed all of five receptions last season in six games and could have been in the conversation with Denzel Ward for the first cornerback off the board if he didn't get injured.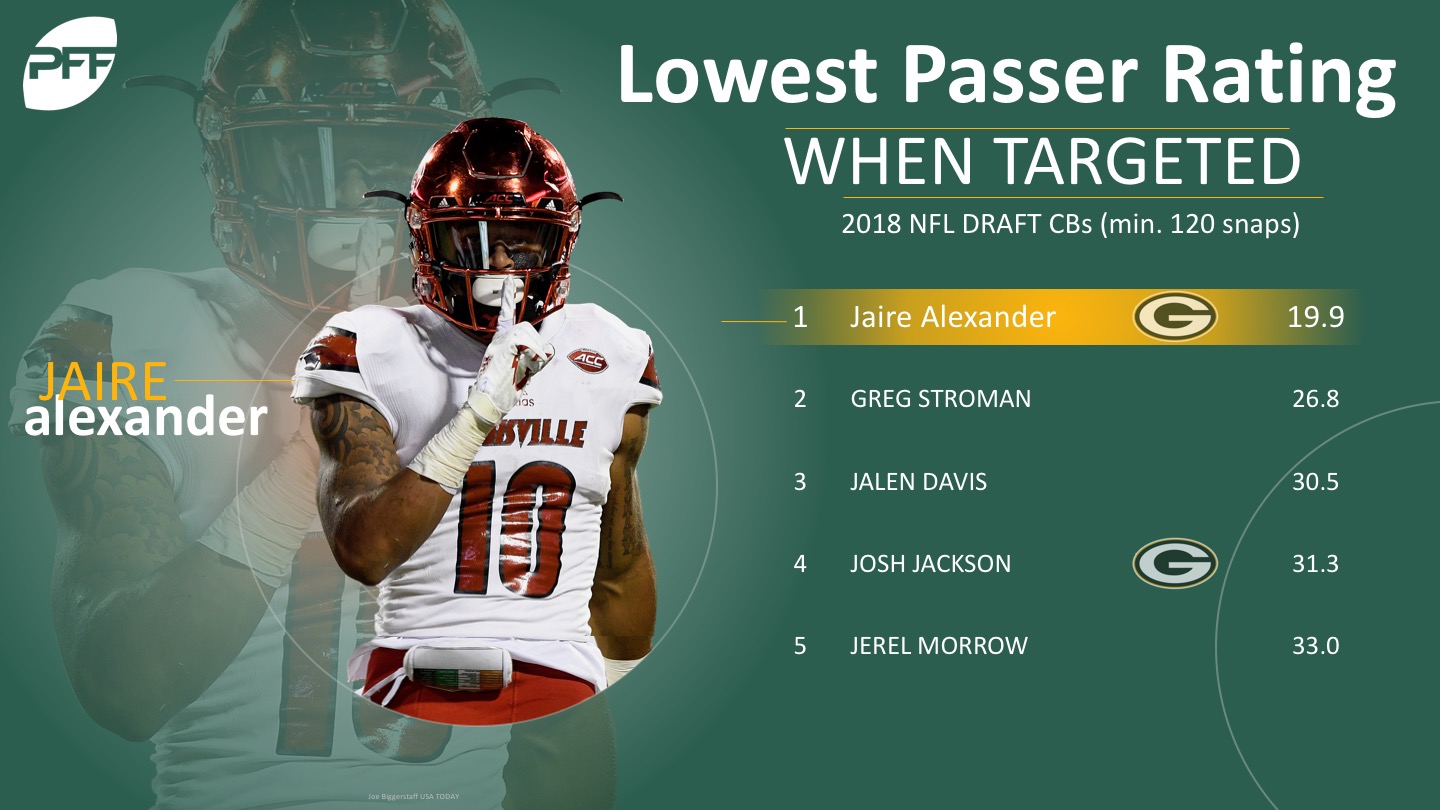 The Packers then stood pat with their next selection at 45 overall – one pick in front of the cornerback-needy Chiefs – and took the top corner on PFF's board, Josh Jackson of Iowa. Jackson's 25 combined interceptions and pass breakups were the most in the country last year and seven clear of second place. That's PFF's top corner and third-ranked corner (with Minkah Fitzpatrick considered a safety) now on the Packers roster if you're keeping track at home. All this in what we considered to be a fairly strong cornerback class.
Those selections have franchise-changing potential. For a cornerback room that had the likes of Kevin King, Tramon Williams, Davon House penciled in as starters before the draft, there's now far more reason to excited in Green Bay. Those players had grades of 41.0, 88.8 (although he just turned 35) and 50.3, respectively, a season ago. With those three, there was no feasible shot at a top-10 pass defense. Now a top-10 finish is within reach. Seven cornerbacks from a season ago posted grades of 80.0-plus as rookies. In PFF's data, we've seen that our pass-coverage grades have the second-strongest correlation to winning after passing grades and if both Alexander and Jackson end up at 80.0-plus, Green Bay's defense will have seen a transformation on par with the Saints from last year.
Not Done Yet
Gutekunst didn't stop drafting defense and made it known that he wanted coverage upgrades in the linebacker room as well. They moved back up into the third-round to take linebacker Oren Burks of Vanderbilt. Burks athletic testing numbers at the combine shown below would be good for a cornerback, only he plays linebacker.
| | |
| --- | --- |
| 40 | 4.59 |
| Bench | 18 |
| Vert | 39.5″ |
| Broad | 10'11" |
| Shuttle | 4.15 |
| 3-Cone | 6.82 |
It was a position where there wasn't necessarily a need, but neither Jake Ryan nor Blake Martinez can hold a candle to Burks athletically. The Vanderbilt linebacker has only recently been given that designation. For the first two years of his career in Nashville, Burks was a safety. He transitioned to the box as a junior and while it came as a detriment to his run-defense grade – where he was one of PFF's lowest in the country a season ago – the coverage skills were evident. The run-defense might not even be too much of an issue in a Mike Pettine coached defense, as he let the undersized Kiko Alonso play over 1,000 snaps for him as a rookie with the Bills in 2013. Burks will almost assuredly start immediately in their dime defense and feasibly have a chance of winning the starting job.
Mike Pettine's Defense
With Pettine, you can expect the same preponderance of sub-packages the Packers saw under Dom Capers, although now it's going to be paired up with far more man and matchup-man concepts than we've seen in recent years from the Packers. The Packers played all of 339 passes in single-high coverage last year, the sixth-fewest in the NFL. Odds are they'll be on the opposite end of the spectrum in 2018. One of the things Pettine is a fan of is playing matchups from single high looks – most famously with Darrelle Revis and the Jets in 2009. Drafting one large corner, one shorter corner and one athletic linebacker gives Pettine the flexibility to do just that. That group paired with the 6-foot-3 King gives the Packers' secondary an answer for almost anything the offense throws at them personnel wise.
Upshot for 2018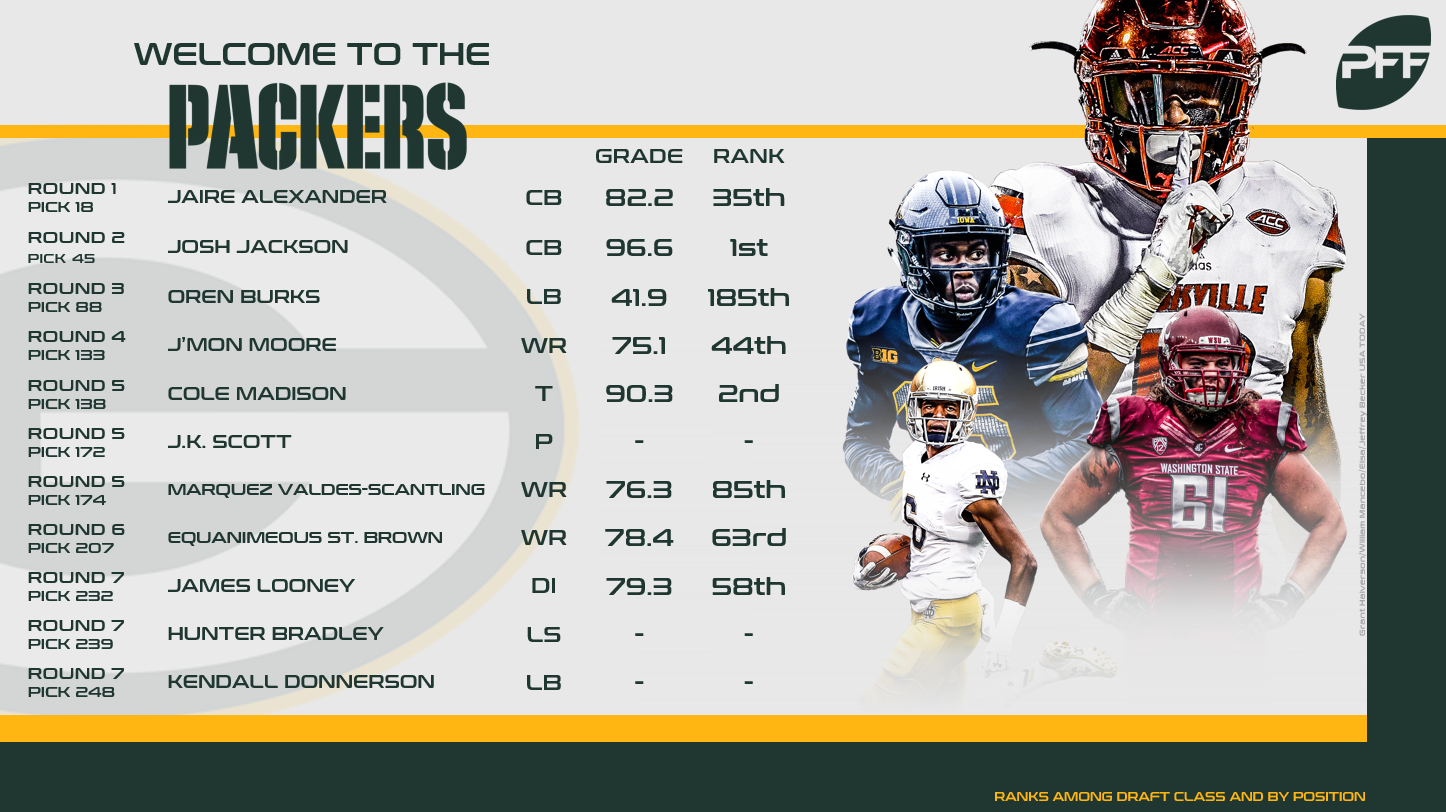 Realistically, relying on rookie cornerbacks to be cornerstones of a defense can backfire quickly. At the same time, it can't be much worse than what we've seen come out of Green Bay in recent years. By hedging their bets at taking two corners, they obviously increased their odds of hitting on one. With Aaron Rodgers assuring you at minimum an above-average offense on the other side of the ball, a big leap forward from the defense could send them back to their spot amongst the NFC's elite.