As the NBA Playoffs continue to forge ahead with epic game winners, it seems like a nice to time for an article with a slight basketball twist.
In basketball, a triple-double is a double-digit total in three of five statistical categories, but it's generally achieved with points, rebounds and assists.
It got us thinking, what would be the NFL's equivalent of a triple-double?
So, after looking through all the stats available in Premium Stats 2.0, I settled on the pass-rushing triple-double: players who accumulated double-digit sacks, hits and hurries over the course of the regular season. Fifteen players in the NFL managed the feat in 2018, so here's our look into the performance of each one.

INTERIOR DEFENSIVE LINEMAN
21 sacks, 20 hits, 65 hurries
Aaron Donald was the single most destructive force in the game in 2018, earning an overall PFF grade of 95.2 and recording a staggering 106 quarterback pressures in the regular season — both the best marks of any player in the league. Donald produced a 25.9% win rate and a 19.2% pressure rate on his 552 pass-rush snaps last season, again, both the highest rates in the NFL.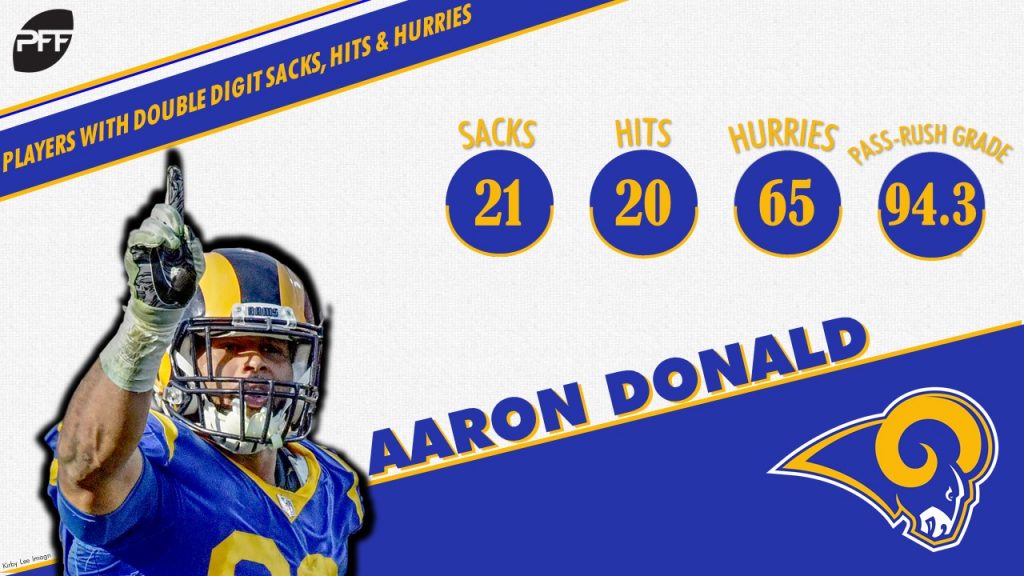 16 sacks, 14 hits, 44 hurries
Chris Jones ranked fifth among his peers with an elite overall grade of 91.0 last year, and his 74 regular-season quarterback pressures were behind only Aaron Donald (106) and Fletcher Cox (95) among interior defensive linemen. On 471 pass-rush snaps through Week 17, Jones generated a pressure rate of 15.7%.
11 sacks, 24 hits, 60 hurries
Fletcher Cox ended the year ranked second among interior defenders with an overall grade of 92.5, and his 95 quarterback pressures were the most we've ever seen from an interior defensive lineman not named Aaron Donald. Cox produced a 20.9% win rate and a 16.6% pressure rate on his 572 regular season pass-rush snaps last year — both second at his position.
11 sacks, 13 hits, 26 hurries
The Seahawks have to be thrilled with the way Jarran Reed has developed along their interior defensive line. In the 2018 regular season, Reed generated 50 total pressures and a 10.7% pressure rate across 467 pass-rush snaps. His 50 total pressures last season were 16 more than his previous two seasons combined (2016 – 11, 2017 – 23).
EDGE DEFENDERS
15 sacks, 17 hits, 45 hurries
Newly acquired San Francisco 49ers edge rusher Dee Ford turned in a breakout year in his fifth season as a pro, the first season in which he earned an overall grade higher than 65.0. His overall grade of 88.6 ranked 11th among edge defenders in 2018, and his pass-rush grade of 91.0 ranked first. Ford led all edge defenders with 77 total pressures last year.
13 sacks, 13 hits, 38 hurries
Filling Ford's void in Kansas City in 2019 will be Frank Clark. The edge defender will only turn 26 later this year, and he has three straight seasons with 10-plus sacks. His three-year (2016-18) pass-rush grade (79.2) ranks tied for 18th among the 50 NFL edge defenders with at least 1,500 defensive snaps in that span. He also turned in a career year in multiple respects in 2018, logging career-best marks in terms of total regular-season pressures (64), pass-rush win percentage (17.4%) and pressure percentage (14.5%).
16 sacks, 10 hits, 38 hurries
Miller continued his perfection in 2018 and has now logged grades of 90.0-plus every year since being drafted in 2011. His 90.3 overall grade ranked inside the top five among edge defenders last season, with his 90.0 pass rush grade coming in at third overall. Miller's quarterback pressure production dipped a bit, but he still finished with 64 pressures on 474 pass-rush snaps.
13 sacks, 11 hits, 39 hurries
This offseason, the Cowboys rewarded Demarcus Lawrence with a fresh five-year contract worth $105 million and $48 million fully guaranteed at signing. Lawrence's 89.5 overall grade last season ranked seventh among all edge defenders in the NFL, and his 63 total pressures were good enough for 15th at his position.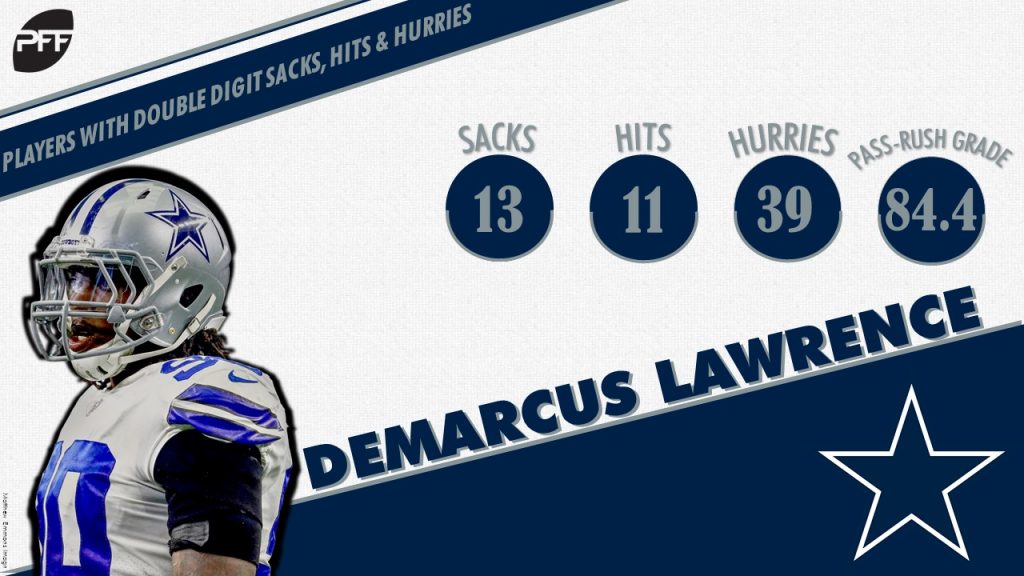 10 sacks, 24 hits, 30 hurries
Yannick Ngakoue has quietly developed into one of the most productive pass- rushers in the entire league since being drafted in the third round in 2016. Last season, he posted 64 total pressures on 459 total regular season pass-rush snaps, good enough to tie for 10th-best among edge rushers. His 64 pressures were a slight decrease from his 2017 breakout season in which he tallied 82 total pressures, including the postseason.
10 sacks, 17 hits, 32 hurries
Before signing with the Green Bay Packers this offseason, Za'Darius Smith produced his first career pass-rushing triple-double en route to 59 total regular-season pressures in Baltimore. Both his overall and pass-rush grades have increased each season in the league, with last season setting career highs at 71.7 and 78.7, respectively.
11 sacks, 20 hits, 37 hurries
Now a member of the New England Patriots, Michael Bennett has been a consistent force as a pass-rusher throughout his time in the league. He's one of only five players at the position who has tallied at least 40 pressures in each of the last seven seasons, and he has recorded at least two quarterback pressures in 117 of his 146 career games. In 2018, Bennett produced a 76.2 overall grade and 68 total pressures on 513 pass-rush snaps.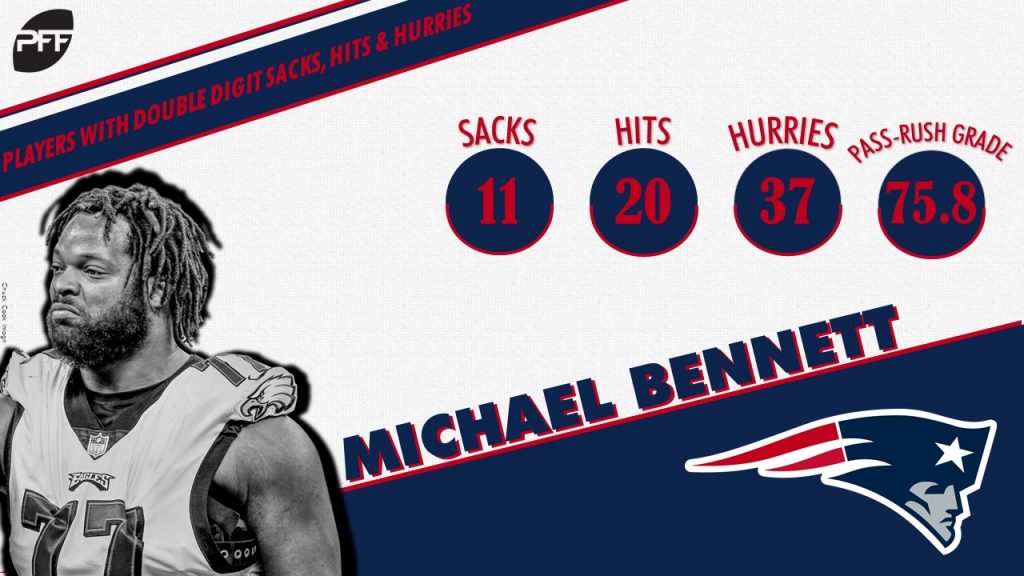 17 sacks, 12 hits, 35 hurries
J.J. Watt was back to his utterly dominant self in 2018. He was once again named a PFF All-Pro, and his 74 pressures were the second-most among edge defenders. Watt ended the 2018 regular season with at least three quarterback pressures in 14 straight games, which is the longest active streak by four games. On 607 regular season pass-rush snaps, Watt produced a 15.3% win rate and a 12.2% pressure rate.
12 sacks, 11 hits, 28 hurries
T.J. Watt joins his brother on the pass rushing triple-double list after producing a career-best 52 total pressures last season. Watt manufactured a 75.8 overall grade in his second season but really hit his stride from Weeks 10-17 by generating an 87.7 overall grade to close out the year. Watt raised his pass-rush win percentage from 12.8% in the first half of the season to 20.7% in the second half, and he recorded a pass-rushing grade of 90.0 from Weeks 10 to 17 that was second only to Von Miller in that span.
15 sacks, 16 hits, 36 hurries
Myles Garrett made a considerable jump in terms of quarterback pressures from Year 1 in the NFL (37) to Year 2 (67). The second-year edge defender ranked 13th at the position with an 87.0 grade last season, and he was one of only two defensive linemen to register over 1,000 snaps. His 15 sacks tied for third at the position, while his 18.5% win rate ranked first among edge defenders with at least 50 pressures.
11 sacks, 11 hits, 31 hurries
Despite a down year for the Jaguars, Campbell's production stayed consistent in his 11th season. Campbell is about as well-rounded as they come, and he demonstrated this by generating 53 total pressures and 43 stops against the run in 2018. On 465 pass-rush snaps last season, he produced a 14.8% win rate and an 11.4% pressure rate. This is Campbell's third pass-rushing triple-double of his stellar 11-year career.