In a season dominated by quality quarterback play and offensive firepower, Kansas City Chiefs' phenom quarterback Patrick Mahomes has been the story of the 2018 NFL season through seven weeks. A lot of hype surrounded the former Red Raider's entrance into the starting lineup this season, and so far he's managed to live up to every bit of it.
Mahomes has piloted a Chiefs offense that leads the NFL in points per game (37.1), is tied for the lead in yards per play (6.9), and trails only the Los Angeles Rams in PFF's team offense grades, and he's done so with some of the best quarterback play we've seen this season. He ranks in the top five in all the major traditional measures of QB performance: touchdown passes (1st), passing yards (2nd), yards per attempt (T-4th), and passer rating (114.0). Our play-by-play grading shines Mahomes in an even more positive light, as his 91.1 overall grade currently sits in second, trailing only Drew Brees.
It's difficult to find many holes in the second-year player's game this season, but a few areas have stood out above the rest when it comes to understanding why Mahomes has been so successful.
Outside the pocket
Perhaps no other area exemplifies what makes Mahomes so special more than his play from outside the pocket. Mahomes isn't simply the best quarterback in the league right now when breaking the pocket (whether designed or improvised), he's lapping the field. His 542 passing yards are 202 more than the next closest passer (Aaron Rodgers), and that gap alone is more than over half of the league's starting quarterbacks. An NFL-leading 11 big-time throws have helped to push that yardage total ahead of the pack — no other quarterback has more than four.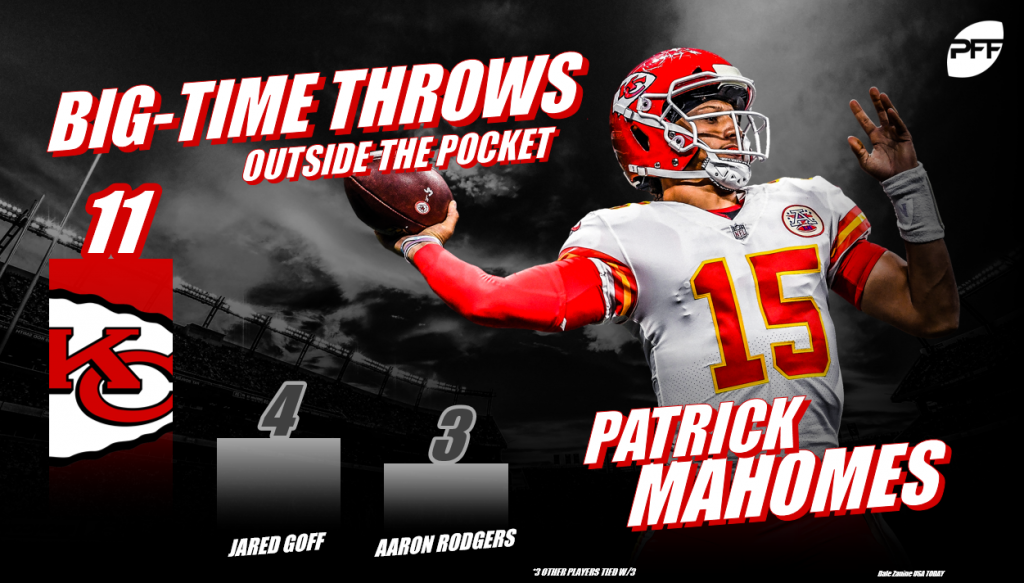 Mahomes has done all of this while largely keeping mistakes to a minimum. His red-zone interception at the end of the first half in New England stands out as an example of him perhaps trying to do too much, but those plays have been outliers through seven games, not the norm. He's had only three turnover-worthy plays among his league-high 85 out-of-pocket dropbacks. In fact, only seven of those dropbacks have resulted in a negatively-graded throw, compared to a whopping 37 positively-graded throws. When Mahomes is on the move, good things are happening for the Chiefs offense.
There aren't many things to dislike about Mahomes' game so far, but he's been on fire when throwing on the move (either designed or scrambling). pic.twitter.com/KxdAeI75Yv

— David Neumann (@PFF_David) October 24, 2018
Coming out of Texas Tech, one of the concerns with Mahomes was a tendency to get out on the move too soon, bailing from clean pockets when he would've been better off staying put. While those plays still pop up from time to time, Mahomes has shown a lot of improvement in this area. As you can see in the clips above, his movement has largely come only after pressure forces it or once he's exhausted his options within the structure of the play and needs to look to create.
Put it all together, and you get a 94.2 passing grade out of the pocket that is lightyears ahead of the pack. Cam Newton is the only other quarterback to crack even 80.0 this season (83.6), and he's done so on one-quarter of the dropbacks (22). It's only been seven games, sure, but Mahomes' performance on the move is on a level we've only really seen from Rodgers in the PFF era (going back to 2006) in terms of both effectiveness and volume. Mahomes' 94.2 grade would be the best we have on record should he be able to sustain it, and only Rodgers' 2015 season was higher after Week 7.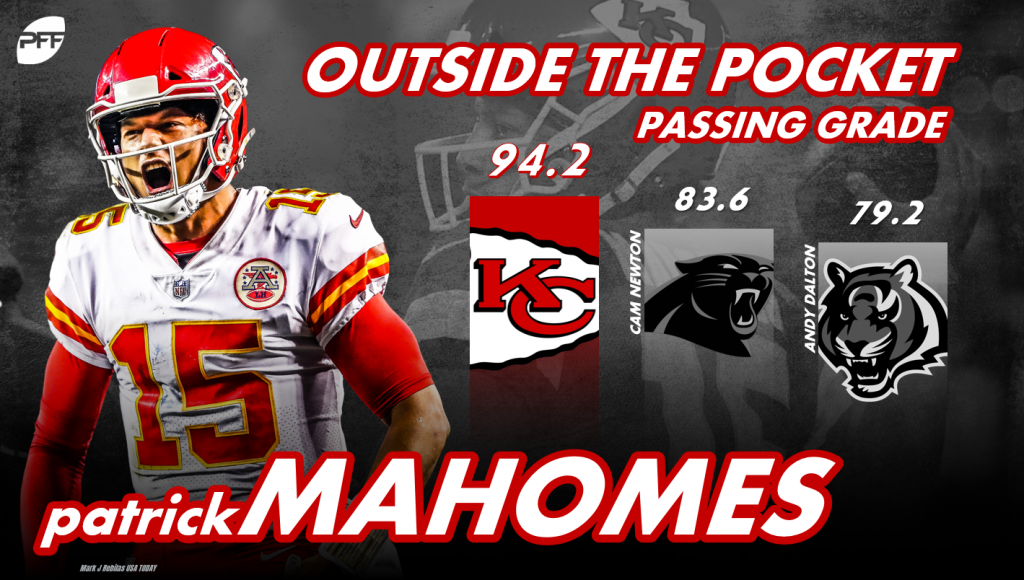 Deep passing
Often, when Mahomes breaks out of the pocket he's looking for a big play downfield. But the deep throws have been a big part of his game and the Chiefs' offense, regardless of whether they come from in or out of structure. 17.9% of Mahomes' pass attempts have traveled 20 yards or more in the air, or about one in every six throws, good for the second-highest rate in the league.
How good has Mahomes been throwing the deep ball this season? He's thrown for a league-leading 722 deep passing yards, 142 yards more than the next quarterback. His 16 big-time throws on deep passes are the most in the PFF era after Week 7, and his 98.5 deep-passing grade has only been topped by Tom Brady in 2007 (99.7) at this stage of the season — as you might remember, Brady and the Patriots were decent that year.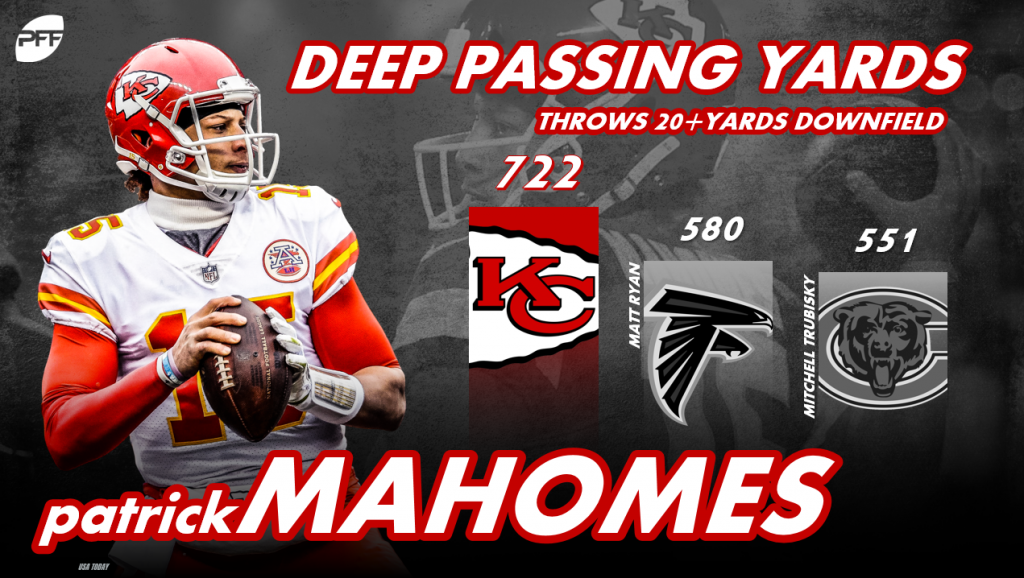 Even the most casual observers are likely aware that Mahomes has an absolute cannon for an arm. Watch the clips above, however, and you'll notice the most impressive thing about the bulk of his deep throws hasn't been the velocity (though that's definitely in there, too). Instead, his touch and ball placement have really stood out when watching Mahomes' deep passes.
Zone coverage
It's impossible to discuss Mahomes' early success without also mentioning the phenomenal situation he currently finds himself in. Few teams boast the full complement of weapons Kansas City puts on the field every week — Tyreek Hill, Travis Kelce, and Kareem Hunt are all grading among the top 10 at their respective positions. And Andy Reid has done a masterful job putting all of these talented pieces in the best possible position to succeed.
This synergy between quarterback, play-caller, and receiving talent has been most apparent when opposing defenses have played zone coverage, which to put bluntly, has been a mistake.
I'm not entirely sure how you stop the Chiefs right now, but I do know it's not with zone coverage. This offense has absolutely shredded it at pretty much every opportunity. pic.twitter.com/7xHwzEfvqH

— David Neumann (@PFF_David) October 24, 2018
Time after time, when defenses go to zone coverage the Chiefs are scheming players open and Mahomes is finding them for big chunks of yardage. No other quarterback has made a higher percentage of his throws to open receivers than Mahomes, and Kansas City's collective effectiveness in picking apart zone coverage is a big reason why. Our coverage data currently goes back to 2014, and Mahomes' production versus zone is the best we've seen at this point in the season. His 14 big-time throws and 10 touchdowns are both the most anyone has managed after Week 7, leading to a 94.1 passing grade against zone that would top every quarterback over the last five seasons.  
Many quarterbacks are capable of sitting in the pocket and picking apart vanilla zone coverages, but even defenses' attempts to disguise coverage before the snap have failed. If we use a simple definition for "disguise" as showing a two-high safety look pre-snap and rotating to a single-high look post-snap (or vice versa), Mahomes has the second-highest passing grade to go along with an 89.7% adjusted completion percentage and a 117.6 passer rating. Put another way; defenses simply haven't been able to fool the young quarterback.
Mahomes hasn't been completely without flaw. About the only way to slow down Kansas City's passing attack has been to play man coverage. Mahomes' passing grade against man coverage drops down to 60.6, well below where he's at in just about every other split. The problem is, while every defensive coordinator would sign up for the "play man coverage and force the quarterback to make difficult throws into tight coverage all game" gameplan, it's not exactly that simple. You need the players defensively capable of matching up with the Chiefs' considerable offensive talent, and the reality is there aren't many teams who can say that right now.
As every player does, Mahomes will inevitably hit some bumps in the road. Through seven games, however, he has unquestionably been playing fantastic football. In multiple areas, he's playing as well as we've seen any quarterback play over the past decade-plus. He's been wildly entertaining to watch, and right now, the NFL MVP honors are Patrick Mahomes' to lose.