With the combination of a new coaching staff, free agent additions and a young franchise quarterback, the New York Jets are going to be a fascinating team to follow in 2019.
Being in the spotlight isn't something unusual for this franchise, but hope is alive and well in the Big Apple. While many recent offseason stories have been focused on their front office, once the season begins, all eyes will be on second-year quarterback Sam Darnold in the hope that he can take this offense to the next level. To do so, Darnold and wideout Robby Anderson will need to build off the promising connection that was one of the most productive in the league down the stretch last year.  Let's take a more in-depth look at what the two accomplished last season and why it could mean big things for the upcoming year.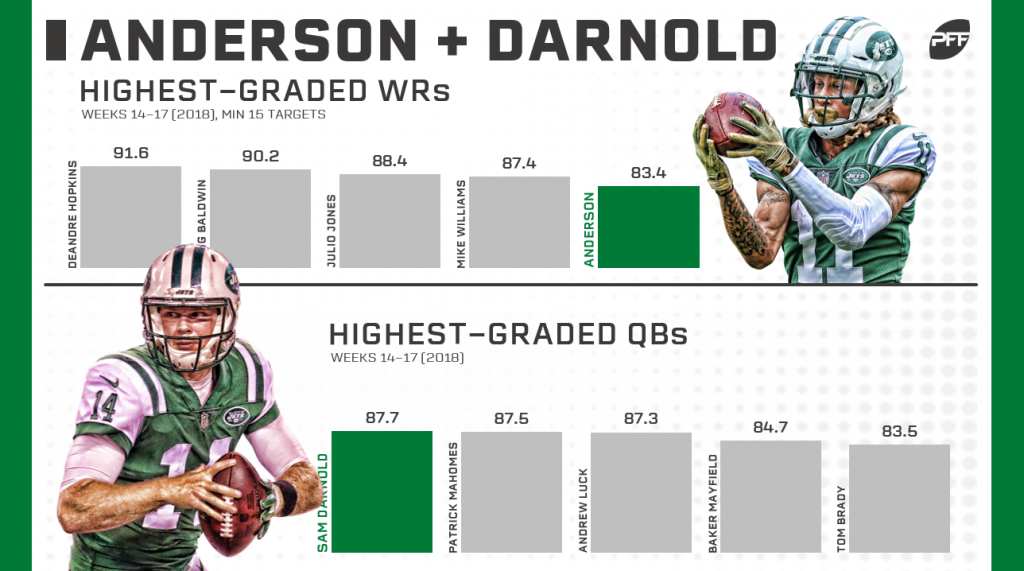 Late in 2018, we discussed how Anderson's development into more of a complete wide receiver led to an impressive late-season performance. In particular, the four-week span from Week 14-17 should have Adam Gase's new staff feeling plenty optimistic as the two youngsters were putting fear into opposing secondaries. Of all wide receivers with 15 or more targets over those four weeks, Anderson finished with the fourth-highest receiving grade (83.4), while snagging 23-of-36 targets for 336 yards and three touchdowns. Anderson was also among the league's best on a per-route basis, as he accumulated 2.53 yards per route run over that final stretch — eighth-best among wideouts in that span.
However, Anderson's late-season spike in production was no coincidence. During that very same period, Darnold was finally showing exactly why the Jets took him third overall in the 2018 draft. From Week 14 to Week 17, Darnold earned the highest overall grade (87.7) of any quarterback in the NFL, accumulating 931 passing yards, six touchdowns and just one interception. So what was the difference in Darnold's play? Look no further than his 118.5 passer rating from a clean pocket — a figure that ranked second among qualified quarterbacks over that final four-game span. This was a stark improvement from the 83.1 mark he set during the first 13 weeks, and it helped salvage an otherwise disappointing rookie campaign.
Darnold's ability to step up in a clean pocket and make snap decisions is the clear area of strength for the young signal-caller. Despite releasing the ball in less than 2.5 seconds on only 42.1% of his dropbacks during Weeks 14-17, Darnold's 121.5 passer rating when doing so was far and away the highest figure over that timespan.
There's no doubt that Darnold and Anderson developed a chemistry that should carry right into the 2019 season. The results speak for themselves as the duo has played in 11 total regular season games together and Anderson finished with a 130.0-plus WR rating in five of them. Additionally, of Darnold's five highest-graded passing performances, Anderson had at least 75 yards receiving and one touchdown in four of them.
The Darnold-Anderson connection has the potential to be a special one in the coming years and while it's not a given, the vast improvements by both players down the stretch of the 2018 season is a strong indication that things are heading in the right direction.