Robby Anderson didn't get drafted. He was labeled a one-trick pony, just a deep threat. He was arrested twice in nine months and narrowly avoided a league suspension prior to the 2018-19 NFL season.
Anderson, however, has pushed past early adversity and tapped into his sky-high potential in Year 3 of his NFL career, as he's expanded his skill set and made significant strides in the direction of a successful, long-term relationship with the New York Jets and Sam Darnold.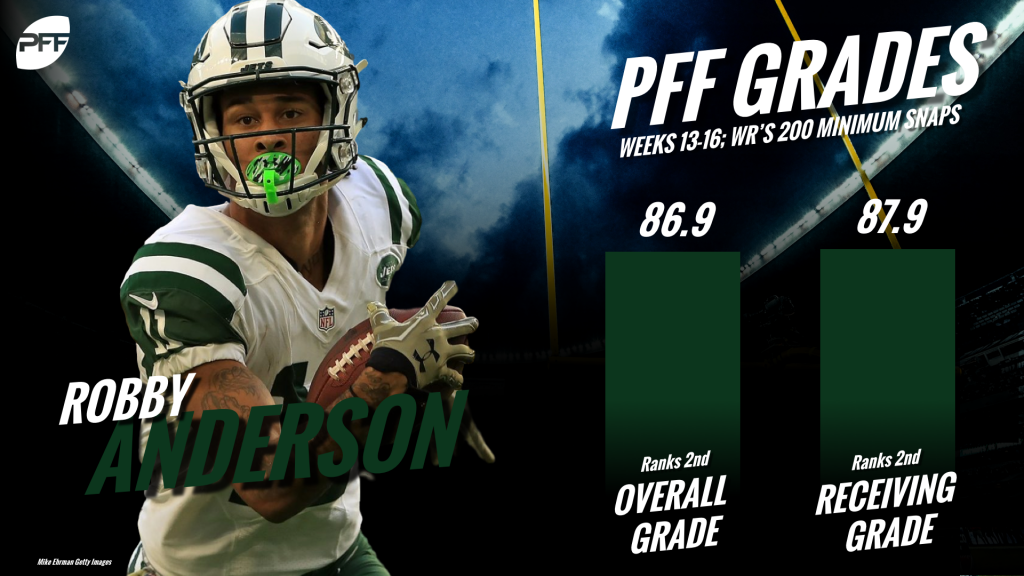 In Weeks 13-16 (four games), Anderson earned an 86.9 overall grade and 87.9 receiving grade, ranking second in both respects among the 42 wide receivers with 200-plus offensive snaps in that span. Anderson's recent surge pushes his season grade to just 69.0, but odds are it'd be higher if Darnold had been playing at the level he is now earlier in the year.
Prior to Week 14, Darnold ranked dead last in overall grade (50.9) among the 34 signal-callers with 250-plus offensive snaps. That all changed when he returned from injury (foot) in Week 14; no quarterback earned a higher overall grade than Darnold (91.3) in Weeks 14-16.
And who's been Darnold's right-hand man throughout his recent ascent?
Anderson.
In the three-game stretch of Darnold dominance, Anderson has more than double the targets (28) and receiving yards (312) of any Jets pass-catcher. He also leads the team in receiving touchdowns (3), first downs (16), yards per route run (3.15) and passer rating when targeted (143.8) in the same three-week span.
Though Anderson finished with a higher yards per route run average (1.91) and overall grade (71.4) than where he stands currently, the drop-off is a byproduct of Darnold's slow start and Anderson's concerted effort to diversify his route tree and go beyond the deep ball, the latter being a just sacrifice for better play in the future.
In 2017, Anderson gained a more than half (55.5%) of his receiving yards on just go routes and hitches. He also gained 43.4% of his total receiving yards on targets of 20-plus air yards. He was indeed just a deep threat with a hitch route to counter the long ball, making him predictable and easy to defend compared to the league's elite route-runners (i.e., Amari Cooper, Adam Thielen, Julio Jones).
Things have changed for Anderson in 2018, as he's now gained just 41.1% of his receiving yards on go routes and hitches, and only 36.7% of his receiving yards have come on targets of 20-plus air yards. He's making more plays in the short and intermediate areas of the field, and he's doing so with an expanded route tree, better hands, and better per-target efficiency.
Anderson has dropped just three of his 50 catchable targets (6.0%) and averaged 9.22 yards per target through Week 16. He dropped 8.7% of his 69 catchable targets and averaged just 8.48 yards per target a year ago.
Where Anderson has most notably improved is at the intermediate level. He has caught 20-of-26 targets for 300 yards, 13 first downs and two touchdowns on passes thrown between 10 and 19 yards down the field in 2018. Last season, he caught just 10-of-30 targets for 184 yards and nine first downs on passes at the same level. His yards per target average on such targets has gone from 6.13 in 2017 to 11.5 in 2018.
With a game to go and Darnold on fire of late, Anderson has an opportunity to finish a strong 2018 campaign with a bang against the New England Patriots in Week 17. A pending RFA, Anderson will also be adding to his case for a lucrative second contract in the NFL – a situation not many likely saw coming for the for the former UDFA earlier in the year.