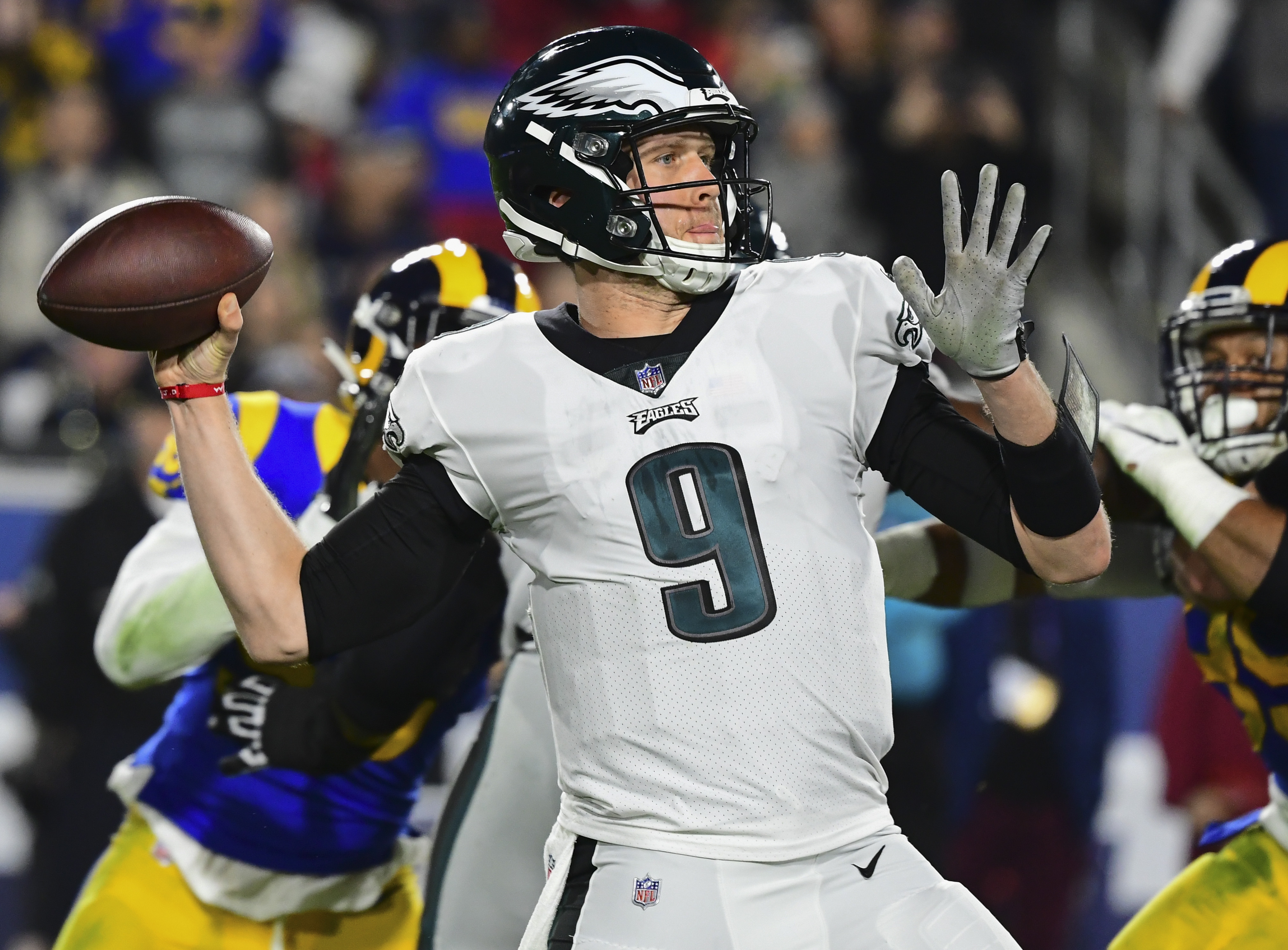 Dec 16, 2018; Los Angeles, CA, USA; Philadelphia Eagles quarterback Nick Foles (9) attempts a pass in the first quarter against the Los Angeles Rams at Los Angeles Memorial Coliseum. Mandatory Credit: Robert Hanashiro-USA TODAY Sports
It's happening again.
Well, probably not, but it's hard not to get caught up in the feeling of déjà vu after backup quarterback Nick Foles came in for an injured Carson Wentz and delivered a solid performance to hand the Los Angeles Rams just their third loss of the season. Foles' overall grade of 75.6 ranked 10th among all quarterbacks this week, and with uncertainty over the fracture in Wentz's back, it seems as if he will remain the Philadelphia Eagles' quarterback as they push for the playoffs.
Foles' elite stretch in the NFC Championship and the Super Bowl last season was one of the more unexpected performances in recent years. He took the reins in Week 15 last season, just as he did this year. Here are his overall grades by week.
Week 15: 71.7
Week 16: 31.9
Week 17: 34.3
Divisional Round: 50.7
Conference Championship: 93.8
Super Bowl: 92.3
Foles turned in two of the better performances of any quarterback in any game last season, and he did it on the biggest stage possible after struggling in three consecutive starts. What was the key difference in those final two games? Foles was absolutely lights out when throwing the ball 20 or more yards downfield.
In the NFC Championship and Super Bowl, he went 8-for-12 for 274 yards, four touchdowns and an interception on deep passes despite not registering a single turnover-worthy play, i.e. the interception was unlucky. Of those 12 pass attempts, seven were big-time throws. That sort of performance when taking shots downfield is something that isn't seen too often over a two-game stretch, and it certainly isn't something that Foles was showing earlier in the season.
In the four games from Week 15 through the divisional round win against the Atlanta Falcons, Foles attempted 13 deep passes and had as many interceptions as he did completions (one). The lightbulb going off on those deep passes was one of the leading factors in the Eagles hoisting the Lombardi Trophy, which makes it all the more promising for the Eagles that Foles had so much success when going deep against the Rams last week.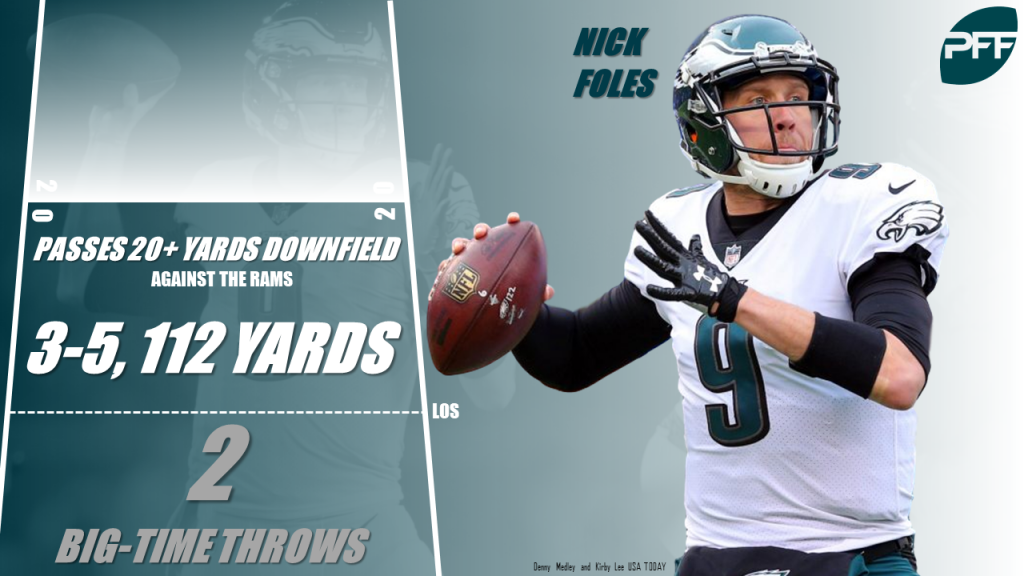 Granted, the Rams have allowed the third-most completions of 20-plus air yards and the second-most receiving yards on such passes, but once again, Foles was efficient when going deep. When going 20 or more yards downfield against Los Angeles, he completed three passes in five attempts for 112 yards and recorded two big-time throws. Foles was the highest-graded quarterback on deep pass attempts for the week. That came after some struggles going deep over his starts in the first two weeks of the season, where he went just 2-for-9 for 64 yards to go along with a turnover-worthy throw. It's only one game, but that sort of turnaround is just another way that history is repeating itself, and Foles' continued success taking shots is something that is critical to the Eagles' chances going forward.
However, that generally isn't one of the major talking points out there when looking at Foles against Wentz in the Eagles' offense. Two that do get discussed a fair amount are getting rid of the ball quickly and run-pass option (RPO) usage.
The consensus train of thought is that the Eagles look to get rid of the ball more quickly with Foles at quarterback than they do with Wentz, who can hold on to the football and try to play magician at times. If you look at the average time to throw for each guy, though, that isn't the case. This season, Foles has an average time to throw of 2.65 seconds this season while Wentz actually has a shorter average at 2.62 seconds. That matches up almost identically with Foles' average time to throw across the final two games last year when he was playing so well at 2.63 seconds.
Time to throw is the time from the snap until one of three things occurs – the release of a pass attempt, a sack or the crossing of the line of scrimmage on a scramble. Therefore, the average time to throw includes those plays for Wentz where he is running around trying to make a play and either is sacked or takes off with it. If you just look at pass attempts, Wentz is actually substantially quicker than Foles in getting rid of the football this year (2.49 seconds for Wentz vs. 2.60 seconds for Foles). The notion that the Eagles change their offense to get rid of the ball faster with Foles at the helm doesn't hold true.
As far as RPO usage, it really doesn't change whether Foles or Wentz is under center. If you look at the last two seasons, the Eagles have run the ball eight times per game on run-pass options under both Foles and Wentz as the starter. They've attempted 2.8 passes per game on RPO's with Wentz starting and 2.1 passes per game with Foles off RPO's. That's nearly identical usage regardless of who the quarterback is, and the offense has seen just about the same success when using it as well.
Scheme changes really aren't the key for the Eagles' offense under Foles; the scheme remains the same for the most part. The real key for the Eagles as they push to make the playoffs in these final two weeks is which version of Foles shows up, and particularly, whether or not he is able to connect on his deep passes. When he's on the money deep down the field, everyone has seen what the Eagles are capable of, and Sunday night just reiterated that.