The Buffalo Bills' offensive roster was not ideal for a rookie quarterback making his first start in the NFL. The team was still in the tear-down process of their rebuild around first-round quarterback Josh Allen, and holes littered the offensive depth chart. Yet, as is often the case, the rookie quarterback was thrust into the starting lineup after a dreadful performance by his placeholder to start the season. This particular placeholder was Nathan Peterman and his 24-yard, two-interception performance against the Baltimore Ravens in Week 1.
Fast forward through a roller coaster ride of a season that saw Allen injured in Week 6 vs. the Houston Texans, come all the way back to post a 90.8 overall grade in Week 13 vs. the Miami Dolphins, and the Bills have seemingly found their identity on offense. To quote PFF's 2019 QB Annual, "Allen's wild decision–making may never drastically improve, but there is a formula to build around his strengths."
That formula was to build an explosive, downfield offense that produces chunk plays, just as we here at PFF suggested this offseason. It's the same formula that general manager Brandon Beane and head coach Sean McDermott were a part of in Carolina when the Panthers built an explosive offense around Cam Newton before his MVP season.
Last season, Allen threw 35% of his passes after 3.1 seconds from the snap, and his average depth of target on those plays was a staggering 20.2 yards downfield. In fact, 22% of his throws were over 20 yards, which was 9% higher than the NFL average. While he was not spectacularly accurate on those throws (37% adjusted completion percentage versus the NFL average of 41%), the sheer volume of deep throws led to big plays and chunk-play scrambles when he broke the pocket. The challenge this offseason has been to find players that fit that style of play.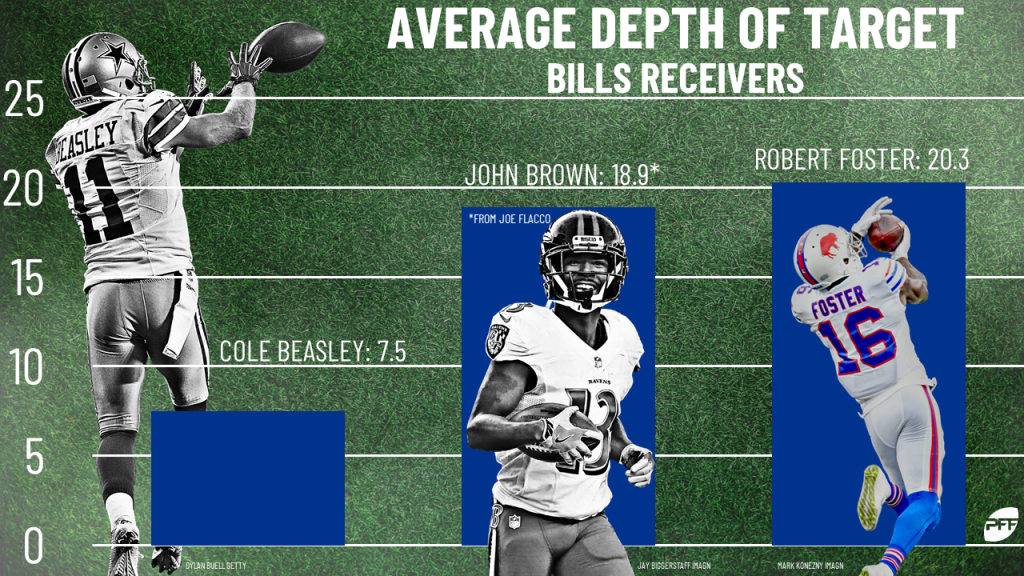 Pass-Catchers
The Bills brought in speedy deep threat John Brown from the Ravens, who signed as a free agent this offseason. Brown had ridiculous deep numbers when former Ravens quarterback Joe Flacco was under center. His average depth of target was 18.9 yards downfield, and his 24 deep targets (passes of 20-plus yards downfield) accounted for nearly half of Flacco's deep attempts last season (52).
The team added speed at the tight end position in the draft with the addition of Dawson Knox out of Ole Miss in the third round. Knox has explosive potential, despite a small sample size in college. The former Rebel averaged 18.9 yards per catch in 2018 and has the raw potential to be a playmaking threat at tight end.
The Bills also found a gem in rookie Robert Foster last season, who had an even more extreme average depth of target last season at 20.3 yards. He led all rookie receivers with 2.06 yards per route run despite being an undrafted free agent who was cut by the team at the beginning of the season.
The Bills didn't just add deep threats though. The team also brought in veteran slot receiver Cole Beasley from the Dallas Cowboys. On the surface, bringing in a small-framed route-runner to pair with Allen's general lack of pinpoint accuracy is a curious move. That is until you look at Allen's accuracy rating from 0-9 yards in the PFF QB Annual. Nearly half of the passes that Allen threw last year (49%) were to that depth of the field. Again, his adjusted completion percentage of 77.0% on these throws fell just below the NFL average of 83.0%, but he did show some promise when targeting that area of the field. His accuracy numbers to that area of the field were his closest to the NFL average, not counting passes behind the line of scrimmage.
Beasley's average depth of target last year was 7.5 yards with the Cowboys, so he has proven production in Allen's "sweet spot." In fact, 46 of Beasley's 69 receptions last year came between 0-9 yards downfield. The Bills likely see Beasley as an underneath weapon who can create separation in the space created by the deep-threat duo of  Foster and Brown.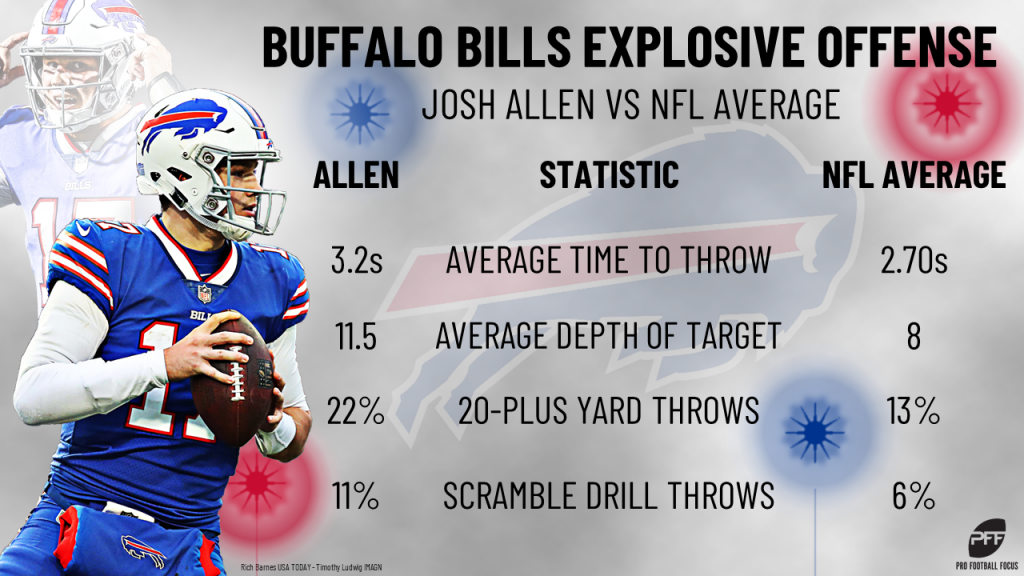 Offensive Line
Allen had the second-highest percentage of dropbacks under pressure last season at 43.4%, trailing only Deshaun Watson of the Houston Texans. The Bills were aggressive this offseason, acquiring six offensive linemen in free agency and trading up to draft another in the second round of the 2019 NFL Draft. One thread that runs through most of the linemen they acquired is that they are better pass-blockers than run-blockers. That's a wise move by Beane and McDermott, after all, Allen needs to be given adequate time to throw — his average time to throw of 3.2 seconds was the highest in the NFL among qualifying quarterbacks in 2018.
The biggest name on the list of free agent acquisitions this offseason is former Kansas City Chiefs center, Mitch Morse. Morse allowed only four total pressures in 11 games last season, and he finished the season with a 99.5 pass-blocking efficiency. He did all of this while blocking for quarterback Patrick Mahomes, who threw 15.9%of his passes deep, which was tied for the third-highest rate in the NFL in 2018. In fact, Morse hasn't allowed a sack since his rookie season in 2015.
An off-the-radar signing that may pay dividends for the team was left guard Quinton Spain. His pass-blocking efficiency of 98.1 was tied for 16th in the NFL in 2018. Spain has never been a household name, but he's been a good pass-blocker in his four previous seasons. Spain has yet to post a single-season pass-blocking grade below 74.0.
The Bills also got a steal in free agency by signing swing tackle Ty Nsekhe to a two-year contract. Nsekhe has never been a full-time starter, but he's been a quality backup who allowed only 11 pressures last season, playing snaps at every position except center across the offensive line.
Second-round pick Cody Ford has the potential to be the best pass-blocker of the group. Ford allowed seven pressures in his final college season including an impressive performance against the Alabama Crimson Tide, where he allowed only one pressure. Ford was the 22nd overall prospect on the PFF Top 250 Big Board and the fifth-best tackle prospect according to the 2019 Draft Guide. His 99.1 pass-blocking efficiency was fourth in the draft class among qualifying tackles with at least 225 offensive snaps and well worth the pick at No. 38 overall.
Allen now has a re-tooled offensive line in front of him and speedy deep threats at multiple positions. With underneath threats like Beasley and Zay Jones, the Bills have done their best to build an explosive, big-play offense around their quarterback. The Bills' brass should be commended for putting their second-year quarterback in a much better position to succeed in 2019.