The Tennessee Titans and Pro Bowl safety Kevin Byard have agreed to terms on a five-year, $70.5 million contract extension that includes $31 million in guaranteed money, per ESPN's Adam Schefter. The deal makes Byard, who was once a third-round draft pick and a two-star recruit out of high school, the highest-paid safety in NFL history.
And he deserves every penny after what has been one of the best starts to a career that PFF has ever seen at the safety position.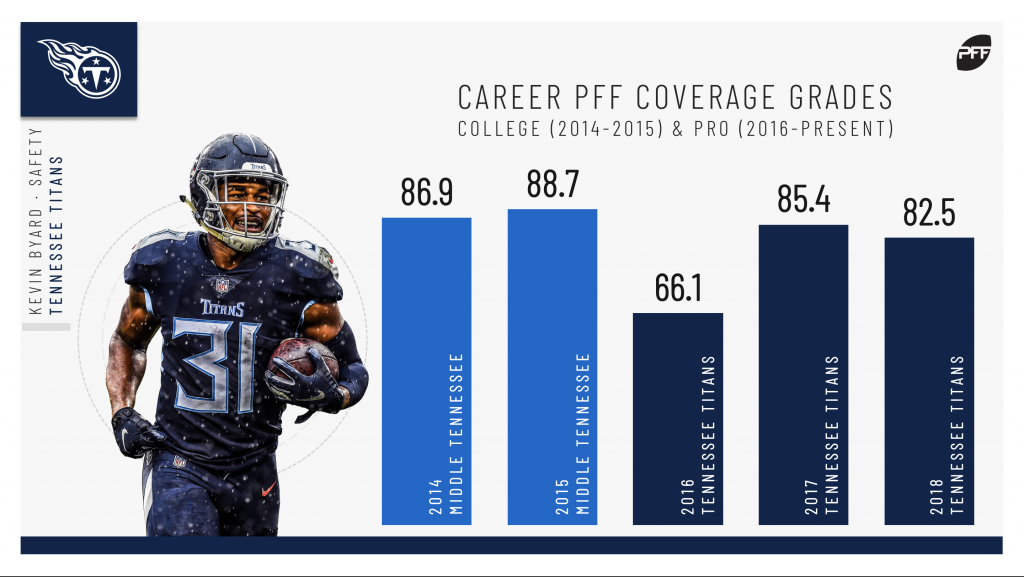 Playing four years with the Middle Tennessee State Blue Raiders, with two of those years (2014-15) coming in the PFF College era, Byard earned Honorable Mention All-Conference USA honors in 2013 before he was named First Team All-Conference USA in 2014 and 2015. His 19 career interceptions are still the most in school history.
Byard ended his two seasons in the PFF College era with coverage grades of 86.9 in 2014 and 88.7 in 2015, ranking 28th and seventh, respectively, among FBS players at the position. In fact, Byard's two-year cumulative coverage grade of 90.8 ranked eighth among the 376 safeties who played at least 500 coverage snaps from 2014 to 2015.
After allowing completions on only 55 of his 88 targets in coverage over that period to go with a 63.9 passer rating allowed, Byard caught the eye of the senior analysts at PFF, who likened his skill set to that of perennial All-Pro Earl Thomas.
"Kevin Byard might be one of the few players in this draft capable of playing the Earl Thomas role as a single-high deep-lying free safety. He may not have Earl Thomas' range or ability, but neither does anybody else trying to occupy that space in NFL defenses right now. He does have a good nose for the ball and the ability to understand route concepts and passing threats from that alignment, and he can influence the play in a way most can't. In a league crying out for players to play in that position, Byard is one of the few in this draft class with the potential to pull it off." — Sam Monson, April 4th, 2016.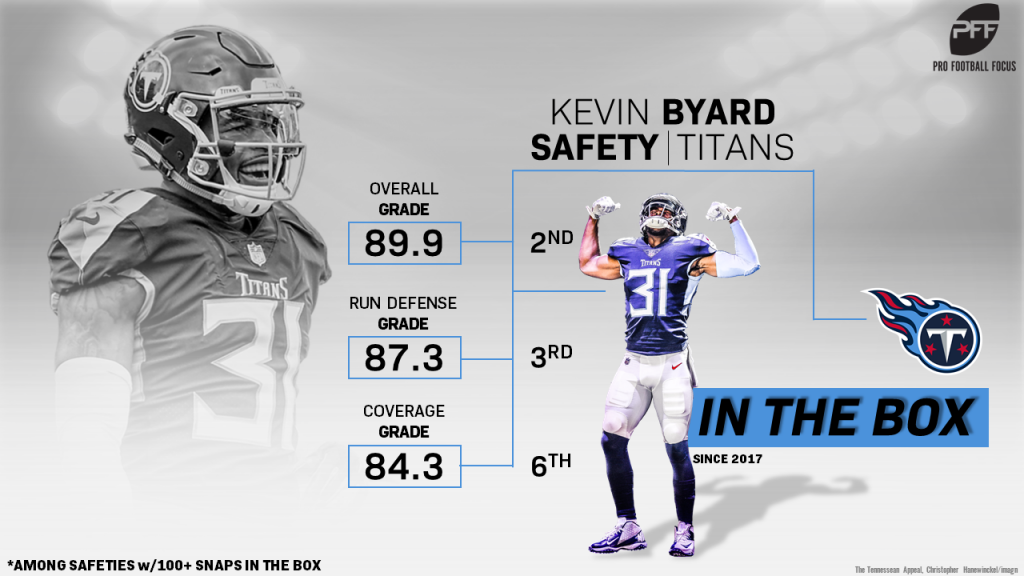 And at this stage, to say that he's pulled it off would be an understatement.
Now three seasons into his career in Tennessee, the former Blue Raider has earned overall grades of 68.5, 87.0, and 88.4 over his first three seasons. Being a complete defender at any position is difficult, but Byard has proven he can play at a high level in multiple facets of the game. In fact, Byard is the only safety to have earned a grade of 82.0 or higher in both run defense and coverage in each of the last two years.
Byard's versatility clearly shows when you look at his overall performance, but his talent runs much deeper. Over the last two seasons, Byard has not only demonstrated the ability to be effective as a deep safety, but he's also been effective close to the line of scrimmage, as he's logged an 89.9 overall grade from his snaps in the box across that two-year period. This is highlighted by his excellent run-defense grade of 87.3 in such situations, but he's even shown the ability to get after the passer with 20 career pressures, highlighted by his 2018 pass-rushing productivity rating of 19.0 which ranked second among qualified safeties.
But make no mistake, the downfield pass — and therefore pass defense — is king in the NFL, and it's in this regard where Byard has proved to be worth his weight in gold.
Byard emerged as one of the best playmaking defensive backs in the NFL in 2017 by putting up numbers the league hasn't seen since the likes of Troy Polamalu and Ed Reed. Thanks to an incredible sophomore season, Byard joined Polamalu and Reed as the only safeties in the PFF era (2006-present) to tally at least 15 total combined pass-breakups and interceptions in a single season.
Playing the majority of his coverage snaps (964 of 1,889 snaps) from his free safety spot at the top of the Titans' defense, Byard has also allowed completions on just 11 of the 20 passes thrown his way at the free safety spot, and he's actually tallied more interceptions (7) than the number of first downs he's allowed on those passes (4).
From all alignments, which have come as a mixture of free safety snaps, box snaps (471), snaps at slot cornerback (343) and snaps at outside cornerback (70), Byard has earned a three-year coverage grade of 91.2 — the second-best mark ever recorded by a safety with at least 2,000 coverage snaps within the first three years of his career.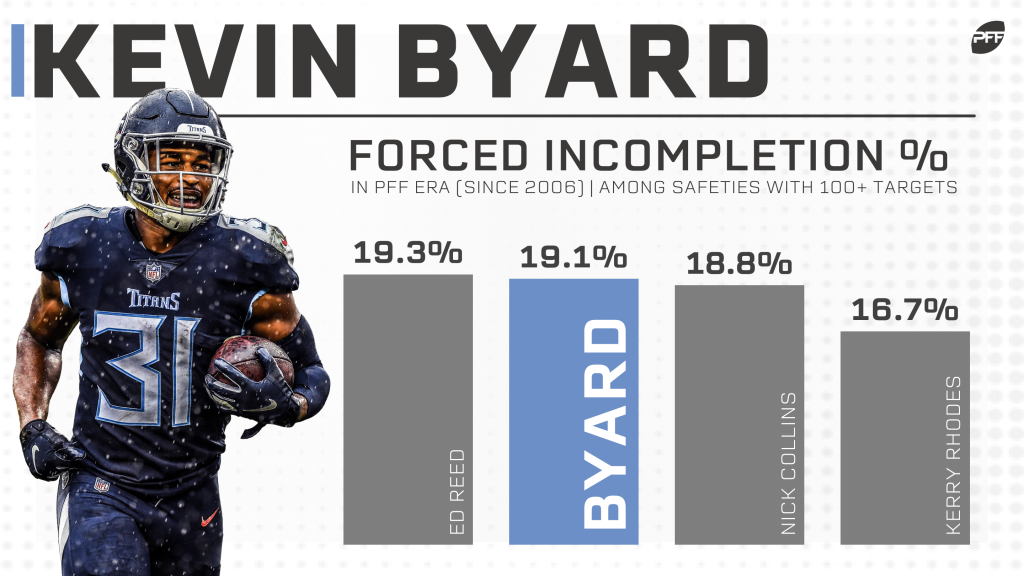 Looking at his coverage numbers three years into his historic start, Byard has allowed 72 receptions from 110 targets for 637 yards, eight touchdowns and 12 interceptions, and he's tallied 21 forced incompletions in the process. Among the 142 safeties who've been targeted at least 100 times in the PFF era (including the postseason), Byard's 65.4 passer rating allowed ranks 11th, his 8.85 yards allowed per reception ranks second, his 0.37 yards allowed per coverage snap ranks fourth and his 19.1% forced incompletion percentage ranks second to only Ed Reed.
Entering his age-26 season, the Middle Tennessee product has quickly made a name for himself as one of the league's premier safeties, and now he'll be paid like it. With the Pro-Bowler now locked up through 2024, Mike Vrabel and the Tennessee Titans have secured a playmaking leader on the defensive side of the ball, ready to lead this team for the foreseeable future.