Pro Football Focus' 'Snaps Lost' series takes a detailed look at playing time void, created by players who have left their respective team either during the season last year, or during this past offseason, albeit trades, cuts, signing elsewhere or retirement.
So far we've taken a look at the NFC East, AFC East, NFC West, AFC West, NFC South, AFC South and the NFC North, so today we are finishing up by investigating the AFC North:
Sign up for PFF Edge for full player grades heading into the 2017 season.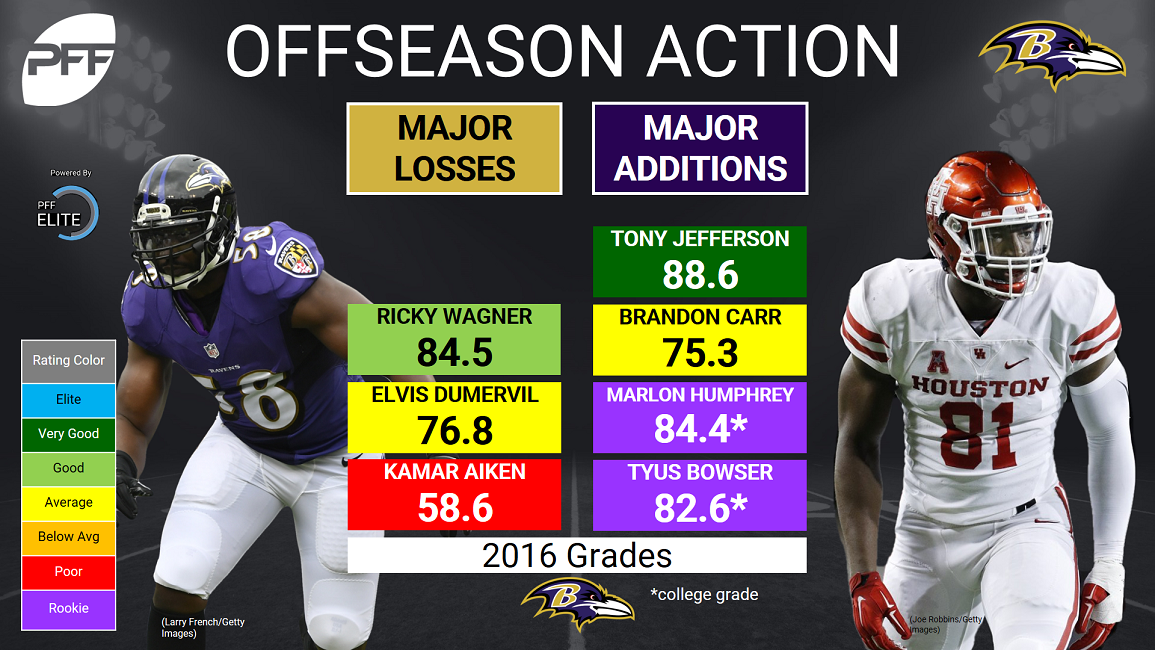 TOTAL SNAPS LOST: 8449
OFFENSIVE SNAPS LOST: 5390
DEFENSIVE SNAPS LOST: 3059
Key Losses, offense: Ricky Wagner – T – 84.5 grade – 926 snaps, Dennis Pitta – TE – 46.9 grade – 810 snaps, Steve Smith – WR – 76.9 grade – 926 snaps
Ricky Wagner cashed in when the Lions awarded him with a hefty contract after a solid 2016 season in which he had the ninth-best pass block grade at his position with an 86.9. Dennis Pitta, who led the NFL in routes run by a tight end, was released after another potentially career-threatening hip injury this offseason. Steve Smith, who's receiving grade of 80.4 was the highest of any Raven, finally hung up his cleats for good.
The signing of Austin Howard brings competition to James Hurst for the right tackle spot. If Howard wins the job, the Ravens will be hoping he can return to the 2015 form which saw him earn an 82.6 overall grade before dropping to 66.9 in 2016. Pitta enjoyed a resurgent 2016 after Benjamin Watson went down for the year before the season even began. Now the situation is reversed, and Watson will be hoping to replicate his 2015 production in which he gained 1.54 yards per route run, on 518 snaps in route, second most at the position. With Ravens offensive players dropping like flies, Jeremy Maclin will need to provide a reliable option for Flacco in 2016, much like he did for his quarterback in 2015 when he earned a wide receiver rating of 115.6, 10th-best of all wide receivers that year.
Key Losses, defense: Zachary Orr – LB – 42.7 grade – 962 snaps, Tavon Young – CB – 79.9 grade – 833 snaps, Timmy Jernigan – DI – 78.4 grade – 631 snaps
Zachary Orr was unfortunately forced to retire early due to a neck issue, and despite attempting a comeback later this offseason he has decided to remain retired. Orr's 10.6 run stop percentage in 2016 ranked seventh among inside linebackers. Tavon Young was a revelation as a rookie, grading as the 26th best cornerback in the NFL, and third best rookie corner. Losing Young for the season due to injury will hurt, but the Ravens have brought in depth through free agency as well as the draft. Timmy Jernigan was a force against the run for the Ravens in 2016, leading all 3-4 defensive ends with a 10.8 stop percentage. With apparent interior depth on the roster, Jernigan was traded to the Eagles for draft capital.
Replacement plan: Kamalei Correa – LB – 54.6 grade, Brandon Carr – CB – 75.3 grade, Brent Urban – DI – 74.4 grade
Kamalei Correa was at his best in college as a pass-rusher, generating 20 sacks, 23 hits and 38 hurries between 2014 and 2015 at Boise State. 41 of his 49 snaps for the Ravens in 2016 came at edge defender, but he is the current favorite to start at inside linebacker next to standout C.J. Mosely. The Brandon Carr signing was intended to bring experienced depth to a talented secondary, but due to the Tavon Young injury, Carr will likely take on the starting role opposite Jimmy Smith. Carr's best years are behind him, as he has not had a season graded above 80.0 since 2011, and last season he allowed a passer rating of 101.9 into his coverage. With Jernigan traded, and Lawrence Guy a departure via free agency, the Ravens had a hole to fill on the defensive line. Urban, who led Ravens interior defenders in 2016 with a 6.9 pass rush productivity, is a top candidate to fill the void.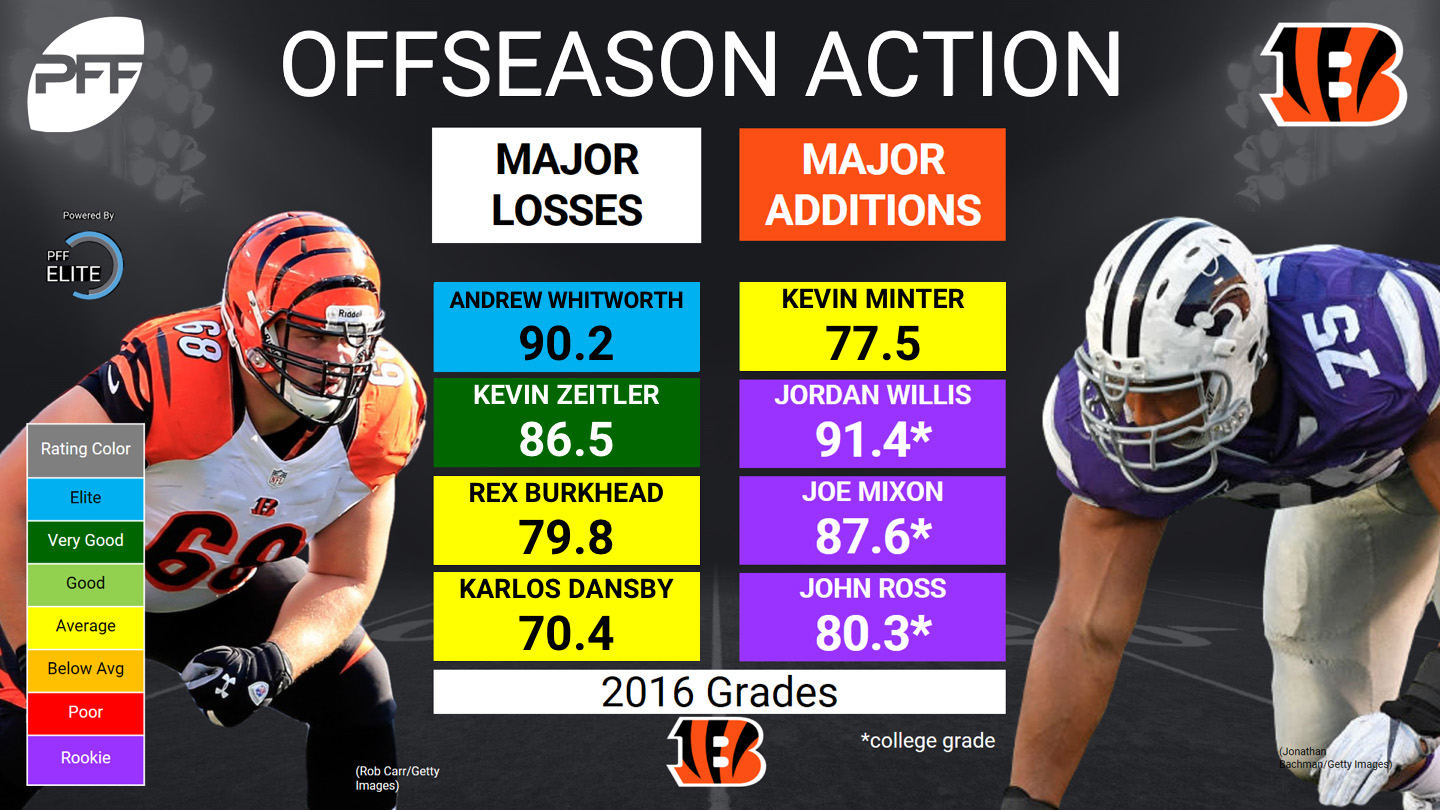 TOTAL SNAPS LOST: 4604
OFFENSIVE SNAPS LOST: 2577
DEFENSIVE SNAPS LOST: 2027
Key Losses, offense: Andrew Whitworth – T – 90.2 grade -1064 snaps, Kevin Zeitler – G – 86.5 grade – 1087 snaps, Rex Burkhead – RB – 79.8 grade – 239 snaps
Gone is long time Bengals left tackle Andrew Whitworth and his 91.3 pass block grade, best among all tackles in 2016. Gone is right guard Kevin Zeitler, who has graded above 81.0 in all five of his seasons with the team, and also led the team in snaps in 2016. The loss of these stalwarts will hurt as it leaves the Bengals with no offensive linemen on the roster currently with a grade over 73.0. While Rex Burkhead accumulated just 239 snaps in 2016, 221 of them came in the last six games, and in his only start he earned an overall game grade of 83.3.
The former first round picks slated to start in place of Whitworth and Zeitler in 2016 do not inspire much confidence despite their pedigree. Cedric Ogbuehi started most of last season at right tackle, and his pass-block efficiency of 91.3 ranked 71st out of 74 tackles in 2016. With Ogbuehi moving to left tackle, Jake Fisher will have the opportunity to start at right tackle in 2017. Fisher allowed just one pressure on 24 pass block snaps in 2015, but that increased to 13 pressures allowed on 137 pass block snaps in 2016 for a PBE of 92.3. Andre Smith returns to the Bengals after an injury shortened season with the Vikings, and they hope his form returns as well, as his overall grade has decreased every year since his 87.0 graded 2012 season. The ultra-talented Mixon led the FBS with a breakaway percentage of 57.3 in 2016, and while he will probably be splitting time in 2017, he is the future at running back for the Bengals.
Key Losses, defense: Karlos Dansby – LB – 73.5 grade – 782, Domata Peko – DI – 42.6 grade – 593 snaps, Margus Hunt – ED – 68.3 grade – 322 snaps.
The Bengals lost veteran linebacker Karlos Dansby, who returned to the Cardinals for the third time in his career. In 2016, Dansby led the team in combined stops, while earning a stop percentage of 9.8, fourth-best among 4-3 outside linebackers. Domata Peko tied for the most run stops of Bengals defensive tackles with 16, but was mostly irrelevant as a pass-rusher, finishing with a pass rush productivity of 1.9, ranking 66 out of 68 defensive tackles. Margus Hunt factored in a rotation and finished 2016 with a run defense grade of 78.2, second best of all Bengals defensive linemen.
Kevin Minter who earned a 80.3 coverage grade last season for the Cardinals as a 16-game starter, should pick up most of the linebacker snaps left void by the departure of Dansby. The Bengals depth in the front seven has been transformed into a much younger unit with an enormous amount of potential. 2017 rookies Jordan Willis and Carl Lawson both ranked in the top five of PFF's edge defender draft rankings at the edge position. While Chris Smith, acquired via trade earlier this offseason, has produced a pass-rush productivity of 27.6 through two weeks of the preseason, No. 1 of all 4-3 defensive ends. Andrew Billings, who sat out all of 2016 with a knee injury, should be heavily involved in a rotation with Pat Sims on the interior. Billings ranked fifth in the FBS against the run in 2015.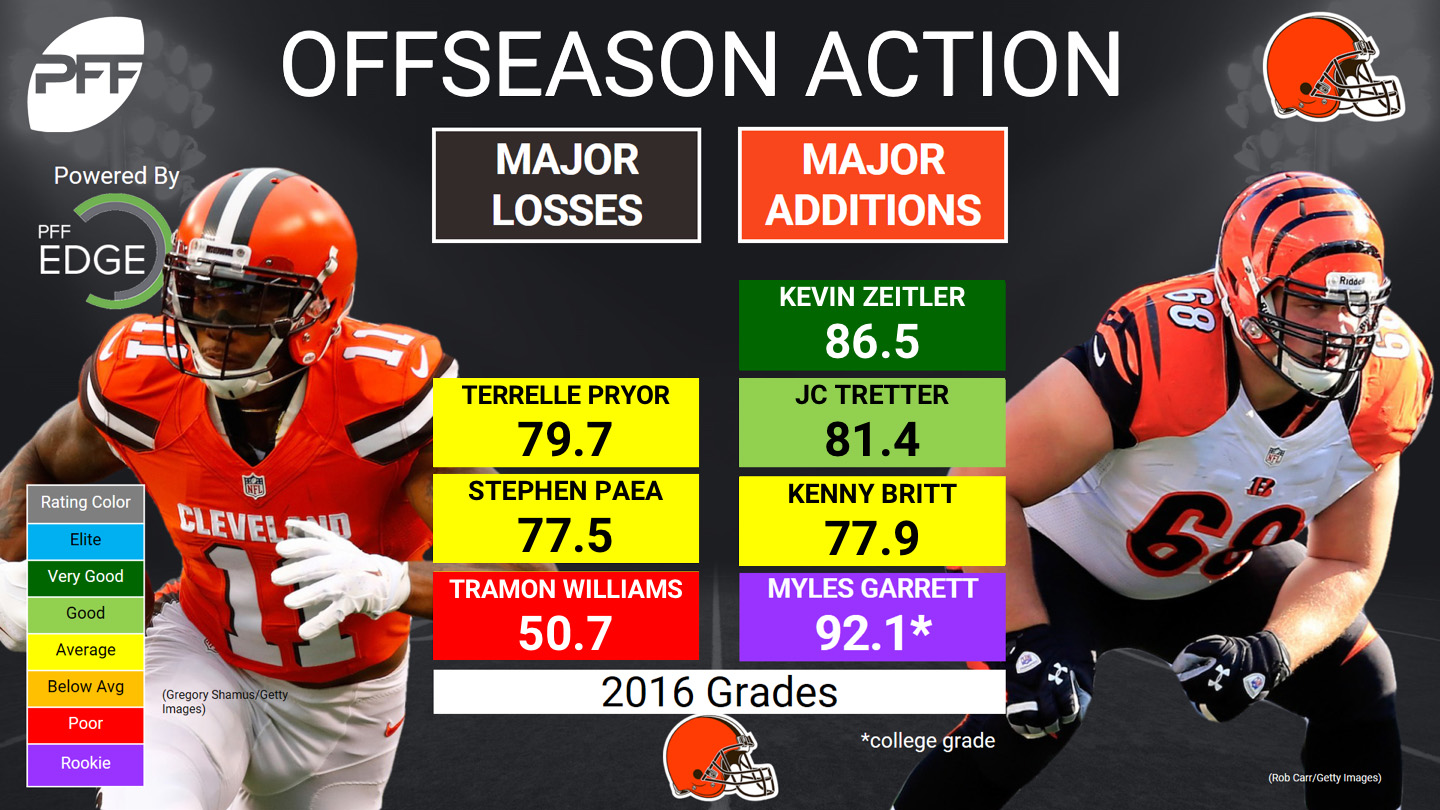 TOTAL SNAPS LOST: 7341
OFFENSIVE SNAPS LOST: 4869
DEFENSIVE SNAPS LOST: 2472
Key Losses, offense: Austin Pasztor – T – 77.3 – 1020 snaps, Gary Barnidge – TE – 70.6 – 969 snaps, Terrelle Pryor – WR – 79.7 grade – 969 snaps
Austin Pasztor started all 16 games for the Browns last season, 15 of which came at right tackle, putting up a solid pass block grade of 81.4. Gary Barnidge came back down to earth in 2016, earning 1.21 yards per route run, 31st out of 40 tight ends, and catching just three deep passes after bringing down twice that many the year before. Terrelle Pryor emerged as the top receiving option for the Browns in 2016, but he will take his talents to Washington in 2017. Pryor was the third most targeted receiver on deep passes last season.
The Browns performed a makeover on their offensive line in the 2017 offseason with immediate interior upgrades via free agency, but right tackle is the one spot that remains a question mark. Shon Coleman, who allowed two total pressures in 2016 on 31 pass block snaps, figures to battle former first-round pick Cameron Erving for the gig. First-round pick David Njoku racked up 2.34 yards per route run for the Miami Hurricanes in 2016, third-best of all FBS tight ends. He figures to play a major pass-catching role going forward if he can assimilate himself to Hue Jackson's scheme. It was slightly head-scratching when the older, and arguably less talented, Kenny Britt received a contract worth $8 million per year from the Browns, which is in line with what Pryor will earn from the Redskins, while Britt's contract is also longer with more guaranteed money. Britt figures to step immediately into the starting wide receiver role opposite Corey Coleman. His 2.00 yards per route run was 16th best of 96 receivers in 2016.
Key Losses, defense: Tramon Williams – CB – 50.7 grade – 625 snaps, Demario Davis – LB – 47.1 grade – 786 snaps
The Browns will be without Tramon Williams in 2017, who was used primarily as a slot defender through the first 10 weeks of the season, before acting as a free safety in the final four games. The veteran struggled in coverage but was solid against the run earning a run defense grade of 82.6, tied for eighth-best of all cornerbacks. LB Demario Davis hopes to have more success with the team who originally drafted him after being traded back to the Jets this offseason. While Davis started 2016 playing almost every snap of the first seven games, he rotated out more as the season wore on and struggled to a 39.5 run defense grade, 77th-best of 88 linebackers in 2016.
McCourty's best football may be behind him, but he had his highest graded season in 2016 over the past three years at 72.1 overall, and he can provide some of that veteran leadership that left with Tramon Williams. So far this preseason, Jabril Peppers has been used exclusively as a free safety, but defensive coordinator Greg Williams figures to use him as a versatile chess piece all over the field. Pepper's 5.9 run stop percentage was ninth-best of all FBS safeties a season ago. The departure of Davis and recent loss of Tank Carder for the season due to injury leave the middle linebacker position open for Joe Schobert to step up. His 22.7 pass-rush productivity led the entire FBS in 2015 as primarily an edge rusher, but it remains to be seen how successful his transition to off-ball linebacker will be.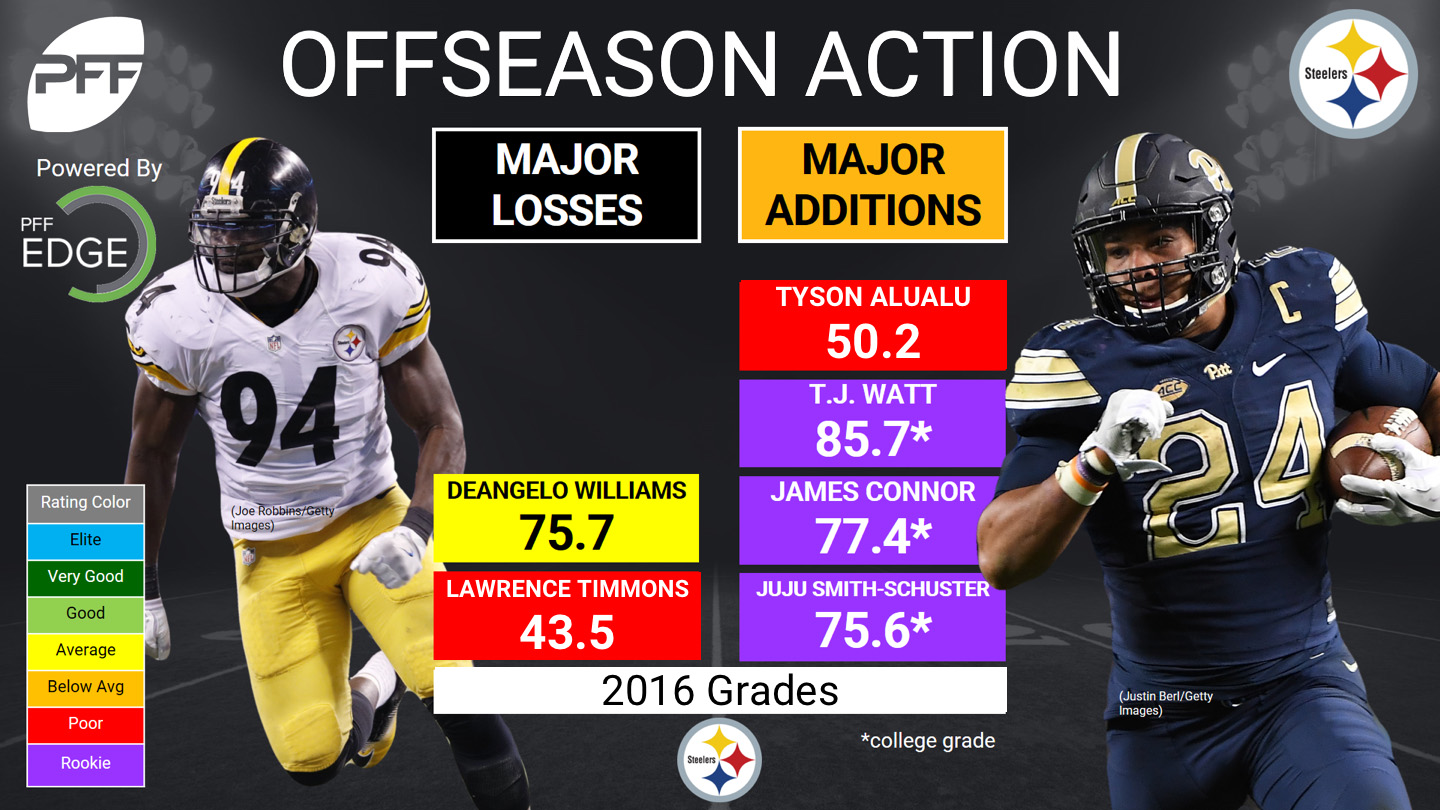 TOTAL SNAPS LOST: 2605
OFFENSIVE SNAPS LOST: 612
DEFENSIVE SNAPS LOST: 1993
Key Losses, offense: DeAngelo Williams – RB – 75.7 grade – 336 snaps, Ladarius Green – TE – 49.7 grade – 140 snaps
DeAngelo Williams has held the fort down at running back over the past few years when Le'Veon Bell has had to miss time, and last season produced an elusive rating of 36.5, his highest since 2010. Williams said he wishes to continue to play, but the Steelers will be passing the torch to younger incumbents. The 2016 Ladarius Green experiment was a failed one. While Green's 3.01 yards per route run were second-best of all tight ends, he just couldn't get on the field and stay there, only appearing in six games, and playing more than 50 percent of snaps for a game just once.
2017 draft pick James Conner figures to compete with Fitzgerald Toussaint for carries behind top running back Bell. The hometown favorite Conner is hoping to regain the form he showed in 2014 while breaking 88 tackles as a runner at Pittsburgh, the second-most in a single season over the past three years. Jesse James appears to have won the training camp battle for the starting tight end spot, a position he handled most of 2016 in place of oft-injured Green. James does not bring the same type of explosion however, as he produced just 0.88 yards per route run, 38th-best out of 40 tight ends.
Key Losses, defense: Lawrence Timmons – LB – 43.5 grade – 1145 snaps, Jarvis Jones – ED – 75.9 grade – 500 snaps
Longtime Steeler Lawrence Timmons proved to be a solid linebacker for most of his career, but struggled the past two seasons failing to grade above 50.0. In 2016, Timmons led the team with 28 run stops, but in coverage averaged 8.3 cover snaps per reception allowed, ranking 48th out of 57 linebackers. Former first-round pick Jarvis Jones' career-best 74.6 overall grade was not enough to keep around in Pittsburgh past his rookie contract. While Jones led Steelers edge defenders with an 8.7 stop percentage, his 5.4 pass-rush productivity ranked 52nd out of 57 3-4 outside linebackers.
Replacement plan: Vince Williams – LB – 69.0 grade, T.J. Watt – ED – rookie, Bud Dupree – ED – 50.7 grade
Vince Williams was efficient in limited snaps in 2016, leading the Steelers linebackers with a 10.6 run stop percentage, while missing just a single tackle. He also led the corps with his pass-rush productivity of 17.0, generating six pressures on 28 pass-rushing snaps. Williams will look to replace a former Florida State Seminole linebacker in Timmons, with himself, also a former FSU standout. In 2017, the Steelers are poised to promote their two first-round edge rushers T.J. Watt and Bud Dupree to the starting edge positions, while the ageless James Harrison will rotate in off the bench in a more specialized relief role. In 2016, from Week 11 on, after Dupree returned from injury, he led the team at his position with 318 snaps. Watt had a pass-rush productivity of 16.4 in 2016, which was sixth best in the FBS out of 354 edge defenders.