Pro Football Focus' 'Snaps Lost' series takes a detailed look at playing time void, created by players who have left their respective team either during the season last year, or during this past offseason, albeit trades, cuts, signing elsewhere or retirement.
So far we've taken a look at the NFC East, AFC East, NFC West, AFC West, NFC South and the AFC South, so today, we investigate the NFC North:
Sign up for PFF Edge for full player grades heading into the 2017 season.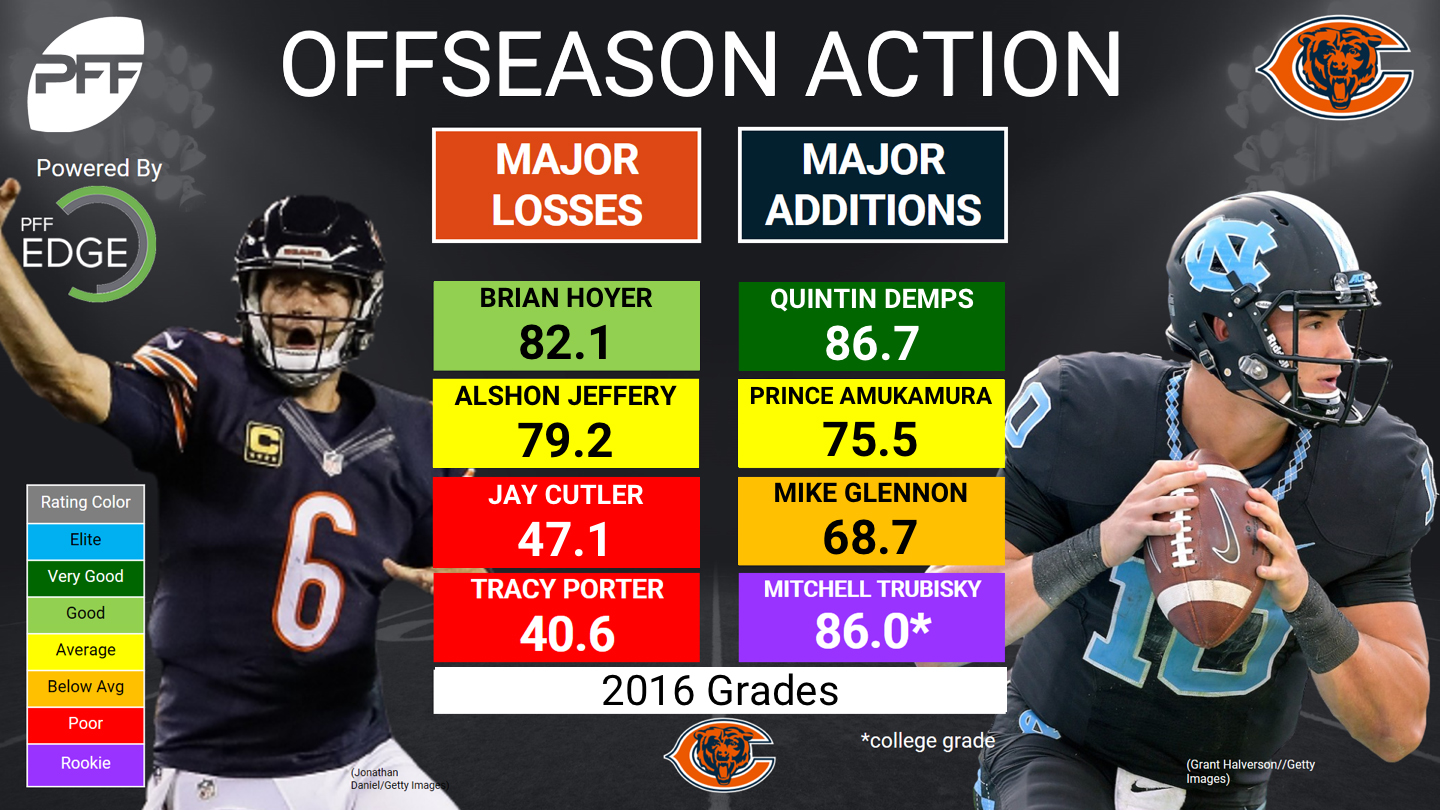 TOTAL SNAPS LOST: 5452
OFFENSIVE SNAPS LOST: 3386
DEFENSIVE SNAPS LOST: 2066
Key Losses, offense:  Jay Cutler – QB  – 47.1 grade – 274 snaps, Brian Hoyer – QB – 82.1 grade – 311 snaps, Matt Barkley – QB – 73.8 grade – 409 snaps, Alshon Jeffery – WR – 79.2 grade – 693 snaps
A clean sweeping of the quarterback room means that all three of the starters from a year ago are gone despite solid play from Hoyer and Barkley. Cutler retired before un-retiring and signing with the Dolphins, but his inconsistent play was enough to cause anxiety for Bears fans. Cutler represents that inconsistency with his play under pressure, as his passer rating under duress each year since 2013 is as follows: 61.9, 91.9, 87.4, and 42.6. Hoyer performed admirably when kept clean with 8.0 yards per attempt but that fell to 4.4 when pressured. Barkley excelled in his first four starts before collapsing in the final two games. Jeffrey had one of the best seasons in his injury shortened 2015 season but struggled to make the same impact in 2016  as evidence by his drop in yards per route run from 2.87 to 1.87.
The Bears signed Glennon to a relatively team friendly contract before trading up in the draft to nab Mitchell Trubisky with the second-overall pick.Glennon last saw meaningful NFL action in 2014. He had showed some improvement from his rookie season though struggled under pressure.  In 2014, he sported a solid 100.1 passer rating when kept clean but that plummeted to 55.2 when pressured. Trubisky was a one-year starter at North Carolina and excelled, throwing 30 touchdowns to six interceptions, but 28 of those touchdowns came from a clean pocket. Wright and Cruz will provide experience to a wide receiver room that doesn't return very much production from 2016. Wright sported double digit forced missed tackles his first three seasons as he saw at least 86 targets before the arrival of Marcus Mariota and a sharp reduction in targets to 59 in 2015 and just 41 in 2016 and a total of seven missed tackles forced the past two seasons.
Key Losses, defense:  Tracy Porter – CB – 40.6 grade – 944 snaps, Will Sutton – DI – 74.8 grade – 174 snaps.
The Bears don't lose too much in the way of production on defense as Porter had a career worst season in 2016 allowing 759 yards, four touchdowns and a 99.4 passer rating when targeted. Sutton was a solid nose tackle but missed the second half of the season.  The defense, which has good pieces at all levels, merely lost a few depth players.
Replacement plan: Prince Amukamara – CB – 75.5 grade, Jaye Howard – DI – 75.6 grade.
As much as Ryan Pace was criticized for his draft, he hasn't been given much credit for building a defense that has top tier potential. Rookies from a year ago are impressing in preseason and adding reliable pieces in Amukamara and Howard will solidify positions of need. Amukamara did allow a career high five touchdowns in 2016 but also broke up five passes while allowing 1.17 yards per cover snap, a mark matched by former teammate Jalen Ramsey. Howard is two seasons removed from a seven sack year but he should come in as a better run defender for the Bears.  Howard has missed just six tackles in his five year career while racking up 82 defensive stops.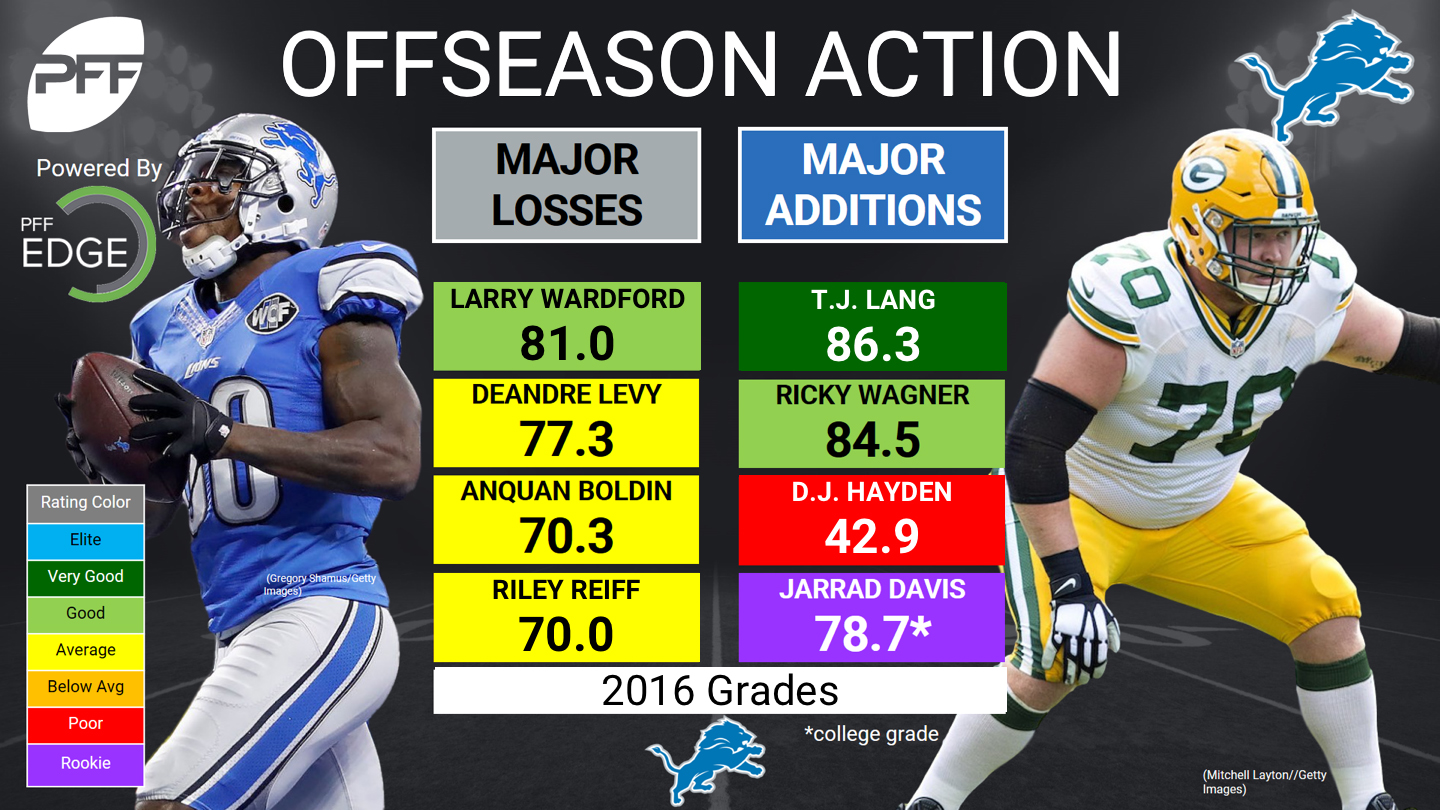 TOTAL SNAPS LOST: 7965*
OFFENSIVE SNAPS LOST: 4547*
DEFENSIVE SNAPS LOST: 3418*
Key Losses, offense: Larry Warford – G – 81.0 grade – 1024 snaps, Anquan Boldin – WR – 70.3 grade – 877 snaps, Riley Reiff – T – 70.0 grade – 888 snaps, *Taylor Decker – T – 80.7 grade – 1089 snaps.
The Lions are going to test the waters of how much a team can change an offensive line and still have a cohesive unit as they lose three major contributors from 2016. Warford had graded very well in three of his four seasons with the Lions allowing a total of seven sacks and 14 hits. Reiff had an inconsistent season in 2016 but has generally been reliable as a run blocker despite grading below average in pass protection. Decker's loss is due to injury and he might be ready to return midseason but his impressive rookie season will be followed up with a shortened sophomore campaign. Boldin originally signed with the Bills before just recently announcing his retirement and his production and sure hands, just five drops on 74 catchable passes, will be missed.
The new look offensive line does get some improvements as T.J. Lang has been one of the best guards in the NFL the past three seasons. In fact, Lang was so good in pass protection last year that he didn't allow a single sack or hit on the quarterback and while he did allow two sacks in 2015, you have to go to Week 17 of 2014 for the last time he allowed a QB hit. Wagner has been one of the best right tackles in the NFL since entering the league in 2013 and he's allowed just nine sacks and 16 hits during his career. The new look unit would be fine if it weren't for what they will have at left tackle and that's Greg Robinson, as in three NFL season, he's given up 18 sacks and 33 hits while regressing as a run blocker each year as well. Golladay has received massive hype in training camp, and while the Northern Illinois rookie impressed in college with 2283 yards and 18 touchdowns the past two seasons, performing well in camp and preseason is just that until he proves it against regular season opponents.
Key Losses, defense:  DeAndre Levy – LB – 77.3 grade – 298 snaps, Rafael Bush – S – 73.3 grade – 530 snaps, Kerry Hyder – ED – 77.4 grade – 709 snaps (*lost for the season due to torn achilles)
While the Lions lose a good number of snaps, the majority of them are below replacement level players.  Levy though has been an excellent player when healthy the past few season and his absence due to injury in 2015 and 2016 was detrimental to the team. After his breakout season in 2014, Levy has seen just 265 snaps and 22 tackles. Bush signed with New Orleans in the offseason and his depth will be missed. He allowed a career low 78.1 passer rating when targeted in 2016 as well as a career high two interceptions.
Bellore was a fill in role player in San Francisco and should provide depth in the linebacker room and a valuable player on special teams. Due to injuries to the 49ers, Bellore saw 692 snaps in 2016 after seeing just 31 in his first five seasons. Davis was drafted from Florida and comes with some mixed results as he excelled in coverage in 2015 as he allowed an average of 8.3 yards per reception and a passer rating of 69.6 when targeted but struggled in 2016 giving up 10.9 yards per reception and 85.4 passer rating despite seeing 13 fewer targets in his final college season. Washington comes from division rival Chicago and will have an opportunity to build off his best pass rushing season of his career where he racked up two sacks, three hits, and 24 hurries while missing zero tackles. Zettel will get a significant increase in snaps due to Hyder's injury as he saw just 25 percent of the teams snaps as a rookie resulting in just one sack and five hurries.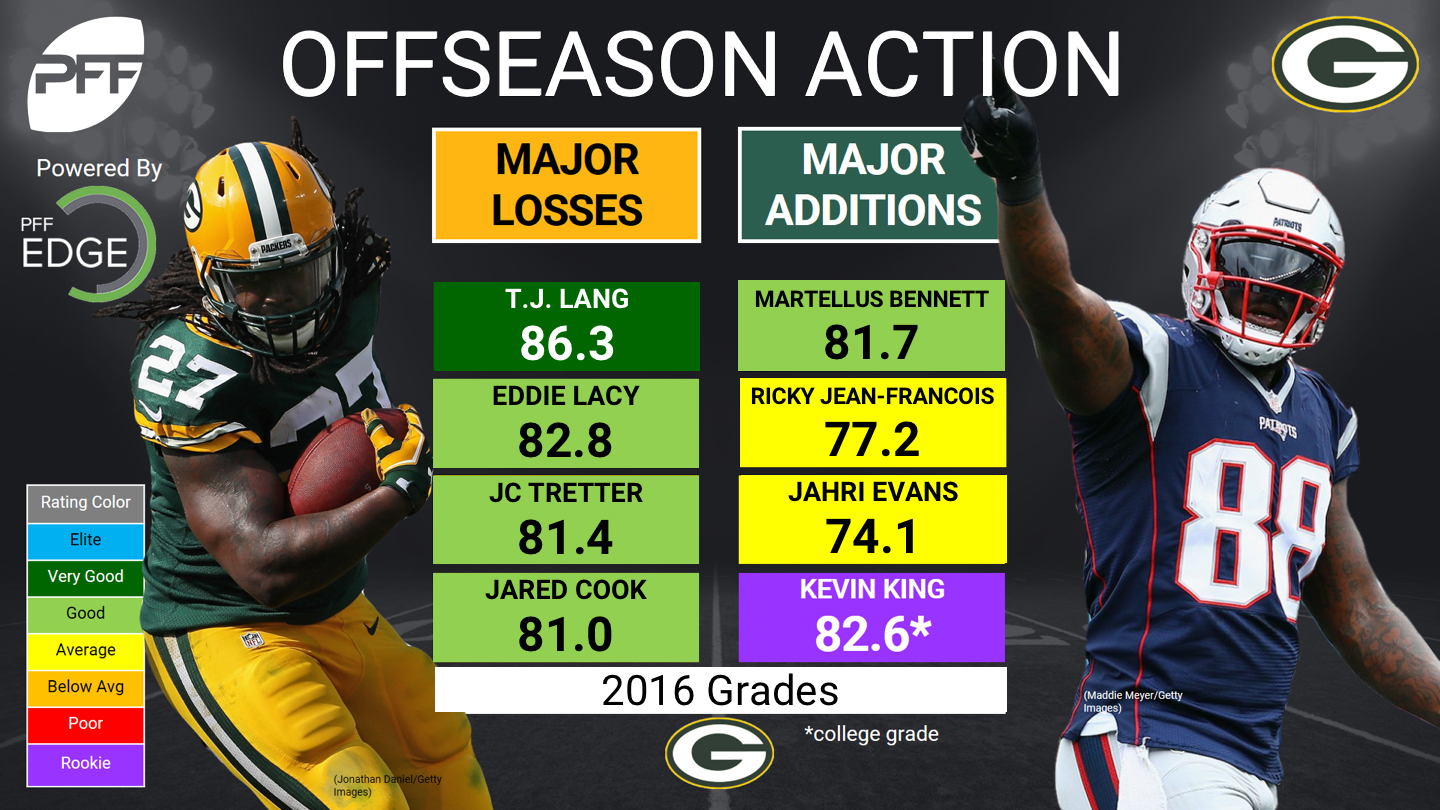 TOTAL SNAPS LOST: 5510
OFFENSIVE SNAPS LOST: 2481
DEFENSIVE SNAPS LOST: 3029
Key Losses, offense: T.J. Lang – G – 86.3 grade – 964 snaps, Jared Cook – TE – 81.0 grade – 478 snaps, JC Tretter – C – 81.4 grade – 488 snaps, Eddie Lacy – HB – 82.8 grade – 166 snaps, Christine Michael – HB – 73.4 grade – 91 snaps
Ted Thompson has a method to his ways and it's resulted in the Packers making seven straight playoff appearances but losing T.J. Lang will really hurt an offensive line that was arguably the best in the NFL in 2016. They certainly were as a pass protection unit and Lang allowed just 11 hurries all season. Tretter was an excellent fill-in center for Corey Linsley as he allowed just two sacks and one hit in the first seven games until Linsley returned from injury. Lacy and Michael both represent big changes to the backfield as Lacy struggled to keep his weight down the past two seasons and had injuries that hampered his ability. Though Lacy was starting to look like his former self as he had forced 19 missed tackles through five games in 2016 after forcing just 29 in all of 2015. Cook was vital down the stretch for the Packers after returning from injury, catching 42 of his 48 receptions and seeing eight or more targets in those five games, including each of the playoff games.
In a curious move, Thompson signed 36-year old guard Jahri Evans to replace Lang, despite Lang being clearly at the prime of his career and with Evans showing decline each year since 2013. Evans has struggled as a run blocker and has allowed 11 sacks and 11 hits over the past three seasons. Bennett will provide the Packers will a good all-around TE as he has consistently graded as one of the best run blocking tight ends since 2009 and has developed nicely as a receiver. While Ty Montgomery was impressive in his action at running back in 2016, gaining almost 5.0 yards per carry after contact, the Packers drafted three running backs and it looks like it will be by committee between Montgomery, Williams and Jones.
Key Losses, defense: Julius Peppers – ED – 79.2 grade – 846 snaps, Micah Hyde – CB – 72.6 grade – 1153 snaps, Datone Jones – ED – 70.2 grade – 722 snaps, Letroy Guion – DI – 525 snaps
If you watched the Packers last year, you know how much the secondary struggled. Losing Peppers will hurt the secondary as he was still a very productive pass-rusher adding five hits and 24 hurries to his eight sacks. Hyde struggled in coverage but was arguably their best cover corner, despite allowing six touchdowns and 94.3 passer rating when targeted. Jones' loss won't hurt the team much as he was merely average against the run while recording just one sack and 10 quarterback hits. The loss of Guion due to his off-field issues will hurt them in run defense as he was their best run defender in 2016.
As mentioned earlier, the secondary had its issues and Thompson sought to address it quickly as he drafted Kevin King with the first pick in the second round. King has off the charts athleticism but needs refinement in technique and discipline. He impressed with his numbers in college though as he allowed a passer rating of just 55.6 when targeted in 2016 and allowed a total of two touchdowns in his career. As for Adams and Biegel, both will see a limited number of snaps as the Packers don't role out rookies in big roles very often on defense. Kyler Fackrell played 171 snaps last year as a rookie and should see an increased role.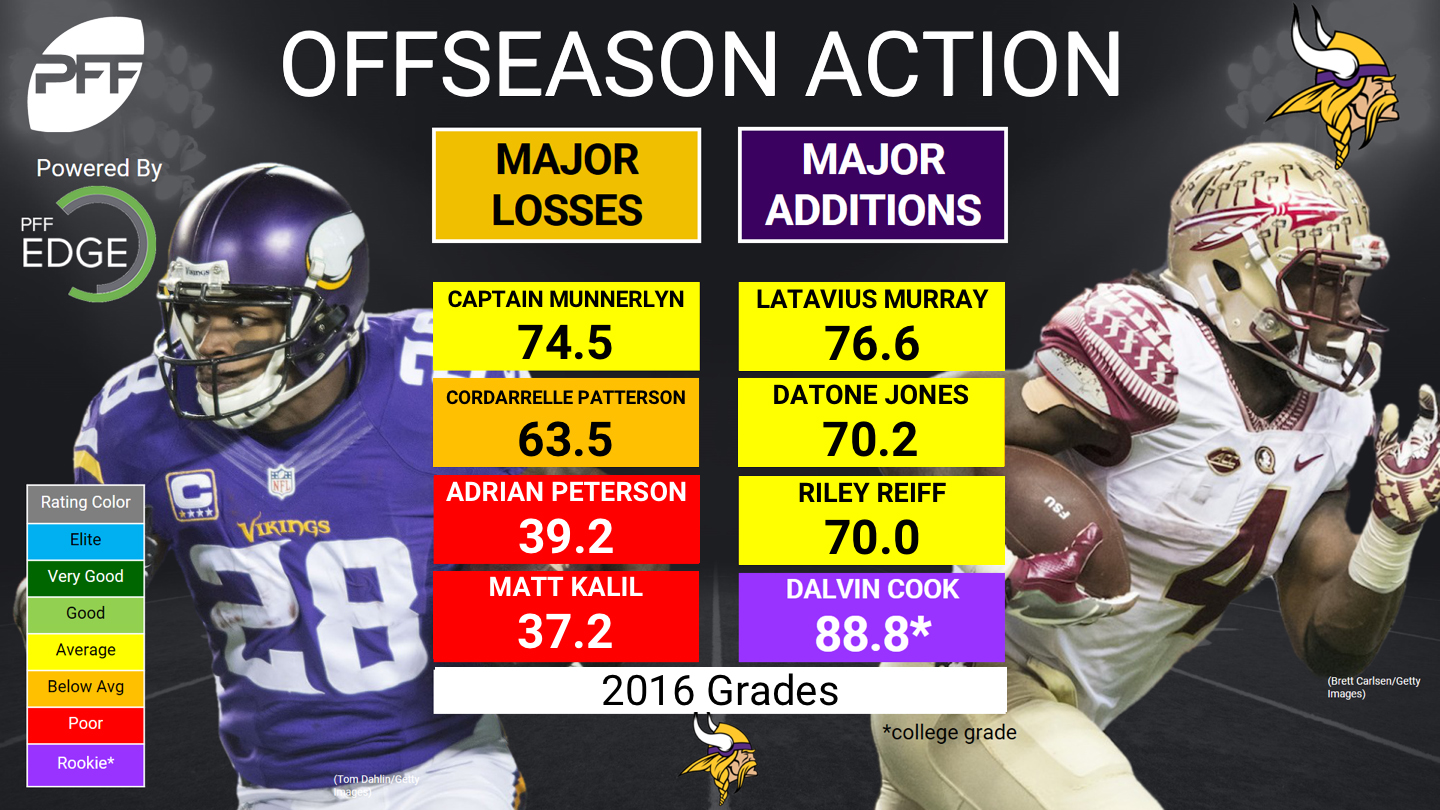 TOTAL SNAPS LOST: 4397
OFFENSIVE SNAPS LOST: 3315
DEFENSIVE SNAPS LOST: 1082
Key Losses, offense: Adrian Peterson – HB – 39.2 grade – 84 snaps, Brandon Fusco – G – 52.8 grade – 834 snaps, Cordarrelle Patterson – WR/KR/PR – 63.5 grade – 407 snaps, Matt Kalil – T – 37.2 grade – 121 snaps
Losing arguably one of the best running backs of the past two decades in Adrian Peterson will result in mixed emotions for Vikings fans, but he's been largely absent from a production standpoint in two of the past three seasons. Cordarrelle Patterson has been an excellent returner for the Vikings but never developed as a receiver. The Vikings offensive line will look drastically different from a year ago as they lose Fusco and Kalil, along with a few other minor contributors, but considering how poor that unit performed in 2016, it won't be a detriment to the team.
The Vikings doubled up in the backfield as they went after Murray in free agency and let Cook fall to them in the second round. Cook led all college backs in 2016 with 91 forced missed tackles while also impressing with 4.2 yards per carry after contact. Murray, on the other hand, forced just 25 missed tackles as a runner but did rank fourth among running backs with 13 touchdowns. Reiff provides a big upgrade to the offensive tackle position, even if he's never graded well as a pass protector. Even so, Reiff allowed just four sacks and two hits on the quarterback as opposed to T.J. Clemmings who allowed nine and 14, respectively.
Key Losses, defense: Captain Munnerlyn – CB – 74.5 grade – 636 snaps, Chad Greenway – LB – 48.5 grade – 399 snaps
Munnerlyn was a reliable slot cornerback as he allowed just one touchdown when his coverage area was targeted while recording two pass defenses on 68 targets. Greenway will be missed for his veteran leadership, but his play has never lived up to the amount of playing time he received in Minnesota as he last graded well in 2010. Despite seeing just 399 snaps, the lowest amount in his career in a season, Greenway allowed two touchdowns in coverage and missed seven total tackles.
Replacement Plan: Mackensie Alexander – CB – 45.0 grade – 67 snaps, Ben Gedeon – LB – rookie
The replacement plan was mostly in place as they drafted Alexander out of Clemson in 2016. Citing his 2016 stats is a bit unfair as he saw very little action but it's worth noting that on just six targets, Alexander allowed four receptions for 50 yards and a touchdown with no interceptions or pass defenses. In college, Alexander was a bit protected by Clemson's scheme as he didn't record an interception in his final two seasons but did break up ten passes. Gedeon is a player that saw an increasing role throughout his career at Michigan as he went from 76 snaps in 2014 to 248 in 2015 and then becoming a full-time starter as a senior with 829 snaps and grading well as a run defender but struggling in coverage. On 27 targets, Gedeon allowed 21 receptions, 314 yards, one touchdown and a passer rating of 127.5. Gedeon will see most snaps in the Vikings base defense to protect his struggles in coverage.