Pro Football Focus' 'Snaps Lost' series takes a detailed look at playing time void, created by players who have left their respective team either during the season last year, or during this past offseason, albeit trades, cuts, signing elsewhere or retirement.
This week, we've taken a look at the NFC East, AFC East, NFC West, AFC West and the NFC South, so today, we investigate the AFC South:
Sign up for PFF Edge for full player grades heading into the 2017 season.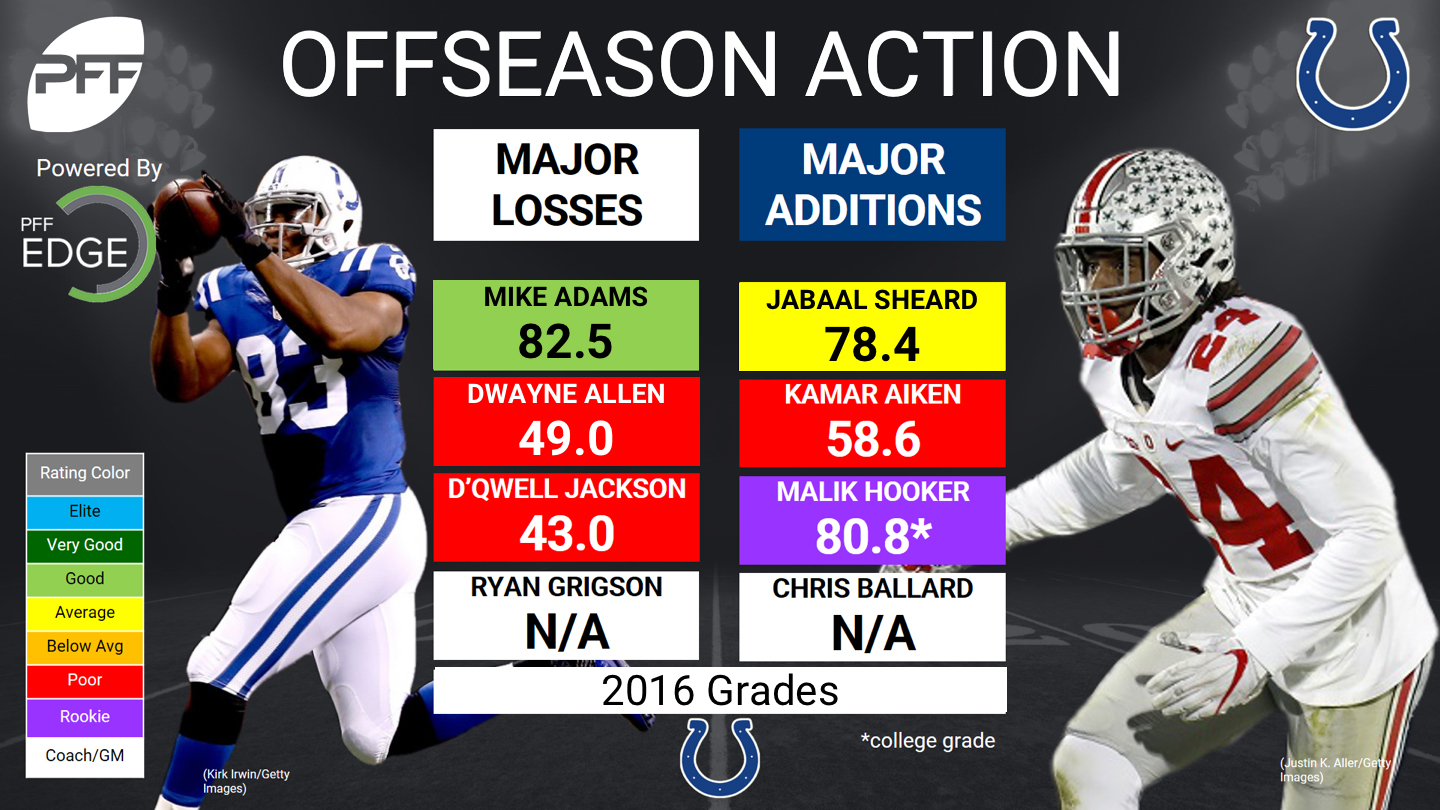 TOTAL SNAPS LOST: 6720
OFFENSIVE SNAPS LOST: 1666
DEFENSIVE SNAPS LOST: 5054
Key losses, offense: Dwayne Allen – TE – 49.0 grade – 611 snaps
While Jack Doyle played more snaps than Dwayne Allen last season, replacing him may not be the toughest task but it will be important. After signing a four-year extension and watching Coby Fleener leave town, Allen went into last season as the No. 1 TE and replacing his 611 snaps is certainly going to be an important topic going into the season. Allen fielded the leagues 25th highest receiving grade among tight ends last year at 71.4.
Doyle showed flashes in his first season with significant snaps and will likely need to build on his decent receiving numbers and improve his blocking to stabilize the team's TE group. The Colts used 12 personnel 30 percent of the time, compared to the 17 percent NFL average, and have had three tight ends play 240 snaps or more for three years straight. Swoope and Williams will need to be ready for an increase in snaps if that is the gameplan this season. After playing only six snaps his rookie season, Swoope showed some potential as a receiving tight end last season. His 129.6 rating when targeted, 3.09 yards per route run and 19.8 yards per reception are elite, although his 246 snaps are a small sample size. Williams has graded below average or poor in each of his four NFL seasons and will need to show improvement to win the No. 3 tight end job with the Colts. Darrell Daniels was an undrafted free agent and is an average receiver, but his blocking may be enough to win the job as the No. 3 tight end.
Key losses, defense: Mike Adams – S – 82.5 grade – 997 snaps, Erik Walden – ED – 43.3 grade – 759 snaps, Robert Mathis – ED – 42.1 grade – 536 snaps
With the early round selections of Malik Hooker and T.J. Green over the last two drafts, it was evident that the Colts were getting ready to replace the aging Mike Adams. Despite his age last year, Adams still graded out with an 82.5 overall grade, 21st among 90 qualifying safeties. While neither Erik Walden (43.3) or Robert Mathis (44.4) graded well last season, the Colts still have to replace a combined 1,295 snaps.
Hooker was the second-ranked safety on PFF's 2017 draft board heading into the draft, and eighth ranked prospect overall. In his final season at Ohio State, Hooker allowed a 41.4 passer rating, with seven interceptions and had an 80.8 overall grade.
Butler was the Colts primary nickel corner last season before injuries forced him to get more snaps at safety. With the loss of Adams and quality slot corner play of Darryl Morris, the Colts have decided to transition the versatile Butler to safety. Butler allowed a passer rating of 61.4, with three interceptions and two touchdowns allowed. Green struggled in his rookie season, allowing a 131.2 passer rating (10th-worst among safeties), and will be seeing snaps at cornerback this preseason while the Colts try to figure out their replacement plan.
Jabaal Sheard and John Simon, have some versatility, with Sheard playing 115 snaps as an interior defender and Simon playing 138 snaps as an off the ball linebacker. Ayers was the Colts best edge defender last season, although his 73.2 overall grade shows why the Colts had to address the need in free agency. Mingo, who signed a one-year deal this offseason, is still trying to breakout after being the sixth overall pick in the 2013 NFL draft. Basham, the Colts third-round pick this year, graded as the 21st best edge defender in college football last season and his 14.6 pass rushing productivity ranked 14th best in the draft class.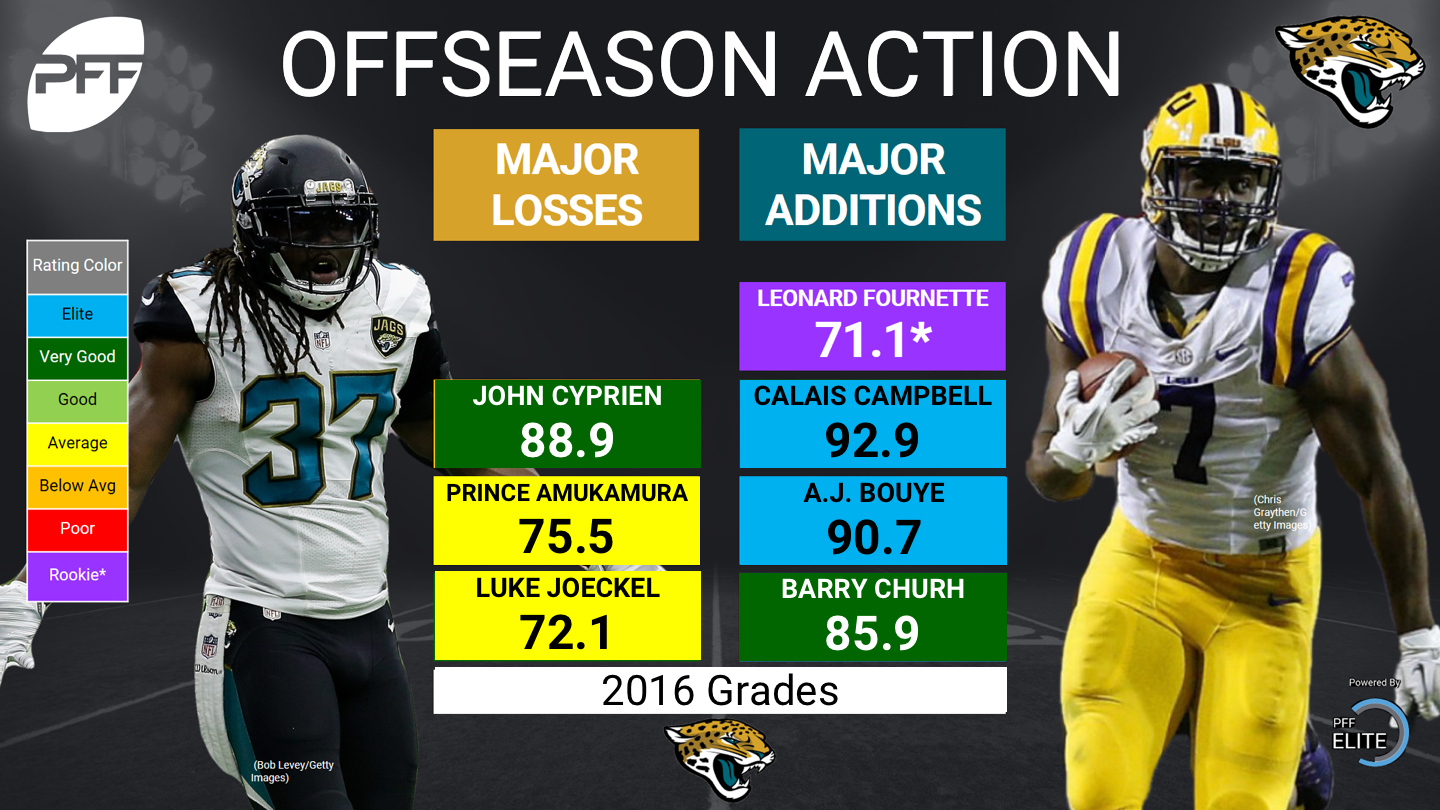 TOTAL SNAPS LOST: 6336
OFFENSIVE SNAPS LOST: 2166
DEFENSIVE SNAPS LOST: 4170
Key losses, offense: Kelvin Beachum – OT – 49.9 grade – 1,024 snaps, Luke Joeckel – OL – 72.1 grade – 221 snaps, Julius Thomas – TE – 58.5 grade – 452 snaps
With the departures of Beachum and uke Joeckel, the Jaguars will be replacing all but 23 of their left tackle snaps from last season. Beachum was less than stellar, grading 63rd out of 76 qualifying tackles, but did have an average pass blocking grade. Joeckel, the second-overall pick in 2013, has never lived up to the hype. He graded poorly in his three seasons at offensive tackle and was moved to starting left guard to begin last year. He then missed 12 games last season and has missed 25 games in his four-year career. Julius Thomas broke out for the Broncos in 2013 and followed with a strong 2014. Despite leading the Jaguars tight end group in receiving stats both years, his 60.4 grade in 2015 and 58.5 grade last season was not what the Jaguars anticipated when signing him.
Robinson, the Jaguars second-round pick this year, was ranked as PFF's second-best offensive tackle in this draft class. His 97.9 pass blocking efficiency ranked 23rd best among all FBS offensive tackles last season and he's proven that he can stay healthy (started all 44 games in his Alabama career). Robinson looks good in those regards, but he must improve his below average run blocking and cut down on the 23 penalties he committed the past two seasons.
Lewis will look to bounce back after playing only 277 snaps last season. He has never dominated in the passing game and may not be the main tight end option this season. Lewis will be asked to utilize his blocking skills and open holes in the ground game while Rivera will look to get back to his rookie form, in which he posted a 77.2 overall grade. Since then, he has posted poor grades the last three seasons and was unable to grasp the Raider's tight end job.
Key losses, defense: John Cyprien – S – 88.9 grade – 1,071 snaps, Prince Amukamara – CB – 75.5 grade – 873 snaps, Sen'Derrick Marks – DI – 49.9 grade – 543 snaps, Tyson Alualu – DI – 50.2 grade – 507 snaps
After beginning his career with three less than stellar years, Cyprien broke out last season. He led all safeties with 51 tackles and posted 27 stops against the run, tied for most among safeties. His 97.5 run defense grade was highest among safeties and propelled his overall grade to 88.9, seventh-highest among safeties. Starting opposite of Jalen Ramsey, Amukamara posted his fifth consecutive average graded season. Both Marks and Alualu struggled last season, each grading slightly below average against the run and having poor pass rush grades. Even with their poor grades, replacing 1,050 combined snaps on the defensive line can be tough.
Campbell has been a stud over the years, but his 92.9 grade last season was a career-best and placed him as PFF's second-highest graded interior defender. His pass-rush grade was anchored by 56 total pressures, including 9 sacks. Campbell played 84.8 percent of his snaps as either a nose/defensive tackle last season, but the Jaguars might ask him to be a bit more versatile and bump outside more this season.
Bouye was one of the biggest breakout players in the NFL last season. After having his grade hover in the 60.0's throughout his first three seasons, Bouye exploded with a 90.7 grade and ranked as PFF's second-best corner. He allowed a 73.1 passer rating when targeted, tied for sixth-most passes defensed with 11 and tied for the seventh-most run stops among cornerbacks with 20. Church's 85.9 overall grade was also his career-best and ranked 11th among all safeties. Church allowed a 65.1 passer rating and had two interceptions, while not allowing a single TD.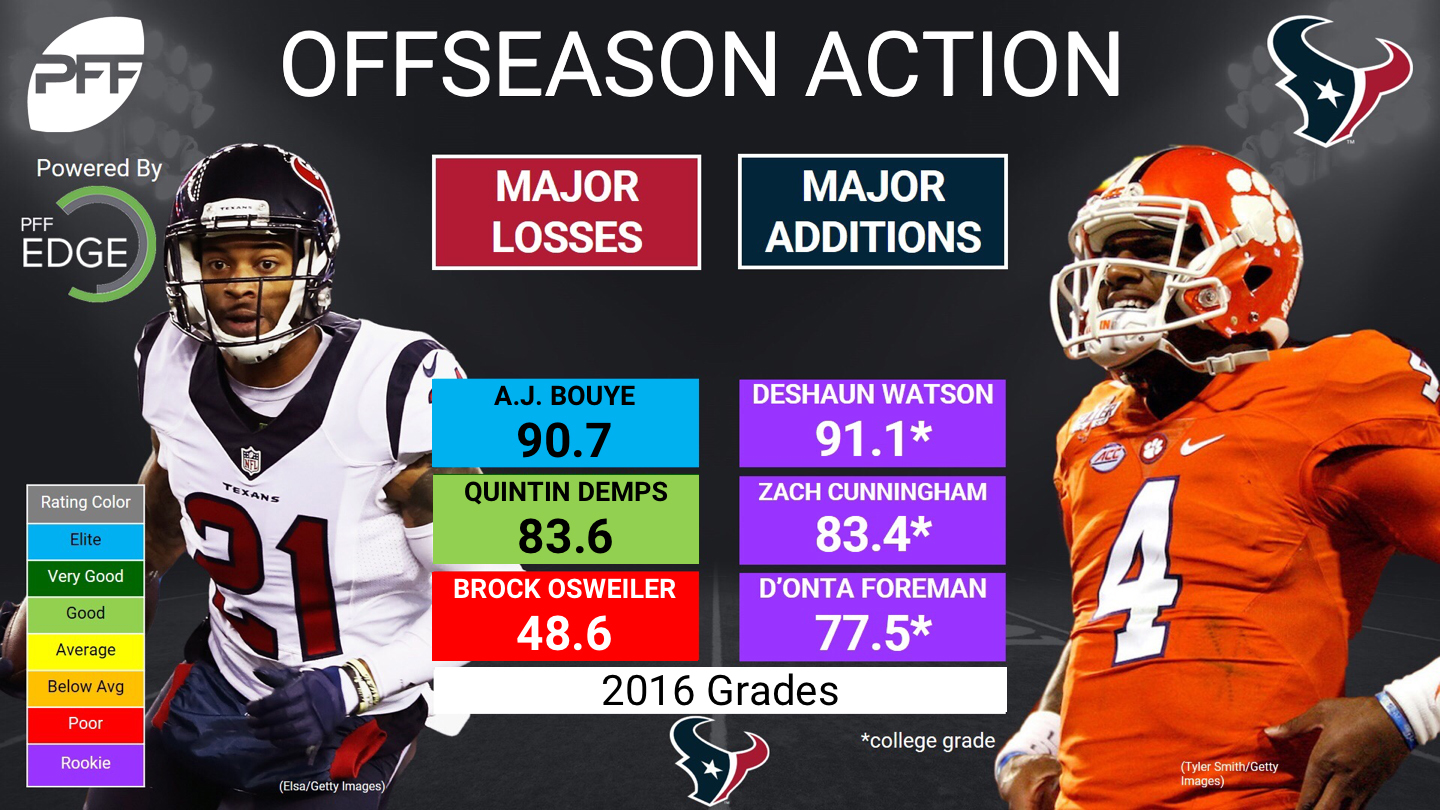 TOTAL SNAPS LOST: 5517
OFFENSIVE SNAPS LOST: 2037
DEFENSIVE SNAPS LOST: 3480
Key losses, offense: Brock Osweiler – QB – 48.6 grade – 1,117 snaps
Hoping to stabilize the quarterback position going into last season, the Texans snagged free agent Brock Osweiler from the Broncos with a four-year, $72 million contract. Osweiler went on to grade as the third-worst quarterback in the league last season at 48.6. He threw more interceptions (19) than touchdowns (17) and led all quarterbacks with 31 turnover-worthy throws.
Savage took over at quarterback in the middle of the Week 15 game against the Jaguars. In the 146 snaps he played before getting injured in Week 17, Savage posted a better passer rating and adjusted completion percentage than Osweiler. He didn't necessarily provide too much excitement though, posting a below-average PFF grade and going without a touchdown pass.
The Texans traded their pick No. 25 and their 2018 first-round draft pick to select Clemson's Deshaun Watson. Coming off a National Championship victory, Watson was ranked as PFF's second-best quarterback. His 90.6 grade last season was the best in the draft class and third-best overall. Watson must limit his turnovers, but his rushing ability, high adjusted completion percentage (76.1 – third best in draft class) and knack for playing well in big moments certainly makes him an intriguing prospect that will be hard to keep off the field.
Key losses, defense: A.J. Bouye – CB – 90.7 grade – 859 snaps, Quintin Demps – S – 86.7 grade – 708 snaps, Vince Wilfork – DI – 64.8 grade – 587 snaps
Bouye's aforementioned breakout season will hurt the Texans secondary. After being thrust into a starting role in Week 5, he played 83 percent of the team's snaps the rest of the season with many of the missed snaps coming in Week 17 when Houston had clinched AFC South.
Demps had a career-year as well, grading as the 10th-best safety in the league at 83.6. He was tough in coverage last year, allowing a 72.0 passer rating. Wilfork didn't end his career on top of his game, but his experience and big body will be hard to replace. His 587 snaps, including playoffs, were most among the Texans interior defenders.
Johnson was the Texans first-round pick in the 2015 draft. After struggling in 2015, Johnson started 2016 proving why he was a top pick before suffering a season-ending injury in Week 6. Prior to the injury, Johnson was allowing a 68.7 passer rating and only a 51.9 percent catch rate.
Moore and Drummond seem to be fighting to replace Demps in the starting lineup. Moore is an UDFA from the 2015 draft class and spent most of the 2015 season on the Texans practice squad, before playing special teams in their final two games. He then played in every game last season, starting in nine of them including the divisional round game at New England. Drummond was also an UDFA in 2015. He played 44 snaps his rookie season, posting a 74.7 grade, and missed all of last year after being placed on the IR with a leg injury. D.J. Reader, the Texans fifth-round draft pick in 2016, had a decent impact his rookie season, compiling a 74.8 grade in 477 snaps. His 7.3 pass rush productivity ranked 15th among all DT/NT. The Texans will hope that Reader can take a step forward in filling Wilfork's void.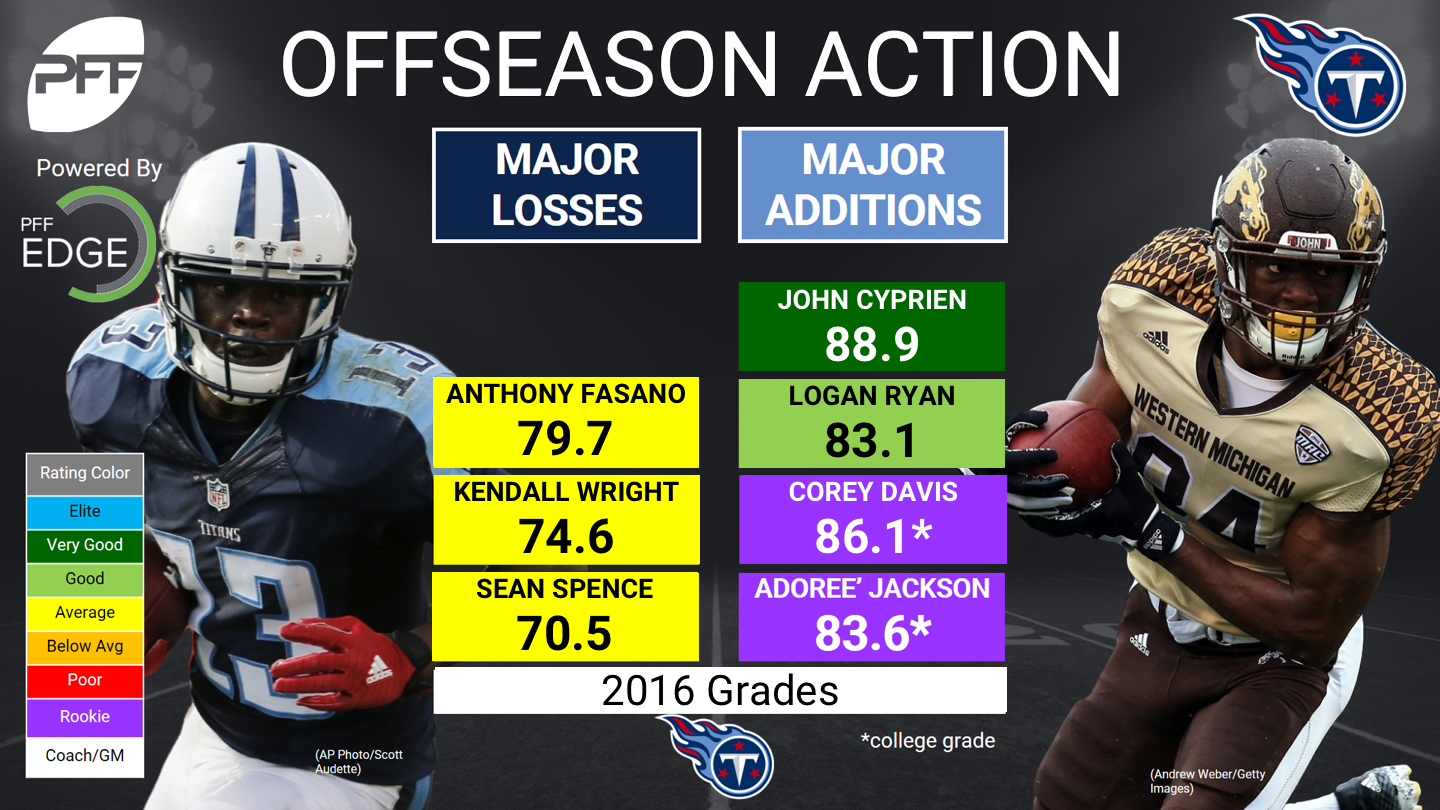 TOTAL SNAPS LOST: 5444
OFFENSIVE SNAPS LOST: 1466
DEFENSIVE SNAPS LOST: 3978
Key losses, offense: Anthony Fasano – TE – 79.7 grade – 533 snaps, Kendall Wright – WR – 77.3 – 308 snaps
Fasano may have graded out as the 13th-best tight end with a 79.7 overall grade, but that was weighed down by a poor receiving grade. Fasano's main role with the Titans was blocking, run or pass blocking on 75.9 percent of his snaps, and he was very good at it. He especially dominated in the ground game, recording an 89.7 run blocking grade – the best in the NFL last year. The Titans had at least two tight ends on the field for 39.9 percent of their plays last year, and Fasano will be a huge loss if the other tight ends don't improve their blocking.
Wright was limited to 11 games last season due to injuries but when he was healthy, he ran 88.9 percent of his routes from the slot which was the second highest percentage in the league. His 1.73 yards per route run from the slot was tied for 16th-highest.
Decker only played the first three weeks last season before shoulder and hip surgeries knocked him out for the year but will look to regain his healthy form this season. Davis is a player that can be used at any receiver position. He posted an 86.1 grade last season, tied for fifth-highest among the nation's receivers last year. That was fueled by a 141.9 passer rating when targeted, 1,512 receiving yards, 19 touchdowns and 3.56 yards per route run. While he only ran 120 routes from the slot, he had 45 catches, 599 yards, four touchdowns and an elite 4.99 yards per route run. Davis was targeted a lot, but he will need to improve on the 26 total drops he had the last three seasons.
After the departure of Fasano, Amaro will get another shot at living up to his second-round hype. Supernaw has graded poorly in his four seasons. It is likely that he will assume the blocking role that Fasano occupied last year. He graded as an average pass blocker, but his 46.7 run blocking grade will need to improve or the Titans run game might take a step back. Rookie Jonnu Smith will attempt to feature into the 53-man roster as a receiving threat at the tight end spot in Tennessee, as he's already received praise from his teammates.
Key losses, defense: Jason McCourty – CB – 72.1 grade – 814 snaps, Perrish Cox – CB – 31.1 grade – 624 snaps, Daimion Stafford – S – 72.6 – 614 snaps, Rashad Johnson – S – 60.4 grade – 555 snaps
The Titans lost plenty of snaps from the secondary. McCourty played the second-most snaps and had the second-highest grade among the Titans cornerbacks. Cox played 624 snaps, mostly at left cornerback where he allowed 52 receptions, 750 yards, five touchdowns and 1.88 yards per cover snap, which was the sixth-worst.
Stafford's average grade was fueled by an 80.2 run defense grade. His 7.9 percent stop percentage when lined up within eight yards of the line of scrimmage at the snap was tied for 11th-best among safeties.
The Titans lured Cyprien away from the division-rival Jaguars. The aforementioned Cyprien had a breakout season in 2016. He led all safeties with 105 solo tackles and his run defense was outstanding and should fill the loss of Stafford. Ryan is coming off of his second consecutive strong season, grading as PFF's 17th-best cornerback last year. He has proven to be an efficient tackler throughout his career, showcasing that last year by having the fourth most stops among cornerbacks. He also showed versatility with 309 of his 556 coverage snaps being from the slot last season.
Jackson's 83.6 grade rounded out a solid college career. He had seven defensive touchdowns last season alone and 14 defensive touchdowns in his college career. Jackson also added six interceptions and 19 passes defensed.