It's time Bobby Wagner started to get a little more love as the Defensive Player of the Year frontrunner for 2017. With the Seattle Seahawks defense losing key members throughout the season, Wagner has been the one constant in the middle, playing a team-high 725 snaps and having a career year while the rest of the defense around him regresses a little individually.
Wagner now has an overall PFF grade of 98.1, three points clear of the next-best linebacker, and one of just 27 defenders in the league with a grade higher than 90.0 overall. Wagner has the best grade of any defender in the league, and a grade more than seven points higher than his previous career best to this point.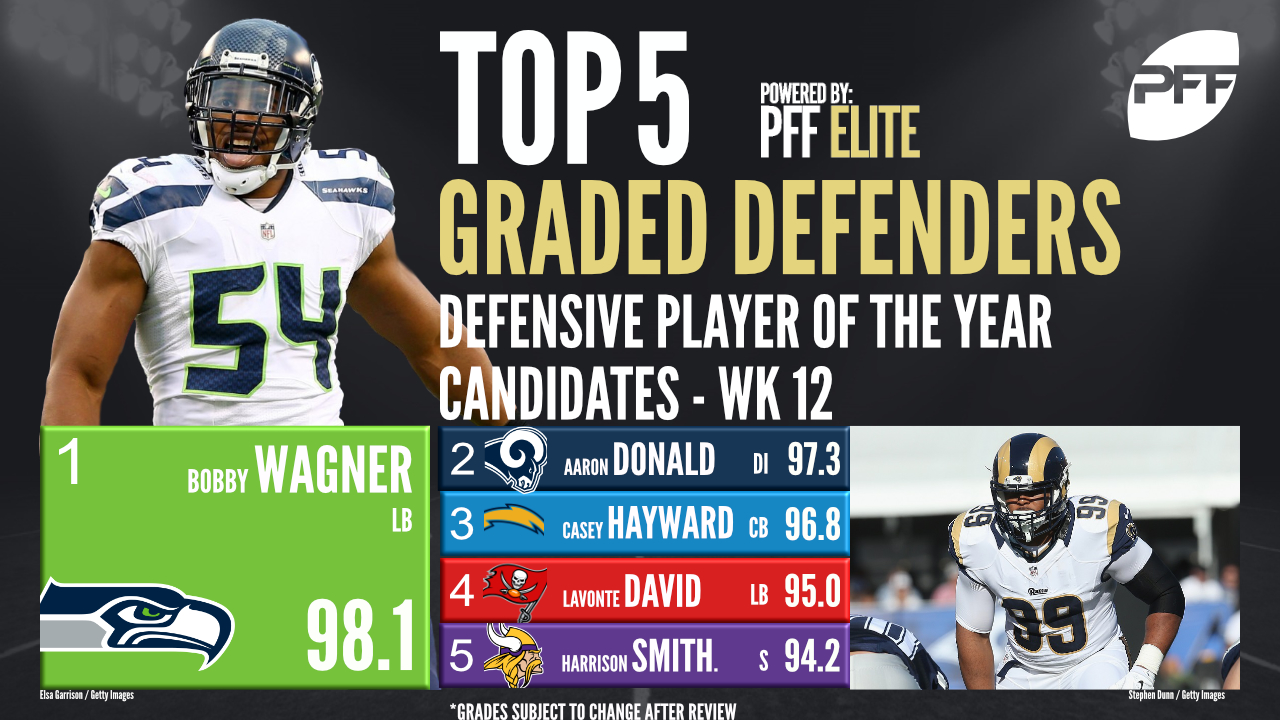 With no J.J. Watt again through injury, it seemed like Aaron Donald would be the nailed on favorite for Defensive Player of the Year, and Donald has been spectacular, but Wagner has if anything been better.
Donald has the second-best overall PFF grade among all defenders at 97.3, but even he can't match Wagner.
When you throw on the tape, it doesn't take long to see Wagner is just a different kind of player to most NFL linebackers this season. The speed with which he reads and reacts to plays with movement is incredible. He is able to get himself into holes and running lanes before blockers have had a chance to position themselves to account for him, and even when he isn't making the play, he is causing disruption to the blocking scheme, often causing the dominos to begin to fall which gives somebody else a free play to make.
But putting some numbers to that tape backs up Wagner's credentials this season. He leads all inside linebackers in run stop percentage (10.9 percent), tackling efficiency (98.0), is second in pass-rush productivity (27.2), and has top 10 coverage numbers while posting the best PFF coverage grade (94.7).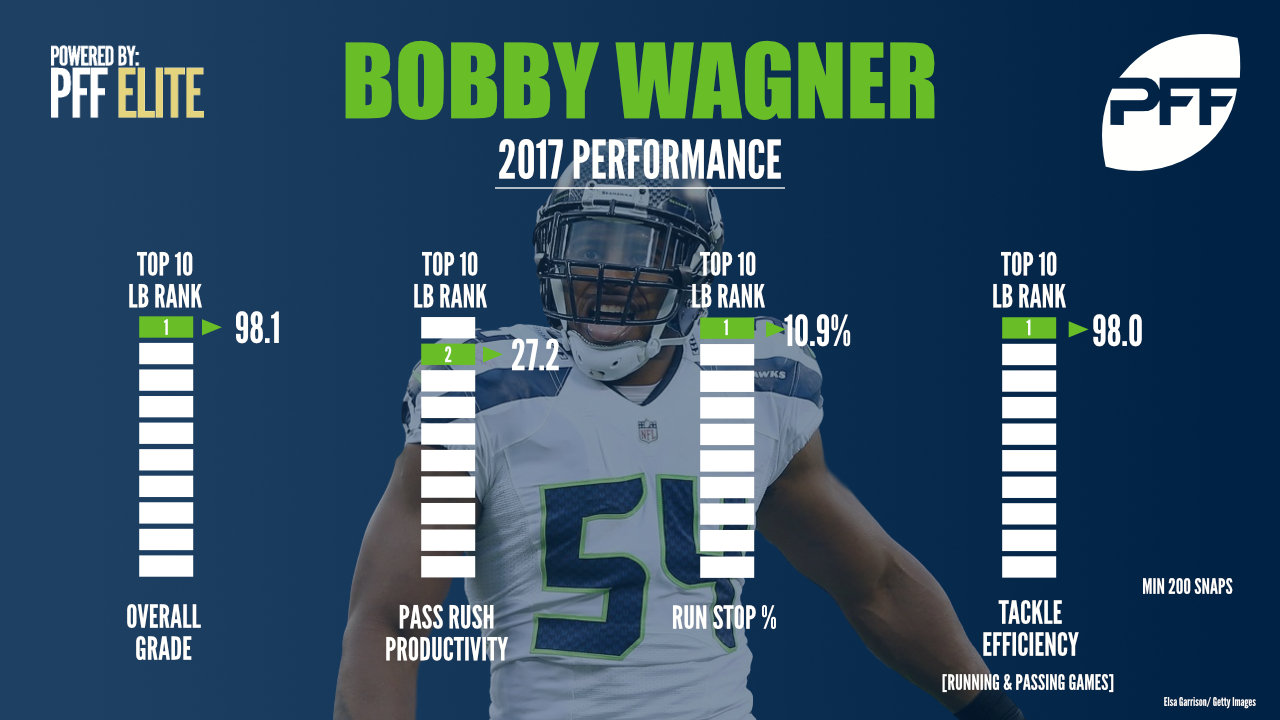 In case it wasn't clear, that's all facets of the game that Wagner is excelling in, as opposed to being a one-trick pony.
Coverage has been a vitally important aspect of his play, with the Legion of Boom suffering multiple injuries throughout the season, losing time from all three of their stalwart defenders and needing to head deep into the bench for playing time.
Wagner has two picks and five pass breakups, the second-most plays on the ball among all linebackers. The average NFL linebacker this season gives up a passer rating of 106.1 when targeted, but throwing the ball into Wagner's coverage is yielding a rating more than 20 points lower at 84.0. His read and react skills are equally applicable dropping into zones or locking onto his receiver in man coverage as they are coming up against the run.
On the blitz, Wagner is a surprisingly effective pass-rusher. With the Seahawks struggling a little more this season as a pass-rushing unit than they have in the past, Wagner has been sent on the blitz 40 times through 12 weeks. He has 14 total pressures and two sacks on those plays, generating pressure on more than a quarter of his rushes.
Typically Wagner finds himself matched up against backs, and he is simply too big and powerful for most of them to hope to block when he has a head of steam.
Bobby Wagner has been one of the best NFL linebackers for years, but this season is the best of his career, and he is on course for a Defensive Player of the Year award by season's end.