While I wouldn't suggest doing this at your own job, this summer at PFF, we've focused on age of the professionals in the sport we track so closely. We've identified our top NFL players above the age of 35 as well as young players who have already made an impact or may jump towards the top of the league at their position.
Many of these players that we have identified have quickly established themselves as elite-level starters poised to soon be rewarded with similar elite-level contracts. There are also many players who have shown glimpses of high-level play when occasionally called upon or in between stints on the injury report. The lists tend to be dominated by the premier positions like edge defenders and cornerbacks, along with running backs, wide receivers and quarterbacks all whose impact on a game is often apparent.
However, not often is it that an off-ball linebacker gets identified as an up-and-comer and/or building block for a defense.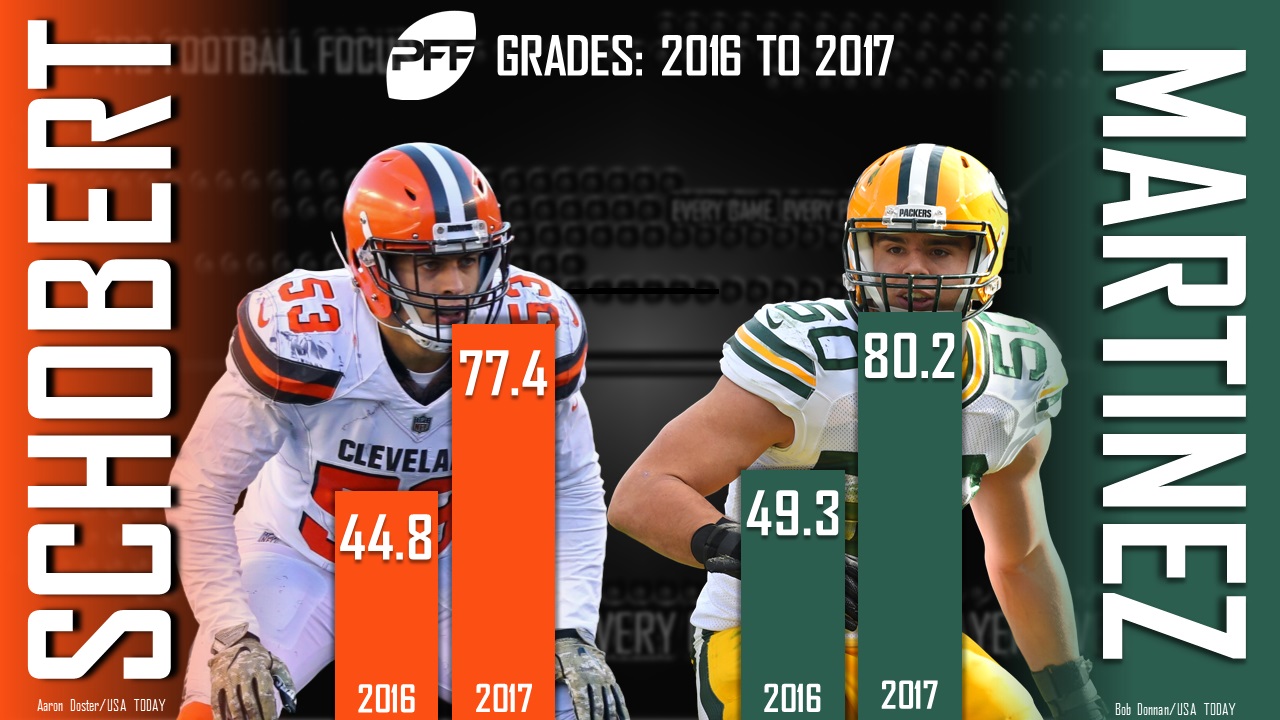 Two linebackers who showed huge jumps in PFF grades from 2016 to 2017 and could equally find themselves on a list of future stars with another year of great success are Green Bay's Blake Martinez and Cleveland's Joe Schobert. Both were drafted in the fourth round of the 2016 NFL Draft. Both were part-time players during their rookie seasons. Both posted replacement-level play (49.3 overall grade for Martinez and 48.8 overall grade for Schobert). Both showed great improvement in 2017 with Martinez vaulting to an 80.2 overall grade while playing 93.1 percent of Green Bay's defensive snaps and Schobert grading at 77.4 overall while impressively playing in every single one of Cleveland's 1,068 defensive snaps.
Digging deeper, where the two players really excelled was in run defense. Starting with Schobert, who led the league in tackles made in run defense during 2017 with 73. Even more impressive was his league-high mark of 44 run stops, which are tackles that result in a 'win' for the defense (further explained here), and a 'loss' for the offense. His 81.6 run-defense grade (24th) took a hit primarily due to his nine missed tackles, tied for second-most, which he'll have to clean up in 2018.
Further highlighting his instincts is the fact that he also led the league on making first contact on run attempts (66 times). Even though Schobert is new to his off-ball linebacker role after playing on the edge in college, he played an integral role in Cleveland finishing with PFF's seventh-highest graded run defense a season ago.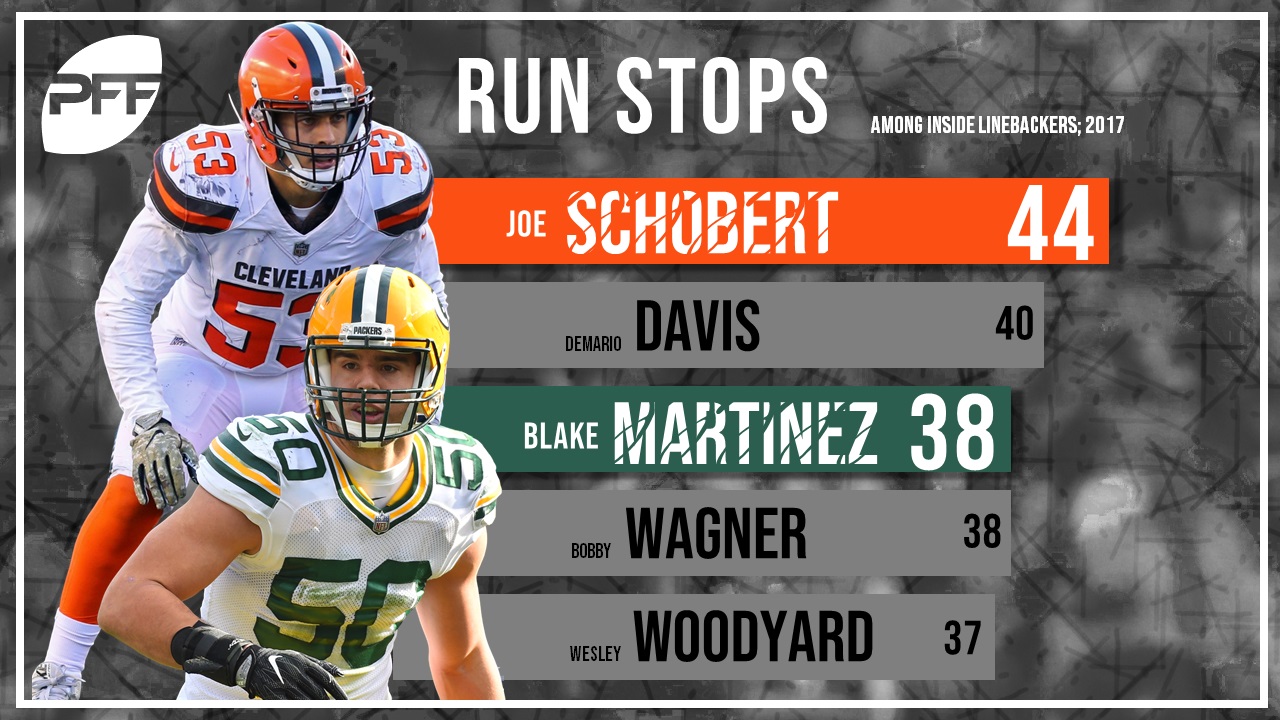 Second only to Schobert, Martinez ended the season with 63 tackles in run defense in 2017 while finishing tied for third in run stops (38), playing his own integral role in PFF's second-highest graded run defense. His run-defense grade of 89.7 was good for eighth in the league, just behind top-overall ranked linebacker Bobby Wagner. His run stop-percentage of 9.0 tied for 27th among all off-ball linebackers (89 qualified linebackers).
The cumulative effect of all these run stops on first and second down puts unwanted stress on the opponent's offense, putting them in obvious passing situations on second- and third-and-long, essentially keeping them off schedule. If both these third-year players want to take their games to the next level, they will need to show marked improvement in pass coverage moving forward. Both had their struggles in this area in 2017, as Schobert posted a 70.7 coverage grade and Martinez posted an alarming 44.0 coverage grade.
Schobert was around league average when dropping into coverage, allowing 1.04 yards per coverage snap (16th out of 30 qualifiers) and 41 receptions on 54 targets. He wasn't a prime target for opposing quarterbacks as his 8.4 snaps in coverage per target was the league's 18th-lowest mark. On the other hand, Martinez is a curious case given he was so highly regarded for his coverage prowess coming out of Stanford, posting an 88.6 coverage grade during the 2015 season for the Cardinal, tops in the country.
However, in 2017 Martinez was picked on consistently by opposing quarterbacks, ranking tied for 77th (out of 82 linebackers) in coverage snaps per target (5.8) and 78th in coverage snaps per reception at 7.1 among the same group. It is expected that incoming defensive coordinator Mike Pettine will have a big impact on Green Bay's defense, with more single-high looks that should benefit the linebackers underneath.
It is clear both players have been a revelation in run defense during their first two seasons. Now, with another year of experience under their belts, if these two third-year linebackers can continue to progress and build on their strengths while showing improved pass coverage, they too could be mentioned among the best at their positions, regardless of age.