Last week, we examined the top 25 NFL players under 25 years of age when the season kicks off. With any list of players at any level of sport, there is certainly to be debate as certain players may be deserving in their own right yet just missed out on a spot on the list.
Let's be sure to keep in mind of our criteria: based on the cumulative body of work for each player to date, factoring in grades, signature stats and team impact. With that in mind, here are 10 players who had a chance to make the list this season, but in all likelihood have an even stronger case at it next season if they continue their level of play of late.
King, the Los Angles Chargers' fifth-round pick in the 2017 NFL Draft, picked up right where he left off with the Iowa Hawkeyes in his debut season in the NFL a year ago. After earning an 86.6 overall grade in his final season at Iowa, King turned in an 86.5 overall grade as a rookie in 2017, which was propped up by favorable coverage (86.5) and run-defense (81.6) grades.
Among NFL cornerbacks with at least 220 run defense snaps in 2017, King ranked first in run-stop percentage (5.9). He also thrived as the Bolts' primary slot cornerback, as he ranked 13th among qualifying cornerbacks in yards allowed per coverage snap from an inside alignment.
King's proven ability in the slot and positional versatility create for a high floor in Year 2 of his NFL career.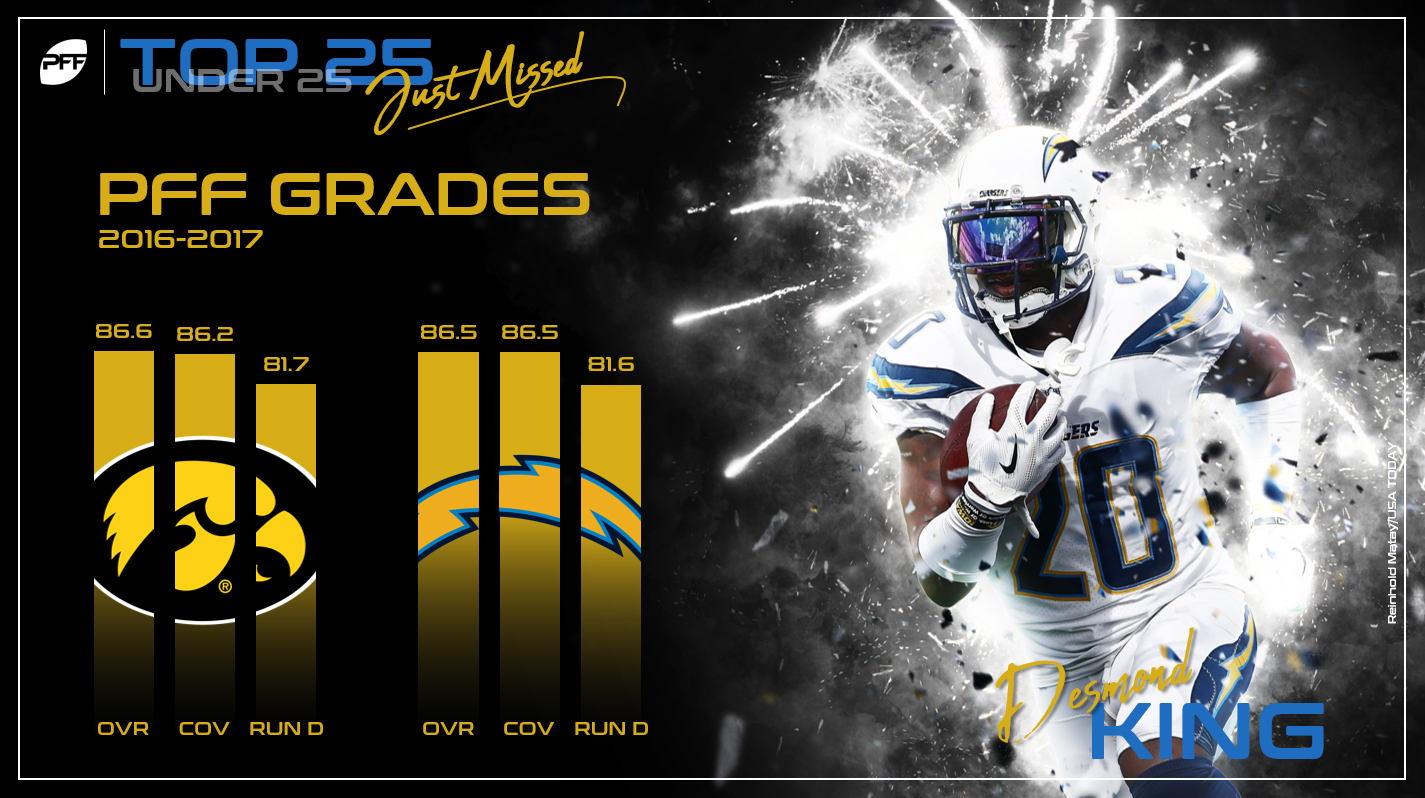 Williams capped his rookie campaign off on a bad note, missing an important tackle in the Divisional Round of the playoffs to spark a miracle Minnesota Vikings comeback win. However, Williams' miss shouldn't discredit what was a great regular season.
Williams finished the 2017 season with an 86.8 overall grade, the second-highest grade among all rookie safeties, tied for 11th among all safeties. The former Utah product ranked eighth among qualifying NFL safeties in tackling efficiency (15.6) during the regular season, as he missed just five tackles all year. In coverage, he ranked third in yards allowed per coverage snap (0.13) among qualifying safeties.
Williams' final play of the 2017 season is, of course, a tough pill to swallow for both him and the Saints' faithful. His route to redemption isn't far off from the level of play he put forth a year ago, a tell-tale sign that he'll likely bounce back quite quickly in 2018.
Though propped up by Los Angeles Rams coach Sean McVay's highly efficient offense, Goff took significant leaps forward in several areas of his game after what was an underwhelming rookie season for the former No. 1 overall pick.
Goff made the most of McVay's detailed scheme and play-calling, improving his overall grade by more than 35.0 points (45.6 to 81.3) compared to his rookie season. He also ranked 12th in big-time throw percentage (5.10) and 13th in turnover-worthy throw percentage (2.89), both figures standing out as dramatic improvements from the previous year.
The McVay-Goff partnership proved quite formidable when firing on all cylinders. If the two can even improve on their feats from a year ago to perform well with better consistency, significant success is on the loom for Goff & Co. in 2018.
Handed the keys to the Chiefs' offense with the Alex Smith trade this offseason, Mahomes will have high – but certainly tangible – expectations to live up to in the driver's seat in 2018. Mahomes' unreal arm talent was put on full display in his tenure with the Red Raiders and at the 2017 NFL Scouting Combine, which ultimately pushed Kansas City's brass to trade up in the 2017 NFL Draft to snag him off the board with the No. 10 overall pick.
In 2016, Mahomes ranked No. 2 among draft-eligible quarterbacks in adjusted completion percentage from a clean pocket and big-time throw percentage. Though he did also have the second-highest percentage of turnover-worthy throws in the draft class, there's plenty reason to believe Mahomes can do a better job keeping the ball out of harm's way after his proverbial redshirt year learning behind Smith and mastering head coach Andy Reid's offense.
Hunter, a former third-round pick out of LSU, has played 1,899 defensive snaps across his three-year NFL career, yet he will turn just 24 years old in October. And, in addition to his youth, Hunter has steadily improved all throughout his career, boosting his overall grade by 2.6 points in each of the past three seasons.
Putting together a career year in 2017, Hunter recorded 68 total pressures, including 54 hurries, five quarterback hits and nine sacks en route to a career-high 82.6 overall grade. He also had quite the year in 2016, totaling 34 hurries, eight quarterback hits and 13 sacks (55 total pressures).

Cast into the limelight just 31 snaps into Week 1, Houston Texans quarterback Deshaun Watson had to brush aside any rookie nerves in a hurry after entering the season as the No. 2 signal-caller behind veteran Tom Savage. And he did just that, improving by leaps and bounds with each game before suffering a season-ending knee injury in a practice leading up to what would've been his seventh NFL start.
Earning above average single-game grades in 4-of-6 starts, Watson looked every bit of the quarterback that led Clemson to a National Championship during the 2016 season, making plays with both his feet and his arm with great consistency. He ranked No. 1 in big-time throw percentage (7.49) and tied for No. 1 in total big-time throws in the red zone despite playing limited snaps.
Of course, Watson's 2017 season wasn't without flaw, as he sometimes got caught forcing the ball into tight coverage, as evidenced by his 33rd-ranked turnover-worthy throw percentage (4.49). The quick-footed gunslinger still has room to grow in terms of protecting the ball and handling pressure, but if he can indeed improve in said areas, he has elite-level potential in this league.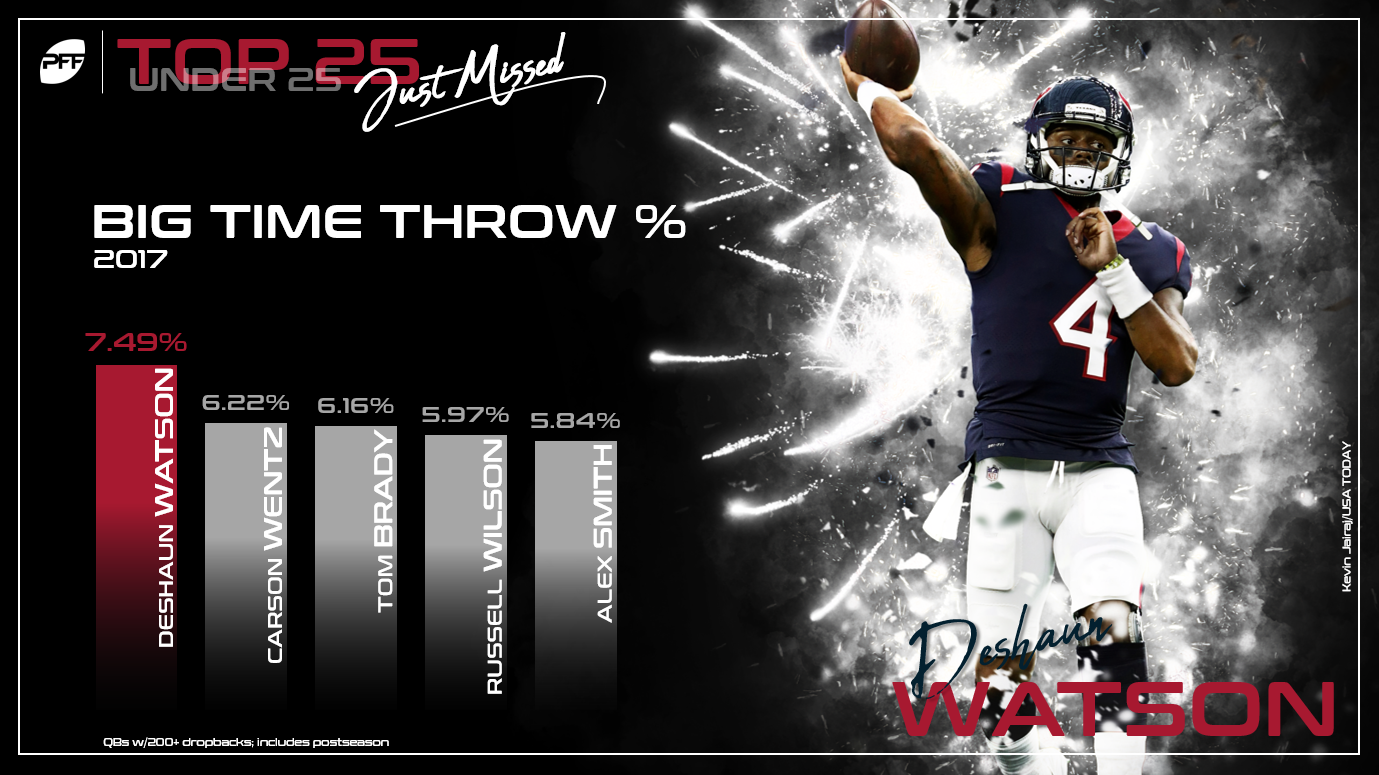 Williams put together a stunning sophomore season in place of the injured Jason Verrett early last year, as he improved his overall grade more than 45.0 points to rank 10th among qualifying cornerbacks at 88.5 in 2017.
A former undrafted free agent out of Penn State, Williams didn't falter under the pressure that accompanied stepping into Verrett's shoes along the boundary, as he ranked third in run-stop percentage (3.7) and tied for 11th in yards allowed per coverage snap (0.82) among qualifying cornerbacks this past season. More specifically, Williams was at his best when defending the deep ball, allowing just 4-of-20 of his deep targeted (20-plus yards) to be completed.
Verrett has played 260-plus defensive snaps in just one of his four seasons in the NFL due to injury, making it all the more likely Williams is given the opportunity to reciprocate his 2017 success as the starter opposite of Casey Hayward.
Entering his third NFL season at just 22 years old, the former UCLA interior defender is in a great position to build on his previous successes as a penetrator in the Green Bay Packers' defense. Playing 274 more defensive snaps in Year 2 of his career, Clark earned a career-high 87.9 overall grade in 2017, ranking 13th among qualifying interior defenders. He also recorded 36 defensive stops and 31 total pressures (22 hurries, four hits, five sacks) in the process, more than doubling his marks in the respective categories from 2016.
With veterans Mike Daniels and Muhammad Wilkerson involved in the rotation, Clark should see a high percentage of 1-on-1 situations both defending the run and attacking the passer, opening the door for him to be frequent visitor to opposing team's backfields.
Like Watson, the Vikings' Cook had his promising rookie season cut far too short, as he played just 169 total offensive snaps before a non-contact knee injury ended his season.
Cook forced a whopping 18 missed tackles on just 85 total touches in 2017, showcasing his ability in open space with his agility and balance. Of course, his high-end ability to make people miss should come as no surprise for those that followed Cook's career as he ranked No. 1 in our elusive rating (128.1) among qualifying running backs in the 2017 draft class in his last year with FSU, forcing 98 missed tackles in the process.
The 6-foot, 213-pound Cook should take on a heavy workload as a three-down back in the Vikings' offense in 2018, a role he can thrive within if his health allows for it.
New Chiefs cornerback Fuller is coming off an outstanding sophomore season, as he improved his overall grade from 45.5 in 2016 to an elite 90.0 in 2017. He also allowed just 0.78 yards per coverage snap and a 56.7 passer rating when targeted, ranking No. 7 and T-No. 10, respectively, among cornerbacks with at least 166 snaps in coverage this past season.
Playing 88.1 percent of his defensive snaps from an inside alignment in 2017, Fuller has seemingly found a home as a slot cornerback in the NFL. He allowed a 55.0 passer rating when covering receivers out of the slot last season, ranking No. 1 among all cornerbacks with at least 25 targets.
Like the other one-year wonders on this list, Fuller will be tasked with proving whether his elite play in 2017 is sustainable rather than transient this upcoming season.