Friday the 13th is upon is in the middle of April and with that, there is no better time to look at scary stats that opposing NFL coordinators and coaching staffs will definitely lose sleep over later this fall. Be it a pair of edge rushers or a passing attack down the field, the following stats put fear in their opponents on paper, let alone when it's actually time to don the pads.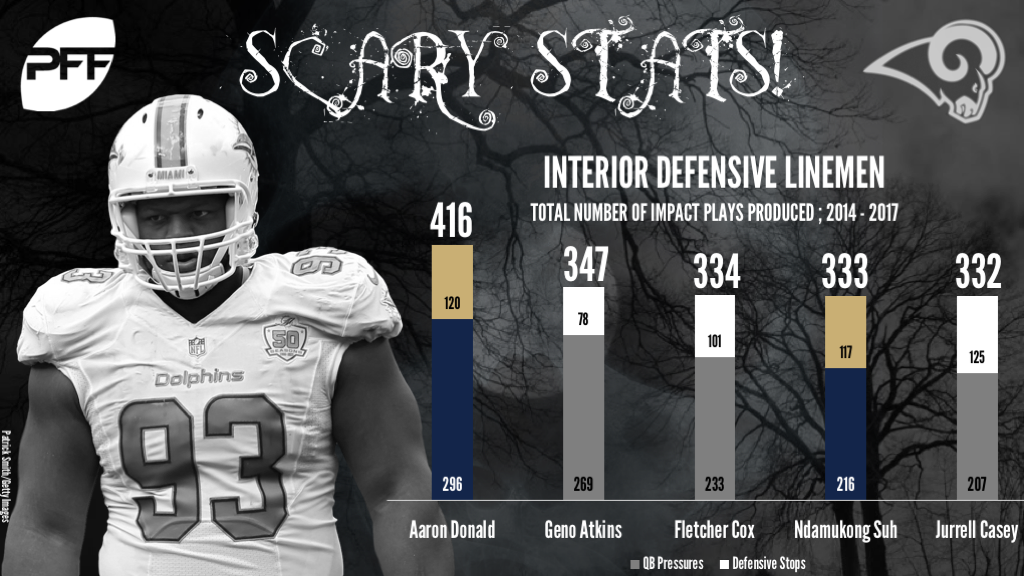 Firmly atop this list is the freshly inked partnership of Donald and Suh, whose presence on the same defensive line will make even the most competent interior offensive linemen second-guess themselves. As two of the most well-rounded interior defensive linemen in football, the pair have both graded within the top six among players at the position in every season since 2014, and in that span, Donald has racked up a staggering 496 impact plays (total number of quarterback pressures and defensive stops), while Suh has accounted for 333 impact plays, which rank first and fourth among all interior linemen in that span, respectively.
Something that PFF's own Gordon McGuinness explained in great detail last week; the Los Angeles Rams are all-in for the 2018 season, which is evidenced by the most aggressive offseason in the NFL this year. In addition to signing Suh, the Rams also sent a first-round pick to the New England Patriots in return for fifth-year wide receiver Cooks, which adds a dynamic, vertical threat to Sean McVay's offense. Since entering the league in 2014, Cooks has amassed 1,794 yards from passes that traveled at least 20 yards in the air, which is second only to Julio Jones in that span, and he's generated a catch rate of 44.9 percent and a passer rating of 101.4 on such throws – which rank second and eighth among receivers with at least 75 deep targets in that span, respectively. Given that Goff ended the 2017 campaign as the league's sixth-most accurate quarterback on deep passes, the Goff-to-Cooks combination could prove lethal to opponents in 2018.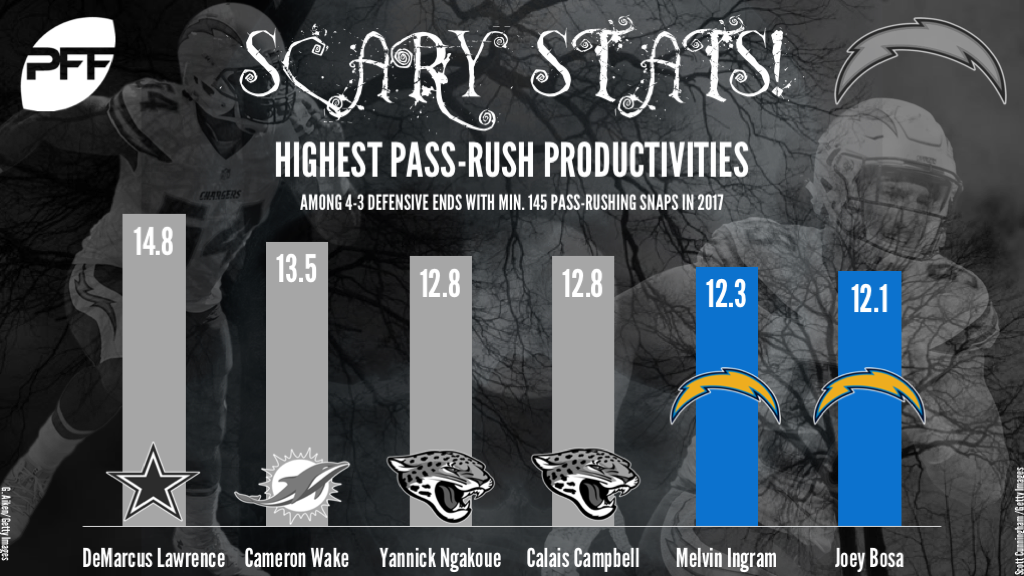 As good a pass-rushing tandem as there is in the NFL right now, Bosa and Ingram will be licking their chops at the thought of lining up against their upcoming opponents in 2018. As the depth charts stand right now, just five of the 26 starting tackles that they're scheduled to face graded above 80.0 in 2017 and a staggering 11 of those 26 players graded as 'below average' or worse. Ingram and Bosa both ended the 2017 season with elite pass-rushing grades and racked up pass-rush productivities of 12.3 and 12.1, which ranked fifth and sixth among 68 qualifying 4-3 defensive ends, respectively. Unless the majority of their opponents step up significantly in 2018, expect the pass-rush dominance of the Los Angeles pair to continue into next season.
Jackson and Byard are both coming of very productive seasons, but the offseason addition of Butler turns the Tennessee Titans secondary from an up-and-coming unit into one that has the potential to become one of the best playmaking units in the entire NFL. Since entering the league in 2014, former-Patriots CB Butler has ended all three of his regular seasons with at least 10 pass breakups and at least two interceptions, making him one of just three players in the PFF era (2006 – present) to achieve this feat in three consecutive campaigns. Meanwhile, Jackson ended his rookie campaign with a whopping 15 pass breakups, which is the second-most ever recorded by a rookie cornerback. Byard ended his season with a playmaker index (number of breakups and interceptions divided by pass attempts) of 31.3 percent, which is the fifth-best mark ever recorded by a safety. Any way you look at it, the new defensive backfield in Tennessee looks like a formidable place to throw the football.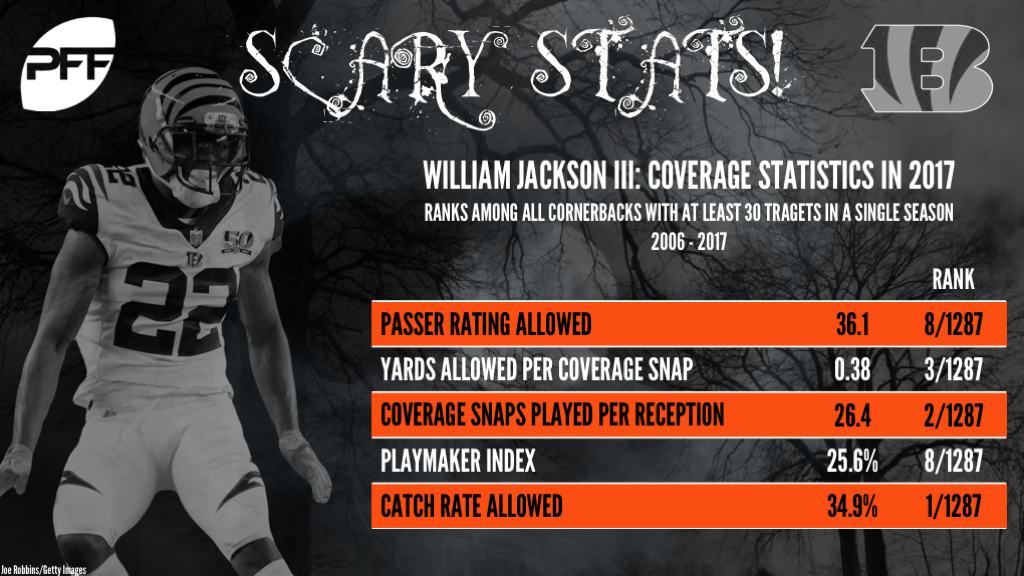 Jackson, who missed the entirety of his rookie season in 2016 due to injury, enjoyed an incredible breakout season in 2017 and put up numbers that weren't just good, rather historically great. In the 12 seasons that PFF has data for, Jackson's 36.1 passer rating allowed is the eighth-best mark ever recorded by a cornerback, while his 0.38 yards allowed per coverage snap, his average of 26.4 coverage snaps played per reception allowed and his playmaker index of 25.6 percent rank second, third and ninth over the last 12 years, respectively. What's truly terrifying about that is the fact that he played just 65.6 percent of his team's snaps and he wasn't an established starter for his team until Week 14 of the season. With a year under his belt and an almost guaranteed starting spot on the perimeter heading into the 2018 season, quarterbacks will sure have to be brave if they want to test Jackson in coverage.
In addition to the aforementioned acquisitions of Suh and Cooks, the Rams also traded for veteran cornerbacks Talib and Peters to add to an already talented defensive backfield that contains slot cornerback Robey-Coleman and corner-turned-safety Joyner. Talib is playing the best football of his career right now, coming off a 90.6 overall grade in 2016 and an 86.2 grade last season, where he allowed just 0.57 yards per coverage snap – the third-best mark among players at the position. The acquisition of Peters also gives the Rams one of the best playmakers at the cornerback position, a player who has racked up a whopping 50 combined pass breakups and interceptions since 2015, the most among cornerbacks in that span. With those two on the perimeter, the Rams were wise to lock up Robey-Coleman to an extension this offseason, and his signature gives the team one of the stingiest slot corners in the game, evidenced by the 0.80 yards per coverage snap he allowed throughout the 2017 season, which was the 10th-best mark among slot corners. Add in Joyner at safety, who ended the 2017 campaign with the highest coverage grade among safeties (92.2) and the Rams will enter the 2018 season with one of the most formidable pass defenses in the NFL, which is enough to scare any opposing offense.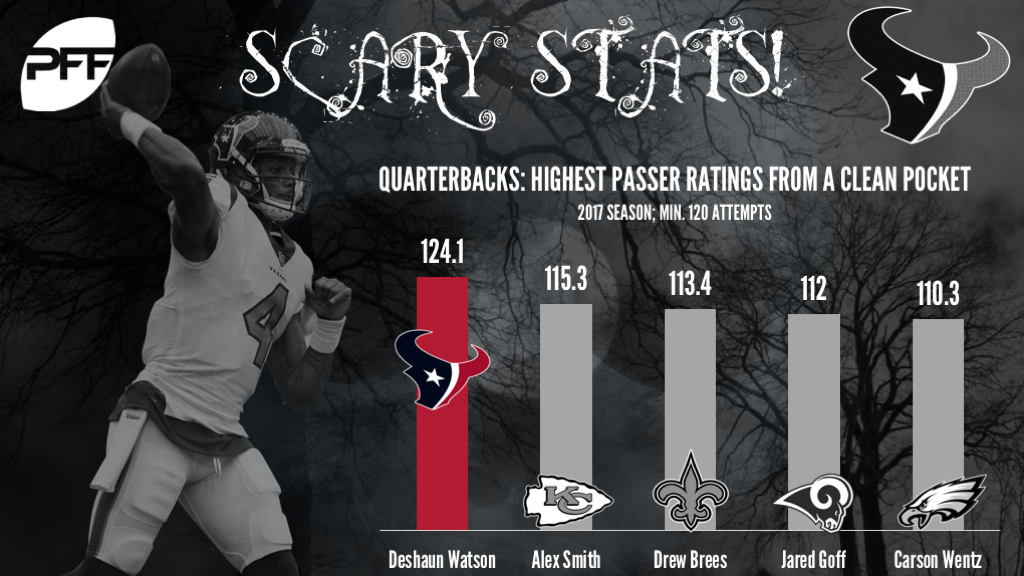 Watson's explosive entrance onto the NFL stage took the league by storm, as the rookie signal-caller spent the best part of six weeks tearing up defenses before his season was heartbreakingly cut short by a knee injury. In his time as starter, Watson put up impressive numbers, namely a 124.1 passer rating when kept clean from pressure, which not only put him first among all quarterbacks with at least 100 pressure-free dropbacks in 2017, but first among all rookie quarterbacks since 2006. While his 2017 season may have been cut short, he displayed traits during his time on the field to prove that he could very well be the next big star in the AFC South for years to come.
The Philadelphia Eagles defensive line vs. opposing offensive lines
The Super Bowl Champions' defensive line was a truly dominant force in 2017, and their ability to generate pressure on the quarterback without even having to blitz was unmatched. Throughout the 2017 season, the Eagles managed to generate pressure on 41 percent of their pass-defense snaps, which was by far the highest rate among teams. This offseason, the Eagles managed to retain all-but-two of their defensive linemen, and replaced the departing Vinny Curry with none other than former-Seahawk Michael Bennett, who ended the 2017 season with a whopping 70 quarterback pressures, which was tied for the seventh-most among 4-3 defensive ends last year. They also brought in Haloti Ngata to replace Beau Allen, who left for the Tampa Bay Buccaneers. You thought the Eagles defensive line was good last year? The addition of Bennett arguably makes them even better, which in itself is a scary thought.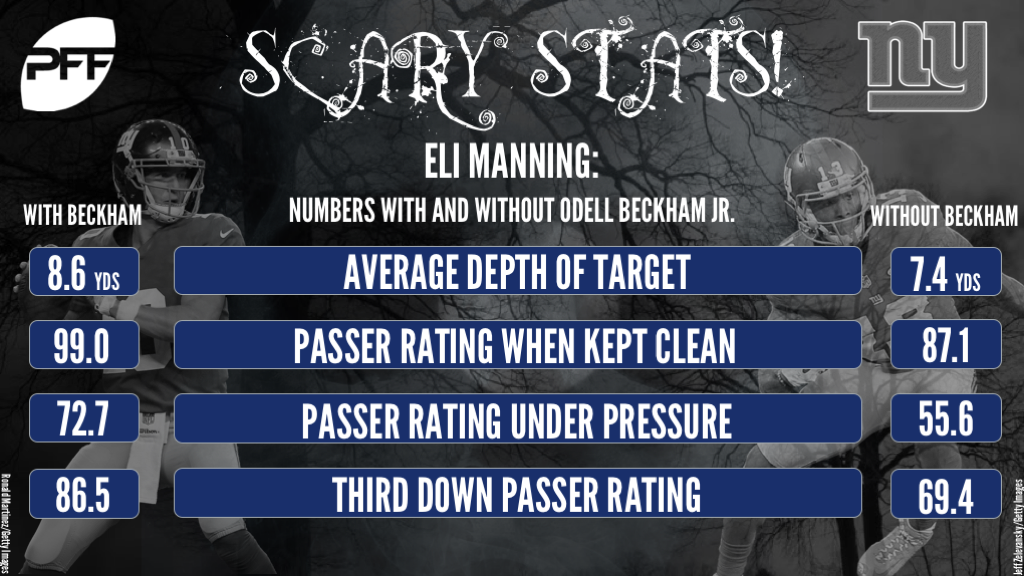 Now that Beckham has reported to the Giants' offseason program, the trade talk and rumors have died down and the fifth-year receiver is expected to play out the remainder of his rookie deal in New York. The thought of him being back on the field should be enough to scare any opposing defense, after all he's averaged a colossal 2.44 yards per route run since he entered the league, which is bettered only by Julio Jones (2.98), Antonio Brown (2.68) and A.J. Green (2.51) in that span, while his wide receiver rating of 113.4 ranks second among all pass catchers with at least 400 targets. However, having OBJ back on the field is not only a bonus because of the dynamism he brings, his quarterback also reaps the rewards from his presence on the field too. With Beckham on the field, Manning has posted a 99.0 passer rating when kept clean, a 72.7 passer rating while under pressure and an 86.5 third down passer rating. Without Beckham on the field for the Giants, those numbers drop to 87.1, 55.6 and 69.4, respectively. With Beckham on the field, opposing defenses won't just have to deal with an elite-level wideout, they'll also have to deal with a much more efficient Eli Manning.
With former quarterback Alex Smith under center during the 2017 season, the Kansas City Chiefs offense exploded and racked up a staggering 60 big-plays (total number of deep pass completions and breakaway runs), the second-most among offenses. On deep passes alone, wide receiver Tyreek Hill generated a passer rating of 138.9 and tight end Travis Kelce generated a passer rating of 137.9, which respectively ranked them first and second among all skill position players with at least 15 targets. Heading into the 2018 season, Smith will be replaced by second-year quarterback Mahomes, who has an even bigger arm and is arguably above Smith when it comes to playmaking ability, which was evidenced by last year's preseason outings, where he posted a passer rating of 129.5 on his throws of 20 or more yards downfield, the ninth-best mark among signal-callers with at least five attempts. Add in the offseason acquisition of wide receiver Sammy Watkins, who has generated a passer rating of 103.9 since he entered the league in 2014 – the 10th-highest mark among receivers with at least 300 targets in that span, and it gives you arguably one of the most talented offenses in the league, which is enough to send shivers down the spine of even the most competent of defensive units.