Saquon Barkley was sensational last night. The New York Giants offense as a whole, however, was stagnant and the team struggled to move the ball downfield outside of the chunk plays that Barkley provided. That is the problem that Pat Shurmur and the Giants face. One dynamic, exciting running back does not compensate for an offense that cannot sustain drives around him.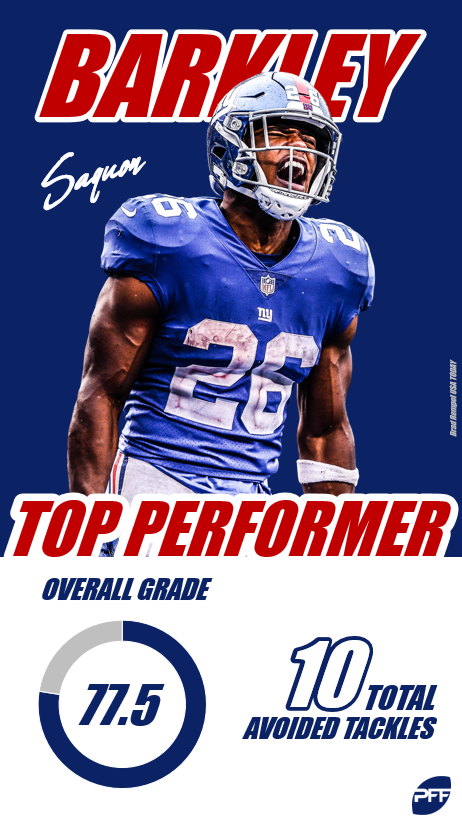 That is not to say that Barkley's performance last night should not be recognized, because it should. His combination of speed, agility, power, and balance makes him a nightmare for defenses to tackle in the open field. Coming into the game, Barkley ranked second among all players in tackles avoided with 27. Last night alone, he forced four missed tackles as a runner and another six as a receiver.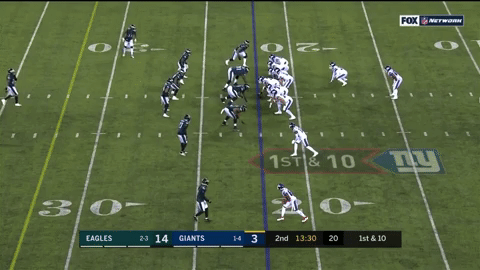 This run (above) in the second quarter only went for 9 yards, but it was one of his more impressive efforts of the night. He was met in the backfield directly after the handoff, but he was able to cut, make both Kamu Grugier-Hill and Malcolm Jenkins miss in tight confines and he then finished for a few extra yards through contact.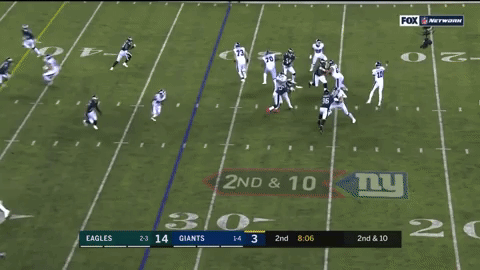 Then, of course, there was the 55-yard screen pass later in the second quarter, on which a block from John Greco opened up a highlight-reel run after the catch. He ran through a leg tackle, threw another defender off his back, and cut inside of another potential tackle before he was finally brought down by Brandon Graham.
That wasn't his only big gain of the day, though. In total, Barkley had three plays that went over 40 yards. He only had 13 carries on the night due to the flow of the game, but he turned those 13 carries into 130 rushing yards on the back of two long runs that went for 96 yards combined.
The breakaway run has become a staple of Barkley's game through the first six weeks. Of his 438 rushing yards on the season, 281 yards have come on eight runs of 15 or more yards. That breakaway percentage of 64.2% ranks first among all running backs with at least 25 attempts on the season.
The problem for the Giants is that Barkley has become a one-man show. The selection of a running back at number two overall has sparked a great debate over whether or not the Giants should have taken a running back, given the fact that Eli Manning is on the decline and there were several well-regarded quarterbacks on the board at No. 2, such as Sam Darnold and Josh Rosen. It's not necessarily fair to Barkley, because he is a very talented running back, but this Giants' offense is a prime example of the limitations of what a running back can do alone.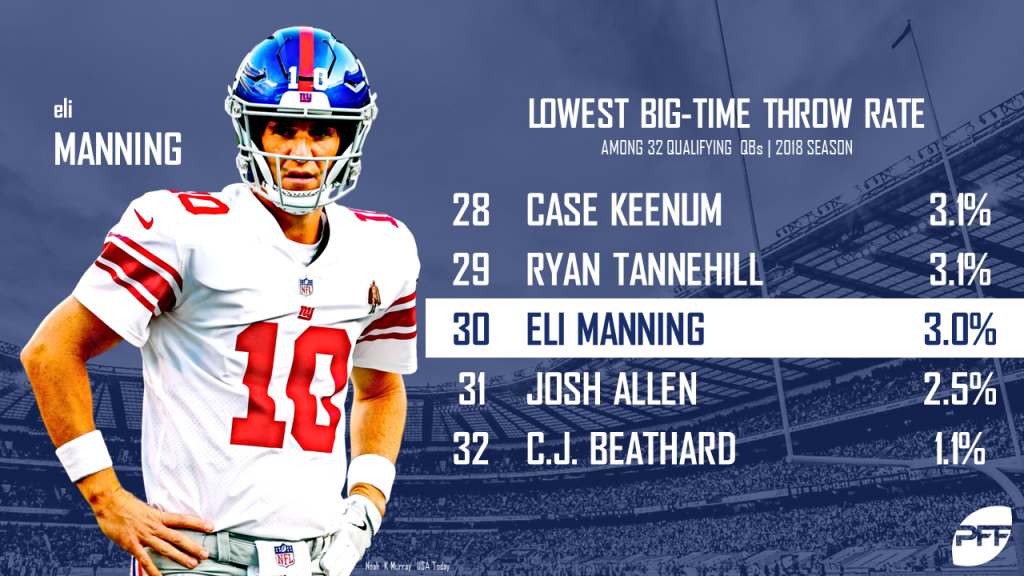 It starts with quarterback Eli Manning, who received a grade of just 37.3 last night, which brings his overall grade on the season to 65.6 (24th of 32 qualifying quarterbacks). The issue Manning has seen this season is that he is not making any big-time throws deep downfield or into tight windows. Among 32 quarterbacks with at least 89 attempts this season, Manning ranks third-to-last in big-time throw percentage at 3.04%, which is above only Josh Allen and C.J. Beathard.
Most of the passing success he has seen has been on plays where he has gotten it out to playmakers, such as Barkley on that 55-yard pass above, or Odell Beckham Jr. who currently leads all wide receivers with 18 avoided tackles after the catch. The fact is, as seen by his big-time throw rate, that Manning has not been manufacturing any big plays with his arm – and it is hard for an offense to perform at a high level with a quarterback who is reluctant to stretch the field.
Many people will point to the Giants offensive line as the main problem. There is no arguing that their line has not put on the best performance this season, or in recent years. Their team pass blocking grade of 60.9 currently ranks 30th in the NFL, and the offensive line has allowed 13.7 pressures per game which is the fifth-highest mark behind the Minnesota Vikings, Houston Texans, Indianapolis Colts and Arizona Cardinals. So yes, the Giants offensive line has not made things easy on Manning.
The thing is, that Manning is still not making those big-time throws when he has been kept free from pressure. His big-time throw rate from a clean pocket sits at 3.07%. In other words, it is essentially the same as his overall rate. For those of you into more traditional metrics, his passer rating of 105.0 from a clean pocket ranks 17th of 32 qualifying quarterbacks.  As is expected, it drops to 55.6 under pressure, which ranks 24th, but even when he doesn't have rushing defenders in his face, Manning has been an average quarterback at best.
That is the problem that the Giants and Saquon Barkley face. Barkley has been tremendous this season, coming into the NFL as advertised. Among running backs with at least 50 rushing attempts this season, he currently holds the highest overall grade of 79.6. He is making people miss, he is making big plays, and he is putting on a show for NFL viewers on a weekly basis, but all of that has not mattered for the Giants offense so far.
There was optimism coming into the season for the Giants with weapons such as Barkley, Odell Beckham Jr., Sterling Shepard and Evan Engram surrounding Manning. How could they fail with all that playmaking talent? Yet, they have shown through six games exactly how they can – poor offensive line play and poor performance from Manning. Saquon Barkley is the tackle-breaking, homerun-hitting threat that he was advertised to be, but ultimately, it didn't matter on Thursday as the Giants turned in another lackluster offensive performance on their way to 1-5.