Rob Gronkowski is the J.J. Watt of offensive players in the NFL. Watt ended up as the No. 1 player on my top 101 list of best players in the game, but Gronk sits at No. 2 right behind him. There is no more dominant player on offense than the Patriots tight end, who is by a distance the best player in the league at his position. He is the best offensive player you'll see.
What makes him so special is a lot like what makes the Texans' Watt so special on defense – being able to dominate in multiple phases as opposed to just one. In a league that has become ever more specialized – with third-down backs, pass-rush specialists, big-nickel safeties, two-down linebackers etc. – simply being an excellent well-rounded player makes you a tough proposition to match up with.
This is a league where the TE position has largely become a glorified big slot receiver. There are players who can come close to rivaling Gronk as a receiver – Greg Olsen, Jimmy Graham, even Jordan Reed – but none of those players is even close to the level Gronkowski is as a blocker. That's what makes him so special.
Even as a receiver, Gronkowski is a multi-faceted threat. He has a spectacular catch radius and can make tough catches on any route in all areas of the field, but he is also incredibly dangerous after the catch, where his size and strength make him a real problem for defenders to get him to the ground.
This catch is probably Gronkowski's signature catch: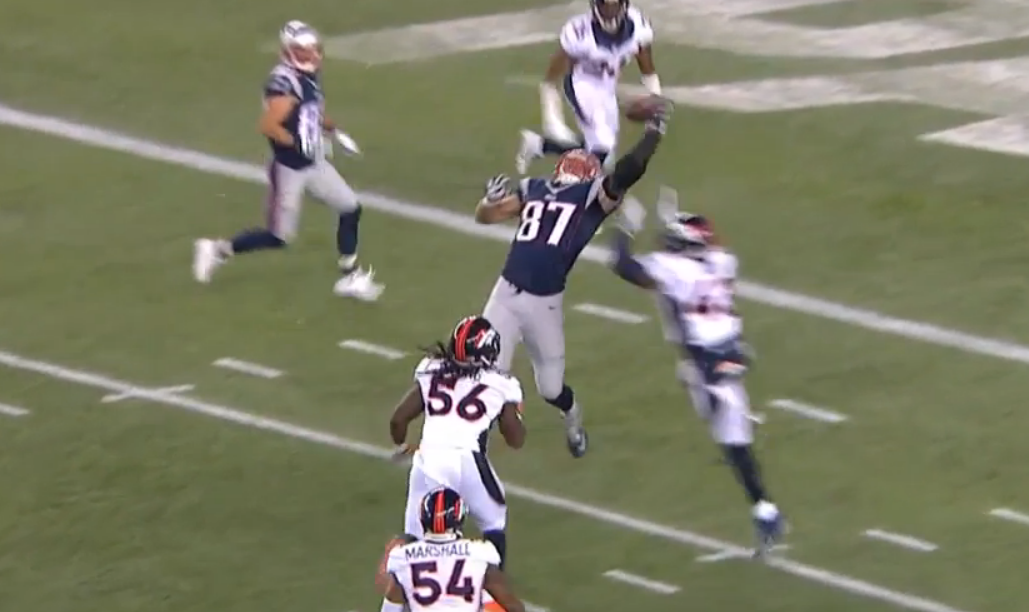 But what makes him so dangerous is a receiver is being able to do things like this as well: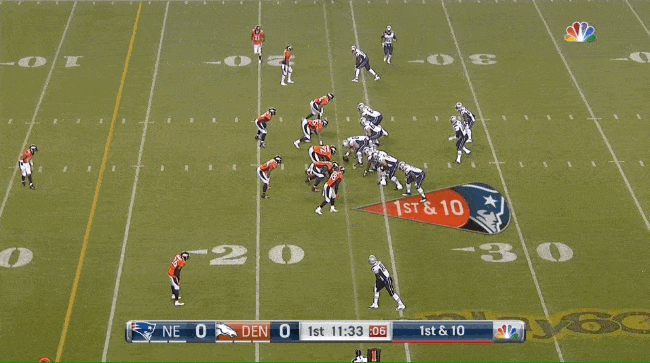 It's a tough ask to stop a guy as big and powerful as Gronkowski from catching the football, especially when he has the kind of catch radius we saw above. But broken tackles after the catch are the great X-factor when it comes to production. You can be all over him, in position to make a tackle for little to no gain as soon as he catches the ball, but if he stiff-arms three people to the ground all of your good positional coverage comes to nothing when he rumbles into the end zone.
Including the playoffs over the past two seasons, Gronkowski has broken 34 tackles after the catch, and hasn't fumbled the ball once in doing so. He recorded 546 of his 1,176 receiving yards in 2015 after the catch, at a rate of 7.6 per reception, the highest in the league among TEs with more than 16 catches. Despite not having the blazing speed of some of these big-WR tight ends, Gronk outgained them all after the catch because of his power and brute force of busting through tackles and swatting away defenders.
I'm sure I don't need to sell anybody at this point on the fact that Gronkowski is a dominant pass-catching tight end. The statistics speak for themselves, and he'd be the league's best even if blocking wasn't part of the position's job description. And yet, blocking is the area of his game that really separates him from the pack.
Many teams carry tight ends on the roster who rarely see the ball thrown to them, but are there almost entirely for their blocking ability, yet Gronkowski can block as well as those guys in addition to being the best receiving TE in the league. Nobody else has that kind of versatility at such a high level.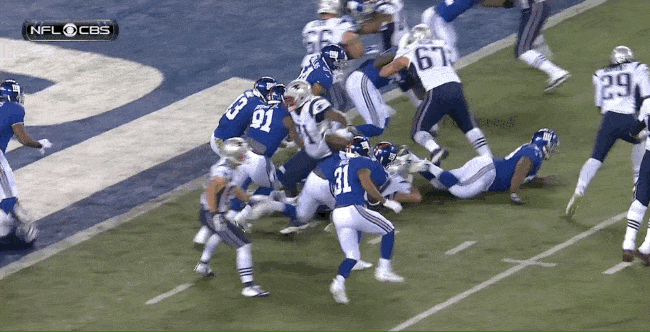 This touchdown run ultimately got called back for holding on the backside, but just watch Gronk take the Giants' Dominique Rodgers-Cromartie on the edge and launch him to spring the running back to space. This is why you can't simply treat him as a big receiver the way you can with somebody like Jimmy Graham. If you send out defensive backs to cover Gronkowski because they give you the best chance of stopping him catching the ball, you are badly overmatched in the run game; those guys can't hope to stand up to his power. That's not the case with some other receiving TEs.
But let's pretend we expect any TE to be able to block a cornerback, even if tape suggests that's a bigger supposition than we might think these days. What about defensive linemen?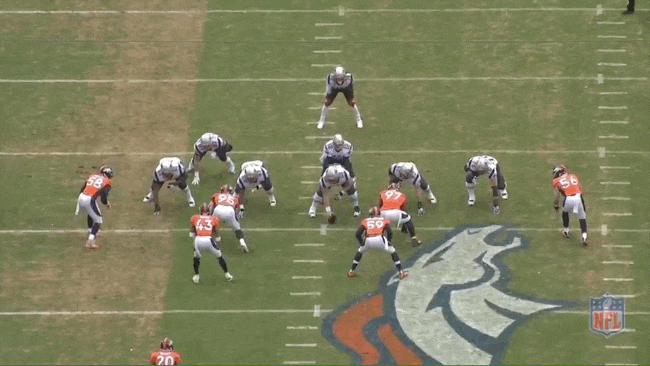 Here is Denver's Malik Jackson being half blocked by the left guard before Gronk comes through the line to add his weight to the block and try to open the hole. Just watch the impact with which Gronk hits and what it does to Jackson, who flies back into the center and is driven five yards away from the point of attack. Jackson has three straight seasons of strong grades against the run, and Gronk just crushed him with the hit coming through the line.
The bottom line is that Gronkowski isn't just the best pass-catching TE in the NFL – though he is that – but he's also one of the league's blockers and therefore a mismatch in favor of the offense no matter what play the Patriots run. If they run the ball he's a positive as a blocker, if they pass it he is a positive as a receiving weapon. No matter what a defense does from a personnel standpoint they likely don't have anybody that can match up to Gronkowski in all areas of the game.
If J.J. Watt is the most dominant player in football, then Rob Gronkowski is the most dominant player on offense, simply because he is an all-pro in all areas of the game.