A pair of QB Carson Wentz touchdown passes to WR Nelson Agholor and RB LeGarrette Blount put the Eagles up early. However, a Ryan Kerrigan interception return for a touchdown and a QB Kirk Cousins TD pass to RB Chris Thompson would put Washington up a point until the Eagles notched a field goal just before halftime.
Philadelphia would dominate the second half, with two more field goals and a DI Fletcher Cox fumble recovery for a score, as they would go on to win 30-17. With that, we give you our PFF exclusive takeaways from the contest for each team.

Top 5 Grades:
Edge Brandon Graham, 90.2 overall grade
TE Zach Ertz, 85.3 overall grade
DI Fletcher Cox, 84.2 overall grade
WR Nelson Agholor, 82.7 overall grade
CB Patrick Robinson, 82.3 overall grade
Performances of Note:
Wentz enjoyed an efficient start to the 2017 season without wowing overall in the season opener. He missed only 5-of-29 attempts short of 20 yards, showing good accuracy in the intermediate range in particular. The second-year starter also looked spectacular at times escaping pressure. On the other hand, he took a number of risks downfield, fortunately seeing a number of potential interceptions dropped. Combined with some issues throwing the ball laterally around the line of scrimmage (including a disastrous lateral recovered by Washington), it is obvious there are a number of areas where Wentz can still improve.
Patience is always needed when developing starters, particularly on the offensive line, but Seumalo's performances remain highly frustrating. Although adequate in pass protection (one hit & two hurries allowed on 46 dropbacks), he looks ill-suited to executing the Eagles' running scheme. On one series of plays with Philadelphia trying to run down the clock, Seumalo missed the same assignment three times in a row, allowing Washington's linebackers to consistently penetrate. With impressive depth up front, it remains to be seen how long the Eagles persist with their current front five.
The play everyone will remember is the fumble which sealed the game for the Eagles, where he was in Cousins' face as he released the ball regradless if the referees got the call right. But that was just part of the story as he was a force throughout the game recording two sacks and four hurries.
CB Jalen Mills, 60.3 overall grade
After a rookie season where Mills was one of the lowest graded corners, he was targeted 15 times against Washington and gave up 10 catches for 108 yards, while he gave up a lot of yards he was able to limit the big plays to just one and keep everything in front of him.

Top 5 Grades:
CB Kendall Fuller, 85.2 overall grade
LB Zach Brown, 84.7 overall grade
CB Josh Norman, 81.4 overall grade
OT Trent Williams, 81.2 overall grade
DI Jonathan Allen, 77.9 overall grade
Performances of Note:
Cousins first game of the season was a rough start, as he was under pressure on 19 of his 47 dropbacks, and only completed 42.9 percent of those passes
The right side of the offensive line for Washington had major issues in pass protection as they gave nine total pressures between them, as Morgan also gave up three sacks himself.
LB Zach Brown, 84.7 overall grade
Brown's energy and aggression adds a new dimension to Washington's front seven. He was at his best against the Eagles, finishing with five defensive stops and a run defense grade of 94.3. Brown lived in the backfield, adjusting to the misdirection of Philadelphia's run game with ease. The only blot on an otherwise perfect copybook was the touchdown he allowed in coverage. Washington are building a strong spine.
Safety remains the Redskins' greatest area of defensive frailty. Swearinger set the tone at times with big hits on receivers across the middle, but he remains some way short when it comes to man-to-man coverage. In total, he allowed a perfect passer rating of 158.3. Everett similarly struggled covering backs and tightends throughout the contest, giving up all four targets for 53 yards. Together, the pair additionally missed four tackles.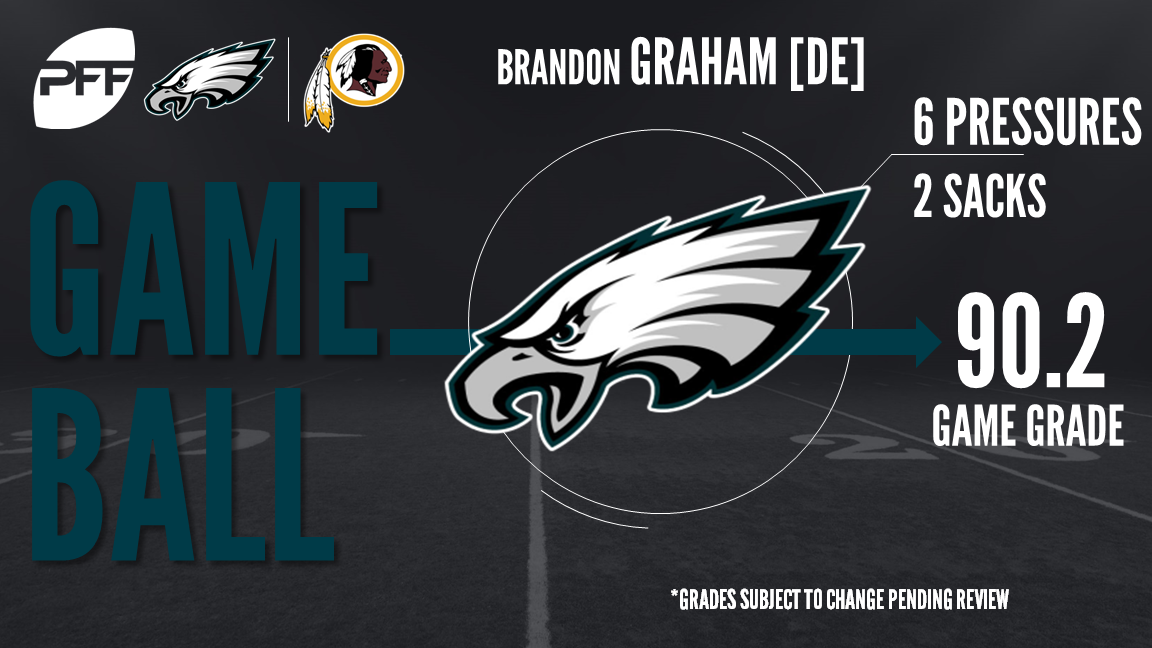 *Grades are subject to change upon review