The Miami Dolphins defeated the Tennessee Titans, 27-20, during the NFL's first full Sunday of action.
PFF's ReFocused series this season features immediate takeaways and a key to the victory from two Senior Analysts who graded the performance, watching every player, on every play of the game. For more data and analysis from the game, utilize our Premium Stats 2.0 dashboard to expand your knowledge on the key players, signature stats and much more.

FINAL SCORE
Miami Dolphins 27; Tennessee Titans 20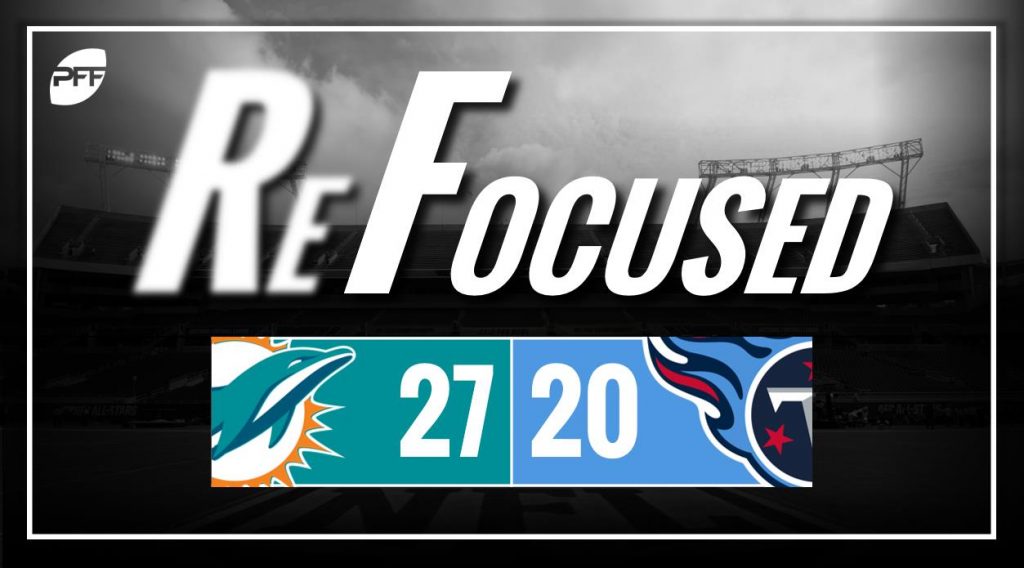 Analyst Takeaways

Kenny Stills enjoyed reuniting with Ryan Tannehill based off of Week 1's results. The veteran wide receiver caught two touchdowns on the day – one against Adoree' Jackson and the second against Malcolm Butler – and his second one was off of an absolutely perfect 50-yard throw by Tannehill on a post route that hit Stills right in stride on his way to the end zone.
The ageless Frank Gore had a solid debut as a Dolphin. Kenyan Drake out-touched Gore 17:9, but the University of Miami alumnus looked spry with the ball in his hands, earning at least five yards on five of his nine carries.
Minkah Fitzpatrick played fantastic in his regular season debut, both breaking up passes in the secondary and coming up in run support. Reshad Jones also made plays in the Miami Secondary, with a sweet interception and had some nice plays against the run, as well.
Miami's defense was obviously helped by the conditions and Mariota leaving the game, but Robert Quinn played well up front for the Dolphins. Also, the Dolphins' defensive line made plays to help the team win the game.

As a unit, the Titans' defense struggled to pressure Tannehill throughout the day. Jurrell Casey was able to get into the backfield for a couple of pressures, and Kamalei Correa recorded an unblocked sack on a blitz Tannehill didn't see coming.
It was an up-and-down day for the Titans' starting cornerbacks. Butler made a nice play in the end zone, intercepting an underthrown fade route in the 3rd quarter but he was toasted for a 75-yard Stills touchdown just one quarter later. Jackson also had his struggles, as Dolphins receivers were able to find a fair amount of separation from him throughout the afternoon.

Running back Dion Lewis provided a spark for the Titans' offense in the second half. Tennesse ran several outside zone running plays with him. Lewis used his agility and quickness to find space to run. He became the second-half weapon of choice for the Titans offense.
Mariota struggled a bit before leaving with his injury, and Blaine Gabbert (through little fault of his own) did not have great timing and communication with the Titans' receivers. A phantom holding call against tight end Delanie Walker on a Derrick Henry outside zone run for a touchdown hurt the Titans' chances greatly to come back and win the game.
Key to the game
The Dolphins' offensive line did a great job throughout the afternoon at protecting Tannehill. When Tannehill played in 2016, he had a 116.6 passer rating when given a clean pocket to throw from compared to just a 49.1 passer rating under pressure.
Mariota simply couldn't match Tannehill stride for stride in this one, and the Titans' inconsistent defense didn't help, either.