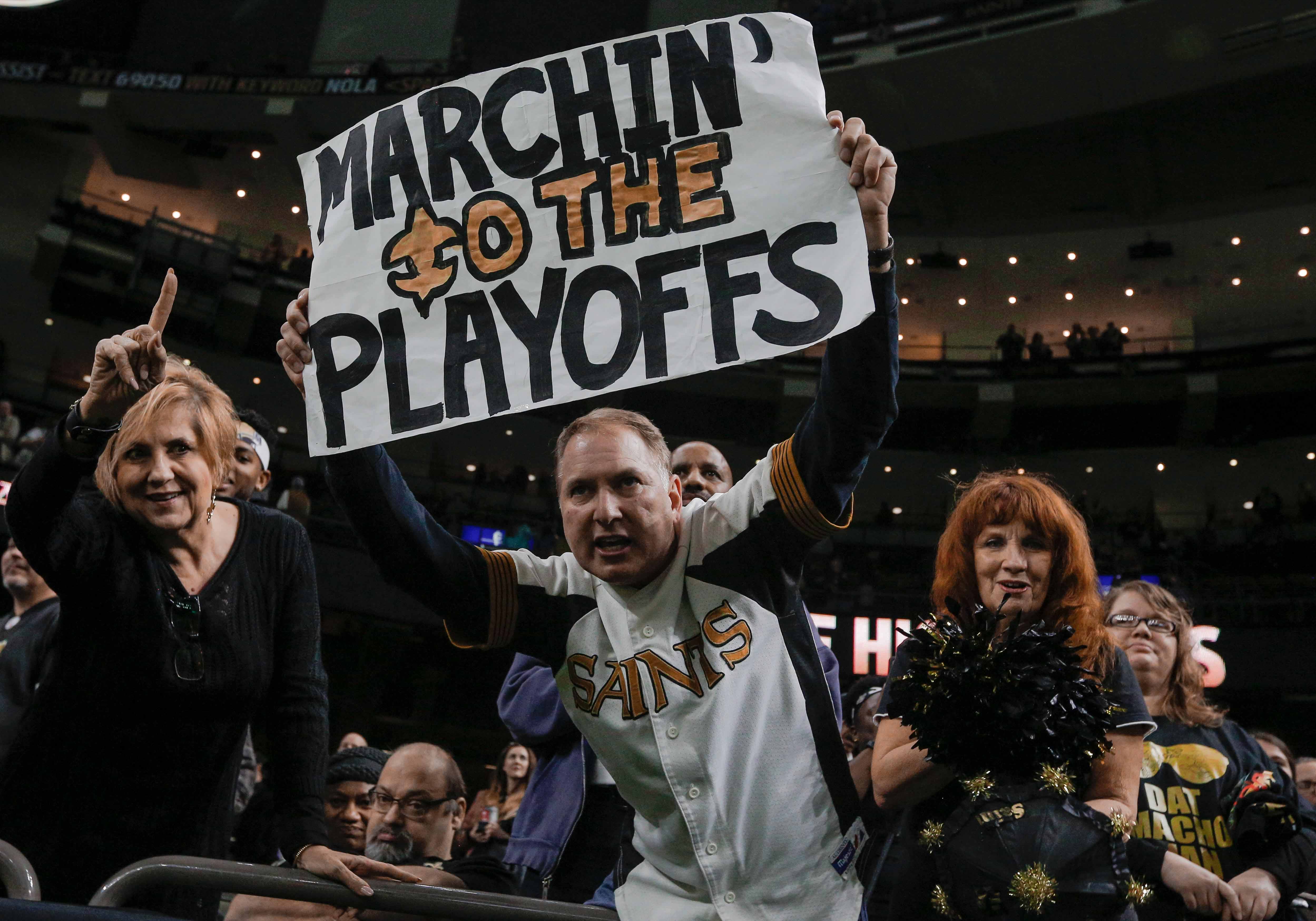 Dec 17, 2017; New Orleans, LA, USA; New Orleans Saints fan Larry Rolling holds up a sign following a win against the New York Jets at the Mercedes-Benz Superdome. The Saints defeated the Jets 31-19. Mandatory Credit: Derick E. Hingle-USA TODAY Sports
The two-headed rushing attack of Mark Ingram and Alvin Kamara once again set the tone, and ultimately pulled the New Orleans Saints away from a pesky New York Jets team, 31-19 on Sunday. Ingram ran for two scores while Kamara hauled in another touchdown reception in the game, but it was Ingram's 50-yard breakaway run with just 1:33 left in the fourth quarter that iced the game for the Saints.
Quarterback Drew Brees connected on 26-of-36 passes for 285 yards and two scores on the afternoon, as the Saints outgained the Jets 416 yards to 294 on the afternoon. With that, we give you our PFF-exclusive takeaways from the contest for each team.

Top 5 Grades:
Edge Cameron Jordan, 93.0 overall grade
DI Tyeler Davison, 86.6 overall grade
CB Marshon Lattimore, 85.6 overall grade
QB Drew Brees, 84.4 overall grade
LB Craig Robertson, 83.8 overall grade
Performances of note:
Brees was effective all game and if it weren't for an all-advised throw on a quick hook that should've been picked off, his grade would've been much higher. When he was given time in the pocket, Brees was able to pick apart the Jets defense. On plays where he was not pressured, Brees completed 22-of-28 passes for 245 yards and two touchdowns. When under pressure, he was just 4-of-8 for 45 yards and threw his only interception of the game.
Thomas had a slow start to this game, but turned it on in the second half. He finished the game with nine catches on 10 targets for 93 yards and a touchdown. He would've had a second touchdown too if he had only dragged his second foot at the back of the endzone on a beautiful deep post route in the third quarter. Thomas finished the game with a 2.58 yards per route run average.
Jordan put forth a solid effort in recording four total pressures rushing the passer, however where he really made his mark was managing to bat passes down at the line of scrimmage. He managed to record five batted passes on the day, including one on a 2-point play.
If you have been living under a rock, then you would not know that Marshon Lattimore has been one of the best corners in football, in this, his rookie season. After coming back from injury and struggling against the Falcons pass offense a week ago, Lattimore came back with a bang against the Jets. Lattimore gave up just four catches for 43 yards on eight targets and had one pass defense and one interception at the end of the game.

Top 5 Grades:
CB Buster Skrine, 88.2 overall grade
DI Leonard Williams, 85.7 overall grade
DI Steve McLendon, 82.8 overall grade
DI Xavier Cooper, 81.1 overall grade
T Kelvin Beachum, 80.1 overall grade
Performances of note:
With starting QB Josh McCown out for the reminder of the season, it is time to see what the Jets have in their young backup quarterbacks. Petty in this one likely did enough where we don't see fellow backup Christian Hackenberg for the rest of the season. Most of Petty's passes where quick and easy ones, however there were a couple of attempts where you could see that Petty has the arm to throw deep. The Jets isolated Elijah McGuire on LB Manti Te'o and Petty connected on a deep pass for 38 yards over Te'o as he completed 2-of-3 passes over 20 yards downfield.
One of the bright spots for the Jets offense was the play of McGuire, who has shown he has the abliltiy to make things happen with the ball in his hands. He averaged just over 10 yards per touch, and if the Jets can find a way to get the ball in his hands in space and not use him when the game is basically over, it could be another player on this offense to look forward too. Both Bilal Powell and Matt Forte forced a total of two missed tackles between them on 20 runs, while McGuire forced one on just four rushing attempts.
Skrine had a huge game in coverage, despite seeing the most targets of any Jets defender. On nine targets, Skrine allowed six catches for just 38 yards. He allowed just 25 of those yards to come after the catch. He had one pass defense and another play that he broke up with his close coverage. He also made up for a first down he allowed by immidiately forcing a fumble and recovering it himself.
Williams was a beast in the middle of the Jets defense, constantly wreaking havoc for the Saints offensive line. Williams finished with a pass-rush grade of 79.2, thanks to a quarterback hurry and a couple other plays in which the ball was released too quickly to record pressure. But Williams was even more effective in the run game. He made three solo run stops and finished with a run defense grade of 85.0, the third-highest among any front seven defender on either team.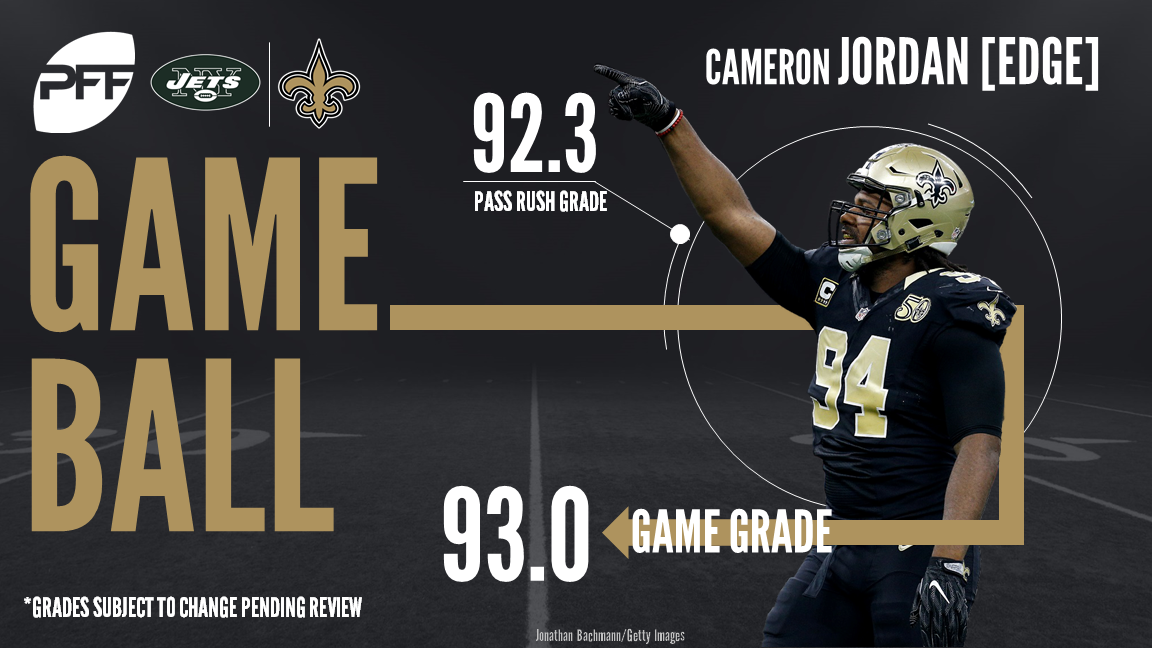 *Grades subject to change