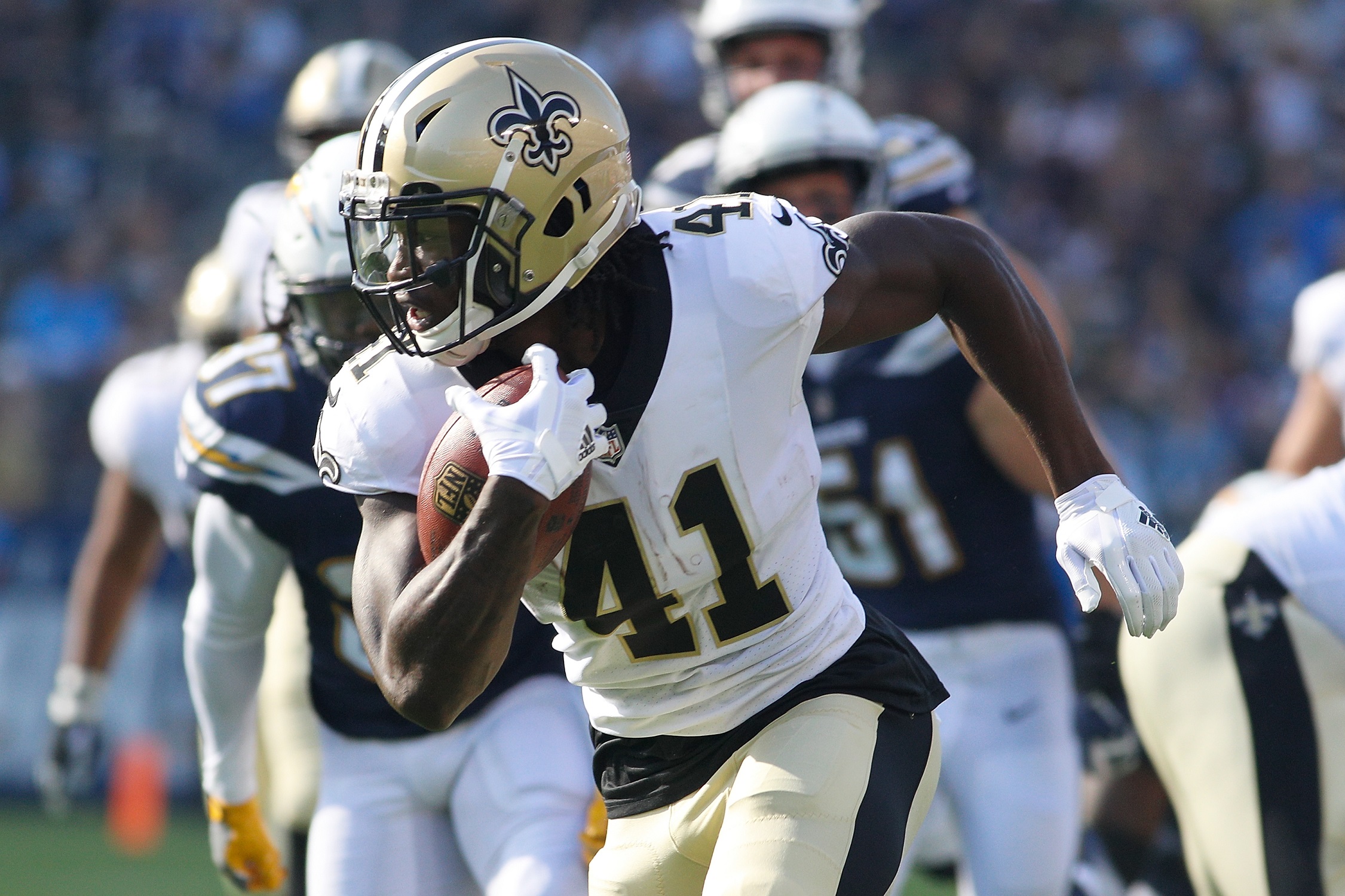 CARSON, CA - AUGUST 20: Alvin Kamara #41 of the New Orleans Saints runs the ball down field during the first quarter of the game against the Los Angeles Chargers at the StubHub Center on August 20, 2017 in Carson, California. (Photo by Josh Lefkowitz/Getty Images)
With stars like Philip Rivers and Drew Brees watching this one from the sidelines, it was up to rookie RB Alvin Kamara to start the scoring with a 50 yard touchdown run in the first quarter.
The next touchdown wouldn't be scored until the fourth quarter, when S Dexter McCoil returned an interception 99 yards to the house. However, it was not enough to overcome the Saints, who won 13 to 7. With that we give you our PFF exclusive takeaways from the contest for each team.

Top 5 grades:
LB Manti Te'o, 84.7 overall grade
LB Adam Bighill, 84.7 overall grade
LB Craig Robertson, 84.0 overall grade
DI Tony McDaniel, 82.9 overall grade
LB Nathan Stupar, 81.7 overall grade
Performances of Note:
Finding Thomas' name on this list is more of an indication of how poorly the Saints' offense performed rather than a massive performance. Thomas was only targeted once on seven snaps in route, taking a crossing route 28 yards early in the game. He averaged 4.00 yards per route run for the game, and produced half of his receiving yardage after the catch.
Kamara got the Saints off to a fast start with a 50-yard touchdown run on the opening play of the game. He would also record a game-high 79.7 receiving grade, and, thanks to the long run, generated a 166.7 elusive rating. While he essentially did his damage on two plays, it;s obvious that the explosion he displayed at Tennessee has carried over to the highest level.
Robertson seemed to be involved on every snap he played, as he racked up four solo tackles and five total defensive stops. One of those stops was a sack, and he also notched a QB hit.
Bighill performed well in the second half, notching two stops and a QB hurry. He put the cherry on top of his day by intercepting Jones' fourth down hail mary in the last minute, high-pointing the ball in front of a Chargers receiver.

Top 5 grades:
S Adrian Phillips, 87.5 overall grade
DB Desmond King, 85.9 overall grade
S Dexter McCoil, 85.6 overall grade
ED Chris McCain, 83.8 overall grade
CB Randall Evans, 83.2 overall grade
Performances of Note:
Clemens' stat line certainly wasn't impressive, but he was under constant pressure throughout the night and took four sacks. When he wasn't being pressured, defensive linemen were able to get into his throwing lanes and bat down to passes at the line of scrimmage. He did manage to convert two scrambles for first downs, but because of his lack of time was only able to attempt four passes longer than 10 yards past the line of scrimmage.
G Dan Feeney, 77.7 overall grade
Feeney had a bit of a wild day, starting with the fact he saw time at all three interior line positions. While he did not surrender a QB pressure on 28 total pass-blocking snaps and had multiple strong run blocks, he also took two costly penalties and sent a shotgun snap above Cardale Jones' head to blow up the timing of a key play.
King allowed one-of-two targeted passes to be completed that only went for a single yard, or 0.08 yards per coverage snap. He was able to get his hands on Saints QB Chase Daniel to stall one drive, added another defensive stop, and a pass defense on another third down.
Ingram was seemingly able to create penetration at will against the Saints. He recorded a sack, another pressure, and a 17.5 pass rush productivity that ranks him 13th among 4-3 defensive ends for preseason Week 3. After signing a new contract extension, the Chargers will need more of the same in order to deal with the NFL's high-powered offenses.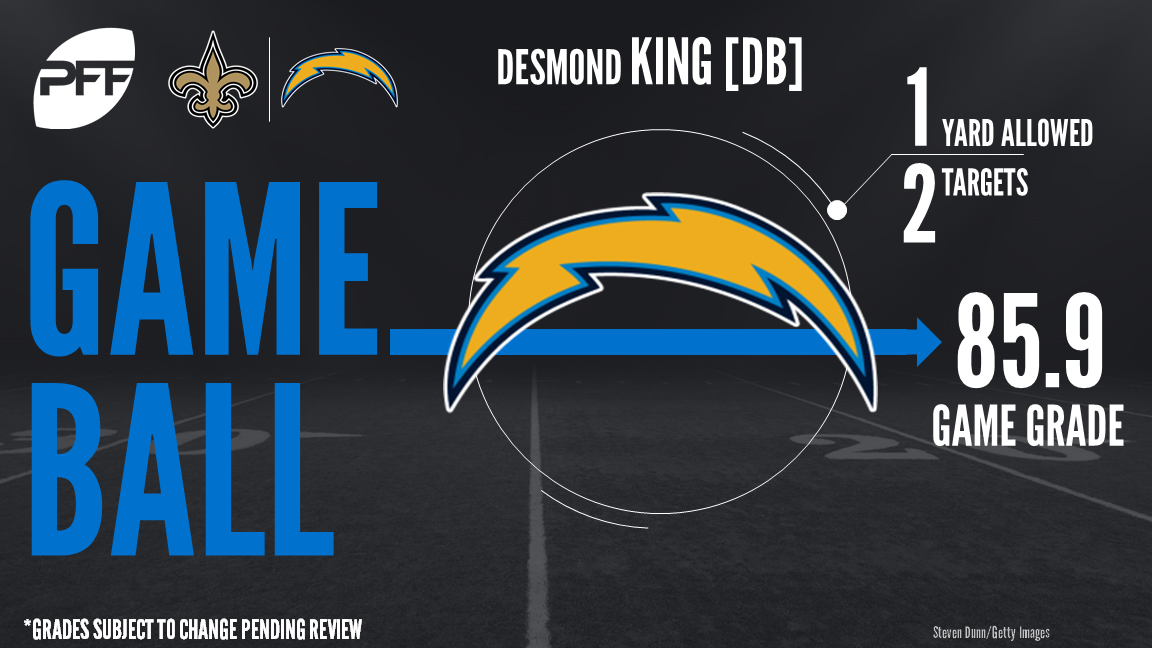 *Grades subject to change pending review