The Rams came out scorching, going up 10-3 on the strength of a CB Trumaine Johnson interception return for a touchdown. In the second quarter, a RB Todd Gurley rushing touchdown and a QB Jared Goff to WR Cooper Kupp touchdown connection put the the Rams way ahead.
Not much changed in the second half, although the Colts did get a RB Marlon Mack rushing touchdown. They would go on to lose 46-9 to the Rams however. With that, we give you our PFF exclusive takeaways from the contest for each team.
Top 5 Grades:
DB Lamarcus Joyner, 93.1 overall grade
CB Trumaine Johnson, 89.8 overall grade
T Rob Havenstein, 81.4 overall grade
EDGE Ethan Westbrooks, 81.0 overall grade
G Jamon Brown, 80.8 overall grade
Performances of Note:
QB Jared Goff, 80.7 overall grade
This was as good as Goff has looked in the pros. You can debate how easy the Colts made it for him but there's no doubt he looked more comfortable than at any point in his rookie year. He spread the ball out to what suddenly looks an exciting trio of receivers and showed a willingness to work it downfield with eight attempts over 10 yards in the air, going four-of-five on his deep ball attempts.
WR Cooper Kupp, 75.8 overall grade
It could have been a better day for Kupp, who dropped a gimme and then got flagged in a bad series for him. But that shouldn't take away from the fact he was the most targeted receiver by Goff and got down the field for two deep ball grabs. To say he hit the ground running would be something of an understatement and the Colts had a tough time getting close to this savvy route runner. 3.17 yards per route run currently leads all rookies and is fifth most of all receivers for the week.
Joyner had a stellar outing against Colts' backup QB Scott Tolzien. Joyner was targeted four times in coverage, and he came away with an interception returned for a touchdown, a pass breakup, and allowed just one catch for a measly three yards.
Johnson found similar success in coverage against the Colts' offense. He came away with an interception of his own, and gave up two passes on five targets. Johnson and Joyner combined to allow just two catches for 24 yards to WR T.Y. Hilton on six targets, including both interceptions.

Top 5 Grades:
TE Jack Doyle, 83.3 overall grade
G Denzelle Good, 81.6 overall grade
DI Al Woods, 80.3 overall grade
DI Margus Hunt, 80.2 overall grade
EDGE Tarell Basham, 78.3 overall grade
Performances of Note:
TE Jack Doyle, 83.3 overall grade
Doyle had just two catches in the game, but both went for 20-plus yards and first downs, with a combined 25 yards after the catch coming against Rams' linebackers in coverage. The Colts as a whole did not block well in the run game, but Doyle had a few nice blocks to open up some rushing lanes.
RB Marlon Mack, 40.0 overall grade
Mack's first outing as a pro was a perfect example of the college career that we saw from here over the last few years. He showed off his athleticism and big play ability with a 21 yard catch and run with a missed tackle forced, and 25 yard run where he was able to get to the edge. He didn't have as much success inside though and he also fumbled within his first 11 NFL touches, a seeming continuation of his 12 fumbles in college. He showed the ability, and if he can improve his ball security and be a bit more consistent, he may carve out a decent role as a rookie.
DI Al Woods, 80.3 overall grade
It may have been a lopsided affair, but the Colts actually did a good job shutting down the Rams running game. At the heart of that was Woods, who was a nuisance all afternoon, doing a good job clogging up A gaps on inside runs while impressing in getting across the face of linemen when the Rams stretched it out. In a defense seemingly always in rebuild mode, perhaps Indianapolis has found someone to stick around.
Perhaps the biggest free agent move for a defense in need of talent, and most definitely not the start anyone in Colts blue wanted. Sheard was ineffective, logging as many tackles as ones he's missed, while most importantly failing to register a sack, hit or hurry. That will need to improve if Indy are going to improve on defense

PFF Game Ball: Lamarcus Joyner, DB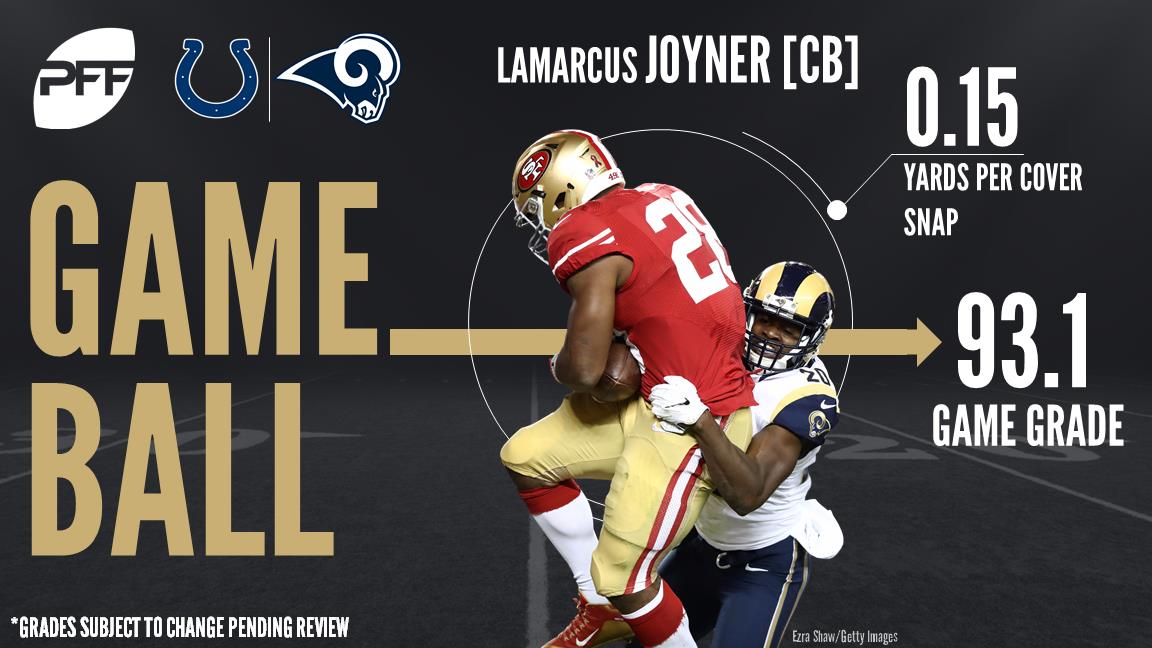 *Grades are subject to change upon review