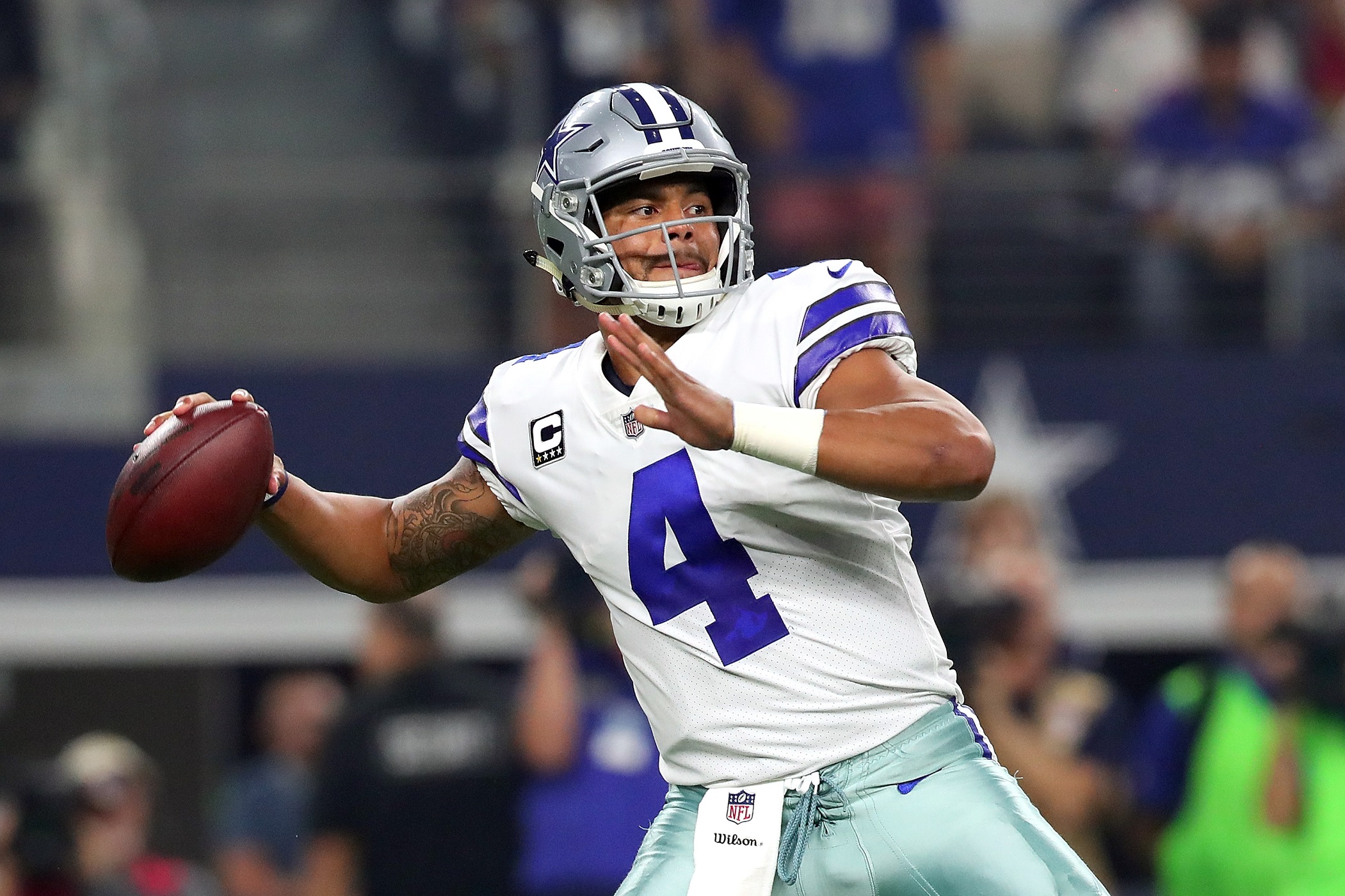 ARLINGTON, TX - SEPTEMBER 10: Dak Prescott #4 of the Dallas Cowboys passes the ball in the first quarter against the New York Giants at AT&T Stadium on September 10, 2017 in Arlington, Texas. (Photo by Tom Pennington/Getty Images)
The Cowboys opened the scoring with two Dan Bailey field goals, but they would find the endzone late in the second half with a TE Jason Witten score thrown by QB Dak Prescott.
It would be a quiet second half, with the teams trading only field goals before the clock struck zero, and the Cowboys would prevail 19-6. With that, we give you our PFF exclusive takeaways from the contest for each team.

Top 5 Grades:
LB Sean Lee, 90.8 overall grade
CB Anthony Brown, 90.5 overall grade
G Zack Martin, 86.1 overall grade
RB Ezekiel Elliott, 82.4 overall grade
WR Terrance Williams, 81.7 overall grade
Performances of Note:
Despite all the surrounding circumstances with Ezekiel Elliott, he was able to put that behind him and continue on from his rookie campaign, gaining 77 of his 104 yards after contact, and forcing 6 missed tackles in the run game.
Elliott may have had the better game, but Dak Prescott showed that his rookie year was also not a fluke season, as he showed the same patience to not force the ball into bad situations and the understanding that he could rely on a dominant run game . Prescott completed 19-23 passes under 10 yards for 189 yards
LB Sean Lee, 90.8 overall grade
Sean Lee has the well-earned reputation for flying around the field and always being near the ball, and that's exactly what he did Sunday night. Lee was targeted 11 times in coverage, but the eight catches he allowed went for a combined 31 yards as he kept everything in front of him. In all, he had six defensive stops on the night, tied for the league-lead as of Sunday night.
After CB Orlando Scandrick left the game early in the first quarter, Anthony Brown stepped up in coverage. Brown was targeted four times on 39 snaps in coverage, allowing just one six yard catch to Sterling Shepard, and picking off Eli Manning on a slant.

Top 5 Grades:
S Landon Collins, 92.7 overall grade
DI Dalvin Tomlinson, 84.6 overall grade
DI Damon Harrison, 80.2 overall grade
LB B.J. Goodson, 80.0 overall grade
C Weston Richburg, 78.8 overall grade
Performances of Note:
QB Eli Manning, 52.2 overall grade
The Giants offense struggled to sustain drives throughout the game, and the ineffectiveness of the running game put even more pressure on Manning. He had a reasonable 78.4 percent adjusted completion percentage, but he completed just four passes targeted further than 10 yards downfield and nearly 50 percent of his passing yards game after the catch.
TE Evan Engram, 72.0 overall grade
Engram had the longest reception on the night for New York – 31 yards – and was the highest-graded skill player on the Giants' offense. However, outside of that long catch and run, he made little impact in his NFL debut. He didn't fare that well as a blocker either, as he was beaten for a pressure and allowed a couple run stops as a run blocker.
Jenkins was able to effectively keep Dez Bryant quite for another game. He allowed 2 completions (on 7 targets) for 43 yards, with the biggest going for 35 yards with a missed tackle on the play. Outside of that play, Jenkins was consistently on Bryant's hip for the majority of the game, leaving a small window for any passes to be completed.
Landon Collins, who has become one of the best safeties in the game, looks ready to cement that status. Tonight, he was a force on the field. As a run defender, he recorded 4 stops in the game and against the pass, he allowed 1 catch for 3 yards and knocked down another throw.

PFF Game Ball: Sean Lee, LB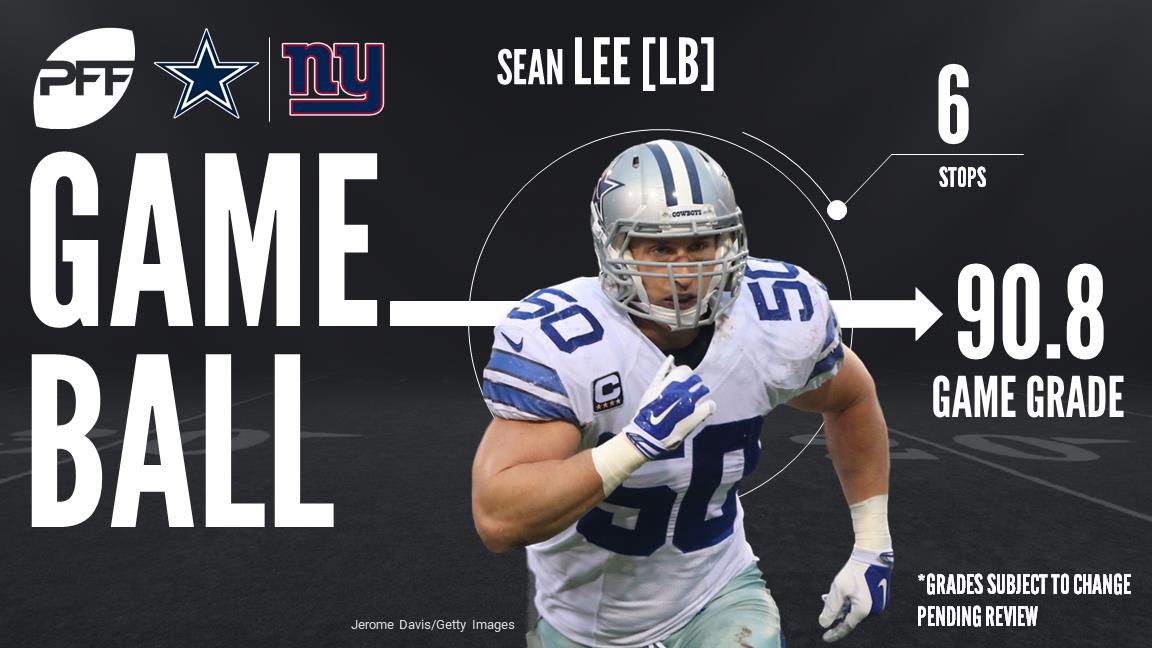 *Grades are subject to change upon review