This one was all Baltimore. The Ravens opened scoring with a Justin Tucker field goal and added a QB Joe Flacco touchdown pass to WR Jeremy Maclin followed by a RB Terrance West rushing touchdown in the second quarter, all into a 17-0 halftime lead.
The second half scoring would consist of only another Tucker field goal, as the Andy Dalton-led Bengals couldn't get much mustered on offense and the Ravens won 20-0. With that, we give you our PFF exclusive takeaways from the contest for each team.

Top 5 Grades:
DI Brandon Williams, 90.4 overall grade
Edge Terrell Suggs, 85.0 overall grade
LB C.J. Mosley, 84.4 overall grade
DI Michael Pierce, 84.3 overall grade
RB Terrance West, 82.4 overall grade
Performances of Note:
QB Joe Flacco, 40.9 overall grade
It wasn't pretty from Flacco, but it didn't need to be. In his first action since returning from injury, Flacco competed only one pass targeted 10 or more yards down the field and gained only 27 of his 121 yards through the air.
West has certainly come a long way since his rookie season in Cleveland where he looked to bounce everything to the outside. On Sunday, he was grinding out tough yards again and again, averaging 2.5 yards after contact per attempt. He may have only broken one tackle on the day, but West's ability to consistently locate the right hole kept the Ravens offense on schedule.
LB C.J. Mosley, 84.4 overall grade
In retrospect, Mosley's end zone interception was likely the turning point in the game. It was the Bengals best opportunity to score points all day and Mosley put it to an end with a perfectly high-pointed pick. He added four more stops for a complete all around performance.
Williams was coming off a bit of a down season when the Ravens rewarded him with a monstrous extension this offseason. Williams rewarded that faith her in Week 1 with a utterly dominant performance. He only registered one stop on the stat sheet, but his three pressures and multiple other runs affected were huge in this one.

Top 5 Grades:
LB Kevin Minter, 84.4 overall grade
DI Ryan Glasgow, 83.4 overall grade
Edge Carl Lawson, 80.0 overall grade
WR A.J. Green, 80.0 overall grade
DI Geno Atkins, 79.6 overall grade
Performances of Note:
QB Andy Dalton, 36.9 overall grade
The stats look even worse than the grade with a couple unlucky picks, but it was still a day to forget for Dalton. On top of the five turnovers, he missed a handful of other wide open throws. The Bengals have to be worried about him hearing footsteps with the state of the offensive line. He was only 2-of-6 for 13 yards and took five sacks on 13 pressured dropbacks.
If the Bengals were hoping for a big step forward from Ogbuehi this season, they'll have to keep waiting. Ogbuehi was a mess in pass protection and has serious issues holding up to the bull rush. He allowed two sacks and two other hurries on the day.
Edge Carl Lawson, 80.0 overall grade
In only 14 pass-rushing snaps, Lawson managed three pressures and a couple other nice pass-rushes against left tackle Ronnie Stanley. He showed great power on the bull rush and an effective swipe to the outside. Stanley is no slouch at left tackle, making the performance all the more impressive.
The Bengals look as though they've found their replacement for Domata Peko. Glasgow was incredibly stout against the run at nose tackle, registering two stops on the day.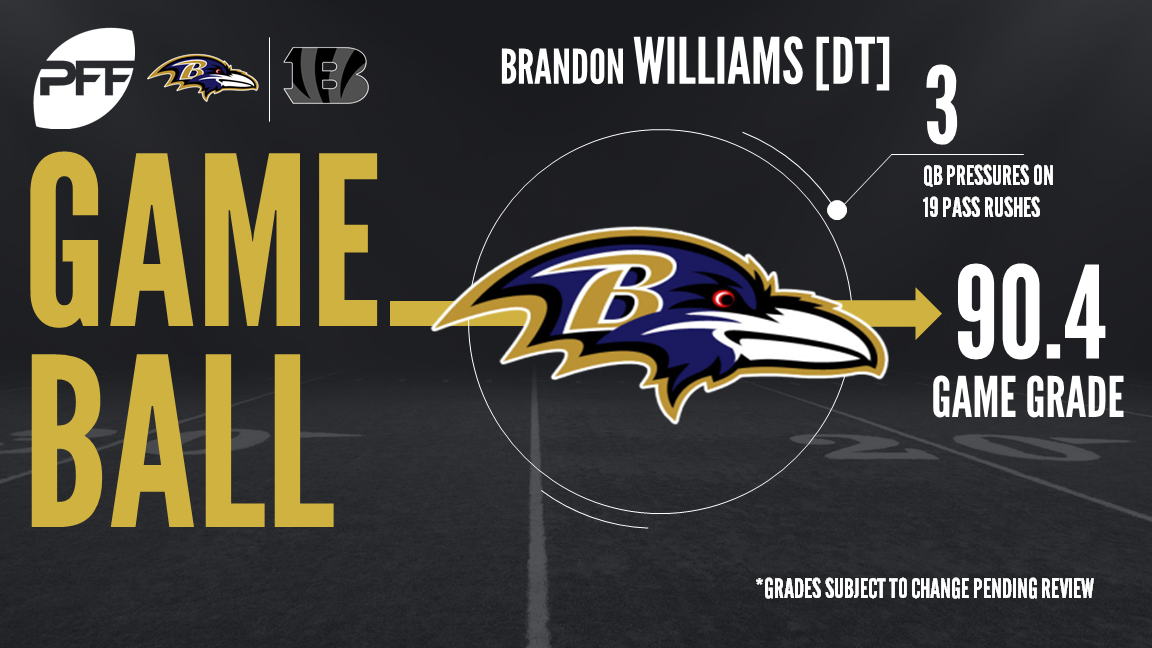 *Grades are subject to change upon review