The Houston Texans defeated the Kansas City Chiefs on Thursday night, 17-10 opening the first full week of preseason action in the NFL.
PFF's ReFocused series this season features immediate takeaways and a key to the victory from two Senior Analysts who graded the performance, watching every player, on every play of the game. For more data and analysis from the game, utilize our Premium Stats 2.0 dashboard to expand your knowledge on the key players, signature stats and much more.

FINAL SCORE
Houston Texans 17 , Kansas City Chiefs 10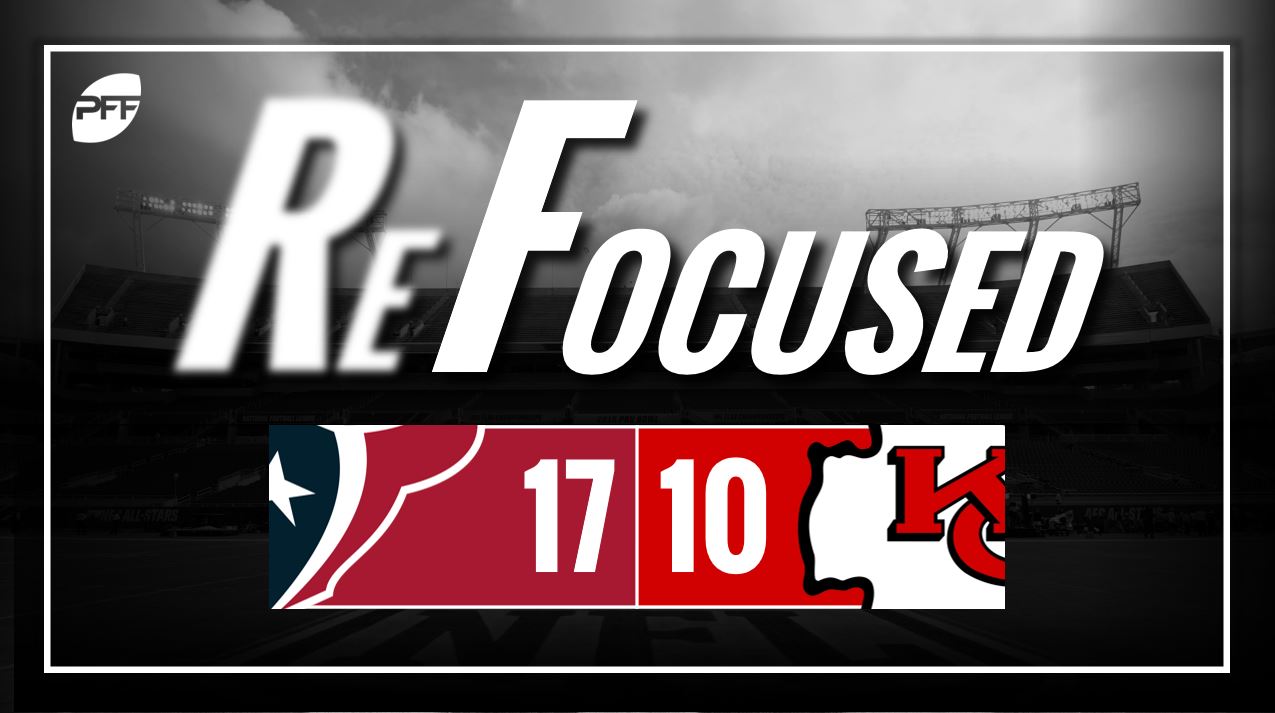 Analyst Takeaways

While much will be made about the return of QB Deshaun Watson, his backup Brandon Weeden played well, giving the Texans the lead early in the game that they never relinquished. Weeden has always shown the ability to stretch the field, albiet inconsistently, with his big arm and he didn't disappoint throwing beyond the line to gain on 64.3 percent of his passes leading to several first-down conversions.
The Texans fielded one of the worst offensive lines in the NFL in 2017 and didn't do much in the way of improving the unit in the offseason and it showed against Kansas City. While it was a mixture of their starters and backups, the offensive line didn't surrender a sack, thanks to a couple of spectacular manuevers in the pocket by QB Joe Webb, but allowed four hits and seven hurries.
The Texans elected to sit most of their starting defense for this game, which gave players such as sixth-round rookie edge defender Duke Ejiofor a chance to get some good playing time. Ejiofor delivered with an impressive three QB hits and two additional hurries on 22 pass-rushes. He alone was responsible for 33 percent of the Texans' total pressures in this game. He wasn't just using the same move over and over again either, he was beating his man both inside and out with relative ease.
CB Josh Thornton, undrafted in 2017 and fighting to earn a roster spot with the Texans, showed why he just might be deserving of one. Thorton played 15 snaps in coverage and was targeted three times. He didn't allow a single reception, and actually broke two of them up himself. That includes the final pass of the game that sealed the win for his team. He was beaten momentarily by receiver Alex Ellis, but quickly recovered and knocked the ball out of his hands before he could get possession in the endzone.

All eyes were on new starting QB Patrick Mahomes for the Chiefs, but it was a pretty ho-hum start for the sophomore. He threw just seven passes, and only one of them was beyond 10 yards downfield. For the most part he played safe football, just getting the ball into his receiver's hands quickly and letting them do some work. He had just two real mistakes in this game: an overthrow on second-and-long while under pressure, and a sack that he was responsible for after he stepped up too far in the pocket and missed his open checkdown receiver.
Backup QB Chad Henne helped solidify his position here in Kansas City with his performance in this one. Henne looked good, throwing a few great passes with some serious zip to them. He pushed the ball downfield, completing 2-of-4 for 40 yards on passes at least 10 yards downfield. While 57.1 percent completion percentage isn't anything to write home about, it would've been 78.6 percent if you factor in the three dropped passes he suffered at the hands of his receivers. Specifically TE Tim Wright, who dropped the only two targets he saw all game.
DI Chris Jones continues to dominant interior defensive linemen racking up a hurry and two run stops on just 13 snaps. While the Chiefs acquired the best slot cornerback from the 2017 NFL season in Kendall Fuller, the rest of the secondary is still very shaky. Jones will have to provide consistent pressure to help the coverage unit behind him and improve upon the already great play he's shown in his young career.
While the secondary didn't field all their starters, there were still starters (and backups) out there that got picked apart by the Texans passing attack. David Amerson was flagged twice in coverage while rookie Armani Watts allowed two first downs on three targets and it would have been three for three had TE Stephen Anderson not dropped a sure-fire first-down catch and potential touchdown. If Kansas City wants to make it back to the playoffs and beyond, their secondary needs to step it up.
KEY TO THE GAME
Houston: Weeden looked like a veteran should against Kansas City's backups and delivered two touchdown drives to give the Texans a 14-0 lead that proved too much for the Chiefs to overcome.
Kansas City: Jones' play along the interior of the defensive line showed how dominant he's truly become in his short time in the league.