Todd Gurley's career in 2016 looked like it could be on the rocks. It seems crazy to say given how explosive he had been as a rookie, but things were so bad with the Rams last year that he had begun showing worrying signs as a runner.
Gurley was beginning to look like Trent Richardson – seeing ghosts in the hole, bailing on clean plays and expecting the blocking to break down before it ever did. Poor pass protection from offensive lines has broken quarterbacks in the past, but Richardson – and then Gurley – were raising the question of whether the same thing could happen to running backs.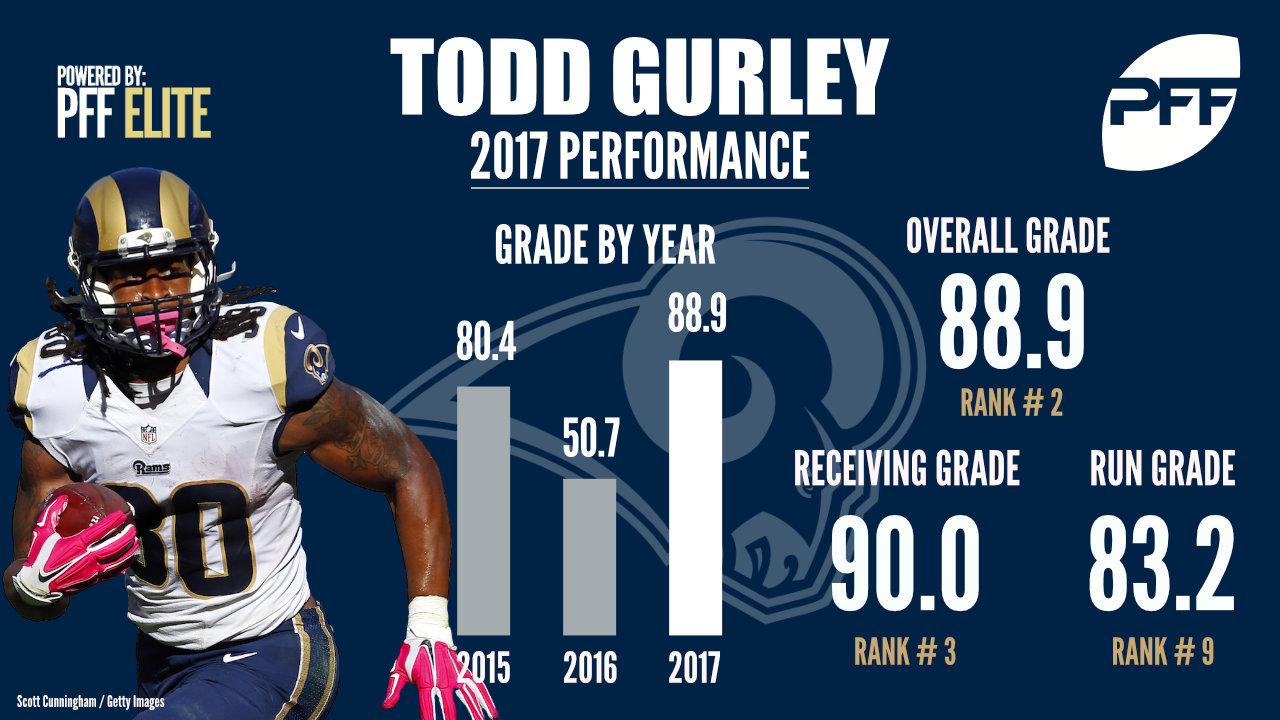 Fast forward and all of those concerns look foolish. Gurley is not only back to his best, he's better than ever  and has been as big a beneficiary of the changes the Rams have made as anybody.
Gurley is now PFF's No. 2 ranked running back, trailing only Alvin Kamara of the Saints, who has significantly less playing time. Gurley is second in the league in yards from scrimmage, just 47 yards behind Le'Veon Bell, and his 13 combined rushing and receiving touchdowns lead the league.

His effectiveness as a receiver has been the real strength of his season this year, but he has been better across the board.
As a receiver he ranks fourth among all backs in yards per route run after having ranked 34th a season ago. He has gained more receiving yards per route run than most wide receivers, including names like Larry Fitzgerald, Dez Bryant, Alshon Jeffery and Michael Crabtree.
Gurley has been a big play threat all season, making the kind of athletic plays we saw during his rookie season that were largely absent in 2016. In 2016 he was more concerned with turning broken plays into anything positive, such was the situation on the offensive line.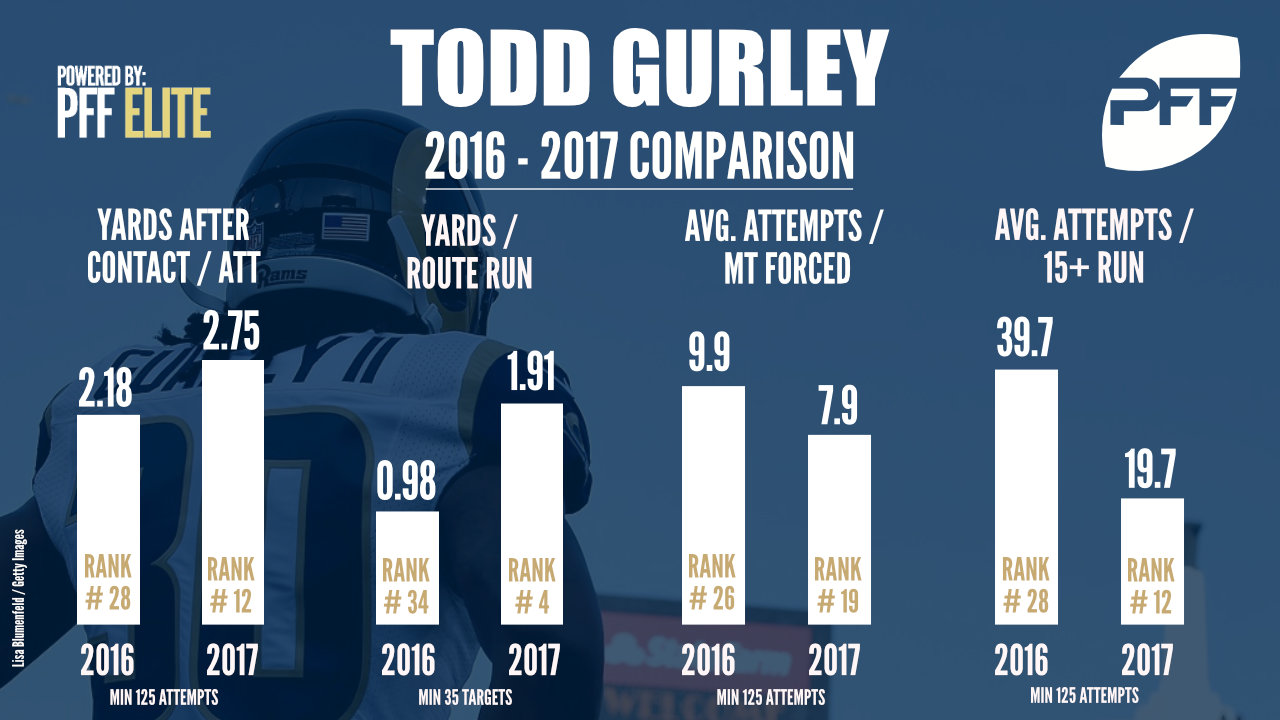 He has 12 runs of 15 or more yards this season, which is already five more than a season ago. Those big-play runs last year accounted for just 129 of his rushing total, but the dozen this season have already racked up 271 yards, and account for 26.2 percent of his rushing total.
The offensive line isn't the cause for his success this season, but rather the catalyst that allowed him to play like the player he can be. He ranks sixth in PFF's elusive rating, which attempts to distill the performance of a running back from the blocking that influences him by measuring yards after contact and broken tackles, both as a receiver and runner. Last season his rating was fifteen points lower and he ranked 19th in the same category.
All of the ink at the moment is going to the breakout season from Jared Goff and the display by Sean McVay as the head coach, but the renaissance of Todd Gurley in the backfield has been one of the stories of the season for the Rams, and every bit as important a reclamation project for this franchise.