Josh Allen hated football his freshman year and nearly quit on the first day after taking a hard hit and getting jumped in the locker room. He was "whooped on" in practice. He didn't play in any games. And he (actually) quit, multiple times.
"It was terrible. I quit. I actually quit two or three times," Allen said in an interview with Pro Football Focus in December.
The same Josh Allen is now University of Kentucky football's career sacks leader (31.5), PFF's highest-graded edge defender in 2018 (92.1) and a projected top-five pick in the 2019 NFL Draft. The Wildcat alumnus overcame extreme adversity to hear his name called high in the draft come April, and he's not done, yet.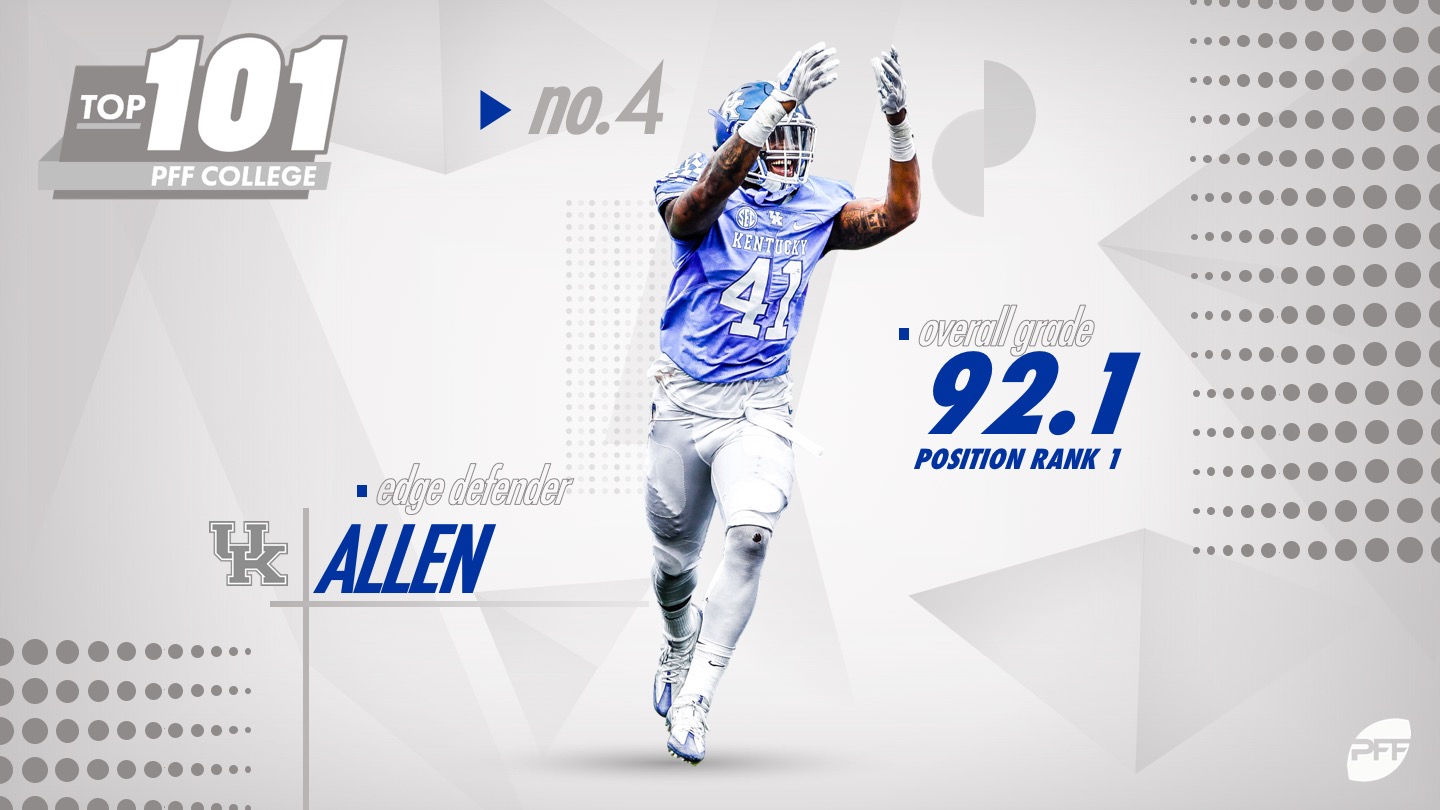 Allen, of course, stuck with football despite his struggles with Osgood-Schlatter disease in his knees, despite struggling to bench the bar as a freshman, despite getting jumped by his teammates, despite everything. Leaning on his aunt and uncle for support, Allen returned to Abbeville High School's football program and turned in strong sophomore and junior campaigns at wide receiver – no defense.
"I wasn't fast at all, but I could sure catch, you know," Allen said. "I had the best hands on the team. Everybody solidified that."
Allen didn't take his talents to the defensive side of the ball until he returned to Montclair for his senior season, where he led the state in sacks and earned First-Team All-State honors.
"So, I tried [defensive end], loved it, you know," Allen said. "First scrimmage, we played against a private team in Jersey, whooped on them… It was one of the best performances I feel like I've had, you know, ever, to this day."
Allen's love for defensive end and his spectacular season, however, didn't have colleges lining up at his door.
Monmouth University, an FCS school 60 miles away from Montclair, was the first and only school willing to offer Allen a scholarship immediately after his senior season. Then, just a week before signing day, Kentucky came to Allen's school and had him on a plane to Lexington in a span of hours.
Opting for UK over Monmouth and a late offer from Buffalo, Allen developed into one of the Wildcats' best defensive players in school history. In addition to laying claim to the career sacks record, Allen earned All-SEC honors in both his junior and senior seasons, played in 51 career games and led the team to its first bowl win since 2009.
Allen recorded four pressures, including three sacks and a quarterback hit, in UK's 27-24 win over Penn State in the Citrus Bowl. While other top prospects in this year's draft class opted out of their respective bowl games, Allen said the game was bigger than him – for his teammates.
"It's not a Josh Allen legacy," Allen said of his illustrious UK career. "It's a this class legacy. I want people to look back at this class and say this class changed Kentucky program history.
"The credit goes all around. Every award that I won is from them guys. It's a team effort. I've never heard of anybody winning an award by themselves or that doesn't have a good team around them. The credit goes everywhere."
Putting UK above himself also factored into Allen's decision to return to school after his junior season rather than enter the draft. That, and the birth of his son, Wesley, forced Allen to dream bigger.
"In my mind, I wanted to be a guaranteed first-rounder," Allen said. "I wanted to be a top-10 pick, a top-five pick, and last year, I felt like I wasn't."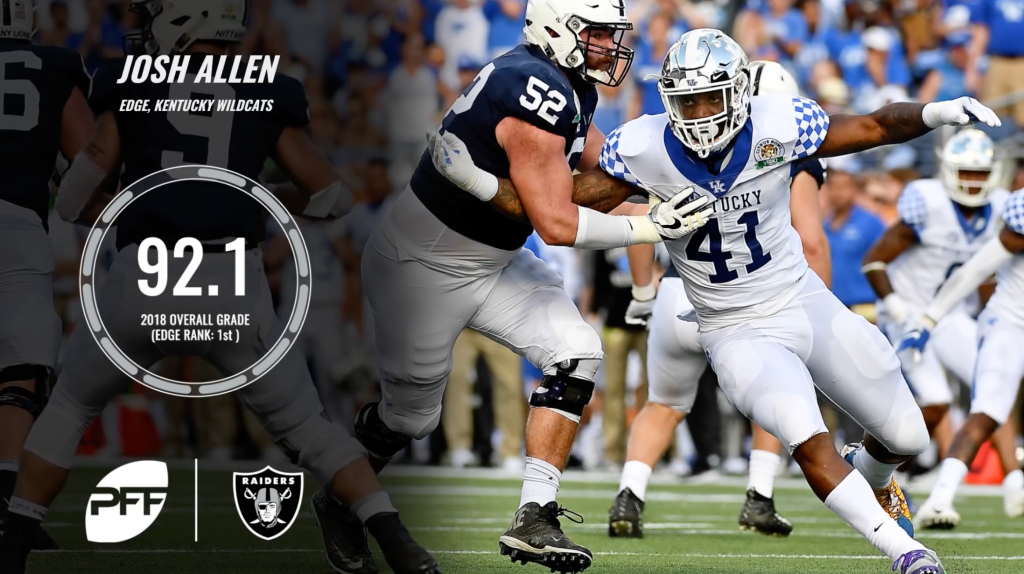 Slotted at fourth overall to the Oakland Raiders in PFF's latest mock draft, Allen made the right decision in returning to UK, improving his overall grade from 77.1 in 2017 to an FBS–high 92.1 mark in 2018. He also posted a 28.3 pass-rush win rate and a 23.4 pressure percentage this past season, vastly improving his figures from his junior campaign.
Constantly improving, constantly working to be the best, Allen won't have to worry about getting jumped in the NFL. He'll play plenty of games. There's no quit in him, now.
To view PFF's full video of Jac Collinsworth and his feature interview with soon-to-be NFL standout Josh Allen, please visit PFF's YouTube channel.