The 2017 season is still a couple months away, but with rosters set, it's time to start previewing the league's best units.
We'll start with the offensive line, where we are taking a purely grades-based approach. We came up with a multi-year grade based off snap counts and performance and then summed those up across all five positions, right tackle, right guard, center, left guard and left tackle. Unknown quantities – like rookies or new starters – were assigned a slightly below-average number.
And with that, your rankings for all 32 NFL team's offensive line units:
(For more grades, signature stats and much more, sign up for PFF Elite now.)
1. Philadelphia Eagles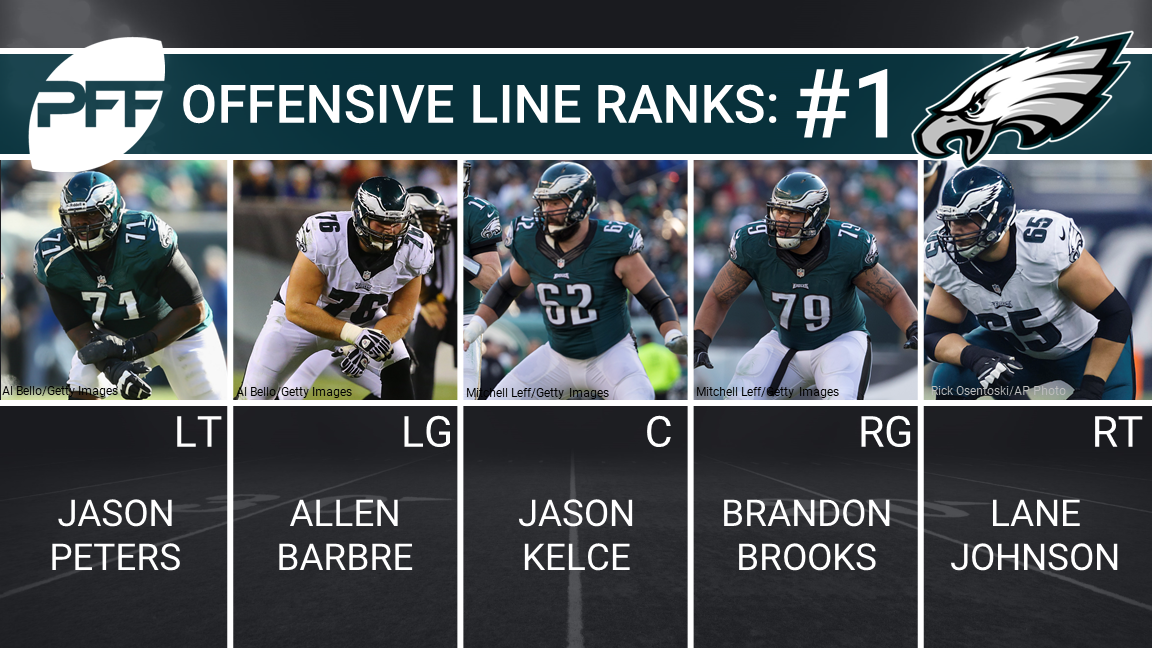 Out of all the offensive lines in the NFL, the Eagles currently have the fewest holes. Their biggest question mark heading into 2017 is center Jason Kelce, who is a former PFF All-Pro (2013) in his own right. They also have dominant players like Lane Johnson, who was the best right tackle in the NFL a season ago when on the field.
2. Cleveland Browns
The offseason free agent spending spree could pay off huge dividends in Cleveland. J.C. Tretter and Kevin Zeitler both bring well above-average grades from a season ago at center and guard, respectively. The only question mark comes at right tackle where Shon Coleman looked at least competent in his 62 snaps as a rookie.
3. Pittsburgh Steelers
If you're projecting purely off the final nine games from a season ago, the Steelers would be the No. 1 line in the league. Alejandro Villanueva came on extremely strong over that period, but his poor play from 2015 drags them down a bit. Over that final nine-game stretch, he allowed just 12 pressures. If that level of play continues, Ben Roethlisberger will be a happy man.
4. Tennessee Titans
Tennessee is in the midst of building something special along its offensive line. First-round tackles Taylor Lewan and Jack Conklin have lived up to the hype and then some, while former undrafted guard Quinton Spain has turned into a gem of a find.
5. Chicago Bears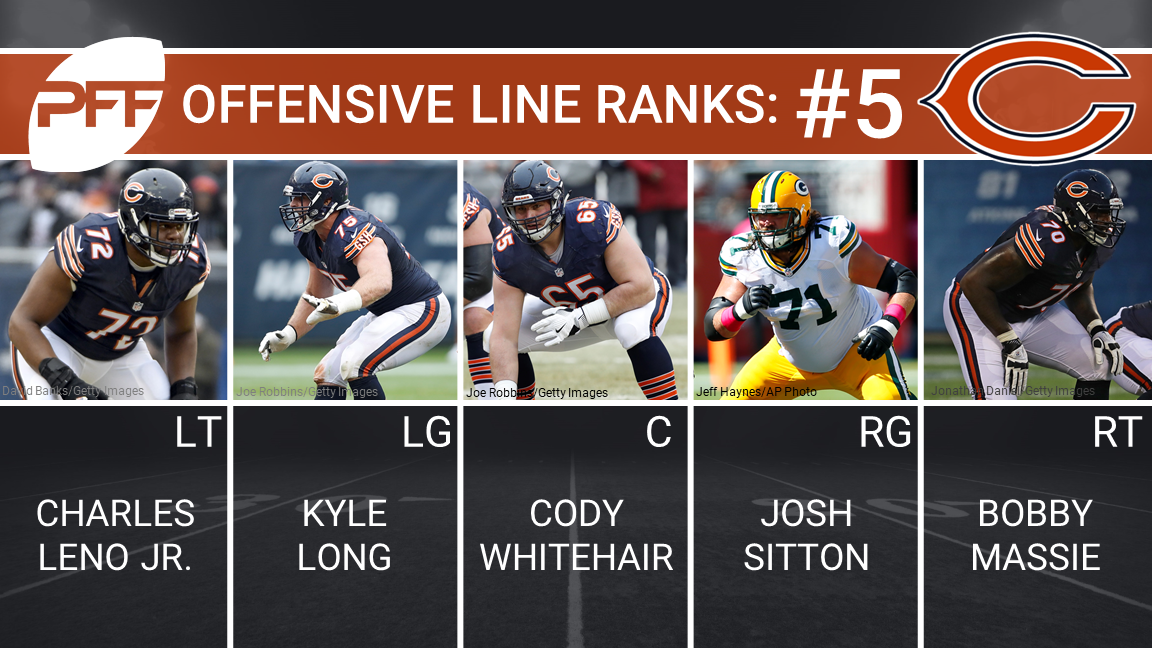 Fifth might seem steep for Chicago, but at the moment there isn't a better interior offensive line in the NFL. Left guard Josh Sitton, center Cody Whitehair, and right guard Kyle Long are all Pro Bowl-caliber players. The issues arise at tackle where Charles Leno and Bobby Massie have never proven themselves more than below average starters.
6. Atlanta Falcons
The Falcons finished as our sixth-ranked offensive line a season ago and they've replaced by far their biggest issue in right guard Chris Chester. The only problem is that there is no guarantee that Wes Schweitzer or Ben Garland will prove to be an upgrade.
7. Oakland Raiders
If the right tackle position didn't exist, this would be the best offensive line in football. Unfortunately for Oakland, we're still including the position in our analysis. Whether it's Austin Howard, Marshall Newhouse, or Vadal Alexander, it looks like right tackle will continue to be a problem area in Oakland. Center Rodney Hudson buoys their rank as he finished with PFF highest pass blocking efficiency among centers last year.
(See more of our highest rating offensive linemen based on pass blocking efficiency with our PFF Elite subscription.)
8. Green Bay Packers
While Green Bay still has two of the best pass-protecting tackles in the NFL in David Bakhtiari and Bryan Bulaga, the interior has taken some lumps over the past two offseason. Gone are Josh Sitton, T.J. Lang, and J.C. Tretter, but if one of either Kyle Murphy or Jason Spriggs can make the switch effectively to guard, Green Bay could still be a top-10 line.
9. Dallas Cowboys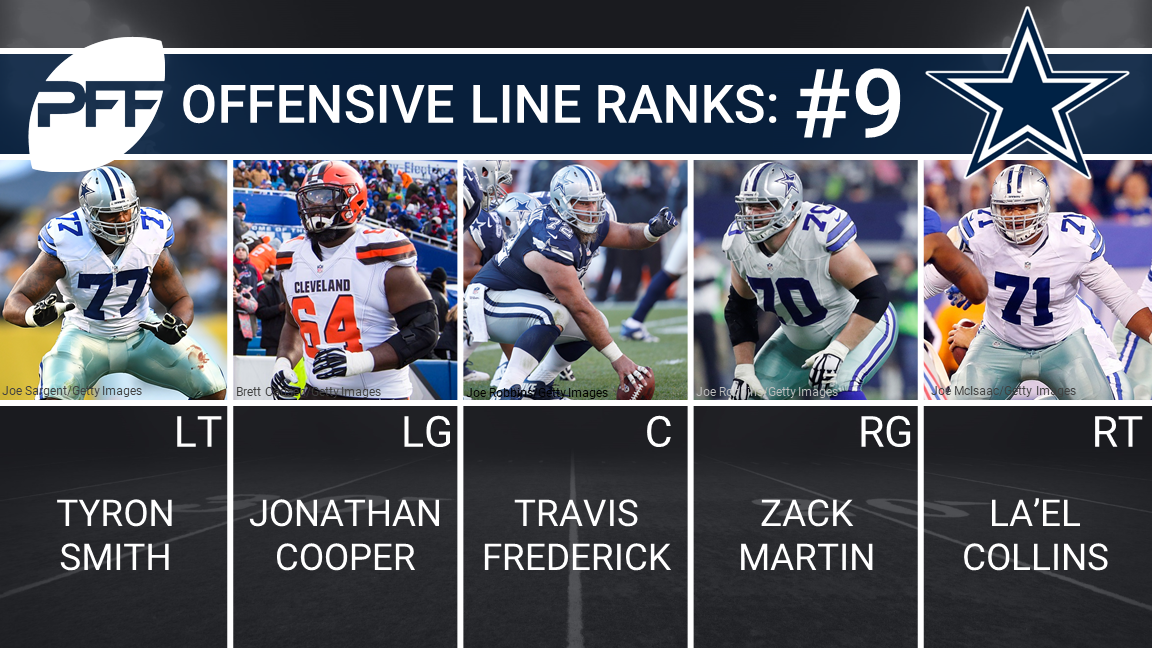 They've been the class of the league for so long, but a line can only survive so many hits. Ronald Leary and Doug Free weren't at the caliber of Tyron Smith, Travis Frederick, or Zack Martin, but they were quality players in their own right. The big question mark is La'el Collins moving to right tackle. Tackle was his more natural college position, but his below-average performance at guard isn't too encouraging.
10. Buffalo Bills
After the right tackle position in Buffalo had been a wasteland the past few seasons, they addressed it in a big way in Temple tackle Dion Dawkins in the second round of the draft this past April. Every other position along the line was solid a season ago, so the rookie right tackle will likely make or break this line's ranking.
11. Washington Redskins
Continuity doesn't really play a role in theses rankings, but if it did the Redskins would get a bump. They bring back the same starting five from a season ago and a line that had four of the same five starters in 2015. Understanding what the man next to you is going to do isn't necessarily something we can capture in a grading system, but it certainly is important to an offensive line's effectiveness.
12. Carolina Panthers
The interior of the Panthers line is solid, but the tackle position is still a concern. They spent big money this offseason on Matt Kalil, who has graded out below-average every single season since a successful rookie campaign. Injuries have played a part there, but there is no guarantee he regains that form. The wild card here could be rookie second-round pick Taylor Moton, who was consistently one of our highest-graded linemen between tackle and guard in college.
13. Jacksonville Jaguars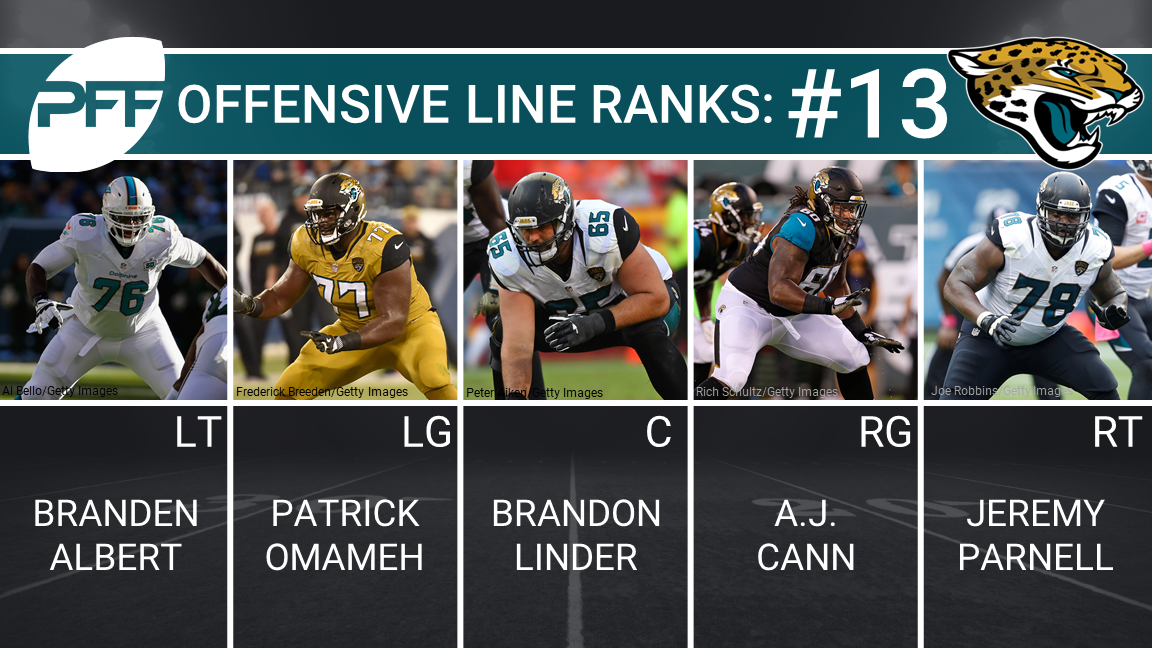 This might be the most surprising ranking of any that our grades spit out. Carrying the unit is center Brandon Linder, who doesn't get talked about as much as he probably should. He's turned into one of the game's elite centers and has been extremely consistent since entering the league in 2014.
14. Minnesota Vikings
Truthfully, I'm surprised myself at the Vikings' ranking here. Realistically, they shored their line up enough to where there aren't any glaring weaknesses, but at the same time there's little in the way of high level play either. They finished 29th in our end-of-year 2016 rankings so this would be quite the bump up.
15. Kansas City Chiefs
This is one line that I could very well see sneaking into the top 10 by the end of the season. It's still a very young line that saw all five players be at least average by the end of 2016. Though he had a rough start to his career, former No. 1 overall pick Eric Fisher has steadily improved every season.
16. New Orleans Saints
The injury to Terron Armstead torpedoes the Saints' rankings. Armstead was legitimately on the way to being a top-five left tackle before injuries derailed his 2016 and now 2017. The first-round selection of Ryan Ramczyk looks prescient at this point and his ability will be crucial to the line's success. He was our highest-rated tackle in this draft.
17. Arizona Cardinals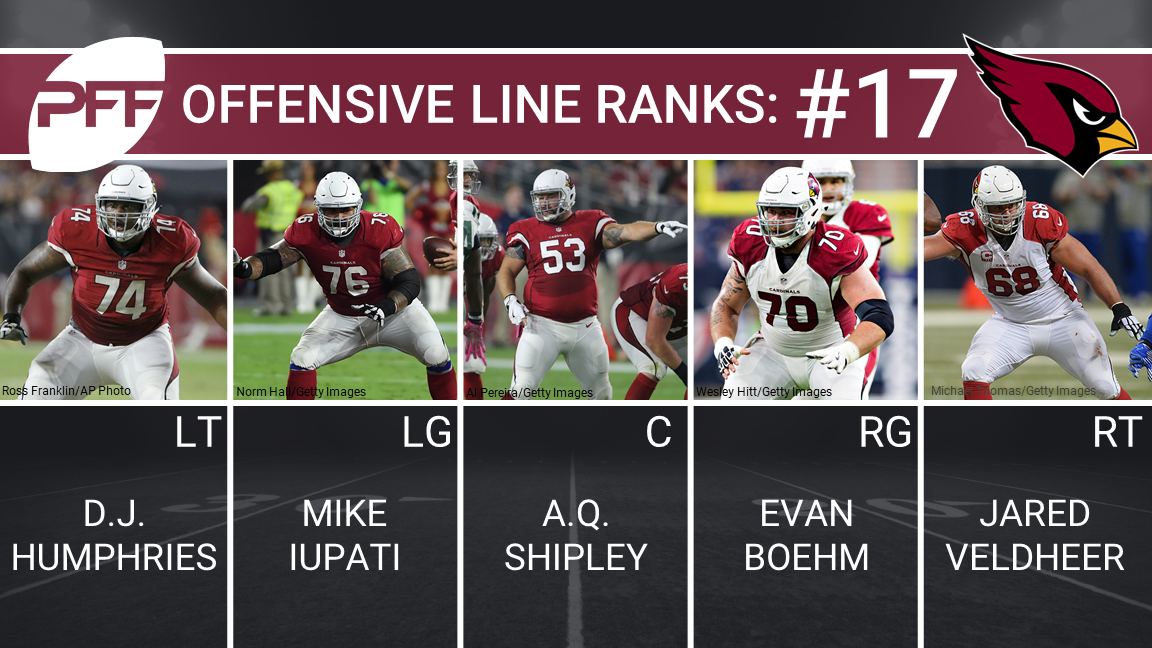 The success of this line will be largely dependent on 2015 first-round pick D.J. Humphries. He couldn't crack the starting lineup as a rookie and last season took his lumps on the right side, yielding nine sacks. He's in line for the left tackle spot in 2017 and will need to take big strides for this line to improve.
18. Los Angeles Rams
Going from Greg Robinson to Andrew Whitworth should make Jared Goff's life considerably easier. Whitworth had the highest pass-blocking efficiency of any tackle in the league last year. Even if he takes a small step back in his advanced age, that will still be one of the biggest offseason upgrades at any position around the NFL.
(See more of our highest rating offensive linemen based on pass blocking efficiency with our PFF Elite subscription.)
19. New England Patriots
This ranking is purely a quirk of the system we used to compile it. Since they were compiled off two-year sample, players like right guard Shaq Mason and right tackle Marcus Cannon — who both drastically improved a season ago — get underrated. Realistically, this is the same line that finished last year ranked 10th and should only keep improving.
20. New York Jets
The Jets rank this highly solely due to the fact that each player along the line has proven as least competent. This is the ranking for not having any "holes" along the line. That being said, there's little reason to get too excited that this line will improve drastically as all starters will be 26 or older by the time Week 1 rolls around.
21. Los Angeles Chargers
Is it possible that Chargers won't be dreadful once again on their offensive line? It's been 10 straight years that San Diego has had its offensive line grade out below average, but it's possible that the move to Los Angeles will lift the curse. On paper, they should be massively upgraded with Russell Okung, Forrest Lamp, and Dan Feeney all added this offseason.
22. Indianapolis Colts
For the Colts, it's more of the same along the offensive line. They made it through the offseason without seriously addressing any starting position, which means they'll be relying on improvement from youngsters to boost this ranking. It's very possible they do end up with a better line though as four of their five starters are still on their rookie contracts with two more backups drafted within the first four rounds the last two years.
23. Baltimore Ravens
The Ravens are rock solid at left tackle (Ronnie Stanley) and right guard (Marshal Yanda), but every other position is a big question mark. Left guard Alex Lewis and center John Urschel have flashed potential in the past and could push this ranking higher. The same though cannot be said for right tackle James Hurst.
24. Detroit Lions
The loss of Taylor Decker crushes the Lions ranking here. Going from him to Greg Robinson is a night-and-day difference. It doesn't help that Robinson will be sat next to easily the weakest position on the Lions line where neither high draft picks in Graham Glasgow nor Laken Tomlinson have proved themselves even average starters.
25. Denver Broncos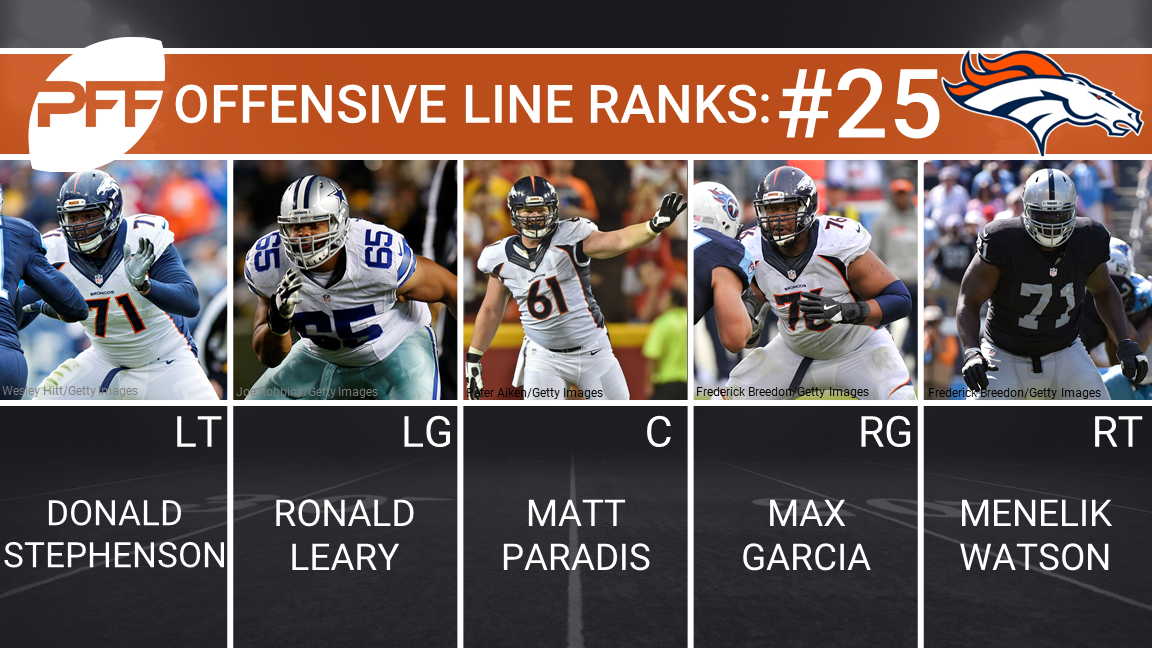 Much of the Broncos projection comes down to how first-round pick Garett Bolles performs. If he's a solid starter from Day 1, the Broncos could have an above average line with a Pro Bowl-caliber guard in Ronald Leary and Pro Bowl-caliber center in Matt Paradis. If Bolles can't even beat out Donald Stephenson, our second lowest-graded tackle a season ago, they'll have issues.
26. Miami Dolphins
After finishing with the league's two lowest-graded guards in 2015, Laremy Tunsil brought some semblance of competency to the position last year. They could very well be back to that 2015 level again though, as Tunsil moves to left tackle, where he is an unknown. Right guard Jermon Bushrod finished as the fourth-lowest-graded tackle in the league last year, while projected left guard Anthony Steen wasn't much better in 408 snaps last year.
27. San Francisco 49ers
Left tackle Joe Staley is the only saving grace for the 49ers, but at 32 years old, even he isn't the All Pro force he once was. If there is any hope for this line, it comes in the form of guard Josh Garnett. The first-round pick in 2016 was a nightmare in pass protection as a rookie, finishing dead last in pass-blocking efficiency.
(Check out more on our pass blocking efficiency with our PFF Elite subscription.)
28. New York Giants
Few teams have larger chasms on their offensive line than the left side of the Giants line. Ereck Flowers has had serious issues in pass protection over the course of his career and led all tackles in pressures allowed as a rookie. Next to him is left guard Justin Pugh who has been a top-15 guard when healthy over the past two years.
29. Houston Texans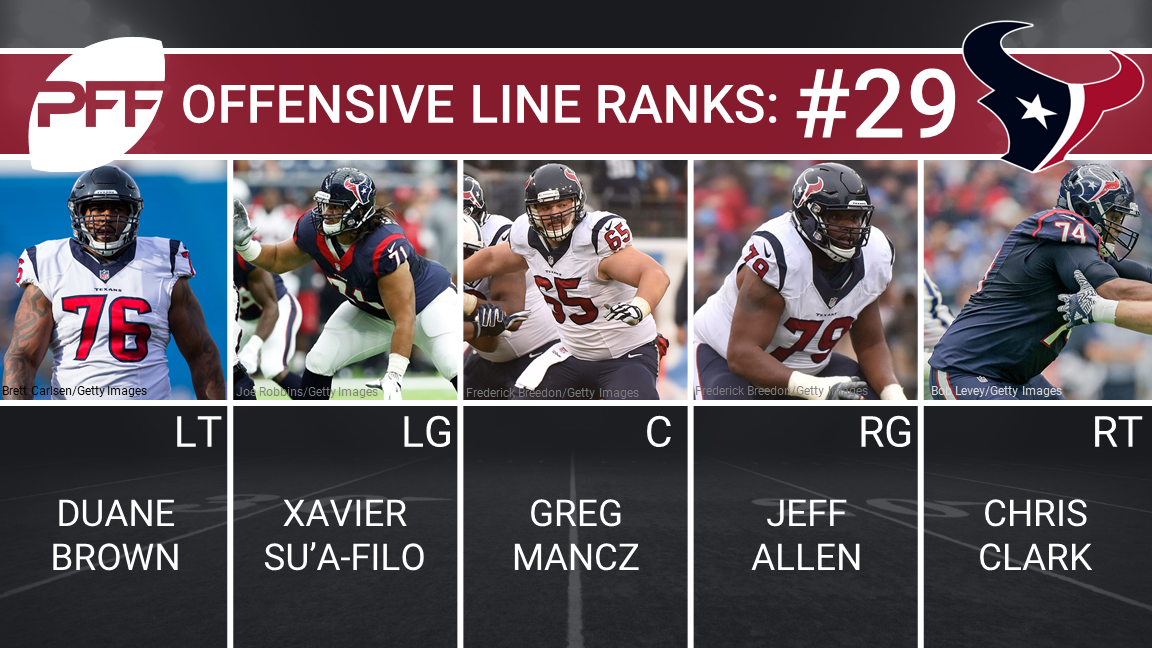 The emergence of Nick Martin and Julie'n Davenport could work wonders for this line, but there's little hope for the status quo from a season ago. Left guard Xavier Sua-Filo looks like a bust at this point after back-to-back seasons as a bottom 20 guard.
30. Tampa Bay Buccaneers
While Tampa's line has the potential to be much better than this ranking, they have yet to prove anything. Ali Marpet is a star in the making after finishing as the 13th-highest-graded guard in the league in his sophomore campaign, and his transition to center could pay dividends. However, the same cannot be said for fellow 2015 draftee Donovan Smith. He finished 66th out of 78 qualifying tackles a season ago in overall grade and that was an improvement.
31. Cincinnati Bengals
No line can lose two Pro Bowl-caliber players and expect to still perform at a high level. This is especially true for the Bengals who look completely at a loss to fill the shoes of left tackle Andrew Whitworth and right guard Kevin Zeitler. The loss may be felt the most at tackle where the drafted replacements – Jake Fisher and Cedric Ogbuehi – have looked lost anytime they've seen the field.
32. Seattle Seahawks
Even with the addition of Luke Joeckel, there's little reason to think this won't yet again be the worst offensive line in the NFL. They finished dead last a season ago in snap-adjusted run-blocking grade and snap-adjusted pass-blocking grade. Getting PFF's lowest-graded left tackle, George Fant, out of the starting lineup should help, but it won't fix the unit overnight.