[Editor's note: This article was originally published on July 12, 2016, and updated on Sept. 7, 2016, to reflect changes in running back units due to injuries, roster moves, etc.]
On the precipice of the 2016 season, the PFF analysis crew has teamed up to rank the league's position groups from top to bottom. Up today are the running backs. There were no hard-and-fast guidelines, other than to give credence to the players most likely to receive carries, and to assume full health for all players. Without further ado, let's see where each team ended up.
[More: Be sure to check out PFF's ranking of all 32 NFL QB situations, offensive lines, and defensive front-sevens.]
1. Pittsburgh Steelers
Starter: Le'Veon Bell
Backup: DeAngelo Williams
Key stat: Le'Veon Bell's 3.4 yards after contact per attempt was the highest in the NFL last season.
He may be coming off of an ACL injury and be suspended for the first three games of the season, but Le'Veon Bell was unquestionably the league's top running back in 2015 when healthy. The third-year back was on pace for career-highs in almost every category imaginable before going down for the season. Having a backup who played as well as DeAngelo Williams did in 2015 just serves to solidify Pittsburgh's No. 1 spot. Williams and Bell both earned top-10 rushing grades, despite playing limited snaps last year.
2. Tampa Bay Buccaneers
Starter: Doug Martin
Backup: Charles Sims
Key stat: Doug Martin and Charles Sims both earned top-five marks among RBs in elusive rating last season.
Martin ended last season with the highest rushing grade among all NFL running backs, but the problem is we can't always be sure how long his high levels will last. Martin has two stud seasons on his résumé alongside two duds, and it seems like any sort of injury seriously hampers Martin's game-breaking ability. Even if Martin does falter, though, Charles Sims has proven that he has the ability to be a featured back in this league. Sims is already arguably the top third-down back in the NFL, and earned the fourth-highest receiving grade at the position last season.
3. Kansas City Chiefs
Starter: Jamaal Charles
Backups: Charcandrick West, Spencer Ware, Knile Davis
Key stat: Jamaal Charles has produced only 15 runs of 15+ yards over the last two seasons.
Following Jamaal Charles' season-ending injury in Week 5 of 2015, The Chiefs proved that they go three-deep at running back as well as any team in the NFL. Charcandrick West and Spencer Ware both graded out positively, unseating Knile Davis as the primary backup. It's all about Charles, though, when he's healthy; no running back slips through tighter creases along the line of scrimmage, and Charles is a threat to take it to the house from anywhere on the field.
4. Carolina Panthers
Starter: Jonathan Stewart
Backups: Cameron Artis-Payne, Fozzy Whittaker
Key stat: Jonathan Stewart earned the second-highest pass-blocking grade among NFL RBs last season.
Health is a big concern for Jonathan Stewart, as the Panther notched over 600 snaps for the first time in his eight-year career in 2014. That being said, when he is healthy Stewart is an elite running back in this league. He may be 29 years old, but he's coming off a season where he broke a tackle once every 4.9 carries.
5. Minnesota Vikings
Starter: Adrian Peterson
Backup: Jerick McKinnon
Key stat: Adrian Peterson's 3.93 yards after contact per attempt in 2012 was the highest mark in the last 10 years.
Adrian Peterson's 2015 campaign produced some impressive raw numbers, but his rate stats paled in comparison to previous seasons. His 2.3 yards after contact per attempt was the first time he was below 3.0 in his entire career. At 31 years old, it's time to wonder if he's finally starting to show signs of age. Jerick McKinnon might finally start seriously cutting into Peterson's carries in 2016, and the third-year back has earned positive rushing grades in each of his first two pro seasons.
6. Los Angeles Rams
Starter: Todd Gurley
Backup: Benny Cunningham, Malcolm Brown
Key stat: 45.9 percent of Todd Gurley's yardage came on runs of 15+ yards, the highest rate in the league.
Gurley overcame one of the ugliest offensive lines in the NFL en route to the most touchdowns (10) and broken tackles (42) of any rookie back. Now two years removed from an ACL injury, there is reason to believe Gurley could reach the next level in 2016. During his last season at Georgia, he recorded 37 broken tackles on 123 attempts.
7. Jacksonville Jaguars
Starter: Chris Ivory
Backups: T.J. Yeldon, Denard Robinson
Key stat: Chris Ivory earned his highest overall grade for a season in 2015.
The Jaguars didn't necessarily need to bring in a back to take carries from T.J. Yeldon, but it's difficult to argue with the value that Chris Ivory brings. Ivory has averaged 2.5+ yards after contact per attempt every single season of his career. Yeldon is no slouch himself, though; he finished with the second-highest rushing grade among rookie running backs last season.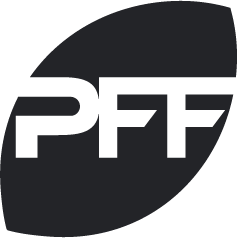 Ranking all 32 NFL offensive lines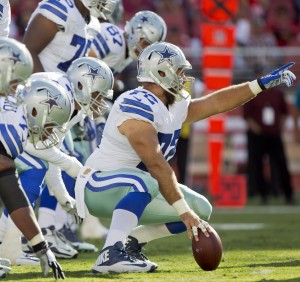 PFF ranks all 32 NFL offensive lines entering the 2016 season, with C Travis Frederick and the Cowboys at No. 1.
See full ranking

8. Buffalo Bills
Starter: LeSean McCoy
Backup: Reggie Bush
Key stat: LeSean McCoy averaged only 2.0 yards after contact per attempt last year.
While it looked like this was going to be a two-headed running back monster this offseason, Karlos Williams' release throws a wrench into things. McCoy is not someone who springs to mind when one thinks of a 20-carry per game type back, but he'll almost have to be with the frequency that offensive coordinator Greg Roman runs the ball.
9. Houston Texans
Starter: Lamar Miller
Backups: Alfred Blue, Tyler Ervin
Key stat: Lamar Miller's 2.76 yards after contact per attempt were 11th-best in the NFL last season.
Lamar Miller has to be one of the happiest men on the planet going from Miami to Houston. The Dolphins were the lowest-graded run-blocking team each of the past two seasons, and game after game we saw them treat Miller as an afterthought in that offense. With the Texans, he should be the undisputed feature back, and could end up even higher than his sixth-overall rushing-grade rank from a year ago.
10. Dallas Cowboys
Starter: Ezekiel Elliott
Backups: Alfred Morris, Lance Dunbar
Key stat: Ezekiel Elliott gained 2,039 yards after contact over his last two college seasons.
We put on our college scouting hats for this one, and slotted Ezekiel Elliott as a top-10 running back in the NFL. He ended up as our seventh-best player on our final draft board this offseason, and the top running back by some distance. With our top RB prospect from last year, Todd Gurley, conjuring the rookie season he had, we felt comfortable enough to lean on the former Ohio State back here. If Dallas had passed on the running back position in the draft, though, and it was a group again led by Darren McFadden (currently on NFI list), we could have been looking at the 32nd-ranked unit.
11. Green Bay Packers
Starter: Eddie Lacy
Backup: James Starks
Key stat: Eddie Lacy's elusive rating was almost twice as good in 2014 (71.6) as it was in 2015 (36.7).
It didn't take a strength and conditioning coach to tell you that Eddie Lacy had a serious problem with his weight in 2015, as it drastically affected his game. Surprisingly, he still had 11 carries of 15+ yards, but none went longer than 29 yards. Lacy was publicly called out by coach Mike McCarthy, and now is reportedly in as good a shape as he's ever been in during his NFL career. Lacy was a tackle-breaking machine his first two years in the league, and there's nothing to suggest he won't get back to that level soon.
12. Cincinnati Bengals
Starter: Jeremy Hill
Backup: Giovani Bernard
Key stat: Jeremy Hill's 2.0 yards after contact per attempt was the worst of any starter last year.
It was an ugly sophomore season for Jeremy Hill—somewhat similar to Giovani Bernard's 2014 campaign. Hill's running style has never seemed to match up with his imposing body type, and it's led to him being among the least-elusive backs each of his first two seasons. I'd bet on Bernard getting more than his 154 carries he managed a season ago, as he achieved one of the 10 best cumulative rushing grades in the league.
13. Seattle Seahawks
Starter: Thomas Rawls
Backups: C.J. Prosise, Alex Collins, Christine Michael
Key stat: Thomas Rawls' 3.12 yards after contact per attempt was the third-best mark of any back last season.
Thomas Rawls may very well have been the most-impressive rookie running back on a snap-by-snap basis a year ago, and he certainly was from a grading standpoint. The Seahawks' run scheme does a great job of at least creating some space for its backs to make plays, and Rawls did just that. The only question is whether or not he's ready to carry the load for a full season, and if the stable of rookie backups can effectively spell him.
14. New England Patriots
Starter: LeGarrette Blount
Backups: James White, Brandon Bolden, Dion Lewis
Key stat: Dion Lewis' 165.2 elusive rating would have been the highest PFF has ever recorded if he had played enough snaps to qualify.
Who really knows who New England's feature running back really is? Even if there again may not be one this year, it's still a group that offers a lot of talent. LeGarrette Blount may be one of the most underrated pure runners in the NFL, as he's averaged 157.5 carries per year in his six NFL seasons. After Blount, Dion Lewis (currently on the PUP list) is the ultimate wildcard. He'll never be a 20-carry guy, but he was lightning in the open field last season before going down with an ACL injury. He broke 26 tackles on just 36 receptions last season.
15. Denver Broncos
Starter: C.J. Anderson
Backups: Devontae Booker
Key stat: C.J. Anderson broke 28 more tackles in 2014 (59) than he did in 2015 (31).
If this were solely starting running back rankings, the Broncos would likely be higher. For some reason, though, they refuse to treat Anderson like he's "the guy" in Denver, despite completely outproducing his peers. Anderson's broken-tackle numbers may have been down last season, but his yards after contact per attempt actually went up, and his six broken tackles in the Super Bowl proved that he can still make defenders miss.
16. Atlanta Falcons
Starter: Devonta Freeman
Backup: Tevin Coleman
Key stat: Devonta Freeman recorded 15 carries of 15+ yards last year, the fifth-most in the NFL.
Until last season, Atlanta's entire backfield felt like it had been filled with more hype than actual substance. Freeman was promoted to the lead back in 2015, and the results were slightly better than his rookie campaign—through Week 9, he was the third-highest-graded back in the league. His cumulative season rushing grade finished 20th among starters, although he did provide a little more in the passing game than most backs, ranking eighth in that category.
17. New York Jets
Starter: Matt Forte
Backups: Bilal Powell
Key stat: Matt Forte's 2.2 yards after contact per attempt last year was the second-lowest mark of his career.
Matt Forte (added via free agency from Chicago) is on the wrong side of 30, and his injuries a year ago are concerning. Somewhat surprisingly though, his rate stats have been almost identical each of the previous two seasons—he simply wasn't featured as much in 2015.
18. San Francisco 49ers
Starter: Carlos Hyde
Backups: Mike Davis
Key stat: Carlos Hyde has managed only 594 snaps in two seasons.
We can assume that Carlos Hyde is healthy, but the 49ers may be wise to keep him in a platoon role. That being said, he certainly impressed in his limited time. On 198 carries over two seasons, Hyde has broken 57 tackles; that's one of the highest rates in the NFL over that span. 69.7 percent of his yards have come after contact in his career, another superb rate. He has top-10-type talent; he simply needs to prove it over the course of a season.
19. Baltimore Ravens
Starter: Javorius Allen
Backups: Justin Forsett, Kenneth Dixon, Terrance West
Key stat: Justin Forsett's yards before contact dropped from 2.9 in 2014 to only 2.0 in 2015.
If we were looking for volume over quality, Baltimore would certainly be No. 1 on this list. The Ravens have now used a fourth-round pick on a running back in three straight drafts, and it's getting difficult to find roles for all of them. The most recent draftee, Kenneth Dixon (Louisiana Tech), was our second-highest rated running back in this year's draft class.
20. Cleveland Browns
Starter: Duke Johnson
Backup: Isaiah Crowell
Key stat: Duke Johnson broke 17 more tackles on 39 fewer touches last year than Isaiah Crowell.
Duke Johnson certainly impressed as a rookie with the highest receiving grade and sixth-highest rushing grade in the class. The question now becomes whether or not he can he do it in a full-time role. Johnson received 10+ carries in only two games last season, and never 15+ carries in a single outing. He still produced the highest elusive rating of any rookie back (60.9), and we like his chances of maintaining a high level of play with more touches.
21. New Orleans Saints
Starter: Mark Ingram
Backups: C.J. Spiller, Daniel Lasco
Key stat: C.J. Spiller set the PFF record for elusive rating with the Bills in 2012 (94.6).
It's sad how much injuries have turned C.J. Spiller from one of the most dynamic players in the NFL into an average third-down back. On 34 catches last season, Spiller broke just two tackles. Mark Ingram will likely see the bulk of the carries again, and his steadiness might be a tad underrated; 60 percent of his yards have come after contact the past four years.
22. New York Giants
Starter: Rashad Jennings
Backups: Paul Perkins, Shane Vereen
Key stat: Rashad Jennings' 21 broken tackles on handoffs were the third-fewest for any starter last season.
Over the past three seasons, Rashad Jennings has been quietly productive, despite not being very flashy. He is the definition of a "falls forward" running back, and averaged 2.8 yards after contact per attempt last season. Jennings will never be a 1,400-yard guy, but he's not a player you desperately need to upgrade from. It's also worth mentioning that Paul Perkins (UCLA) was the third-highest running back on our draft board, and could offer much more value than his late-round selection suggests. Perkins' 73 broken tackles last year were the second-most for any back in the draft.
23. Arizona Cardinals
Starter: David Johnson
Backup: Chris Johnson, Andre Ellington
Key stat: David Johnson's 58.4 elusive rating was the second-highest of any rookie last season.
If Chris Johnson—PFF's lowest-graded RB in 2015—sees the field often next season, then this ranking is justified for Arizona. If David Johnson takes a majority of the Cardinals' snaps, however, he could be on the cusp of a monster year. His ridiculous touchdown run against the Eagles in Week 15 was one of the handful of strongly-positive grades last season. David Johnson has an elite blend of speed and power that should easily make him the featured back in Arizona this season. Chris Johnson was still far too boom-or-bust for PFF's liking a season ago, and I wouldn't be surprised if Andre Ellington sees more touches this year.
24. Oakland Raiders
Starter: Latavius Murray
Backups: DeAndre Washington, Taiwan Jones
Key stat: Latavius Murray's 14 broken tackles after the catch were fifth-most of any starting back last season.
This is right around where NFL running back situations start to get shaky. With all the money they doled out in free agency, I would have liked to have seen Oakland also swing for an upgrade at the running back position, especially with a now-solidified offensive line. As it stands, though, Latavius Murray isn't a liability, but he simply does little to excite. His elusiveness and yards after contact stats are all middle-of-the-pack, despite having a good deal of space to work with in Oakland last year.
25. Tennessee Titans
Starter: DeMarco Murray
Backup: Derrick Henry, Antonio Andrews
Key stat: DeMarco Murray had 718 fewer yards after contact in 2015 than in 2014.
DeMarco Murray's 2015 season was nothing short of a disaster, and I recently broke down exactly what went wrong in Philadelphia. Some of his issues will be alleviated by running from under center, but it's fair to question whether or not Murray will ever have the same juice after a buildup of injuries over the years. The kicker here is also the backup situation, which offers little in the way of a change of pace, although former Heisman winner Derrick Henry (Alabama) graded well this preseason.
26. Detroit Lions
Starter: Ameer Abdullah
Backup: Theo Riddick
Key stat: Theo Riddick's 2.30 yards per route run led all running backs last season.
Ameer Abdullah had one of the toughest tasks of any rookie running back a season ago behind the poor run-blocking unit the Lions placed in front of him. All signs point to the Detroit O-line being much-improved for 2016, though, and hopefully the Nebraska product can improve upon his negative grade. What really saves the Lions' ranking here is dynamic backup Theo Riddick, who led all running backs in almost every imaginable receiving category last season.
27. San Diego Chargers
Starter: Melvin Gordon
Backup: Danny Woodhead
Key stat: Danny Woodhead broke only 2 tackles on 98 carries last year
I said Ameer Abdullah had one of the toughest tasks of any rookie running back last season, because Melvin Gordon undoubtedly had the most difficult. It was difficult to even evaluate his performance because of how infrequently he was presented with a clean running lane. That doesn't excuse a serious fumbling issue (six on 184 touches), though, that could see his role reduced if he doesn't mend it.
28. Chicago Bears
Starter: Jeremy Langford
Backups: Jordan Howard, Ka'Deem Carey
Key stat: Jeremy Langford's eight drops were the most of any running back last season.
I think it's fair to say that, of all the sophomore running backs coming into this season as starters, Jeremy Langford's job is in the most danger. Out of 52 qualifying backs, Langford finished dead last in elusive rating (10.3) and second-to-last in yards after contact per attempt (1.76). Jordan Howard (Indiana), on the other hand, was one of our top-rated running backs in the draft, and has impeccable vision. The rookie could easily be starting by the season's end.
29. Indianapolis Colts
Starter: Frank Gore
Backup: Robert Turbin
Key stat: Frank Gore's 36 broken tackles last season were the most he's forced since 2012.
Frank Gore never did rely on raw physical tools, but at 33 years old, those tools are as poor as they've ever been in his career. It's impossible to ask him to shoulder 20 carries a game, and the Colts have big question marks behind him. In four seasons, Turbin has 318 career carries to his name, with a long-run of 26 yards, just 43 broken tackles, and an average of 2.3 yards after contact per attempt. None of those metrics really scream anything other than "backup."
30. Miami Dolphins
Starter: Jay Ajayi
Backups: Damien Williams, Kenyan Drake, Arian Foster
Key stat: Ajayi, Williams, and Drake have played a combined 484 pro snaps.
This is little more than a situation of lack of information. Jay Ajayi could be a great starting running back, it's just impossible to tell after 49 carries as a rookie. Those 49 carries, though, were fairly impressive. On them, he broke 12 tackles and averaged 3.3 yards after contact per attempt, even though he only averaged 3.8 yards per carry—a ludicrous ratio. Kenyan Drake (Alabama) should step right in and be a competent third-down back, as well, and I would be very surprised if the Dolphins aren't higher in the end-of-year RB rankings, especially with the addition of veteran Arian Foster.
31. Philadelphia Eagles
Starter: Ryan Mathews
Backups: Darren Sproles, Wendell Smallwood
Key stat: Ryan Mathews averaged 0.7 more yards after contact per attempt than DeMarco Murray last year.
This is another situation where we can assume full health, but the Eagles would be silly to continually pound the rock with Mathews, given his injury history. When he has gotten the call over the past few seasons, the results have been solid, if unspectacular. He's accumulated a positive rushing grade on 180 attempts over the past two seasons, although he has averaged 2.7+ yards per contact after attempt in each. Behind him, Darren Sproles will be 33 years old; he finally started to show some signs of age last season, turning in the lowest receiving grade of his career.
32. Washington Redskins
Starter: Matt Jones
Backup: Chris Thompson, Rob Kelley
Key stat: Matt Jones recorded the eighth-best elusive rating of any rookie last year.
Washington was nearly a unanimous decision for the bottom spot among PFF analysts; there's not much at all to get excited about with this group. The Redskins' offensive line was much-improved in 2015, but the running backs continually let them down with poor reads and little creativity. Chris Thompson and Matt Jones posted the 55th- and 66th-best overall grades among NFL RBs, respectively, among 69 qualifying running backs.