Jarran Reed of the Seattle Seahawks was suspended for the first six games of the 2019 season for violating the NFL's personal conduct policy. That leaves a major hole in the Seahawks' defensive line, as Reed led the team's interior defenders in snaps played (823) last year, and he played over 200 more snaps than the team's next closest interior defender (Quinton Jefferson, 604).
While experience and familiarity with a team's defensive scheme are valuable, Seattle fans shouldn't panic too much about missing Reed for the first six games of 2019. After all, he was far from an Aaron Donald or a Fletcher Cox.
In fact, Reed earned an overall grade of 67.9 last season, which is tied for 78th out of 129 qualifying interior defenders. Although his overall grade wasn't exactly impressive, Reed was solid as a pass-rusher. Among that same group of 129 interior defenders, Reed ranked 43rd in pass-rushing grade and he also recorded 50 total pressures, which ranks 11th. Seven of Reed's 50 total pressures were unblocked, which is just one of the reasons why his pass-rushing grade wasn't as high as you would think.
Regardless, Reed produced as an interior defender last year, but losing him for six games probably won't hurt the Seahawks as much as you would think. That's because there's a beast by the name of Poona Ford waiting in the wings.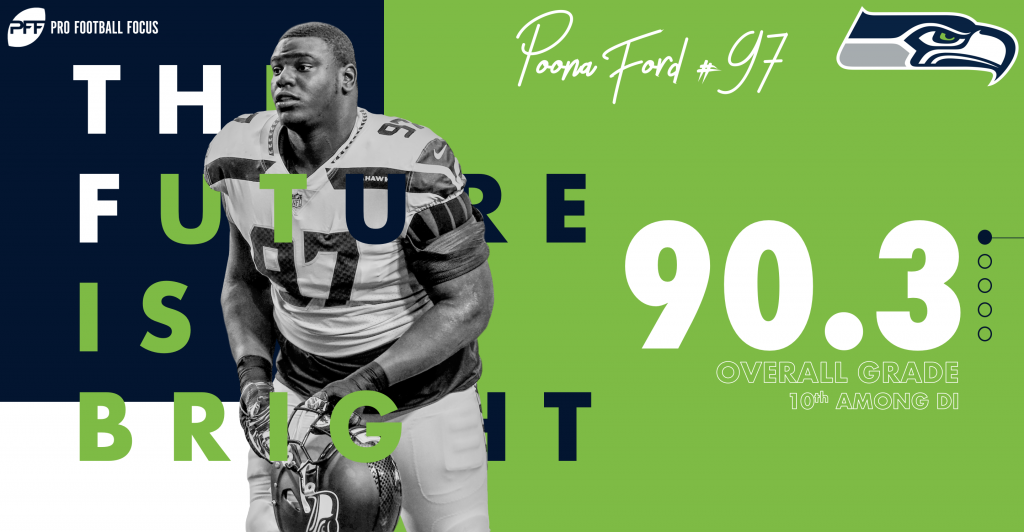 For those who don't already know, Ford earned an elite overall grade of 90.3 last season, which ranks 10th among interior defenders and first among all rookie defenders from any position. Where Ford really shined was against the run, as he earned a run-defense grade of 91.5 last season, tying for fifth among interior defenders. The 5'11", 310-pound undrafted free agent out of Texas is built for power, and that power terrorized offensive lines and stopped running backs in their tracks during his rookie year.
Ford tallied 13 run stops on just 103 run-defense snaps last season, good for the fourth-best run-stop percentage (12.6%) among interior defenders. That puts him in elite company, trailing well-known run-stuffers like Akiem Hicks and Damon Harrison. As a defense, one of your goals on early downs is to put the offense into tough passing situations on later downs, and who fits that job description for the Seahawks better than Poona Ford?
Ford was less effective against the pass, as he earned a pass-rushing grade of 61.7, ranking 69th among interior defenders. On 125 pass-rushing snaps, Ford tallied eight total pressures (two hits, six hurries). From Ford's limited sample size against the pass last season, it's evident that he's not as good a pass-rusher as Reed is.
Looking at Ford's college grades, it's the same story. In 2017 at Texas, Ford had the seventh-best run-defense grade (91.3) among interior defenders, and ranked 223rd out of 573 qualifiers in pass-rush grade (63.6). At this point in his young career though, Ford has plenty of room for improvement against the pass.
Yes, the Seahawks will miss Reed's experience on the interior, but Ford is a playmaker who can really make a name for himself if he's given more playing time during Reed's absence. Ford should be a stud on early downs against the run, and he will force opposing offenses into must-pass situations after he stuffs running backs.
And if Ford can improve as a pass-rusher over the offseason, he could turn into a valuable, two-way lineman for the Seahawks while Reed is away.