The PFF grading system isolates the role of each pass-rusher, with an emphasis on creating positive plays. In a "credit-based" system, the best pass-rushers are expected to win at a high rate, and each play is assigned a different level of difficulty or expectation based on factors such as down and distance and dropback depth of the quarterback (passing concept). A rusher who fails to win or make an impact on a play will receive a fraction of a negative grade depending on the situation, using those previously listed parameters.
Positively graded plays
To earn a positive grade, a rusher must win his block or affect the play beyond the base level of expectations on a given passing play. The quicker the win, the better the grade.
Quick wins are the most difficult to achieve, and they will be properly rewarded. Defining wins that get to the top of the pocket early within the quarterback's progression are among the highest-graded plays in the PFF system.
[Editor's Note: See Kansas City Chiefs ROLB Dee Ford.]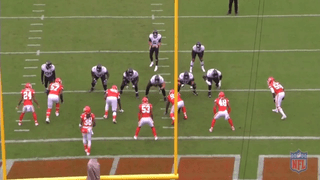 [Editor's Note: See Los Angles Rams DRE Aaron Donald.]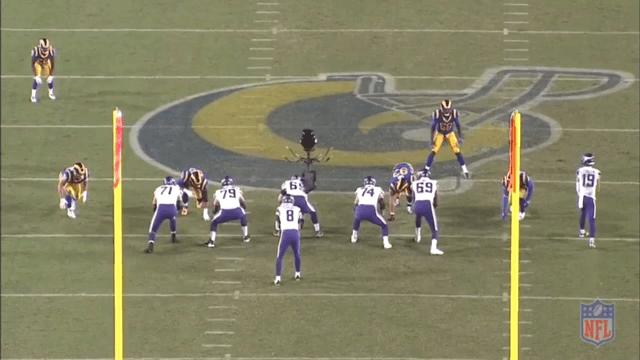 [Editor's Note: See Kansas City Chiefs DRE Chris Jones.]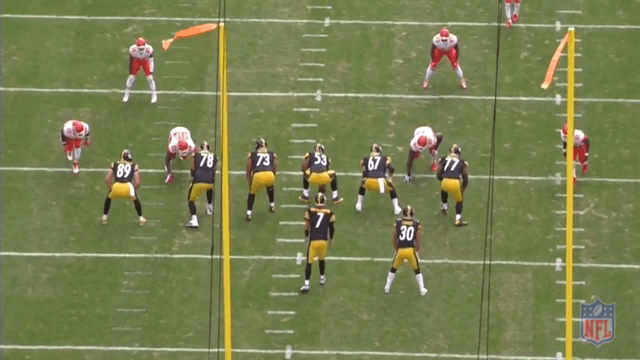 Positives are also earned on slower-developing wins; ones that affect the quarterback within the flow of his progressions:
[Editor's Note: See New Orleans Saints LEO Cameron Jordan.]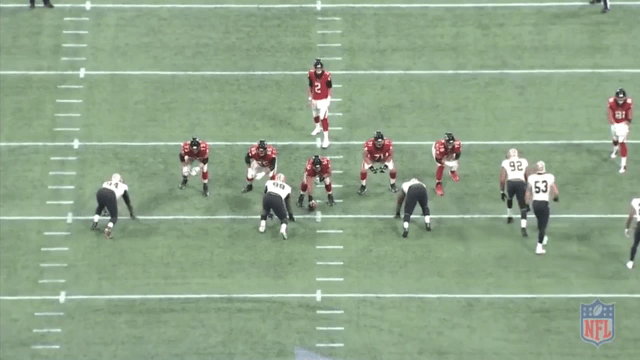 Batted passes are another way defenders can earn a high grade as a pass-rusher:
[Editor's Note: See Cincinnati Bengals LEO Carlos Dunlap.]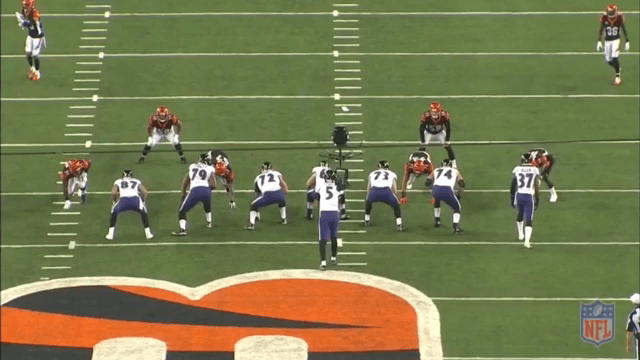 Not all sacks are created equally
While sacks have generally been the barometer by which pass-rushers are judged, years of data support that while extremely valuable, achieving a sack can come in many forms. For that reason, that are many sacks that will receive lower grades than dominant pressures, as quick wins occur on just 3.9% of pass rushes while 15.1% of all pressures become sacks. Many of those slower-developing sacks are made possible because of circumstances outside of the rusher's control, such as pressure from a teammate or a quarterback holding onto the ball too long.
There are many examples of sacks that are good plays, but not as dominant as the perception of the stat would have you believe.
For instance, cleaning up a sack as the offensive lineman loses leverage:
[Editor's Note: See Jacksonville Jaguars REO Yannick Ngakoue.]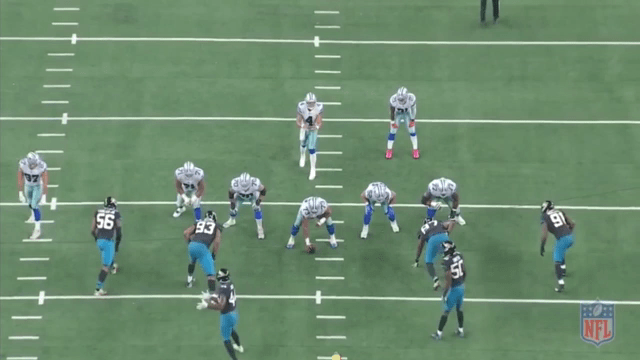 or picking up a sack on an unblocked play:
[Editor's Note: See Baltimore Ravens ROLB Terrell Suggs.]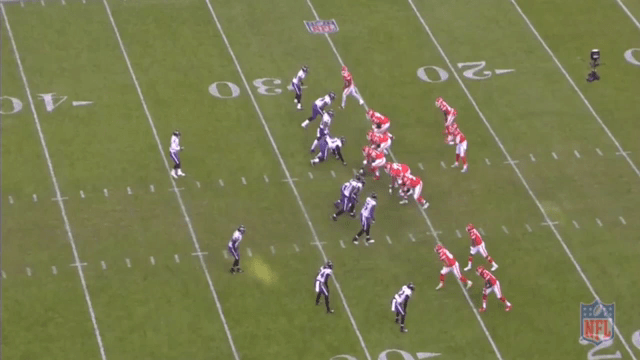 Below is an example of a play in which the player earning the sack did not make the most impressive play. Shane Ray (#56) defeats the left guard to move the quarterback off his spot, earning a high grade for getting to the top of the pocket. Bradley Chubb (#55) makes a nice play to disengage and clean up for the sack, but he earns a slightly lower grade on the play despite the shiny sack statistic. From a pass-blocking standpoint, left tackle Andrew Whitworth (#77) is not at fault here.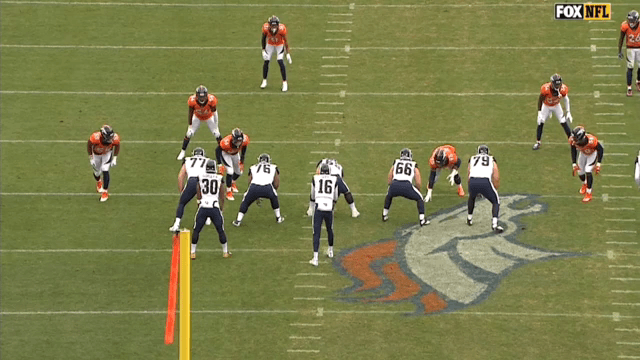 As for the finishing of the play, a forced fumble earns a big bonus, and that can tack onto any of the previous grades that are dependent on the speed of the win.
[Editor's Note: See Houston Texans LEO J.J. Watt.]
A missed sack, or missed tackle in the pocket, will result in a downgrade for the rusher, but it's important to note that the rusher can still earn a positive grade on the play, assuming he defeated a block along the way.
[Editor's Note: See Tampa Bay Buccaneers DLE Jason Pierre Paul.]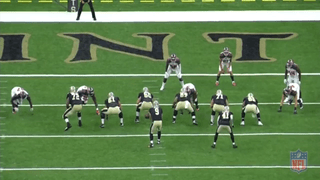 Pass-Rushing Stats
In addition to the pass-rushing grades, PFF collects many stats that help define each win.
Hurries are plays in which the quarterback's throw is affected, or he's moved off the spot:
[Editor's Note: See Philadelphia Eagles REO Brandon Graham.]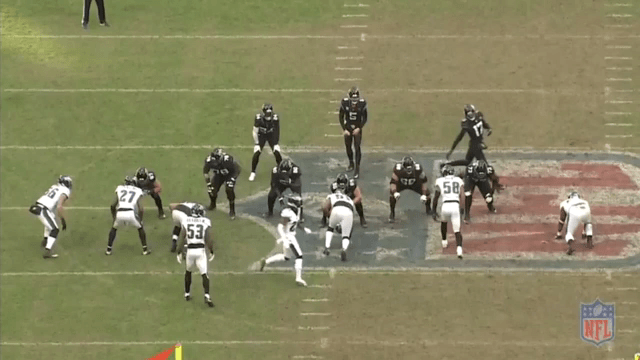 Hits are essentially the same, but the quarterback is taken to the ground:
[Editor's Note: See Philadelphia Eagles DLE Fletcher Cox.]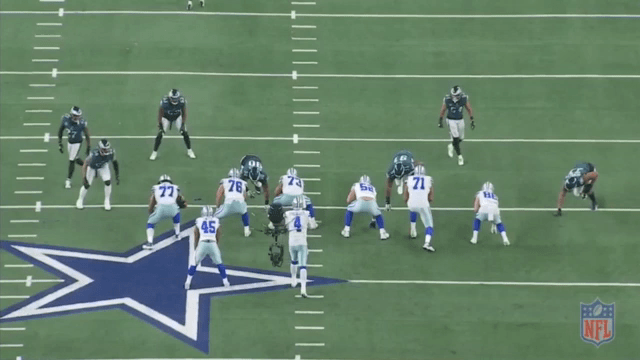 Sacks are assigned to the proper defender, and they may not match the official scorer's decision. At PFF, we do not assign half-sacks, only full sacks, as we believe the rusher has earned the sack if he gets there at the same time as his teammate: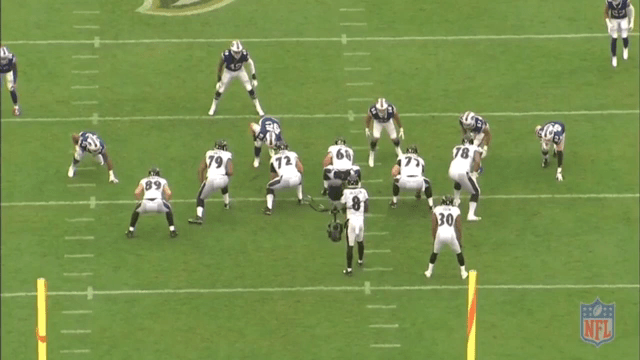 There's one other situation that is accounted for that will receive the "beaten by defender" label. This is a play in which the rusher clearly wins, but there is no actual pressure on the quarterback due to a quick release of the ball. We give proper credit for the quick win.
[Editor's Note: See Denver Broncos LOLB Von Miller.]
Back to the grading, rushers may earn a neutral, or expected, grade even when pressuring the quarterback. The pressure that occurs extremely late in the play, as late as four seconds:
[Editor's Note: See Pittsburgh Steelers ROLB T.J. Watt.]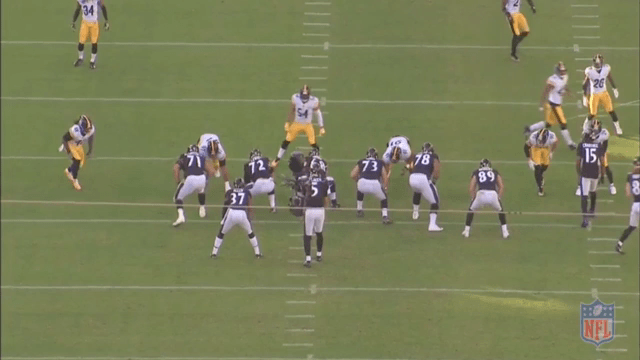 or unblocked pressure that is driven by scheme or blown blocks may earn a 0-grade, which is viewed as an "expected" outcome for the rusher:
[Editor's Note: See Pittsburgh Steelers ROLB Bud Dupree.]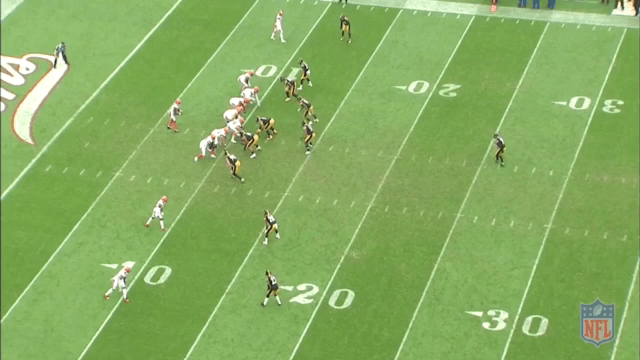 Why is the PFF pass-rush system important?
As our numbers have shown, predicting pass-rush performance is easier when using either PFF pass-rush grade or total pressures rather than relying on sacks alone. With the level of context and detail given to every play, we believe the PFF pass-rush system to be much better at evaluating pass-rushers compared to just using sack totals or even sacks on a per-rush basis.