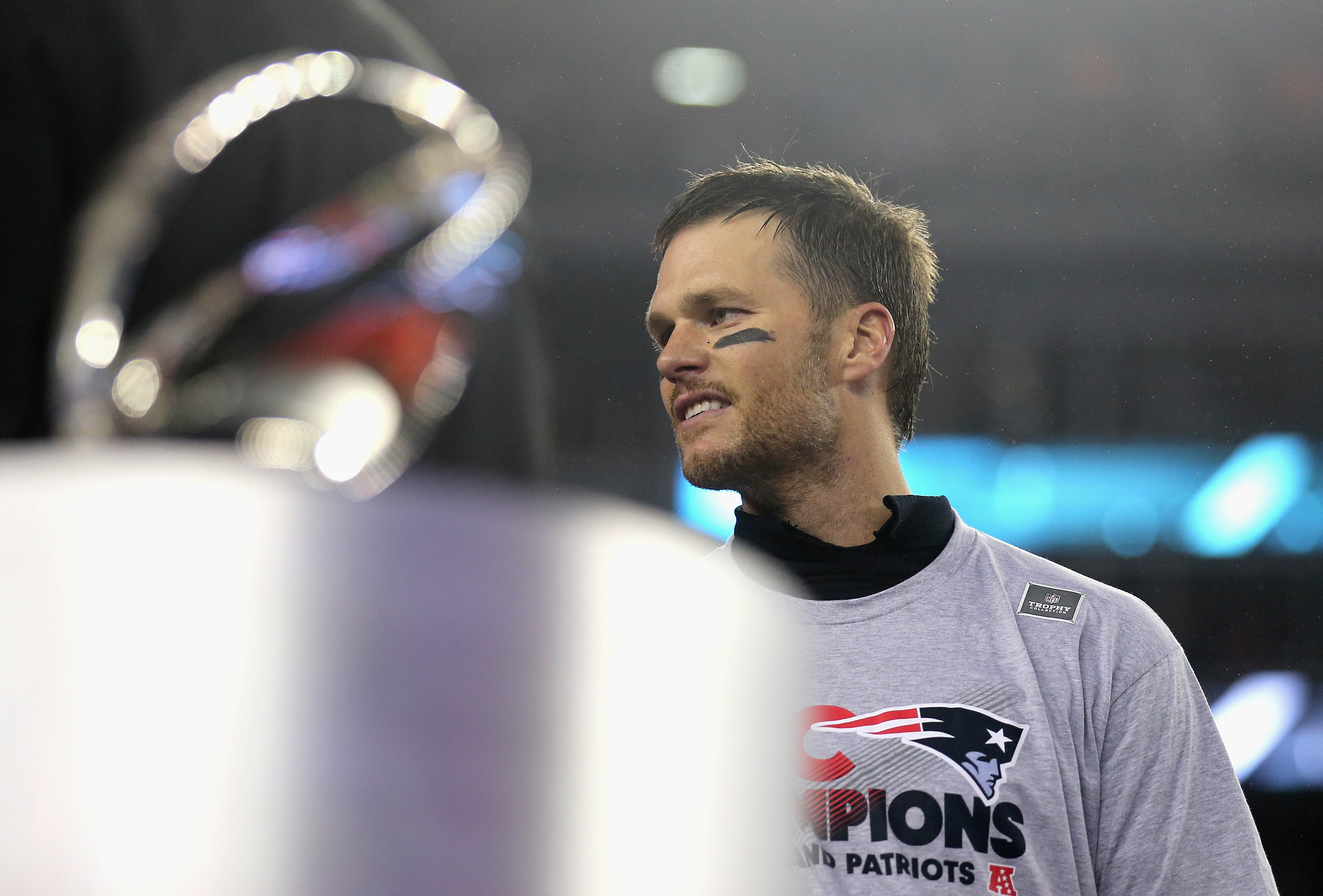 FOXBORO, MA - JANUARY 22: Tom Brady #12 of the New England Patriots reacts after defeating the Pittsburgh Steelers 36-17 to win the AFC Championship Game at Gillette Stadium on January 22, 2017 in Foxboro, Massachusetts. (Photo by Maddie Meyer/Getty Images)
When it's all said and done, only six teams of the 16 teams in the AFC will advance to the playoffs. If the breaks fall a certain way, almost any team could make a surprise playoff appearance. Let's break down exactly what that would look like for each team in the conference.
AFC East

The two trades Buffalo made over the weekend scream win later instead of win now. Dealing away your best receiver and cornerback makes that obvious. There still exists a possibility though where the Bills catch some lightning in a bottle and make the playoffs. Offensively, keeping the status quo could theoretically be enough if the defense starts pulling it's own weight. For this to happen, it would have to be via Sean McDermott and the possibility that his scheme represents a vast improvement over Rex Ryan's. The once loaded defensive line that led the NFL in total pressures only a few years ago, slipped to 22nd in pressure rate last year. That has to turn around mightily for the Bills to have a chance.

After sneaking their way into the playoffs a season ago, the Dolphins return much of the same roster in 2017. The big change though is at QB. Ryan Tannehill could miss significant time which means it's Jay Cutler's team to lead. With the plethora of playmakers offensively, the Dolphins don't need elite level quarterback play to run a high level offense. They simply need to be consistent and protect the ball. On top of Cutler playing like the Cutler of 2014, the Dolphins need a cornerback to step up across from Byron Maxwell to make the playoffs. Xavien Howard, Tony Lippett, Alterraun Verner and Cordrea Tankersley all have that opportunity although Howard seems the most likely candidate after being drafted in the second-round last season. His 48.7 overall grade though as a rookie is concerning as he'll need to make big strides to be that guy.

There's no realistic scenario I can envision.

Show up.
Although, it will be interesting to see what Tom Brady does for an encore, after his Super Bowl-winning season in which he saw the second-highest grade for a quarterback in the PFF Era (2006-present) at 98.0.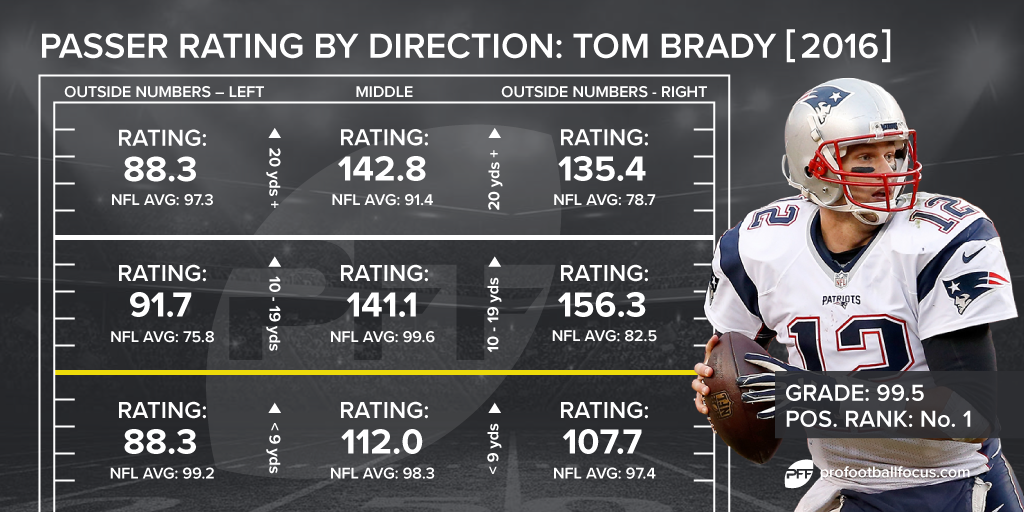 AFC North

This one is easy: the Bengals simply need they're young, high draft picks to live up to their pre-draft hype. While William Jackson, Jordan Willis and Carl Lawson could play big roles on the defensive side fo the ball, it really starts and ends with Cedric Ogbuehi (44.2 overall grade in 2016) and Jake Fisher (47.8) at tackle. Andy Dalton had a 57.1 passer rating under pressure last year yet only faced pressure on 28.9 percent of his passes, the fifth-lowest rate in the NFL. He'll have more playmakers to find when faced with pressure this year, but that pressure rate can't grow too much bigger or the Bengals offense will be toast.

The Browns are closer to the playoffs than their 1-15 record a season ago might suggest, but it will still take a lot of magic. With first- or second-year players Corey Coleman, David Njoku, Shon Coleman, Cody Kessler, DeShone Kizer, Myles Garrett, Emmanuel Ogbah, Carl Nassib and Jabrill Peppers set to play big roles, the Browns need a well above average hit rate on those picks – and at least one of them to be a QB – to make the playoffs. It's one game in, but Kizer did impress in his debut, fielding an adjusted completion percentage of 80.0.

This one is simple: Joe Flacco needs to return to an elite level of play at quarterback. Flacco has been consistent the past two years, seeing overall grades of 75.2 in 2015 and 75.4 in 2016, but they've missed the playoffs each of the past two years. Coinciding with that, the Ravens have made the playoffs each of the past two seasons in which Flacco has seen an overall grade at 82.7 or above (2010, 2012), so the recipe is simple.

The Steelers are the clear class of the AFC North at the moment and it shouldn't take much to secure their fourth-straight appearance. As long as Ben Roethlisberger can prove last year's down year (83.4 overall grade) was more fluke than sign of decline, they look like the closest thing outside of the Patriots to a playoff lock. Rookie T.J. Watt has already impressed this preseason as well, to help solidify the Steelers defense.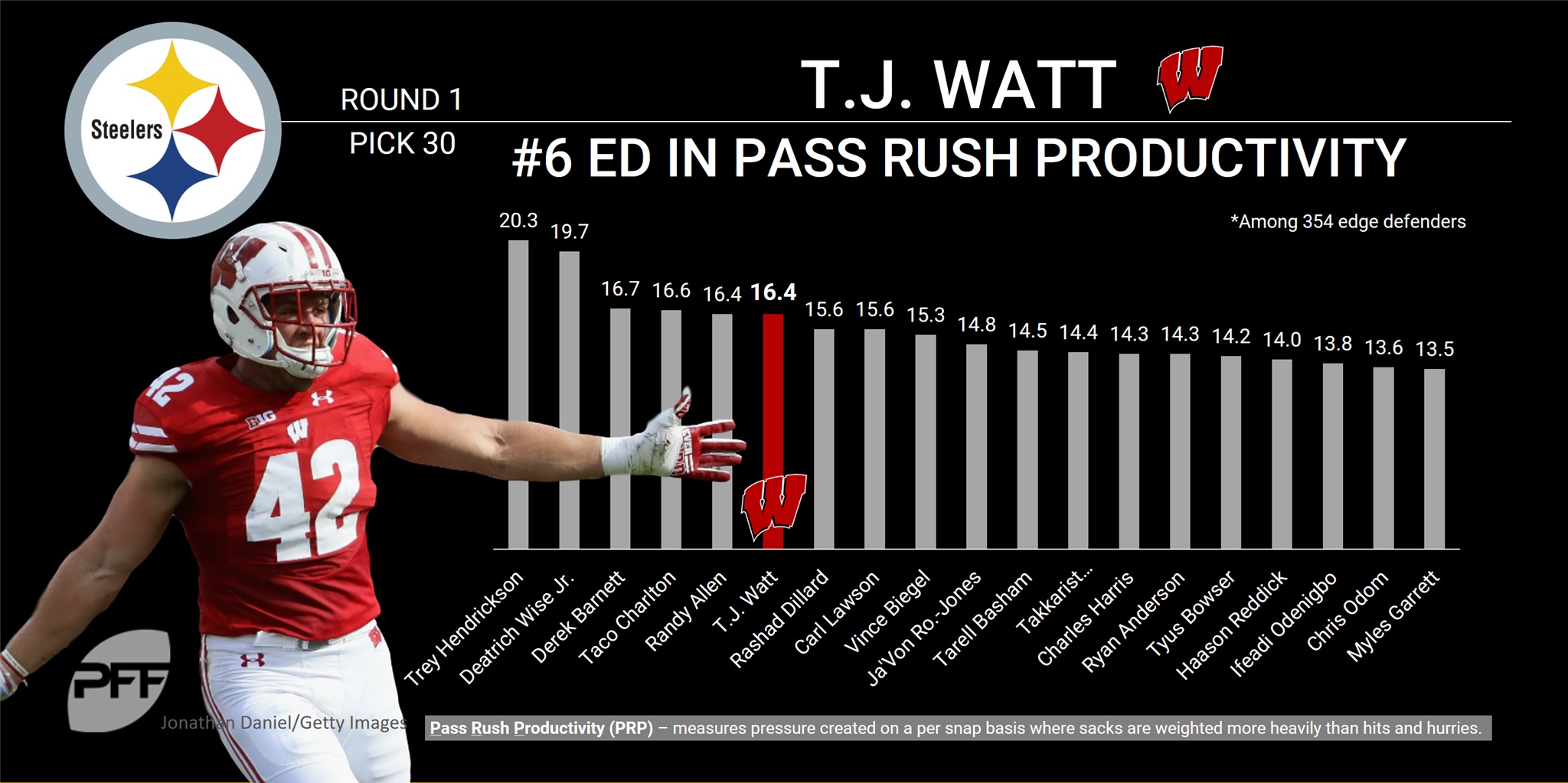 AFC South

Every year, it's the same recipe in Indianapolis: offensive line and pass defense. If they can get anything out of both they have a shot of making the playoffs. Last year they got next to nothing from either and still finished 8-8. The offensive line needs big steps forward from three 2016 draft picks in Ryan Kelly (C, 73.8 overall grade in 2016), Joe Haeg (RG, 67.4) and Le'Raven Clark (RT, 53.2). The addition of Malik Hooker should help defensively, but the big change will need to occur up front where they generated the league's worst pressure rate in 2016 (25.4 percent). The additions of Jabaal Sheard, John Simon, Jonathan Hankins and Tarrell Basham need to come up big time to turn around that defense.

The Jags season falls squarely on Blake Bortles. The defense is playoff caliber, but it won't matter if Bortles can't at least return to his 2015 form. That season he led the entire NFL with 1,330 deep passing yards and had a passer rating of 106.3 on deep attempts. Last year those numbers dropped to 410 and 17.5 respectively. The Jags have to take the ball out of Bortles hands as much as possible, but when it is up to QB1, he'll need to completely turn around his career for them to have a chance.

Houston's path to the playoffs is nearly identical to that of the Broncos: the quarterback. Anything resembling competency and this defense should take them to the promised land once again. Tom Savage's 68.8 overall grade from last year and the fact that Deshaun Watson hasn't unseated him as a starter though make that concerning.

For the Titans to build upon a 9-7 campaign last year and make the playoffs, all their offseason additions need to translate from looking good on paper, to looking good on the football field. Corey Davis, Eric Decker, Jonathan Cyprien, Logan Ryan and Adoree' Jackson all look like upgrades currently. If it turns out they all are, this will be a playoff team in 2017. The latter trio in the aforementioned additions will be key in improving their defense, as Titans fans will hope Ryan can get back to a 2014 form in which he saw a 56.7 passer rating on throws into his coverage, sixth-lowest in the NFL that year.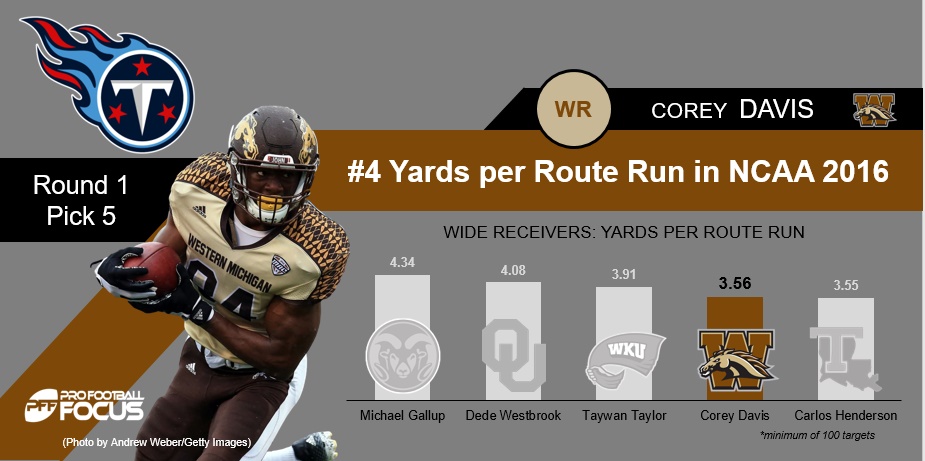 AFC West

Paxton Lynch (44.7 overall grade as a rookie) has to improve by leaps and bounds for Denver to make the playoffs. They still have a top-5 defense, but it's nowhere near the Super Bowl version that could prop up any offense to the title. If he's not approaching average quarterback play, the Broncos will once again toil around .500.

I would say they need to once and for all avoid the injury bug, but with Mike Williams and Forrest Lamp – their top two picks from this year's draft – already possibly out for the season, it's too late for that. What they really need is drastically improved offensive line play. Over the past three seasons, the Chargers offensive line hasn't ranked higher than 29th in the NFL in terms of pass blocking efficiency. That is completely unsustainable. With all the weapons offensively, if they could simply bring that up to average, they'll be in playoff contention.

The biggest thing Kansas City needs to do to make it back to the playoffs is rekindle their dominant pass-rush. In their playoff loss to Pittsburgh, the Chiefs managed to pressure Ben Roethlisberger a grand total of three times on 32 dropbacks. If that's the quality of pass-rush they get in 2017, they're toast. But if Justin Houston returns to the guy who racked up 87 total pressures in 2014, Dee Ford doesn't disappear for long stretches (like registering one sack over his last seven games), and Chris Jones builds upon a rookie year where he led all 3-4 defensive ends in pass-rushing productivity, then KC will be right in the playoff mix.

All the Raiders need to make the playoffs once again is continued development from their young core and a clean bill of health. The offense is among the most loaded in the NFL and if either Gareon Conley or Obi Melifonwu make an impact as a rookie they should be improved on that side of the ball. Conley saw the nation's lowest passer rating when targeted last year (14.0) among any cornerback who logged 147 or more snaps in coverage.