The start of June brings with it the third week of OTAs, but it also means that just next month, teams will be gearing up to head into training camp, where players all around the league will be battling for a spot not only on their position rotation but for a spot on the 53-man roster.
With the start of training camp inching ever closer, here are some of the most intriguing position battles to watch over the upcoming weeks.

The Philadelphia Eagles' running game hasn't been a highlight of the offense since LeSean McCoy ran his way to an 87.1 rushing grade back in 2013. Since then, Josh Adams (2018) and Corey Clement (2017) are the only running backs who have recorded single-season rushing grades above 70.0, with the former's mark ringing in at 31st among qualifying running backs last season.
To try and add some life into the unit, the Eagles traded for Jordan Howard earlier in the offseason, a player who proved to be capable of a heavy workload during his rookie year by carrying the ball 252 times for 1,313 rushing yards, 752 yards after contact and a rushing grade of 79.5 that ranked sixth among qualifying players at the position. And while his overall grade has dipped each year since, Howard will now get a shot at reviving his early success with Philadelphia, who just so happen to run a ton of his favorite run concept: inside zone. Since 2016, no running back has logged more inside zone rushes than Howard (317), while his three-year inside-zone running grade of 75.0 ranks eighth among the 35 backs with at least 100 attempts in that span.
Sanders, a second-round rookie out of Penn State, gives the team a tough, elusive runner who ranked inside the top 10 among draft-eligible running backs in forced missed tackles (47), yards after contact (845) and runs resulting in a first down or touchdown (38) last year. And he himself proved to be quite the bruiser on his inside zone rushes, as he earned the draft class' fifth-best rushing grade and averaged a class second-best 3.96 yards after contact per carry on such assignments last year.
Verdict: Howard gives the team experience, but Sanders' ability to force missed tackles and run through contact is difficult to ignore. If Sanders gets a hold of the offense quickly, he's a good bet to start in Week 1.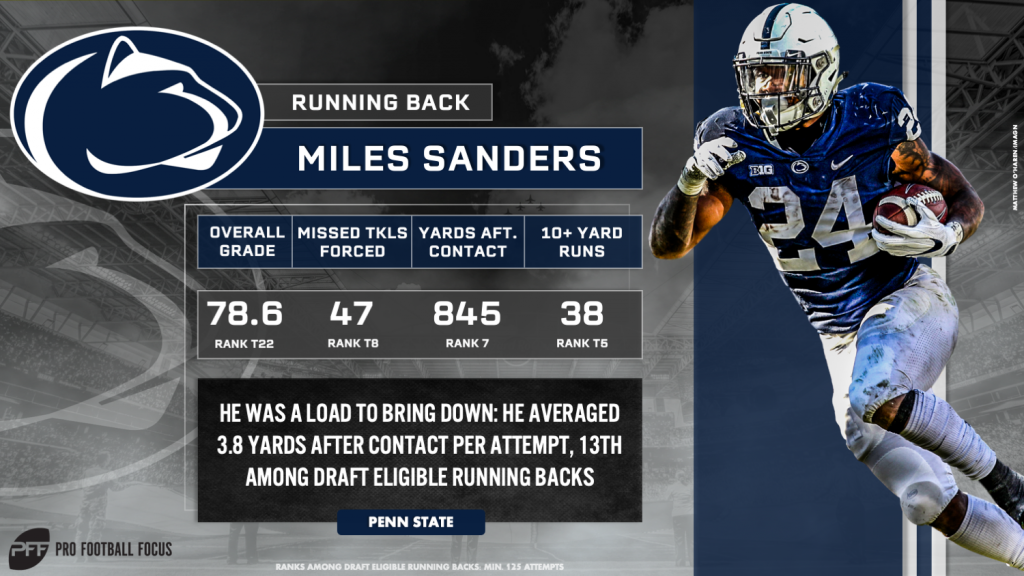 To say that the Raiders need someone to step up on the edge rotation would be an understatement. After trading away Khalil Mack prior to the 2018 season, Oakland's edge defenders combined for a 31st-ranked team pass-rush grade and a league-low 73 total pressures (Mack tallied 68 all by himself in Chicago).
After an up-and-down college career, Key struggled as a rookie in 2018 and earned a 55.1 overall grade and a 56.4 pass-rush grade across 644 defensive snaps. He did have some promising performances — his two four-pressure games in Weeks 5 and 6, and his five-pressure-game against the Denver Broncos in Week 16 — but he still finished the season with only 31 pressures on 328 pass-rushing snaps and an 11.0% pass-rush win rate that ranked 41st among the 58 edge defenders with at least 300 snaps.
To join first-round pick Clelin Ferrell, the Raiders selected Eastern Michigan edge defender Maxx Crosby in the fourth round of the 2019 NFL Draft. Crosby earned overall grades of 90.5 and 88.2 in 2017 and 2018, respectively —which blow Key's final two college grades (82.6 and 72.3) out of the water —  and only Sutton Smith tallied more quarterback pressures over the last two college seasons than Crosby's 112. Not only was he productive in the passing game, but he also proved to be mightily productive against the run, where he earned a two-year run-defense grade of 91.2 and made first contact with the ball carrier on 13.7% of his run-defense snaps — the 10th-best mark among FBS edge defenders over the last two seasons.
Verdict: Crosby's all-around talent makes him perfectly suited for the early-down spot opposite Ferrell, while Key could be limited to a designated pass-rushing role going forward.
Joseph earned a career-high 74.5 overall grade playing a mix of free and box safety in 2018, proving to be at his best against the run and rushing the passer. His two-year run-defense grade (80.2) ranks eighth among the 45 NFL safeties with 500 or more run-defense snaps in the last two years, and his two-year pass-rushing grade (92.6) leads all 38 safeties with 30 or more pass-rush snaps. The problem with Joseph, unfortunately, has been his coverage, where he's strumbled to a 61.8 two-year coverage grade that ranks 79th among the 116 safeties with at least 200 snaps in that two-year period.
Harris, the undrafted free agent from the class of 2016, will be battling Joseph at the backup free safety spot after playing his way to a career-high 73.5 overall grade in 2018. Harris' year was highlighted by a promising performance in coverage — which only helps his cause — where he earned a 79.9 coverage grade and allowed a passer rating of just 60.5.
Verdict: With Joseph entering a contract year, Oakland's brass will likely have him in a significant role for at least the start of the 2019 season. But to say his leash is short would be an understatement, and Harris has done enough to earn Jon Gruden's favor if Joseph underwhelms in the first few weeks.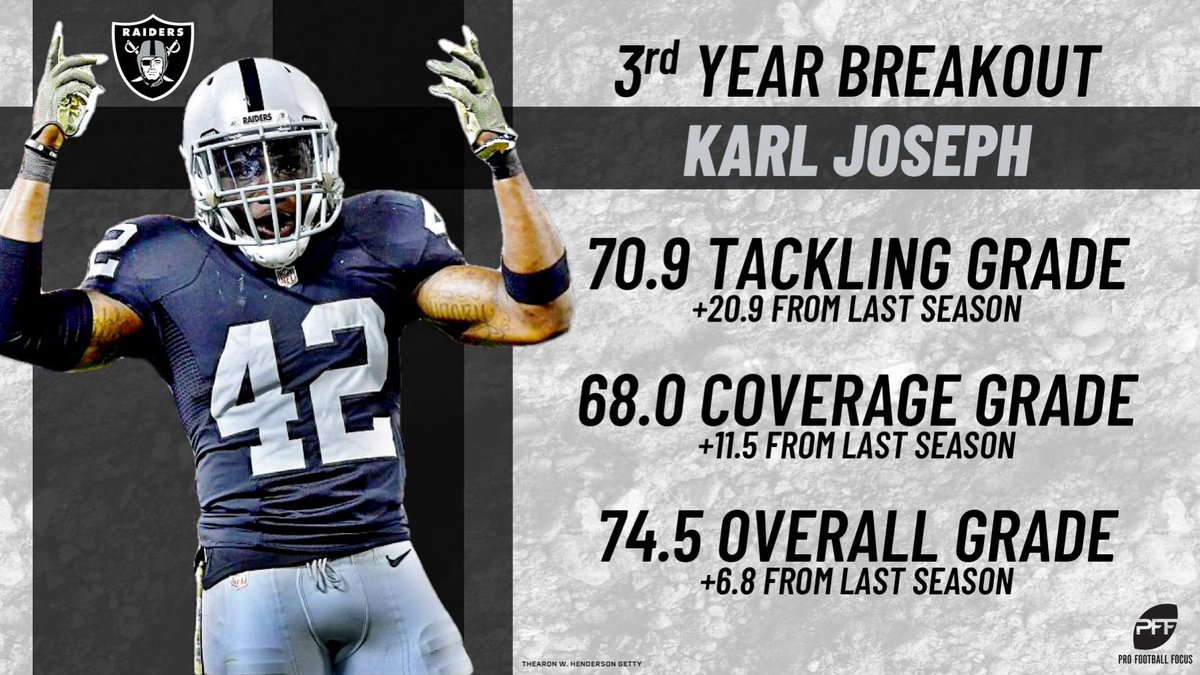 Very much like the Eagles, the Tampa Bay Buccaneers haven't had above-average running back play since the days of Charles Sims and Doug Martin in 2015. In the three years since then, Tampa's running backs have combined for the 28th-ranked rushing grade and the league's 27th-best yards after contact per carry average (2.48).
Barber handled the workload last year, rushing for 871 yards on 234 carries with 627 of those yards coming after contact, but his ability to fight through contact and rack up big gains has left a lot to be desired over recent years. Among the 45 backs with at least 200 attempts since 2017, Barber's 2.67 yards after contact per attempt ranks 27th and his 30 runs of 10 yards or more are tied for the 33rd-most in that span.
While Jones was almost an absolute non-factor as a rookie in 2018, there's still hope that a coach like Arians can get him back to 2017 college form, where he earned an FBS-high 93.8 overall grade off the back of forced 58 missed tackles, 25 runs of 15-yards and an average 3.50 yards after contact per carry.
Verdict: Jones' talent is undeniable, and if Arians can get him even close to his college form, this one won't be close.

The Buffalo Bills have found their No. 1 cornerback in Tre'Davious White, but the spot opposite him is far from settled at this point.
Wallace, the undrafted free agent from the class of 2018, will enter OTAs and training camp as the incumbent having started the final seven games of the 2018 season. He played well in this role; he allowed 10 catches from 19 targets, breaking up three passes and earning an encouraging 85.3 coverage down that seven-game stretch. The question is,  can he put up those numbers from the get-go?
Former Texans first-round pick Kevin Johnson and former Buffalo Bill E.J. Gaines will also contend for the starting job. Gaines, who earned a career-best 80.6 coverage grade with the Bills in 2017, is coming off a poor 2018 season in Cleveland in which he stumbled to a 62.5 coverage grade on 181 snaps. Johnson, who has earned coverage grades of 34.0 and 47.7 in the two years since his promising 2016 season (80.9 coverage grade) will also be trying to prove his worth in the NFL.
Verdict: After ranking second in coverage grade (85.3) and first in yards allowed per coverage snap (0.45) from Weeks 10-17, the job is Wallace's to lose.

JuJu Smith-Schuster will patch as much of the AB-shaped hole as is physically possible, but there is still a significant role to be carved out in the Steelers' passing attack.
Donte Moncrief, who signed a two-year, $9 million deal with Pittsburgh this offseason, has drastically underwhelmed in recent years, earning sub-63.0 overall grades in 2017 and 2018, but his career-best effort (73.4 overall grade in 2016) isn't really one to call home about. Battling for that spot is second-year pass-catcher James Washington, and he will be chomping at the bit to redeem himself after he produced one of the lowest receiving grades of any qualifying rookie wide receiver in the PFF era (2006-18).
Enter Diontae Johnson —the team's third-round pick out of Toledo and a skilled route-runner is own right — who has a real shot to make an impact in this Steelers offense. Among the 102 FBS wide receivers with 150 or more targets over the past two seasons, Johnson ranked tied for 22nd in receiving grade (85.9), 10th in yards per route run (3.01) and eighth in passer rating when targeted (126.8). But if we look at his work from the outside alone, it becomes all the more impressive, as he came down with 34-of-67 targets when lined up as an outside receiver last year, for 624 yards, 329 yards after the catch and an average of 9.7 yards after the catch per reception that ranked tied for ninth among draft-eligible wide receivers with at least 50 routes run from the outside.
Verdict: More than a slot guy and more than a big body that can stretch the field, Johnson offers a versatile skill set that can really contend with the receivers in this group.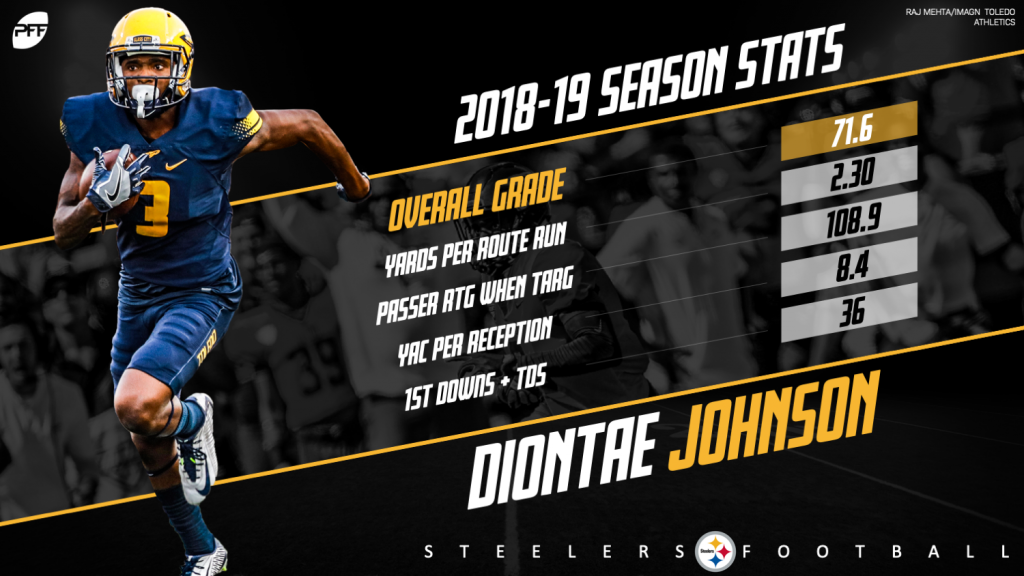 The New Orleans Saints have an offense that can contend with almost anyone in the NFL. The defense — cornerbacks especially — not so much. Over the last two years, the Saints' cornerbacks have allowed 62.3% of their targets in coverage to be completed, and their combined 94.3 passer rating allowed ranks 16th among teams. The worst part about that is that those figures are buoyed, and buoyed heavily, by standout cornerback Marshon Lattimore. Excluding Lattimore's targets, the Saints' catch rate allowed over that span rises to 63.1% and their passer rating allowed balloons up to 102.1.
Simply put, they need someone in the secondary to make themselves known. Three years into his career P.J. Williams has done that, but it's been for the wrong reasons: from 164 career targets, he's has allowed 110 receptions for 1,475 yards, nine touchdowns and three interceptions, with eight of those touchdowns coming last year — a season in which he allowed a passer rating of 124.4 on throws into his coverage.
Fresh from the ranks Florida, Gardner-Johnson is perfect for the slot/safety hybrid role in today's NFL. He led all secondary players with 22 coverage stops in 2018, and he allowed a passer rating of just 45.4 on throws into his slot coverage.
Verdict: Chauncey Gardner-Johnson offers a versatile skill set that few players have, and that puts him in line for a significant role in 2019.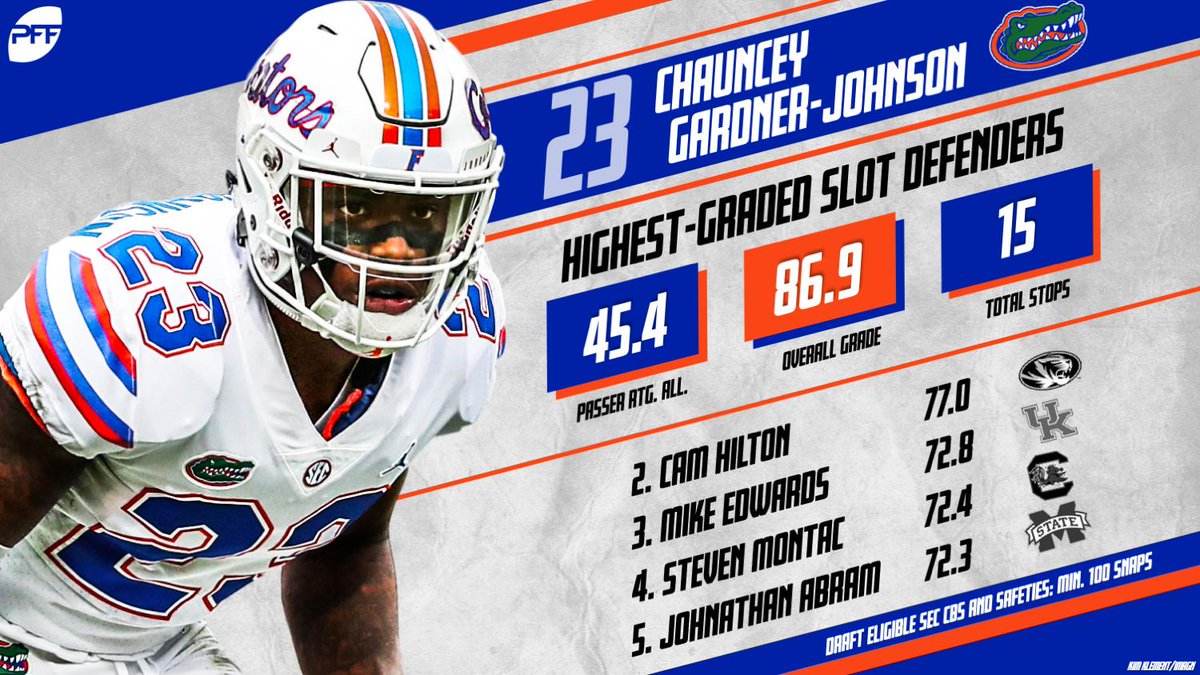 The Panthers got one of the steals of the first round when Brian Burns fell into their laps at Pick 16. The Florida State edge defender checked in at 14th on PFF's draft board after he led the nation in pressures during the regular season, and he ranked fifth among the 104 FBS edge defenders with 300-plus pass-rush snaps in pass-rush grade (90.4) in 2018.
There's no doubt that Irvin was once one of the league's more productive pass-rushers. He has recorded at least 40 quarterback pressures in four of his seven seasons, and he is just two seasons removed from a career-best performance in Oakland where he earned a 75.1 overall grade. However, his last two years have been far from spectacular: his two-year pass-rush win rate of 12.2% ranks 75th among the 129 edge defenders with at least 200 snaps since 2017.
The Verdict: Irvin will provide a solid and reliable presence on the edge in a pinch, but the starting role should go to the man with the higher ceiling — and that man is Burns.

The Rodgers-to-Nelson, Rodgers-to-Cobb days are now gone, and as was proved a season ago, the Packers signal-caller has absolutely no problem with putting the ball into Row F if his receivers fail to get open. While that was relatively excusable for one year, now with a new coach, a new offense and a now-35-year-old Rodgers — these receivers need to step up and take advantage of their quarterback while he's still there.
St. Brown was the best of the bunch a season ago, hauling in 21-of-34 targets for 328 yards, 13 first downs and 12 explosive plays of 15 or more yards, and he ended the season with an incredibly impressive 94-yard outing against the Jets in Week 16. Fellow rookie Marquez-Scantling also flashed in parts, mainly during the impressive five-week stretch between Weeks 5 and 10, when he caught 21-of29 targets for 361 yards, ranking 13th in receiving grade (77.0), third in passer rating when targeted (137.3) and 21st in yards per route run (1.84) among the 54 receivers with at least 25 targets in that span.
Verdict: As good as the now-second-year receivers were in spots last season, the top spot will always belong to the player with the most experience. Given Rodgers' documented tendency to draw plays up in the dirt, as it were, Allison's chemistry with Rodgers could give him the edge here. He's played close to 1,000 snaps in three years with the team and has earned a 77.4 receiving grade and a 123.6 WR rating when targeted by Rodgers in the scramble drill — both tops among the team's returning receivers.