Third-year running back Jordan Howard is on the move. Late Thursday night, ESPN's Adam Schefter reported that the Philadelphia Eagles and the Chicago Bears had come to a deal that will send Howard to the City of Brotherly Love in exchange for a 2020 sixth-round pick.
It's a move that makes sense for both parties. For Chicago, the replaceability of the position coupled with the emergence of 2017 fourth-round pick Tarik Cohen, who finished fourth among running backs in wins above replacement last season, made Howard a tradeable commodity. For the Eagles, they've added a young player at the position for a very low price, injecting much-needed talent to a group that combined for a team rushing grade of just 65.1 last year – 28th among 32 teams.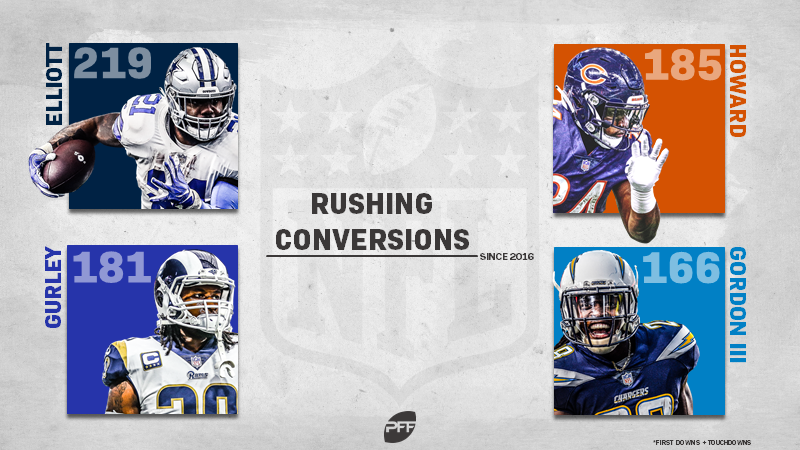 Howard exploded out of the gate as a rookie and played well above the expectation of his fifth-round label. Carrying the ball 252 times on the year, the Indiana product ended his first season with 1,313 rushing yards, 752 yards after contact, 40 missed tackles forced and a rushing grade of 79.5 that ranked sixth among qualifying players at the position. At the core of his success was his ability to break off big gains and his ability to earn tough yards after contact, which was highlighted by his third-ranked 43 rushes of 10 yards or more and his 14th-ranked 2.96 yards after contact per carry.
Unfortunately, Howard has failed to emulate his rookie heroics in the two seasons since, and he saw his rushing grades fall to 66.4 in 2017 and 65.2 in 2018. In large part, this was due to his declining production with the ball in his hands. His 2016 mark of 0.16 forced missed tackles per touch had tumbled all the way down to 0.08 by the end 2018, where he forced just 23 missed tackles on 260 rushing attempts compared to 40 missed tackles from his 252 rushes as a rookie.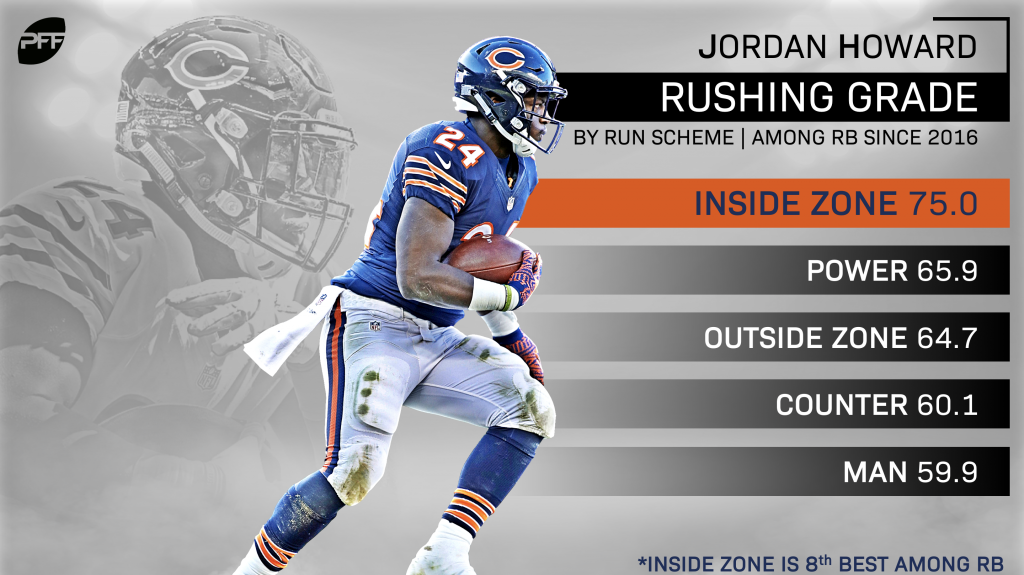 Now, Howard will get a shot at reviving his early success, and there is probably no better team to do it with than with Philadelphia Eagles, who have not only earned the third-best team run-blocking grade among teams over the last three years, but they also run a ton of inside zone concepts, which just so happens to be Howard's strong point.
Since 2016, the Philadelphia Eagles have run an inside-zone concept on 464 of their 1412 running plays over that span, and they actually led the league in inside-zone frequency last year (50.0%) with 218 inside-zone attempts from 436 running plays. Over the last three years, the Eagles rank 13th among teams in rushing yards gained before contact from inside-zone runs, while their team inside-zone blocking grade of 79.0 ranks first by a considerable margin.
And that makes this a perfect landing spot for the former Chicago running back, as he has thrived on his inside-zone runs throughout his time in the league. Since 2016, no running back has logged more inside-zone rushes than Howard (317), while his three-year inside-zone running grade of 75.0 ranks eighth among the 35 backs with at least 100 inside-zone attempts in that span. His 1324 rushing yards, 822 yards after contact, and his average of 2.59 yards after contact per attempt rank second, second, and 14th, respectively, among the group of players.
After badly struggling at the position a season ago, the Eagles have now likely found their early-down man for next season, and if Howard can continue his success within the Eagles' scheme, he could very well be the next great move for a franchise that is quickly becoming one of the most personnel-savvy outfits in the NFL.