As the New England Patriots and Philadelphia Eagles prepare for Super Bowl LII, get ready for kickoff with Pro Football Focus' visual preview of the game.
The PFF analysis team has graded every snap taken by every NFL player since the 2006 season. With that incredible breadth of data collected, our team has seen some exceptional season performances by quarterbacks, some most notably belonging to Patriots QB Tom Brady. On the other side of the ball, Eagles QB Nick Foles is on the heels of the fifth-highest playoff game we've graded in 12 years of doing so in his performance over the Minnesota Vikings in the NFC Championship game.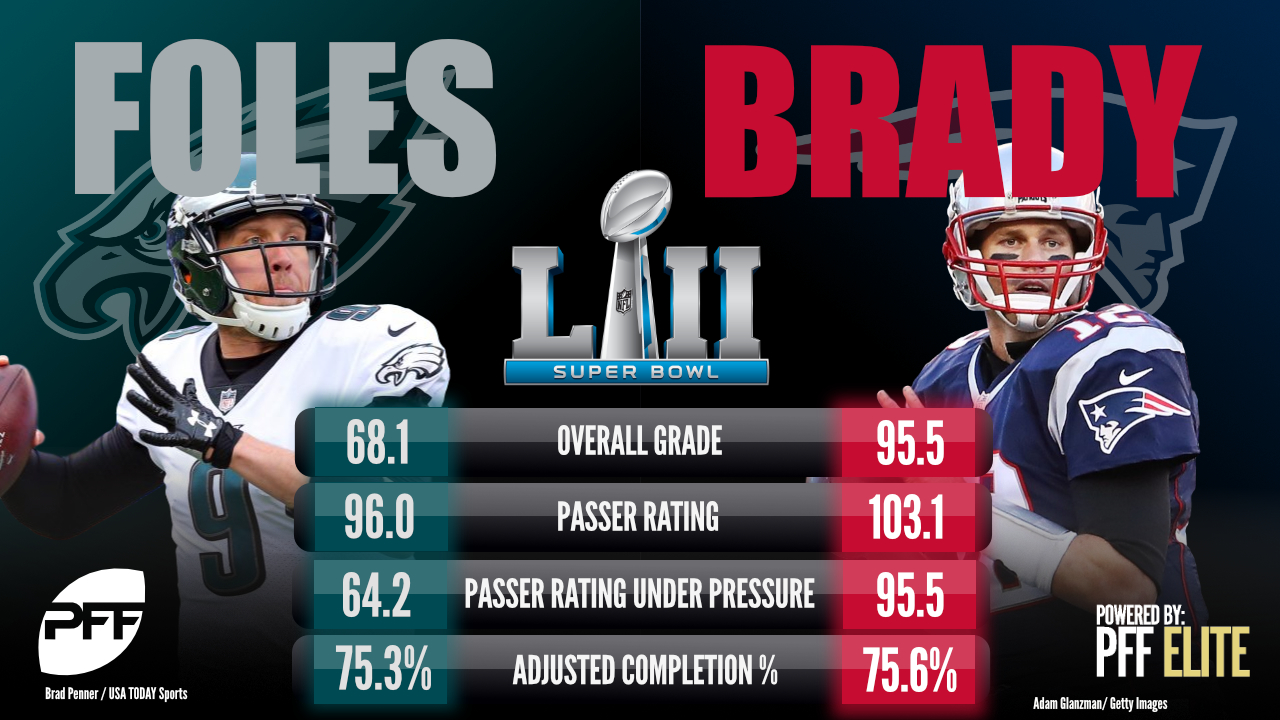 Senior Analyst Sam Monson broke down a possible blueprint for the Eagles to follow, if they were to succeed in slowing down the Patriots in his Super Bowl LII Preview. That blueprint is to pressure Brady, and something that Philadelphia has shown they can do all season long.
However, even when pressured this season, Brady had a historic year under pressure, fielding the league's highest passer rating under pressure, a number in which would be the fifth-highest passer rating on all throws across the league. Brady's work under pressure this regular season was historic: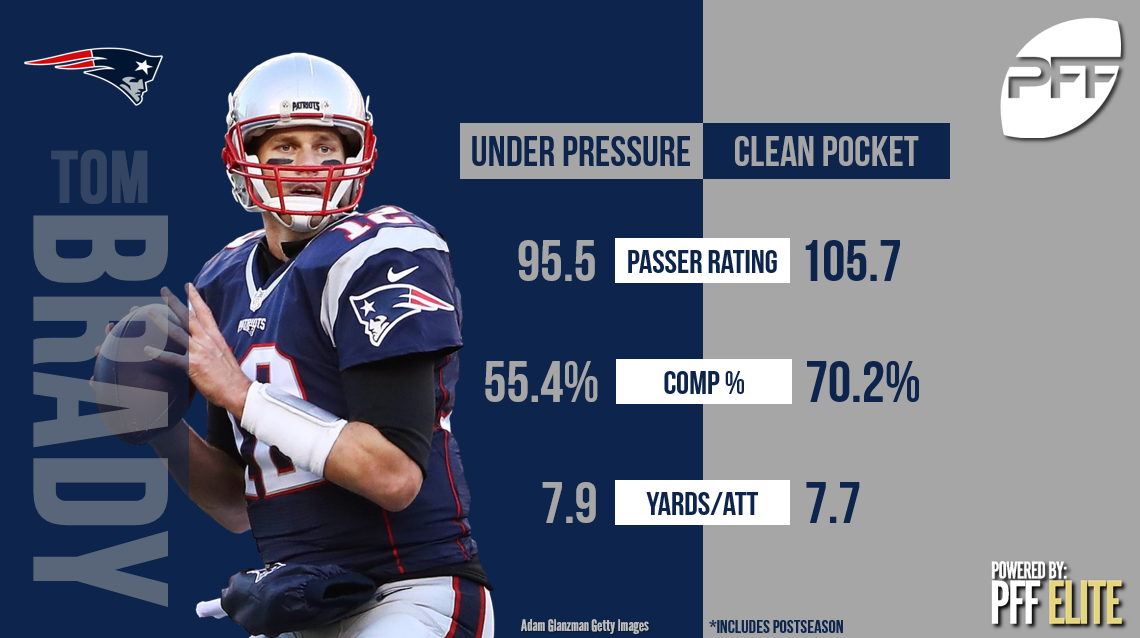 In his limited snaps so far (six starts), Foles has definitely seen a dip in his production when pressured.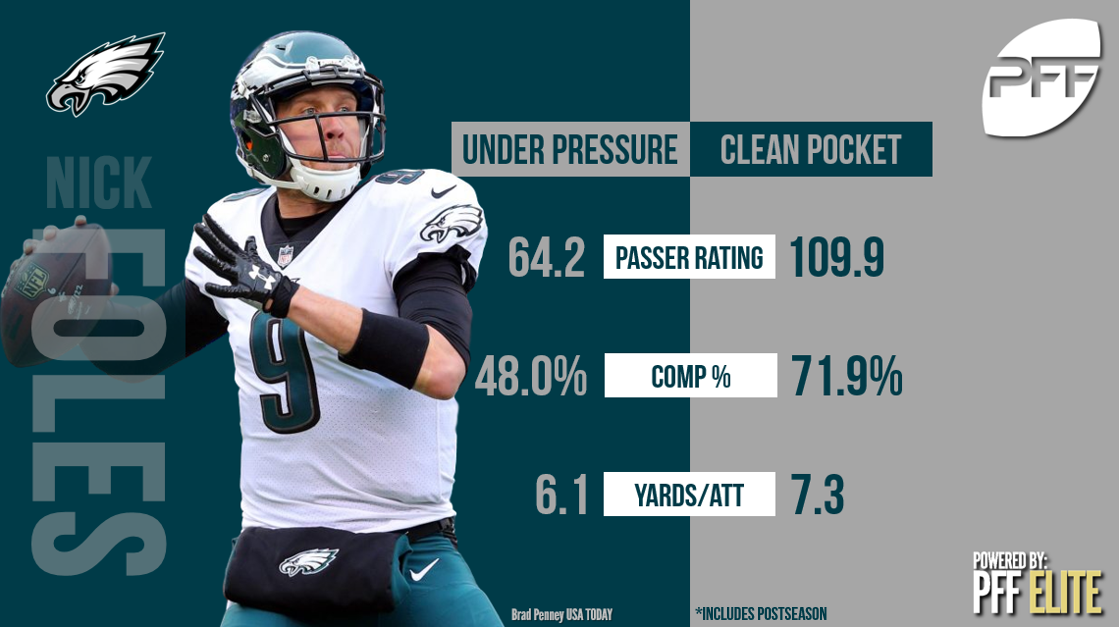 Will the Patriots offensive line be able to keep the talented Eagles front-seven in check during Super Bowl LII? Every starting defensive linemen checks in with a grade of above 82.6, and two of their grades reach numbers into our PFF Elite stratosphere (90.0 and above), in Fletcher Cox and Brandon Graham.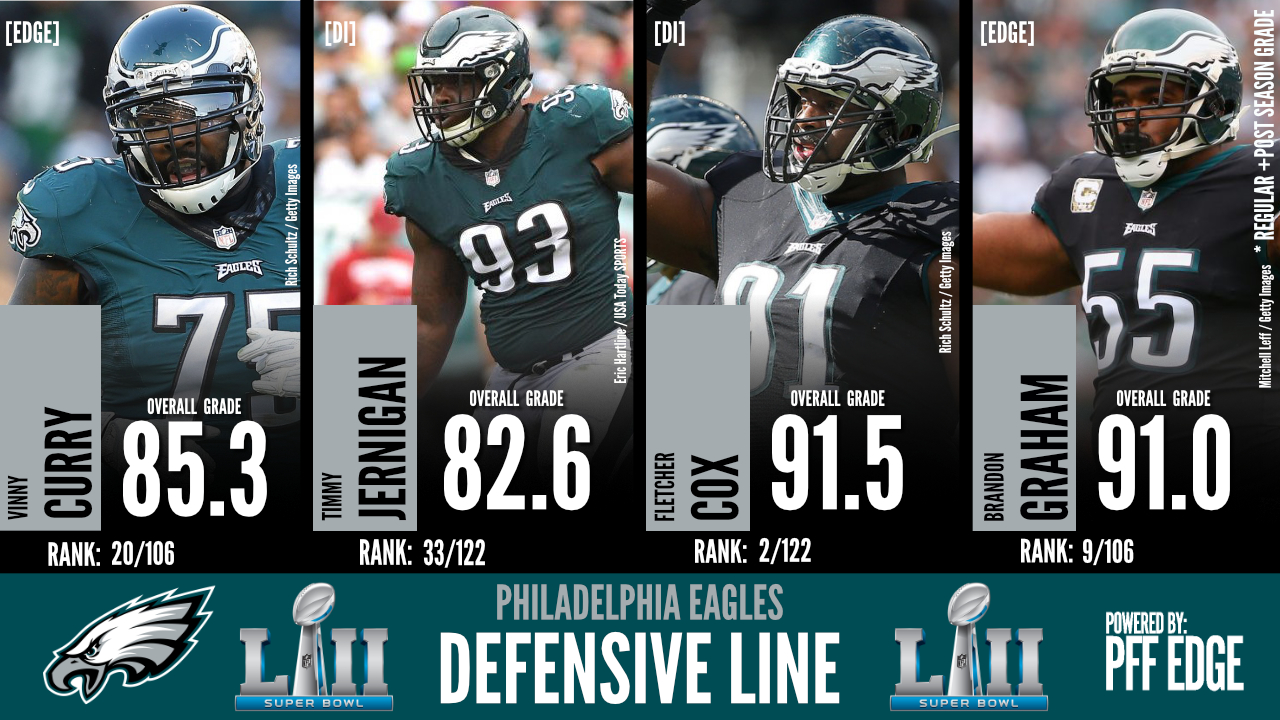 The Patriots offensive line has been a solid unit all season long, but will they be up to the task of keeping Brady upright against such a talented Eagles unit? Four of their five projected starters hold grades above our average plateau while David Andrews and Shaq Mason tied for the team-high with an 81.3 overall grade this season.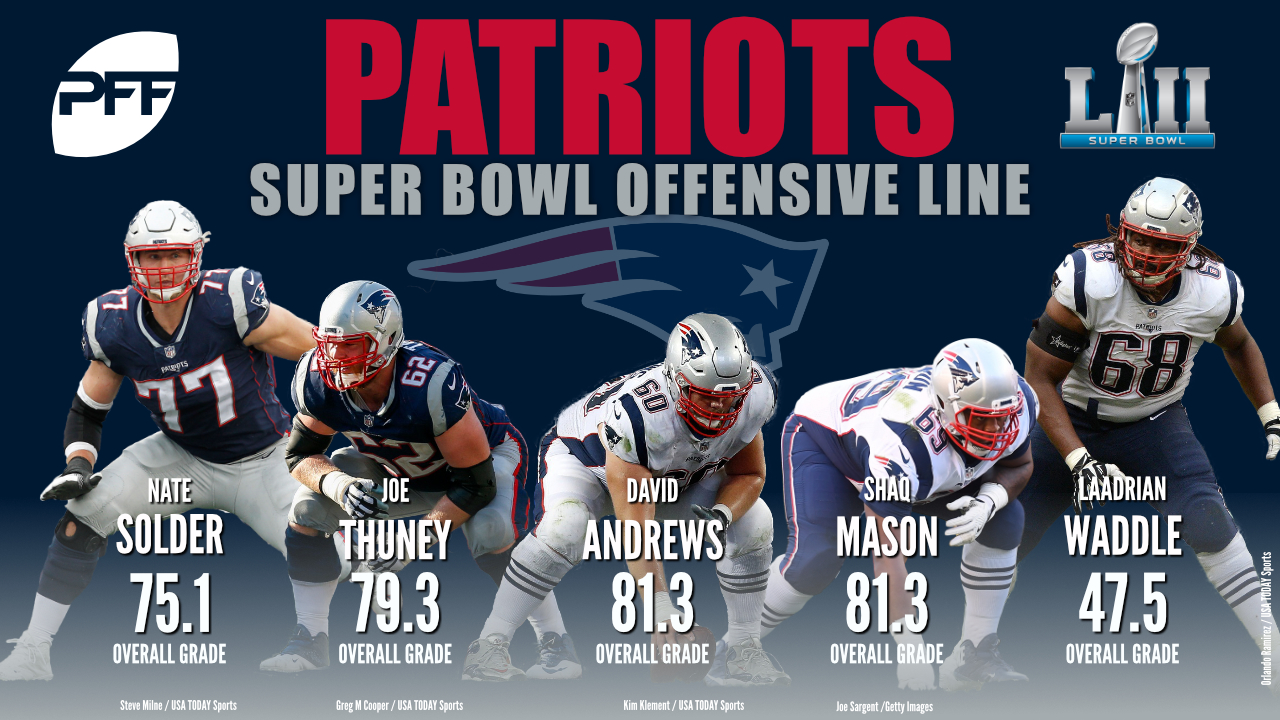 On the other side of things, the Eagles' offensive line was given PFF's award for best offensive line, handed out during our PFF Awards Week last week.
Even with a struggling Halapoulivaati Vaitai, PFF's Sam Monson detailed just how good the unit as a whole truly was.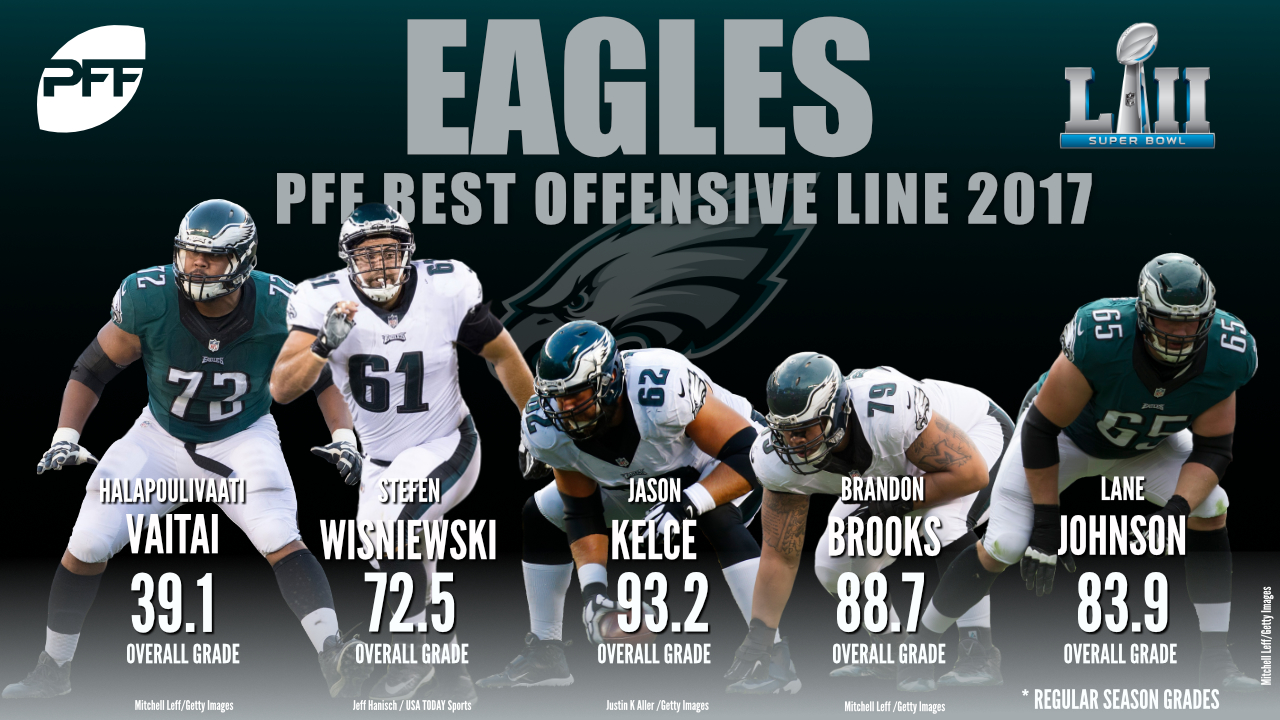 On the receiving end of Brady's passes will be three very talented, equally diverse targets at his disposal. Danny Amendola leads all receivers this postseason with 168 yards from the slot while tight end Rob Gronkowski was our highest-graded tight end all season long and as Sam Monson put it, 'he may be the single most unstoppable force in football.' Newcomer Brandin Cooks has led the league in deep pass receiving yards since 2016 and provides a legitimate deep threat in this game.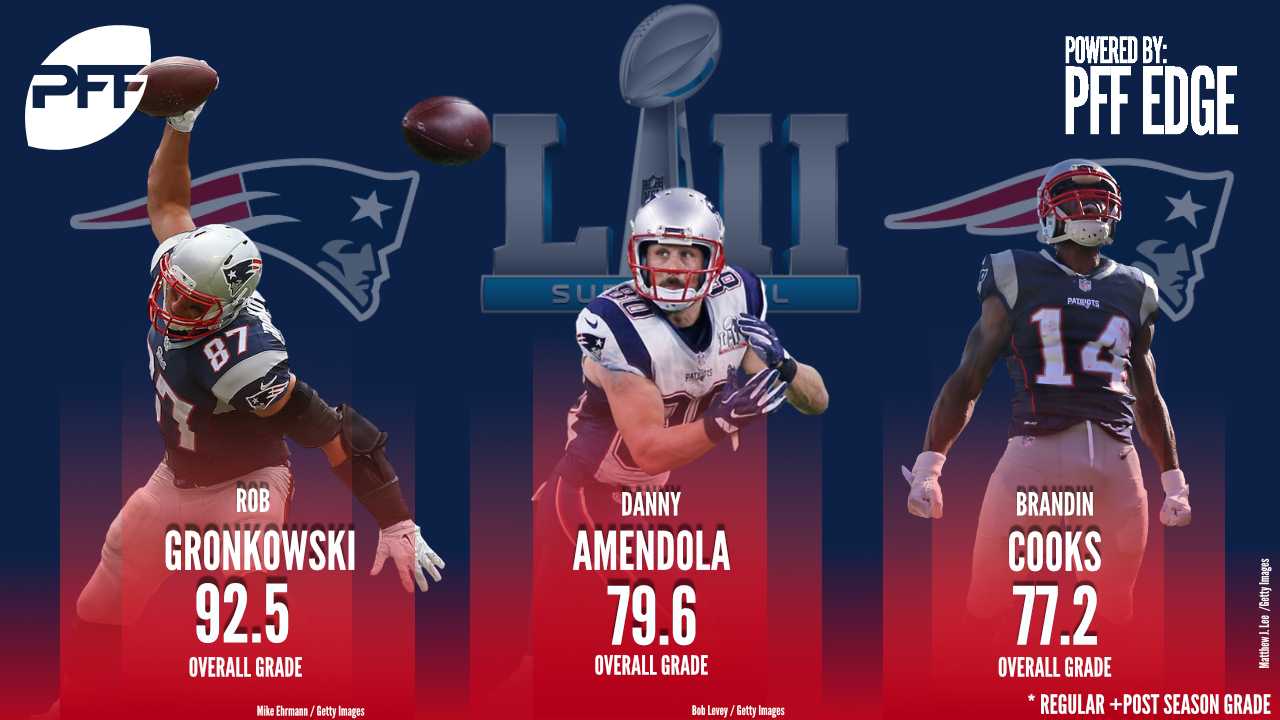 Will the talented Eagles' secondary be up to the challenge of guarding the Patriots' pass-catchers? It will be a tall task, but Philadelphia may have the right players to do so. Veteran CB Patrick Robinson has had a breakout year, and could be target of many teams this offseason while fellow cornerbacks Ronald Darby and Jalen Mills have each been solid in coverage this year.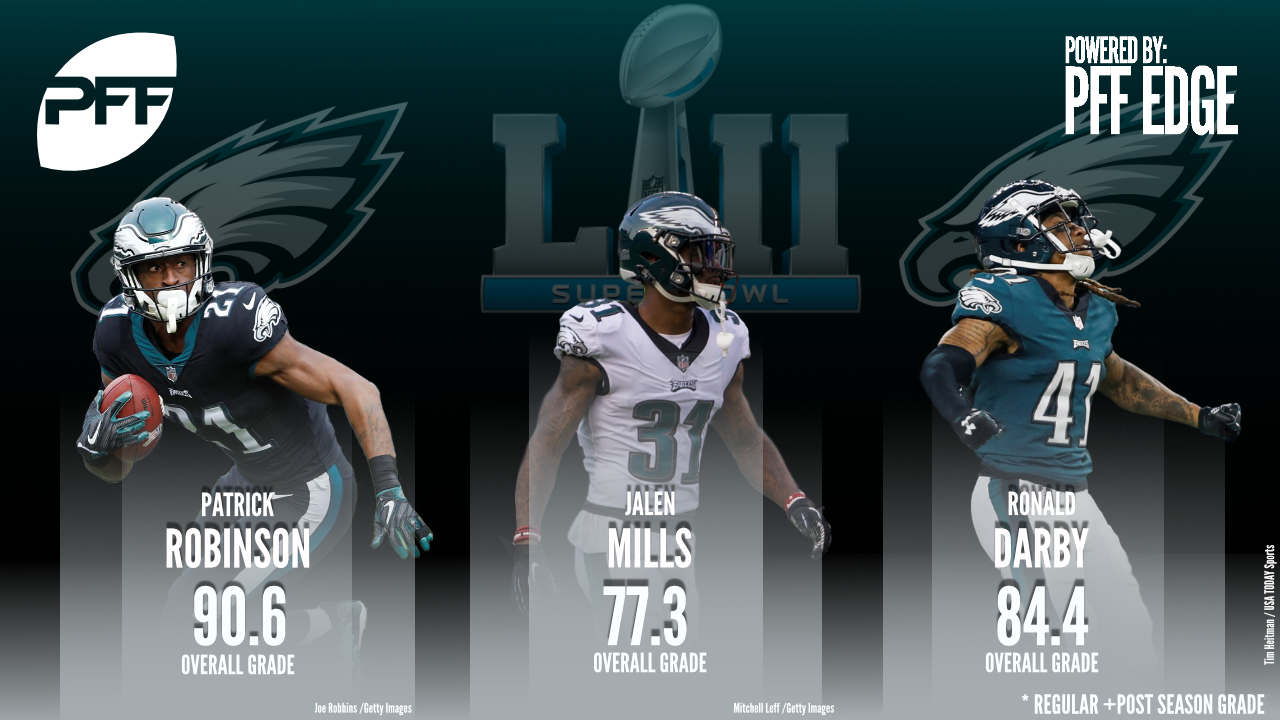 Running the ball for the Patriots (and receiving out of the backfield) will be running back Dion Lewis, who like Robinson, should attract many suitors this offseason as he'll be an unrestricted free agent. Lewis has come on strong down the stretch of the season.
[Editor's note: Lewis is featured in our PFF Free Agency Guide available for PFF Edge & Elite subscribers. Sign up now to receive your free copy.]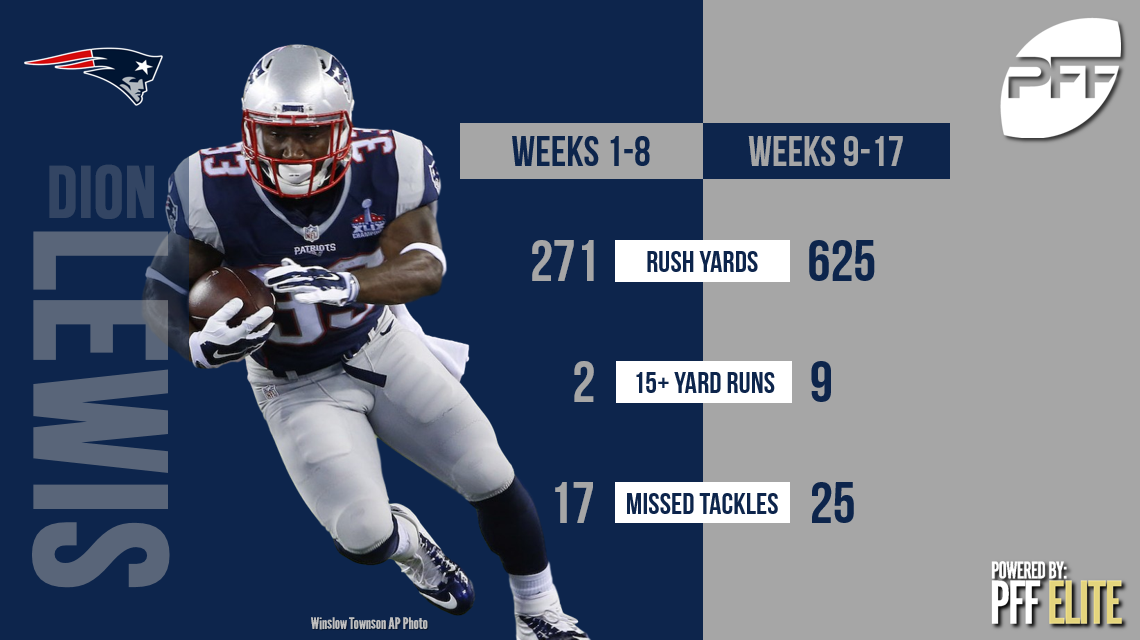 Stay up to date with all of the 2018 free agents with our exclusive PFF Free Agent tracker.
As the game draws near, our PFF main Twitter account (@PFF) will feature many of the individual matchups, things to know and other exclusive PFF stats you won't find anywhere else.
The projected starting 11 on offense for the Patriots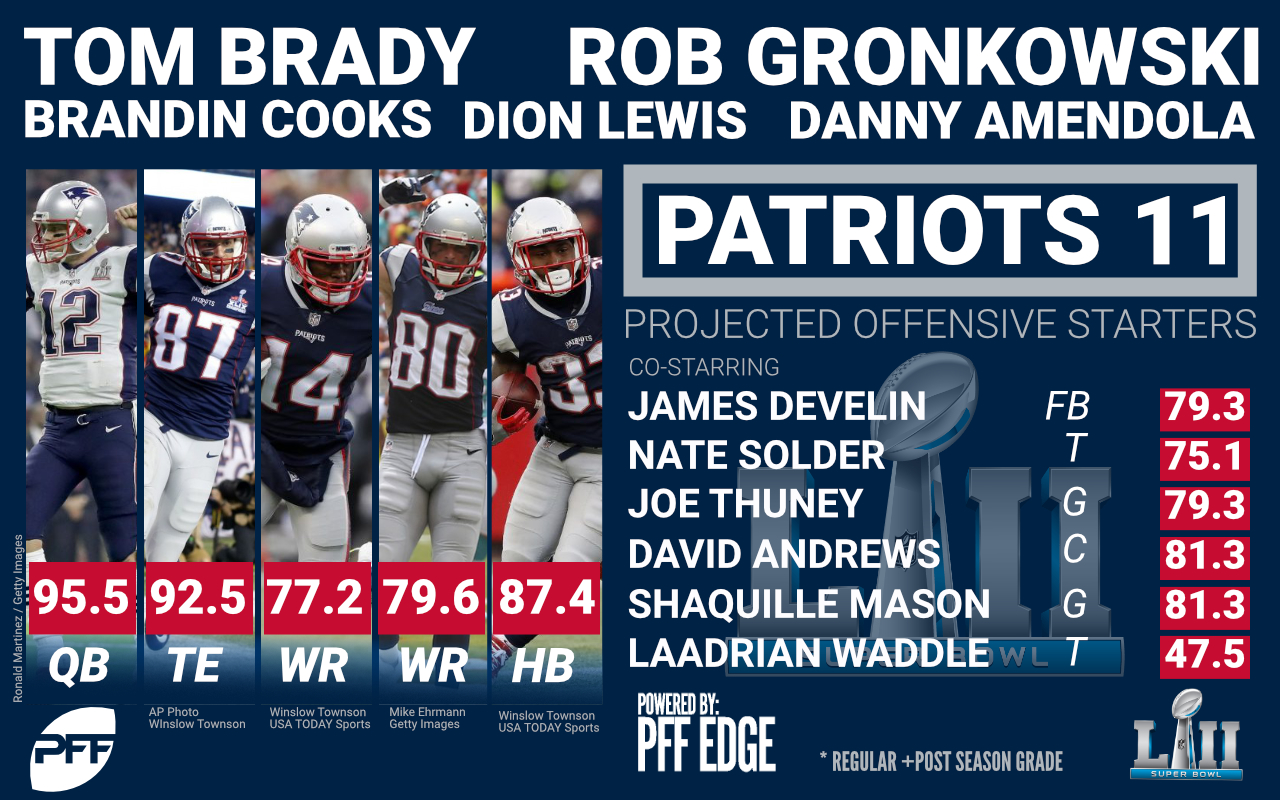 The projected starting 11 on offense for the Eagles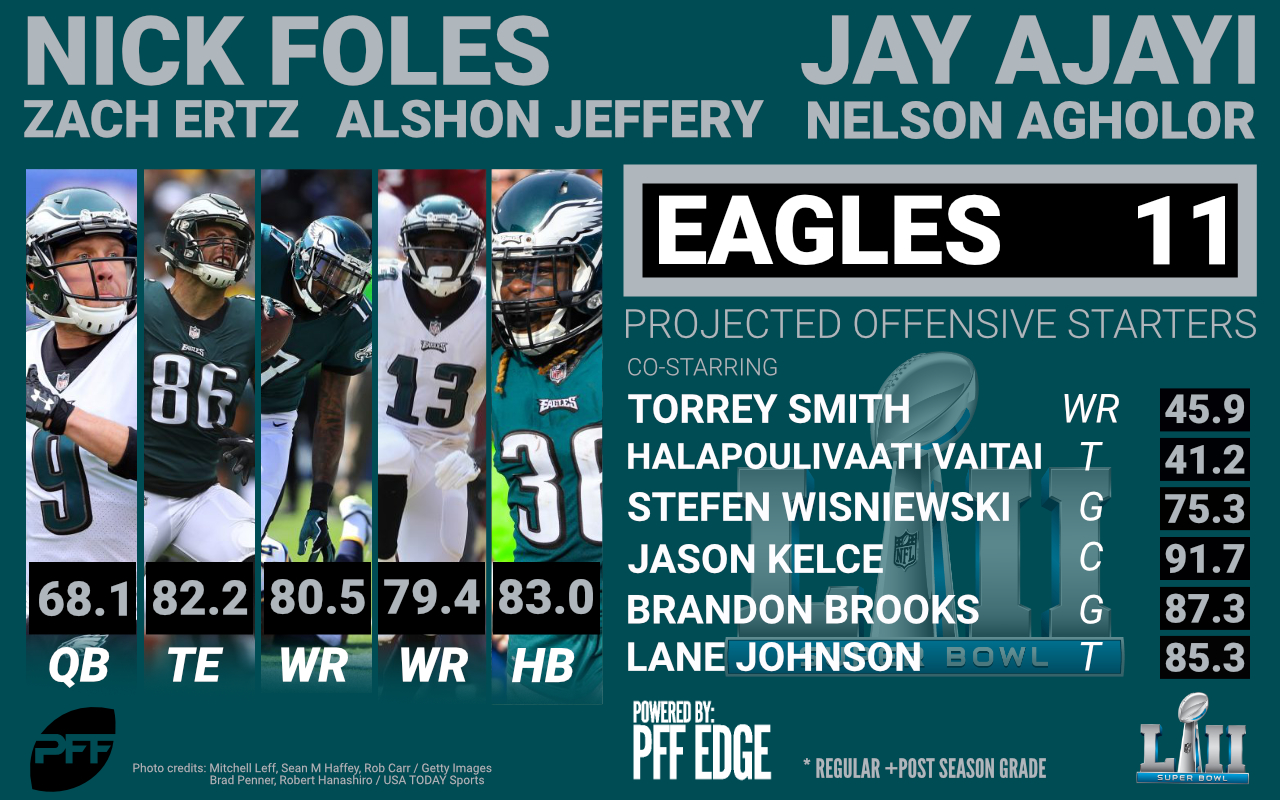 Our analyst picks: