The 2018 NFL Draft is in the rear-view mirror now, but that means it's time to start casting our eyes forward to the start of the season, and where better to begin than with an all-too-early look at the favorites for rookie of the year?
We finally know now where each rookie has landed and what kind of scheme and situation they face, so we can at least apply some logic to the process.
[Editor's note: Want to know more about these and the rest of the rookie class for 2018? Grab your copy of the PFF Draft Guide with your PFF Edge or Elite subscription now.]
Here are the top candidates for Offensive Rookie of the Year: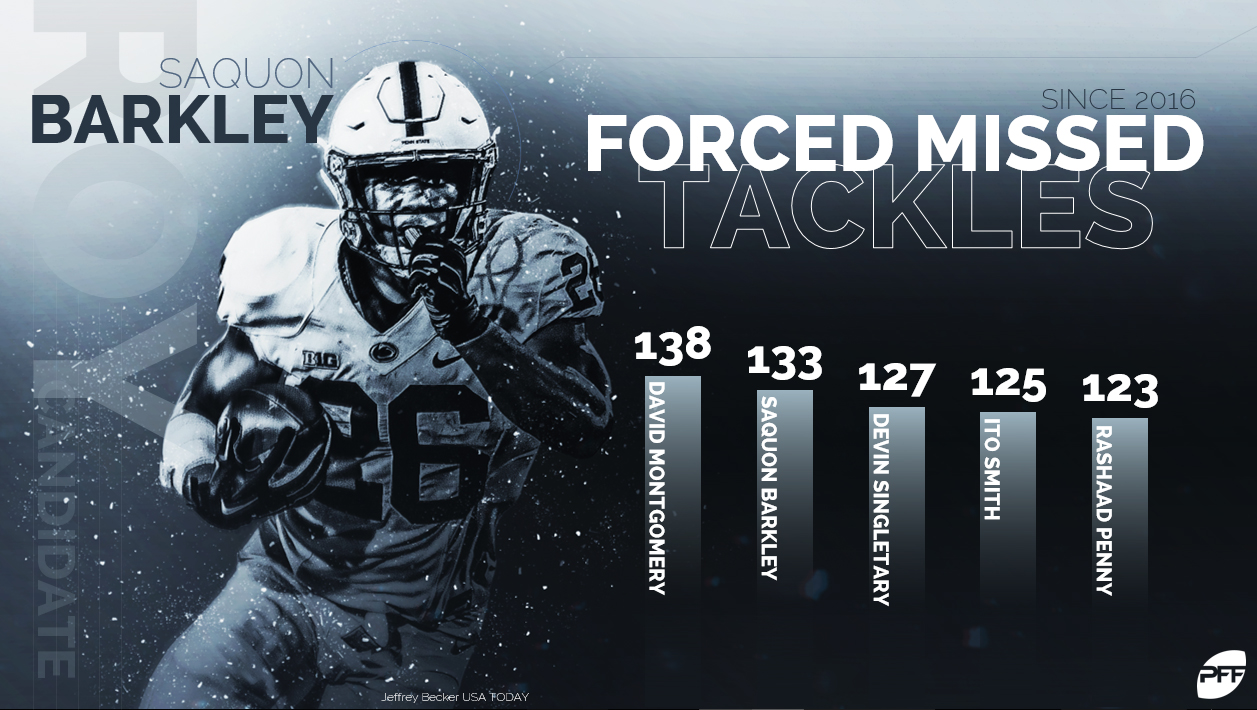 Threading the needle on Saquon Barkley has been a challenge throughout this draft process. A supremely talented player, and one of the best pure athletes in this draft, Barkley does have flaws to his game which many were often too keen to ignore or sweep under the rug. When the Giants selected him at No.2 overall in the draft though, they made a public statement about what kind of generational talent they believe him to be, and did so knowing they were passing up a once-in-a-generation chance to pick a quarterback that high in the draft (the last time the Giants picked that high was 1981). The team understands how to get a multi-talented back the ball in a variety of different ways (new head coach Pat Shurmur just coached Jerrick McKinnon to a career year with the Minnesota Vikings), and Barkley could well have a huge workload that flashes big plays and touchdowns regularly.
Barkley saw 132 targets over the past three seasons at Penn State, with the number increasing each year, and only two backs had a higher breakaway percentage than he did this past season, breaking off 19 runs of 15 or more yards.
Yes, I know Hue Jackson is adamant that Tyrod Taylor is his starting quarterback and that Baker Mayfield won't be starting any time soon, but that has been the plan multiple times before when it comes to Mayfield but he has a habit of changing those plans with his play. Added to that, most plans to sit top draft quarterbacks for the first year unravel quickly these days, and there is good reason to believe that Mayfield's stint on the sideline will not last that long.
If and when he gets on the field, he has the play to earn himself rookie of the year. His career passer rating when kept clean in college was a ludicrous 134.3, which is more than 15.0 points higher than any of the other top prospects this season managed in their best single season. That play from a clean pocket has been shown by PFF's data to be the most predictive of success from college to the NFL, but if you were concerned about play under pressure, it's the same story there. Mayfield's career rating under pressure is 116.1, and only one other passer topped 100.0 over his best single season (Sam Darnold in 2016 had a 101.0 rating). Mayfield was the best college prospect of this group by a distance, and should he force his way onto the field there's no reason to hop off that bandwagon now.
Another quarterback with some bodies to clear on the depth chart before he makes it onto the field, Sam Darnold is nonetheless the face of the New York Jets and the first presumptive viable franchise quarterback this team has had in some time. That alone makes it seem likely that he will be pressed into action sooner rather than later. Darnold had some ugly games last season, but his high-end play and throws are spectacular. He was the only quarterback to pip Mayfield to the top spot in a couple of statistical categories, including what we have termed 'accuracy plus' in our advanced ball location charting data. That category refers to 'perfect' ball placement on passes, and highlights his ability to put the ball exactly where it needs to be when he is at his best. That could be the key to his success at the NFL level. Darnold also led the draft class in big-time throws last season, (though not in BTT rate) and could put up some big numbers as a rookie.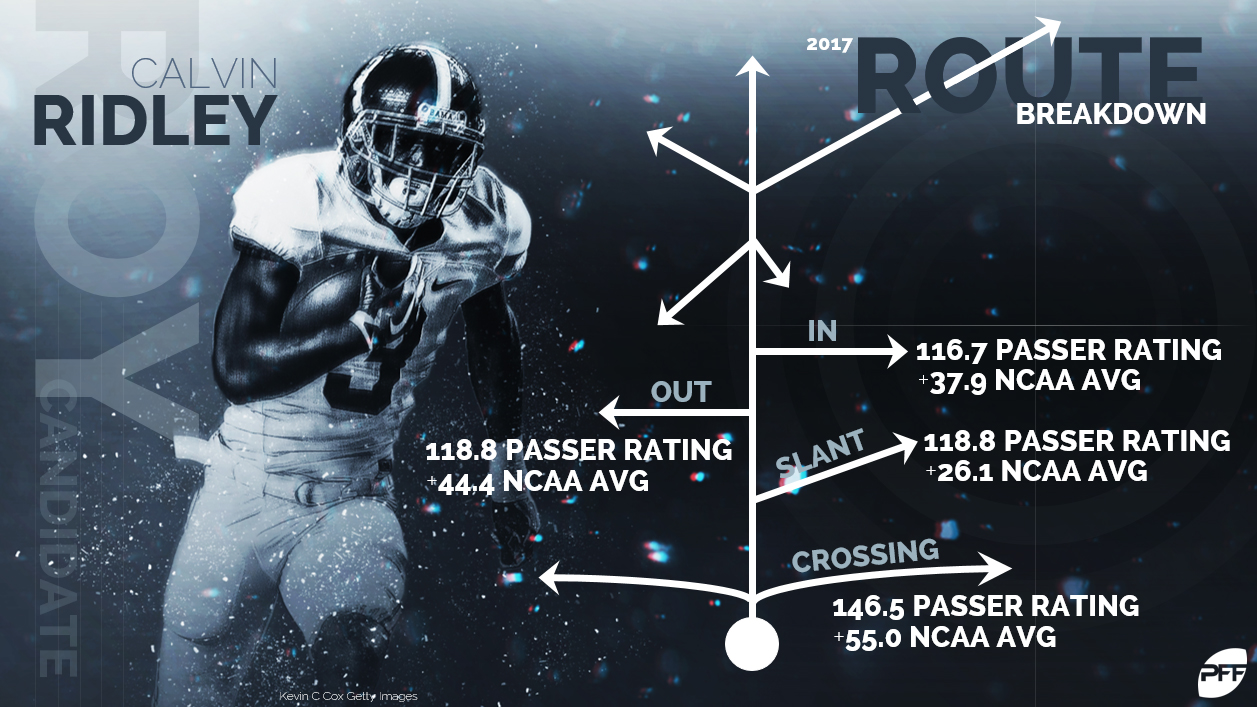 There may be no prospect-team fit I loved more than Calvin Ridley landing with the Atlanta Falcons. One of the narratives we were using pre-draft about this receiving corps to illustrate the flaws among all of the top prospects was that 'there is no Julio Jones in this draft class, they're a group of No. 2 receivers.' As luck would have it, Ridley went to a team that already has a Julio Jones – THE Julio Jones – and only needs Ridley to be an excellent complementary piece, which Ridley's next-level route running skills should allow him to be. Nothing translates to production as a wide out more than simply getting open, and Ridley does that better than any prospect in this draft, but also gets more open than any other receiver too, buying himself and his quarterback a greater margin for error with the pass.
With Jones dominating on one side, Ridley's ability to move defenders around and get open should buy him a lot of opportunities with Matt Ryan as his quarterback, and he could have an impressive rookie statline.
Mike Gesicki put together one of the greatest workout displays at the NFL Scouting Combine that the event has ever hosted. He is every bit the athlete that Barkley is, and that next-level athleticism shows up on tape, but he was underused at Penn State. He can be a red-zone weapon, but also has the dynamism to stretch the seam and make plays after the catch, and with Miami's offense he could be fed the ball a lot. Last season, Gesicki dropped just 3-of-60 catchable targets and scored more touchdowns from the slot than all but two other tight ends in the nation.