The NFL is increasingly becoming a young man's game. Back in 2007, there were 201 players who started eight or more games that were at least 30 years old. This past season, that number was only 133. With that in mind, we thought it appropriate to tip our hats to those guys bucking the trend and still producing well into to 30s.
Below is PFF's All-Veteran Team, composed of players that entered the league prior to the 2010 season.
While all other positions seem to be trending younger, we seem to be in a golden era of the old quarterback. No one personifies that more than the 41-year-old Patriots quarterback. Not only is Brady the highest graded quarterback over the past two seasons, but his 96.6 overall grade is also higher than any other player in the NFL over that span.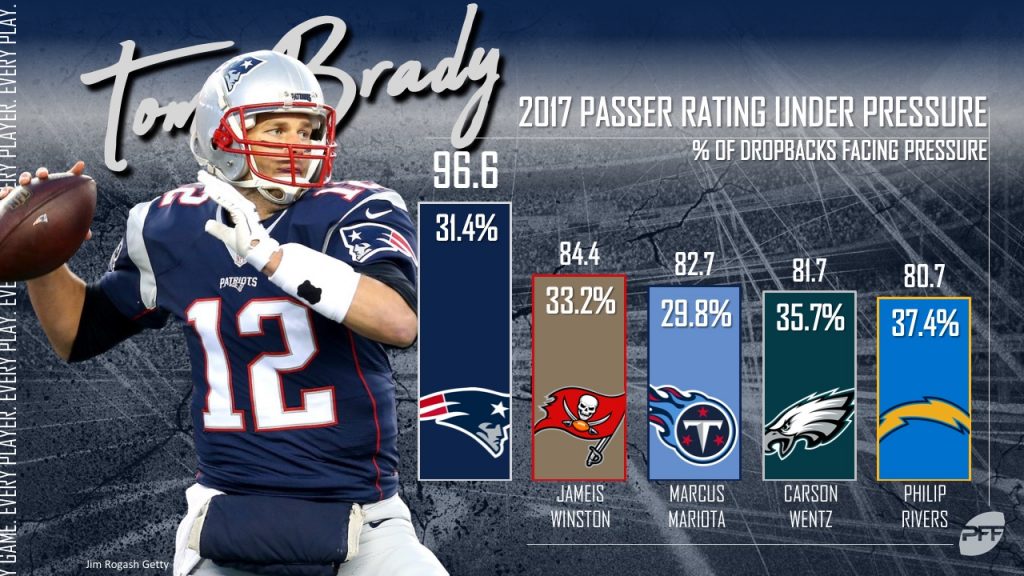 The youngest player on this list, McCoy only just turned 30 this offseason even though he was taken in the 2009 draft. The former Pittsburgh Panther is still going strong though as his last two seasons are among the five highest rushing grades of his nine-year career. Frank Gore, Marshawn Lynch and Jonathan Stewart are the only other running backs to get at least 200 carries last season that would qualify for this list.
Fitzgerald led all qualifiers last season in receptions (109), yards (1,156), explosive plays (33) and contested catches (18). With how nuanced he is as a route runner and strong he is at the catch point, the 35-year-old could produce well into his late 30s. The Cardinals third overall selection way back in 2004 is still going strong.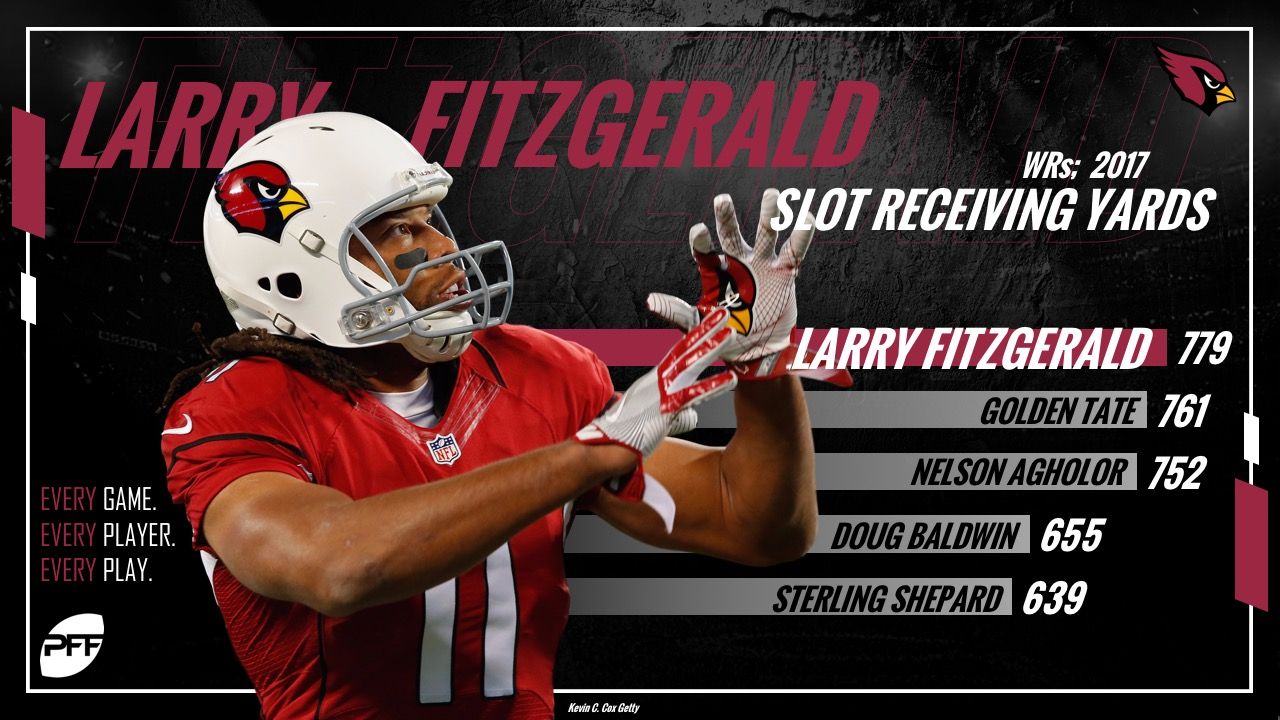 There were a handful of options here, but Garcon's consistency earns him the nod over the likes of Michael Crabtree, Danny Amendola, DeSean Jackson and Jordy Nelson. Garcon has had only one season graded below 70.0 since 2011 and was still effective last season when on the field averaging 1.79 yards per route.
As far as old tight ends go, it's fairly slim pickings around the NFL at the moment. Only three qualifiers cracked 600 yards last season (Walker, Vernon Davis and Jared Cook), but Walker is head and shoulders above the others in terms of production. He had 992 receiving yards on the year with 22 catches of 20 or more yards. Not bad for a now 34-year-old.  
Staley was a first-round pick for the 49ers back in 2007 and has been the definition of a plug-and-play 10-year starter. He was solid in pass protection early in his career but didn't quite develop into an elite left tackle until Jim Harbaugh got his hands on him. In 2012, Staley led all tackles with a 92.4 overall grade. Since then, he's maintained an incredibly high level of play and once again led all tackles with an 89.6 grade this past year.
Sitton has been the gold standard in pass protection at both right and left guard since he came into the league as a college tackle from UCF back with Packers in 2008. He led all guards in pass-blocking efficiency in 2013, 2014 and 2015 before falling to second in 2016 and 13th this past year.
While Mack was a stud for much of his career in Cleveland, he's taken his game to new heights in Atlanta the past couple seasons. His 90.6 grade this past season and 90.8 in 2016 are the two highest of his career. For all the flack the Browns have gotten for their first-rounders in recent years, they knocked it out of the park with Mack as the 21st overall selection back in 2009.
Yanda may have played all of 102 snaps last season before being lost to injury, but we'll have to see a drastic dip in play before we're ready to say that Yanda isn't the preeminent guard in the NFL. His lowest grade over his previous three seasons is an 87.7, and he only gave up six pressures in 2016 while splitting time between left and right guard.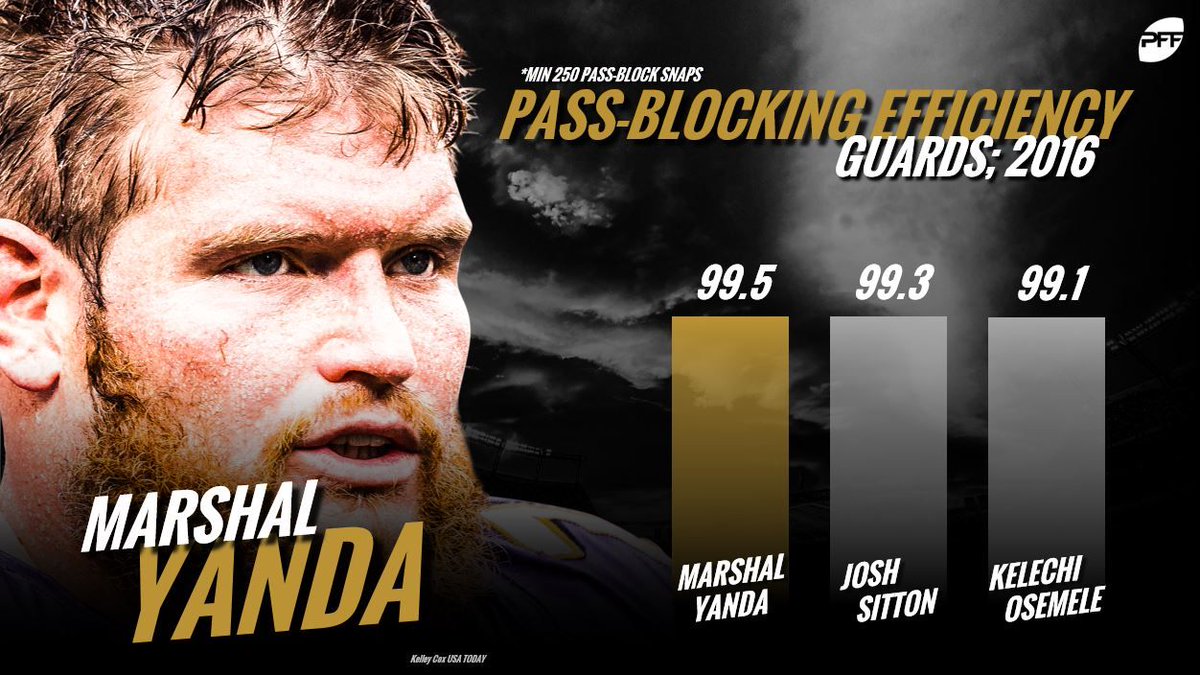 While Penn has taken all of 24 snaps at right tackle in his career, a position switch this offseason to make room for rookie Kolton Miller conveniently places Penn on this list. He had a bit of a down year in 2017, but only because his previous few seasons set such a lofty standard. Penn earned a 90.0 overall grade back in 2016 and at 35 years of age is still one of the best tackles in the league.
It's hard to believe that one of the most feared pass-rushers of the last decade not only didn't have his name called in the 2005 draft coming out of Penn State, but he also had to wait until 2009 before making his NFL debut. That 2009 season, he set a PFF record with a pass-rushing productivity of 20.4 on 130 pass-rushing snaps and has barely slowed down since. This past season, his 13.5 pass-rushing productivity was still fourth best in the NFL.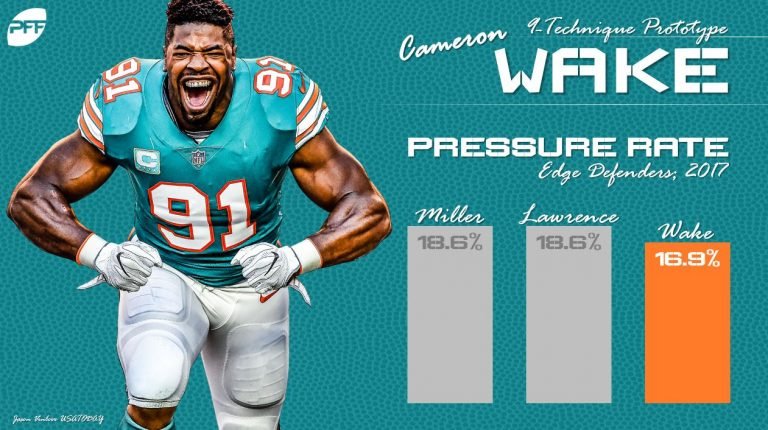 He was a little more of an edge defender than interior defender this past season, but we'll put him inside because that's where he's spent a majority of his career. Campbell helped turnaround the Jags defense this past season with a 91.1 overall grade. He's graded out over 80.0 each of the last four seasons after never having done so his first six years in the league.
Pickings are slim for old interior defenders. Big guy's knees only last so long, and explosiveness is the name of the game in today's NFL. McClendon has developed into one of the preeminent run stuffers in the NFL. His 12.8 run-stop percentage last season trailed only Damon Harrison among starting defensive tackles. Coming out of Troy State in 2009, McClendon never cracked even 400 snaps in a season until 2015.

Following a 2002 season at Arizona State where Suggs set this single-season NCAA sack record (24), the edge defender surprisingly fell all the way to the 10th pick in the first round. Suggs' loss was the Ravens gain though as he's racked up 125.5 sacks since, including 11 last season. Suggs was the only player left from that 2003 draft class for a few days after Terence Newman retired. Now, he and Antonio Gates are the last two remaining on active rosters.
10 years in and Woodyard can still bring the thump. He was an undrafted free agent for the Broncos back in 2008, but after being thrust into the starting lineup late in the season, he immediately proved he belonged with a 75.6 overall grade in 332 snaps. Woodyard's 83.7 run-defense grade this past season was still good enough for 10th best among linebackers.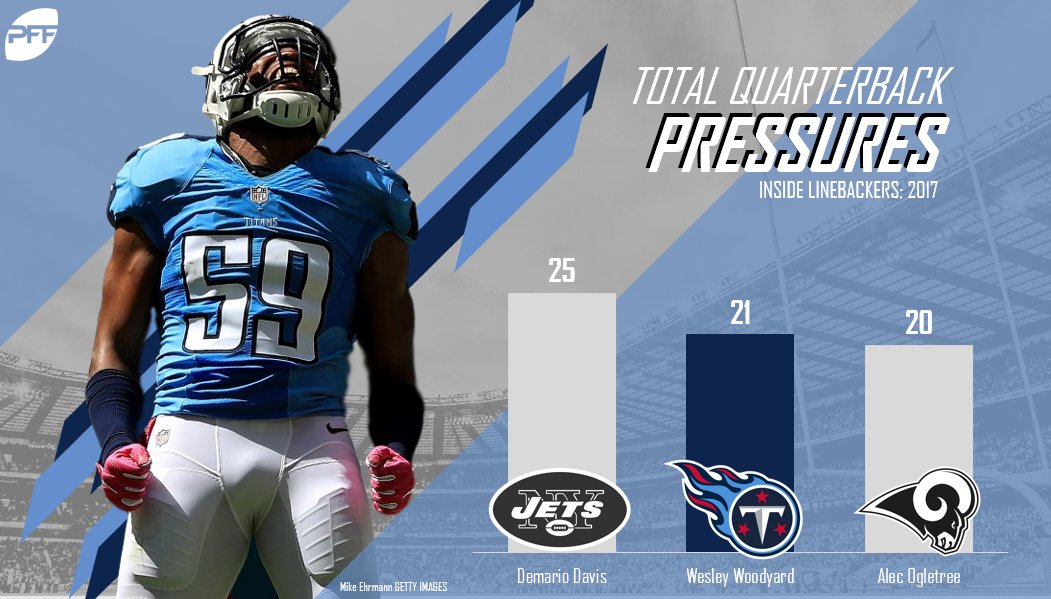 Yet another position where age has taken its toll. Johnson has not quite been his same playmaking self since 2015, but the only other realistic options here were Karlos Dansby and Thomas Davis who are both in the same boat. The former first-rounder out of Texas can at least still cover reasonably well as he broke up four passes a season ago and only allowed 56.8 percent of his targets to be caught.
Talib had a tumultuous career in Tampa after he was a first-round pick in 2008. He flashed high-level potential, but never quite came into his own until leaving for New England then Denver. The past two seasons, he's given up all of 601 yards in 979 coverage snaps. All after the age of 30.
If you had said Grimes would be on this list a decade ago, people would have looked at you crazy. It was a minor miracle that the 5-foot-9, 177-pound cornerback had made a roster after being an undrafted free agent out of Shippensburg in 2006. In his first season of meaningful playing time in 2008, he earned a dismal 57.2 overall grade while allowing a passer rating against of 107.7. As a 34-year-old in 2017, he earned a 74.1 overall grade and allowed a passer rating of 73.8.
Quin has long been in the conversation for one of the league's most underrated players. In his ninth season in the NFL, Quin just earned a career-high 90.6 overall grade. It was the second time in his career he's earned a coverage grade above 90.0 (2014), and yet the Lions safety still couldn't even get a Pro Bowl nod.
Even though 2017 was Weddle's lowest-graded season since 2008, we're still going to give the 33-year-old the benefit of the doubt. Back in 2016, he was PFF's third-highest graded safety with an 89.9 overall grade.