Minnesota Vikings
Pass Game Supporting Cast – Tier 1
Overall Team Supporting Cast – Tier 1
[Editor's note: The Supporting Cast metrics measure performance of players other than the quarterback, utilizing PFF grades and clustering analysis to group them into tiers from best (Tier 1) to worst (Tier 4). Passing Game Supporting Cast is indicative of supporting players contributing more to passing stats while Overall Team Supporting Cast includes other portions of team performance as well. For more information on support cast rankings, listen in weekly to the PFF Forecast podcast.]
The Minnesota Vikings made it to the NFC Championship following a Minnesota Miracle, but the 2017 campaign was no miracle, not with how their supporting cast supported their now-departed quarterback. Case Keenum's signing with Denver has now left the front office questioning its quarterback situation. Last year at this time, the quarterback room contained Keenum, Teddy Bridgewater and Sam Bradford. The trio now finds themselves each with a different team, which leaves it up to their new $84-million-dollar man.
Excitement is certainly building around former Washington Redskins QB Kirk Cousins. While he is 26-30-1 as a starter, he enters the Vikings on the back of a Pro Bowl season in which Cousins' PFF grade was 78.8.
For more on Cousins and the rest of the NFL quarterbacks – it's not too late to grab the 2017 QB Annual with passing maps, QB clusters and much more  –

Where excitement is drawn from is the fact that Cousins' passer rating on passes 20-plus yards downfield of 106.4 in 2017, ranked as the third best in the league. This should prove useful to the aforementioned supporting cast of Stefon Diggs and Adam Thielen, both of whom ranked inside the top five in deep-pass catch rate.
Behind Diggs and Thielen
The battle for third fiddle behind the Vikings' pair of star wide receivers is open and there are a couple of players looking to compete. Kendall Wright boasts the third-highest grade on the receiver depth chart (76.3), but Laquon Treadwell will be looking to challenge that. It was just two years ago that Treadwell was a first round pick, yet to date, he has only seen action in 35.2 percent of the team's offensive snaps the past two years.
Kyle Rudolph retains the second-most efficient drop rate in the NFL at the tight end position (1.72) and is also tied for second-most touchdowns on deep passes with two. Cousins has plenty of players around him that compliment his strengths, arguably even better than his cast of characters that he saw in his career year of 2016 in which he finished with an 85.4 overall grade.
Dalvin Cook's health
After Dalvin Cook went down with an ACL injury in a Week 4 loss to the Detroit Lions, the Vikings' backfield was left in good hands with Jerick McKinnon and Latavius Murray. Only the latter remains and it falls on Cook to shoulder most of the load this season.
In the three weeks before he fell with an injury, Cook ranked in the top three in rush attempts (61), missed tackles forced on rushes (13) and 15-plus yard runs (four).
It is tough for a rookie to suffer that injury in the middle of such a prolific start to his career, but the league knows how well he can perform and the Vikings rushing attack will predominantly hinge upon Cook's health.

Offensive line performance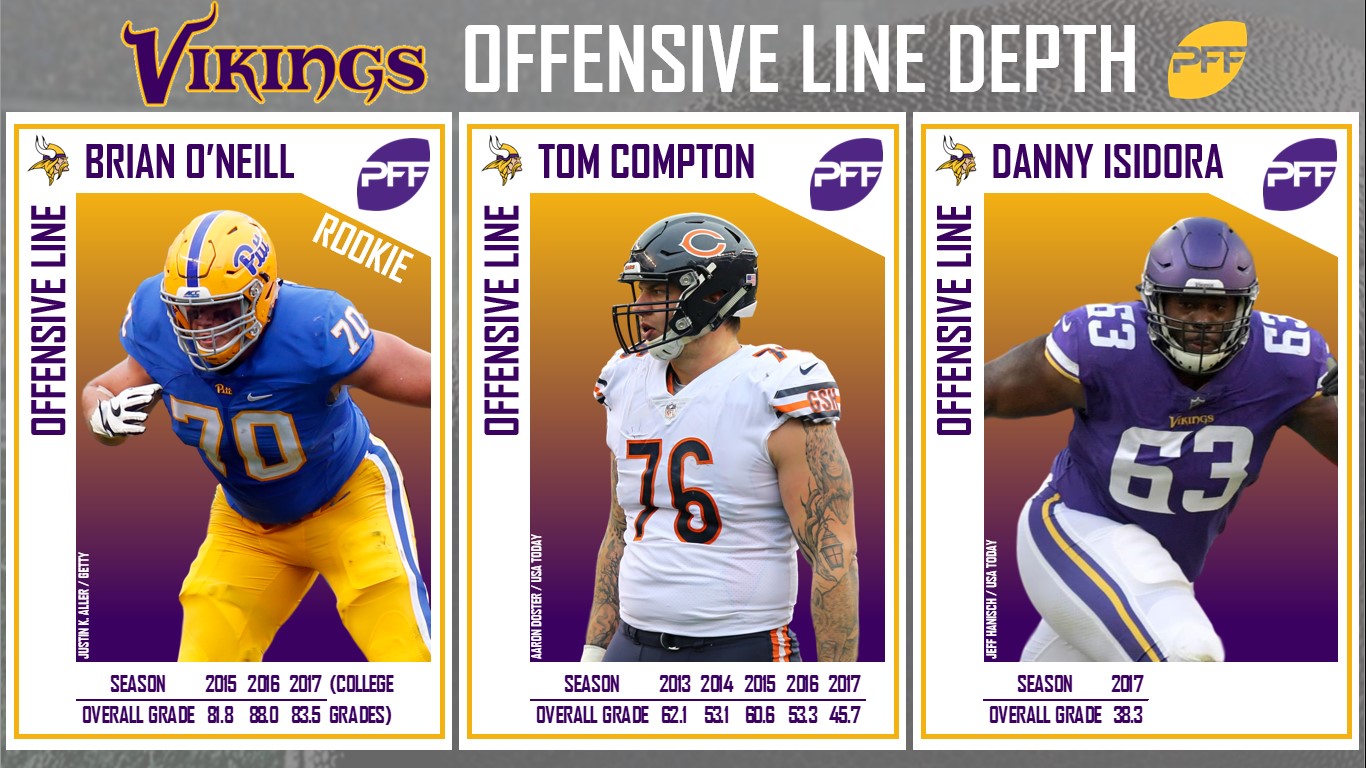 If there is one shaky spot on Minnesota's roster, it is the position group protecting the quarterback. A group that ranked 28th in our preseason offensive line rankings returns Mike Remmers (69.6) as their highest-graded returning starter. The next highest is the left tackle, Riley Reiff (48.6).
The gaping hole in the offensive line this fall stems from the retirement of Joe Berger. Although he earned a 75.7 season grade in 2017, it was easily the highest on the offensive line. Berger was a stalwart on the offensive line, participating in 83.5 percent of plays over the course of the last seven seasons with the Vikings.
Pat Elflein is fresh off a year where he allowed the fourth-most pressures among centers at 24 and maintained the third-lowest pass-block efficiency at 96.1. There is potential along this line to grow, but Elflein (43.2) and Nick Easton (41.5) will have to make strides in 2018.
Bottom line
Cousins steps foot into a situation that any quarterback in the league would almost certainly want. Minnesota possesses one of the fiercest defenses in the league with our top-graded safety Harrison Smith (97.0) holding down the secondary. The team has weapons at every offensive skill position and is one of only two teams who finished with Tier 1 supporting casts in both the pass game and overall.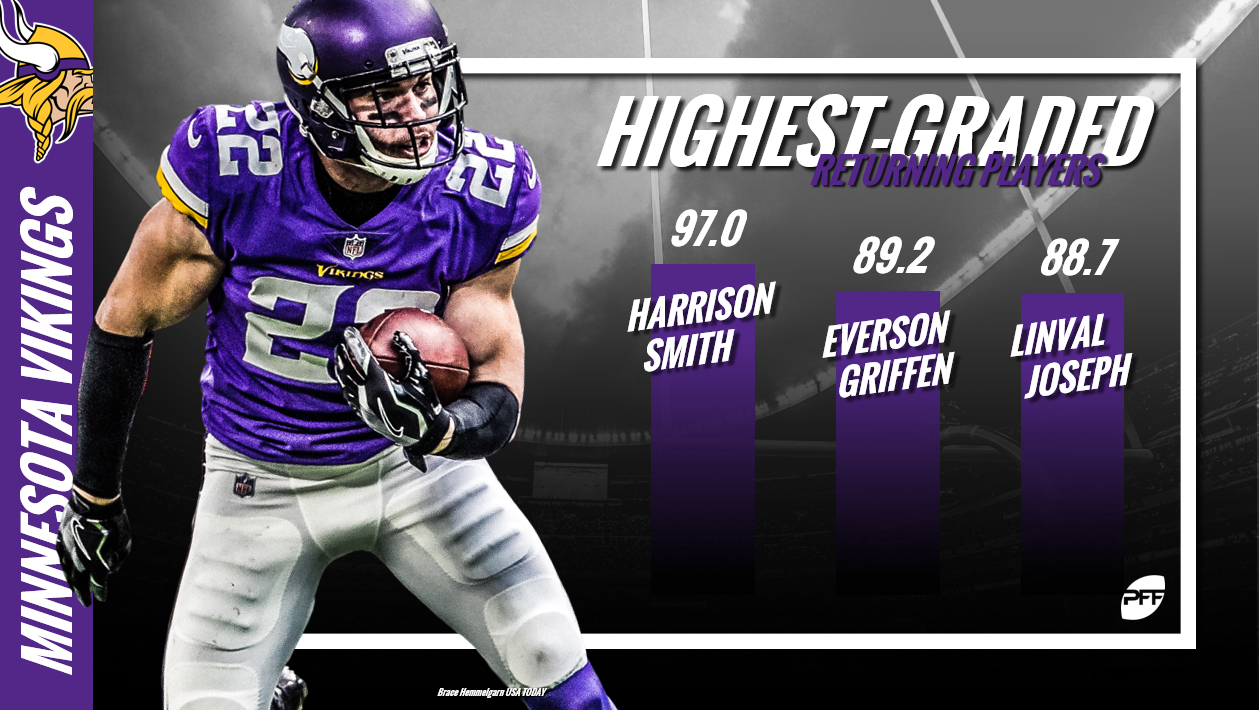 Fans will get their first look at Cousins in Purple and Gold when veterans report to training camp on Saturday, July 28th.
POSITION BATTLES TO WATCH
2018 PFF NFL Training Camp Previews
---
Arizona Cardinals | Atlanta Falcons | Baltimore Ravens | Buffalo Bills | Carolina Panthers | Chicago Bears | Cincinnati Bengals | Cleveland Browns | Dallas Cowboys | Denver Broncos | Detroit Lions | Green Bay Packers | Houston Texans | Indianapolis Colts | Jacksonville Jaguars | Kansas City Chiefs | Los Angeles Chargers | Los Angeles Rams | Miami Dolphins | Minnesota Vikings | New England Patriots | New Orleans Saints | New York Giants | New York Jets | Oakland Raiders | Philadelphia Eagles | Pittsburgh Steelers | Seattle Seahawks | San Francisco 49ers | Tampa Bay Buccaneers | Tennessee Titans | Washington Redskins