Christian McCaffrey's title — running back — is hardly a fair descriptor of his broad talents. Sure, McCaffrey runs — and at a high level, too. But his raw ability to turn nothing into something as both a runner and a pass-catcher has propelled him to remarkable heights after just two years with the Carolina Panthers. For that reason, PFF projects McCaffrey to lead all running backs in targets (119.8), receptions (96.8) and receiving yards (781.5) in 2019.
The running back position hasn't been a one-trick pony role for a while now, and backs like McCaffrey, Alvin Kamara, James White and Saquon Barkley are a testament to that. For starters, the sheer volume of targets that McCaffrey has seen is unprecedented. In the PFF era (since 2006), no running back has had more targets in a two-year span than McCaffrey's 241 combined in 2017 and 2018.
In 2018 alone, he saw five or more targets in 13 games and hauled in at least one first-down reception in all 16. Call him a running back, sure — but he's so much more than that to the Panthers' offense.
His 91.2 receiving grade in that same span is second to only Alvin Kamara, who is also projected to produce big numbers in the passing game according to PFF's fantasy projections. The old complaint among fans of "X quarterback only dumps it off to the running back" is far from an insult to the Panthers' offense. In 2018, McCaffrey led the way with 41 first-down catches among running backs and racked up 861 yards after the catch — again, the best at his position.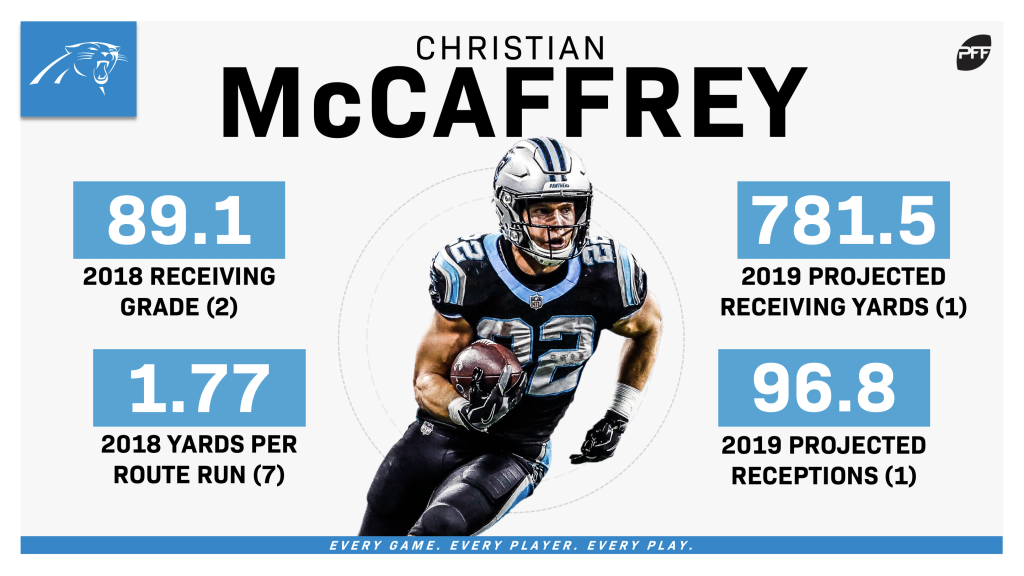 And even more impressive, McCaffrey didn't drop a single one of his targets. Every running back who had 45-plus targets in 2018 had at least one drop aside from the man himself, who saw a whopping 122 passes come his way without a miscue.
For various stretches during the 2018 season, McCaffrey was putting up receiver-like numbers while maintaining an impressive out on the ground. From Weeks 12-16, he ranked 15th among all players in receiving yards (356), first in yards after the catch (339) and first in receptions (47).
To repeat: that's among all players.
He outgained superstars Michael Thomas and Adam Thielen, among others, during the stretch while also averaging the fourth-best yards per attempt on the ground (5.7). From a fantasy football perspective, you can't ask for much more than McCaffrey has given in his first two NFL seasons. From a pure fan perspective, all you can do is watch in awe.
McCaffrey's quickness is no secret, and that allows him to make big things happen after the catch.  As such, the Stanford product broke a PFF record during his exceptionally productive campaign: Since 2006, no running back had more yards after the catch than McCaffrey's 861 last season.
Versatility is the name of the game with McCaffrey, and it showed, as he lined up in the slot on 56 snaps in 2018 (4th). In 2017, he lined up more than 100 times from the slot — the first running back to do so since Darren Sproles in 2013.
It's only year three for the budding superstar, but the Panthers have to be thinking about locking McCaffrey up for the long term. Melvin Gordon may not be worth a lucrative deal from the Los Angeles Chargers, but McCaffrey is a defense's worst nightmare who certainly can't be easily replaced.