It's Super Bowl LII week. With the Patriots winning (but failing to cover the spread) against the Jaguars in the AFC Championship game, we're stuck picking one of their games again, against a Philadelphia team that won outright in consecutive weeks as a short home underdog. In going 0-1 last week, we're 48-37-5 (56.5 percent) on our article's picks the season, going 33-21-2 (61.1 percent) against the spread and 15-16-2 (48.4 percent) on over/unders.
On all picks (available to PFF Elite subscribers) we're 98-88-8 (52.7 percent) against the spread and 128-97-3 (56.9 percent) on over/unders. We were 1-1 and 1-0 on those picks, respectively, during the compionship round (we did not pick the over/under in the Jacksonville/New England game). The Lock of the Week is 13-6-1 so far (68.4 percent), and our Thursday night graphics finished 11-2 (84.6 percent) on the season.
In addition to the great point/counterpoint analyisis below make sure to subscribe and listen to the PFF Forecast podcast that is aired weekly.
To discuss our spread and over/under picks, check out PFF Elite and the PFF Elite Facebook Group.
Philadelphia Eagles vs New England Patriots (-4.5, over/under 48) in Minneapolis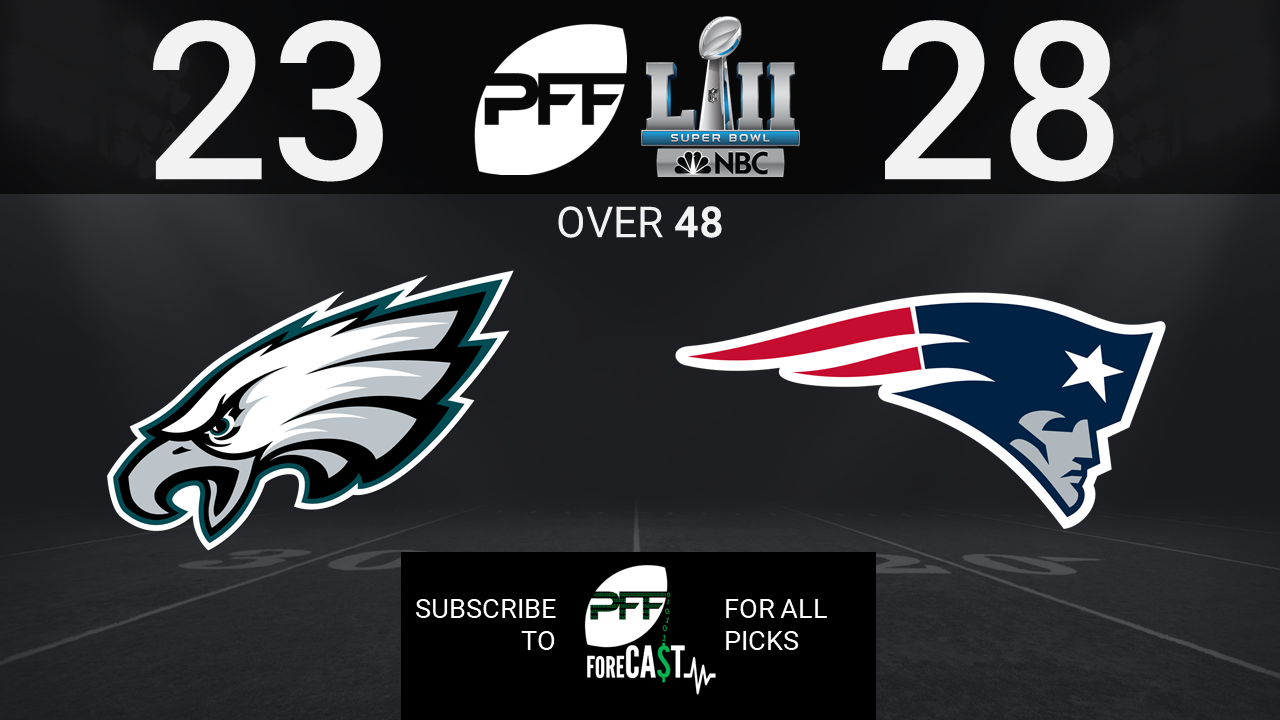 Pick: Patriots 28 – 23 (the over hits)
Point (Eric Eager): This pick was a bit counterintuitive to us (as we said on our last podcast), with both of our inclinations' toward the under on first blush. That said, we had similar feelings towards the over in the NFC Championship game with the Eagles, and the Vikings defense (second-best in yards per play) is a far better unit than the Patriots (second-worst). The Patriots are a middle-of-the-pack team in terms of covering tight ends, and the Eagles have a fantastic one in Zach Ertz, who made the league's best player look silly in Philadelphia's last game, hauling in all four of his targets for 55 yards against Harrison Smith. If the Eagles stable of complementary players in Jay Ajayi (83.0) Alshon Jeffery (80.5), Nelson Agholor (79.4), along with the league's best offensive line, can put up their end of the bargain, they and the league's best offense (New England) should cruise over this total.
Counterpoint (George Chahrouri): I need to start by pouring a little out for the Vikings and their fans, nothing could have been more perfect than a Purple Reign on the purifying waters of Lake Minnetonka. Talk about a redemption story for that pun.
When the total came out, my initial thought was that it seemed high. However, I'm a stupid human that overvalues recent history. I figured the Patriots playing in a low-scoring game versus Jacksonville then facing a team that racked up a league high 271 pressures this season added up to less than 48. So, while I am happy to side with the computer, let's take a trip down apocalypse road. Without his go-to target, Edelman, Tom Brady took a lot longer before getting rid of the ball this season, clocking in at 2.62 seconds after averaging 2.40 seconds over the previous three seasons. Over 50 percent of Brady's dropbacks took longer than 2.5 seconds for the first time in the last seven seasons. The Eagles have punished quarterbacks on plays taking 2.5 seconds or more, allowing a passer rating of 61.3 (second), getting pressure on 62 percent of those dropbacks (first), and forcing a turnover-worthy play seven percent of the time (second). Most worrisome of all, Brady won't be able to get away with wearing magical black stabilization bandage on his thumb this week, and we all know that a hungry (under) dog gets an extra step when they smell blood. If Brady can be slowed, then one might expect the Eagles to let Nick Foles heed the message on his wrist "W.W.J.D." have mercy on your enemies and run the ball to keep from running up the score.
A Somewhat Silly, Somewhat Rational Bet:
Pick: Patriots money line (- 190) and over 48 parlay
Point (GC): The odds don't quite make this a positive expected value play based on the win probability we have at the moment, but I'm the guy that went all in on the Patriots at halftime of Super Bowl LI which makes me a genius Super Bowl bettor (stability is up for debate).
[Editor's note: George is not stable.]
The paths to failure would likely entail either Brady and the Pats offense getting shut down or Foles beating the Pliable One in a shootout. Brady was the first quarterback to complete more than 10 passes aimed 10-plus yards downfield against the Jaguars (he completed 12), and he did so without the best offensive weapon for the majority of the game. Should Brady face a double-digit fourth quarter deficit, as he has three times since 2014, I'm fully confident based on the 131.6 passer rating he has from a clean pocket (133.6 overall) in those final stanzas, not to mention the three victories.
The Patriots offensive line has also played well, as the Jaguars pressured Brady on just 21 percent of his dropbacks, the second-lowest mark for the Jaguars all season. This test will be the hardest for that Patriots line with Fletcher Cox (91.5- second) proving to be very skilled at beating protection to get to the signal-caller regardless of the playing field, and Brandon Graham (91.0 – ninth) terrorizing the edge, but the Pats appear to be in good shape to keep them at bay just enough.
Foles has a passer rating of just 72.0 in the fourth quarter when not using play-action for his career, so when it comes down to it, we will ride with the G.O.A.T. No quarterback controversy in Philly this offseason.
Counterpoint (EE): As we said on our podcast, New England's win probability (somewhere in the 50s, depending on if Gronk plays) is such that laying -200 in a money line bet (even if it's a part of a parlay) might be a bit too much. Additionally, Foles (with a 152.1 passer rating when under pressure against the Vikings) looked like a combination of Joe Montana and Steve Young in the NFC Championship game, and last time I checked those two went a combined 5-0 in Super Bowls. Lastly, Brady is just 1-2 in his career in Super Bowls against NFC East teams. So, to quote Rufus Peabody and Jeff Ma: "suck on that trend, George."
A Very Serious, Perfectly Rational Bet:
Pick: over four Tom Brady significant other (e.g. Robert Kraft, Gisele Bundchen) appearances on the NBC broadcast
Point (GC): It is very disrespectful that this prop doesn't include Danny Playoff or Gronk, true leaders of men. I anticipate a first half shot of both Bob and Gisele and then when the game is close in the fourth, it will be impossible not to show the nervous looks on the two most high-profile TB12 believers. I wouldn't be surprised to see a shot of both at the same time, though I doubt that the All-Pro NBC crew satisfy my guilty pleasures by including Tom, Bill, and Alex Guerrero in the shot while "Suspicious Minds" plays in the background. The best part of winning this bet is knowing that on every shot, my main man Sean McVay will be whispering "hold my beer."
McVay 2020.
Counterpoint (EE): While I'm usually too busy using my protractor to help spot the best in-game lines I can find, you can't help but wonder if there will be resistance to the camera's wandering eyes if/when one of the teams gets out to a huge lead early. Our numbers have the game a bit closer than that, though, meaning that it's going to be FOOTBALL, FOOTBALL, FOOTBALL for my eyes (and pico de gallo for my stomach) Sunday night.