Ten years of grading. That's the breadth of data now amassed in the Pro Football Focus system, and it's a milestone worth commemorating. When we started the site, it was all about player evaluation: Who had played well, but went unnoticed? Who had unfairly received hype without the associated production?
Therefore, what better way to mark a decade of grading than with a PFF All-Decade team (2006 to 2015 seasons)?
Selection criteria was always going to be the trickiest thing. When you have as much data as we do (more than anyone else by an order of magnitude), you should be able to compare players pretty accurately. But how do you balance longevity with production? In the end, beauty was in the eye of the beholder, and that (for my sins) turned out to be me. I did ask a couple of the longer-tenured PFF analysts (Ben Stockwell and Khaled Elsayed) for their opinions, but a democracy this was not. What you see is ultimately my view of our first 10 years, and for that, I accept all the criticisms (and maybe a few scattered plaudits).
[Editor's note: The team(s) listed in parentheses after a player denotes the franchise for which his performance merited the award—not necessarily all teams he played for during his NFL career. This article was originally published Aug. 16, 2016.]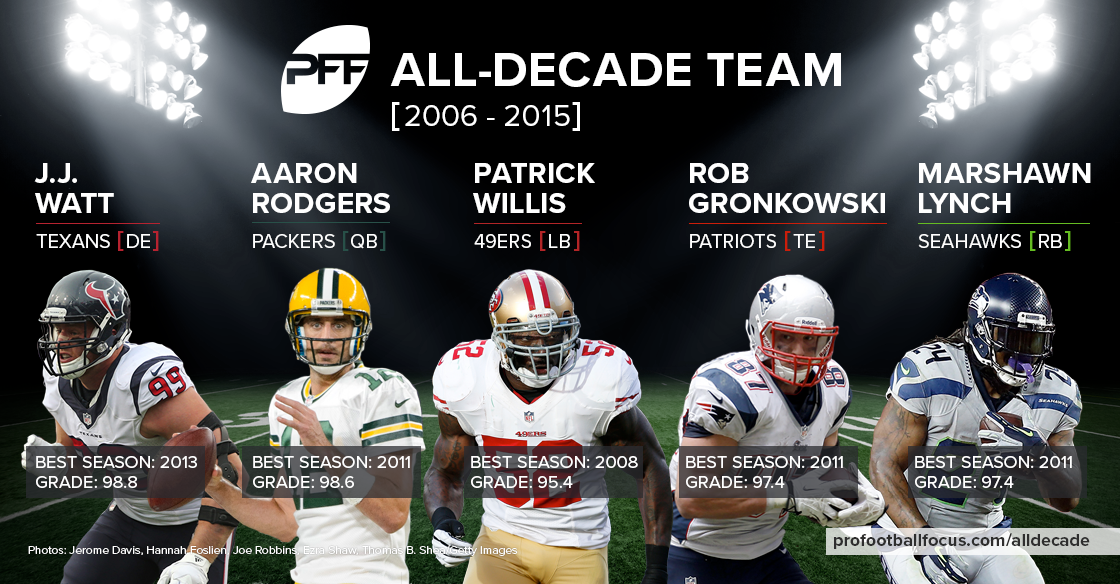 Offense
Quarterback: Aaron Rodgers (Packers)
Quarterback was by far the most difficult position to call. There was Peyton Manning, who has been magnificent for large portions of the last 10 years, but was also injured for all of 2011, and was a shadow of his former self for nearly the past two seasons. Drew Brees has racked up the numbers, never grading lower than 87.4, and pulled in a Super Bowl ring with, in my opinion, very little support. In the end, though, Rodgers' claim was hard to resist, despite a sub-optimal 2015. He owns six of the top 31 season grades we've given quarterbacks—including our best ever of 98.6 in 2011—and his career average of 92.6 is also our best.
For anyone calling for Tom Brady here, the Patriots QB has been less consistent than Rodgers and Brees over the past decade. While he produced stellar 2007 and 2015 seasons, he's also had lesser times, and his average overall grade is third behind Rodgers and Brees, respectively.
Second team: Drew Brees (Saints)
Running back: Marshawn Lynch (Seahawks)
Conventional wisdom would have Adrian Peterson here instead of Marshawn Lynch, but maybe that's more a function of the media's dislike of Lynch than anything tangible. Whichever way you cut it (except with base numbers that derive as much from the quality of the blocking as they do from the actual RB), Lynch edges Peterson out in every category.
Consider this: Peterson, the bell-cow power-back, broke 423 tackles as a runner on 2,496 attempts, while fumbling 34 times. On 2,337 attempts Lynch broke over 100 more (530) tackles and fumbled only 20 times.
Additionally—although neither has done much as a receiver, admittedly—Lynch has been a superior pass blocker throughout the last 10 years.
Second team: Adrian Peterson (Vikings)
Fullback: Ovie Mughelli (Ravens and Falcons)
How I wanted to let my personal bias take hold and shoehorn long-time PFF favorite blocker Jimmy Kleinsasser into this position. In the end, logic (and Khaled Elsayed) took hold and persuaded me that someone who played about 5 percent of his snaps as a fullback was not warranted a spot on the All-Decade team, despite his greatness. Luckily there was no shortage of decent alternatives, with Mughelli having the best mix of tenure and average grade (82.9).
Second team: Greg Jones II (Jaguars)
Wide receivers: Calvin Johnson (Lions) and Larry Fitzgerald (Cardinals)
While Calvin Johnson was more of a physical phenomenon early in his career, he did soon become the player everyone thought he should be. When defenses were forced to adjust for his greatness, it was almost as if he upped his game to compensate and performed even better. In five of the last six years, Johnson was one of our top six receivers, and ranked No. 1 in 2011 with a 93.6 grade.
Larry Fitzgerald went through a metamorphosis, too, but it wasn't from good to great—more outside to slot receiver. Just as you thought his play was declining, Fitzgerald went inside more frequently (57 percent of routes last year) and became one of the best slot receivers in the game. His top season-ranking among NFL WRs is second, a feat he has achieved three times since 2006.
Second team: Andre Johnson (Texans) and Antonio Brown (Steelers)
Tight end: Rob Gronkowski (Patriots)
The difference in average season grade between Rob Gronkowski's 92.4 and the second-ranked player at his position is 6.3. That's a monstrous amount, but perhaps not really surprising, given just how dominant Gronk has been as both a receiver and blocker. Four times in six years he's been our top-ranked TE, and even with injury, he's never fallen below fifth.
Second team: Jason Witten (Cowboys)
Left tackle: Joe Thomas (Browns)
A model of consistency, Joe Thomas has never been ranked outside the top eight tackles in the league, and has been ranked first and second twice apiece. While pass protection has always been his forte (an average grade of 90.3 in that facet of play), his run blocking isn't bad, either, with an average grade of 84.8 in that regard over the last three seasons.
Second Team: Andrew Whitworth (Bengals)
Left guard: Logan Mankins (Patriots)
Although not at his dominant best the last three years, Logan Mankins has still been well above average, and that in no way obscures 2006–2010, when he was never outside our top four guards, averaging exactly a 90.0 grade. Across his entire career, he's been a brilliant run blocker, and averaged an 87.9 grade in that facet of play.
Second team: Evan Mathis (Bengals, Eagles, and Broncos)
Center: Nick Mangold (Jets)
If we had the Dwight Stephenson Award (given to the best player in football over the course of one season, regardless of position) from PFF's inception, I maintain Nick Mangold would have won it on more than one occasion. Mangold was our top-ranked center in five of the 10 years he bestrode the position like a colossus, playing nearly 11,000 snaps over that period.
Second team: Jeff Saturday (Colts)
Right guard: Marshal Yanda (Ravens)
Here's how ridiculously good Marshal Yanda is: if he'd stayed at tackle, Yanda would probably have made this team at that position, too. Early on with Baltimore, he was in fact a right tackle. In 2007, he was our third-ranked tackle with a 90.3 grade, and he was still moved inside—such are the vagaries of the NFL. It didn't matter, though, because in the last five years, he's averaged a 90.7 grade and been our top-graded guard the last two seasons.
Second team: Josh Sitton (Packers)
Right tackle: Damien Woody (Jets)
Perhaps the first surprise of my squad—and also the first to test my longevity-versus-production dilemma—is Damien Woody. Only 3,843 snaps in the PFF era may not be enough for some, but for me, he was a class above at the position, particularly given that it happened in the later years of his career. In 2008, he became the only right tackle ever to be ranked as PFF's top offensive tackle (LTs and RTs included), with a 92.3 grade that season.
Second team: David Stewart (Titans)
Defense
Edge rushers: Von Miller (Broncos) and James Harrison (Steelers)
As the quality of offensive-line play has declined, we have entered a prosperous age for pass rushers. Even in such times, however, there is usually an "alpha," and in the PFF era, that has been Von Miller. His average grade of 93.9 leads all others—regardless of tenure—and his value was made obvious to everyone on the biggest stage of all, Super Bowl 50.
James Harrison is a different type of player who, at his peak, was dropping into coverage on about 40 percent of opposing QB dropbacks. He's the epitome of the old style, stand-up edge player who covered, played the run, rushed the passer, and did them all well. However, don't think this is a nod to flexibility at the expense of production. Even last year—in his supposed twilight—he ranked 13th among NFL edge rushers with a grade of 86.1.
Second team: DeMarcus Ware (Cowboys/Broncos) and Cameron Wake (Dolphins)
Defensive interior: J.J. Watt (Texan) and Justin Smith (49ers)
As the man currently in the process of redefining PFF's grading scale—as well as his position (I could easily have included him as an edge rusher)—it's perhaps not surprising that no one has a higher average grade than J.J. Watt's 95.2, or an individual season grade better than his 98.8 (2013 season).
From 2009 to 2011, Justin Smith was setting the standard that Watt was about to overtake, ranking first twice and second once among interior defenders, while averaging a 91.0 grade during that time. Like Watt, he was outstanding against both the run and pass, tallying 522 QB disruptions.
Second team: Kevin Williams (Vikings) and Geno Atkins (Bengals)
Nose tackle: Vince Wilfork (Patriots)
One of the benefits of going back and grading earlier seasons is getting to see great players at their best, instead of at their current levels—such was the case with Vince Wilfork. While he still does a reasonable job in run defense, venture back to 2006–2007 for a taste of why offensive line coaches are still praising him. His "career" run-defense grade of 84.6 is inflated by those years, and it will be interesting to see where he finishes when we get around to grading 2004 and 2005.
Second team: Pat Williams (Vikings)
Linebackers: Patrick Willis (49ers), Luke Kuechly (Panthers)
Patrick Willis' level of consistency before his final, injury-ravaged 2014 season is mind-boggling. Setting that season aside, he averaged a 92.5 grade, ranking No. 1 overall three times while never dropping below fourth. He was brilliant in all facets of play, but his work in coverage was at another level beyond that.
Is four years enough to select Luke Kuechly? Well it's on the borderline, but when you are as great as he is, maybe you'll forgive me. Our top-ranked LB the last two years, the Panther also owns the record for the best-ever coverage grade (98.6) by a linebacker, which he set during the 2015 season.
Second team: Derrick Johnson (Chiefs) and Darryl Smith (Jaguars)
Cornerbacks: Darrelle Revis (Jets/Buccaneers/Patriots), Richard Sherman (Seahawks)
When legendary seasons are discussed in PFF internal chats, perhaps the most revered is Darrelle Revis' 2009 season. It graded out at a magnificent 97.4, and set standards for all those to come. Playing almost exclusively man coverage, Revis was thrown at a stupidly-high 127 times, but allowed a QB rating of only 29.1. While this is the benchmark year in over 5,000 coverage snaps, the career passer rating against him is still only a paltry 60.4.
One of the corners trying to better Revis' grade is Richard Sherman, and while he hasn't done it yet, he's come close, with a fantastic 94.9 in 2012. Even more impressive is the fact that Sherman's career passer rating against is actually better than Revis' mark, at 46.5.
Second team: Champ Bailey (Broncos) and Charles Tillman (Bears)
Slot cornerback: Antoine Winfield (Vikings)
We've been arguing for some time now that lumping all corners together for ranking purposes isn't a good idea. The position of slot cornerback is so different from an outside corner that it's like trying to compare guards and tackles. For that reason, we are going to start grouping them differently, and this is a good place to begin. For a small guy, Winfield was one of the best run defenders we've ever seen, and running a screen pass to his side when he was in the slot was tantamount to giving up on the play. Teams would put guards on him, and he'd knife past and make the tackle for a loss with the consistency of a metronome. This wasn't his whole game, though; he was excellent in coverage, too, as a career average grade of 84.7 in that facet of play will testify.
Second team: Chris Harris, Jr. (Broncos)
Safeties: SS Troy Polamalu (Steelers), FS Ed Reed (Ravens)
Troy Polamalu was a little inconsistent throughout his career, but when he was at his best, such as in 2008 (No. 2 ranked safety) and 2011 (No. 1 ranked safety, with a 91.4 grade), he was magnificent. While Polamalu had the ability to play deep, he was best known for his work in the box, where at times he seemed to know the snap count on his blitzes better than the offense.
Reed was a player who seemed to keep his best for when it mattered most; of his 22 highest-graded games, five came in the postseason, including his best of 99.0 against the Texans in the 2011 divisional playoff. Although we got to see him playing the run very well early in his career, he became that deep-coverage specialist towards the end with his range, boosted by his uncanny anticipation off the throw.
Second team: Eric Weddle (Chargers) and Devin McCourty (Patriots)