The Kansas City Chiefs are in the midst of one of the greatest offensive seasons of all time, led by a prolific young quarterback and an endless supply of weapons at the skill positions. However, behind every great offensive team, there is usually a great offensive line, and that remains true for the Chiefs, whose offensive line has allowed only 115 total pressures on 531 pass-blocking snaps this year which is good for the fourth-best pass-blocking efficiency rating (88.3) in the NFL.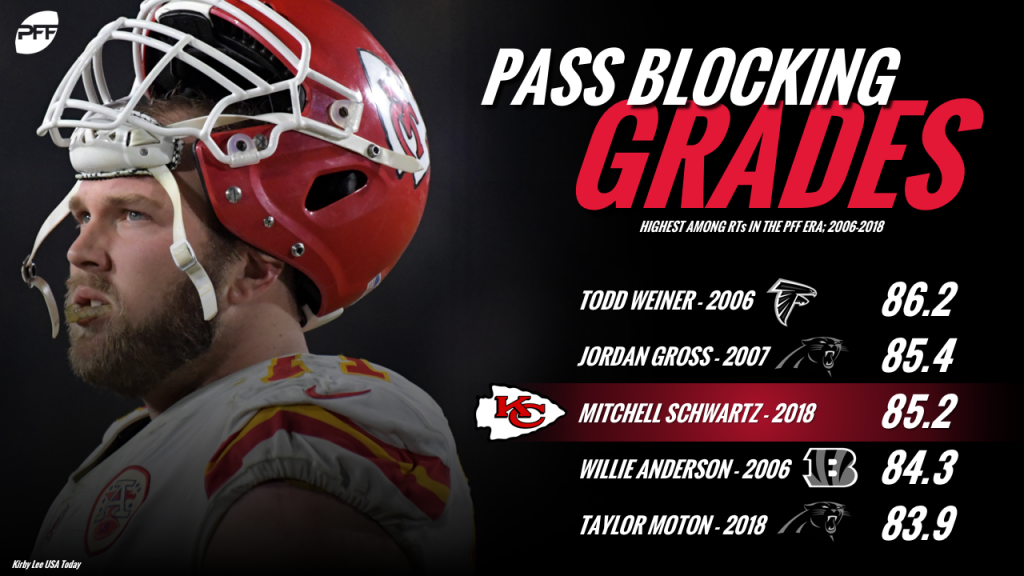 The man leading the Chiefs' offensive line is right tackle Mitchell Schwartz, who was drafted by the Cleveland Browns in 2012 and has since flourished into one of the best offensive tackles in the game. He's recorded grades north of 70.0 in each of his last six full seasons -making him just the 23rd offensive tackle in the PFF era to achieve this – with his 2018 overall grade of 84.4 on pace to beat his previous career-high. However, Schwartz isn't just on pace to record a career-high grade this year; he's also having one of the best pass-blocking seasons in the PFF era (2006-present).
Schwartz's pass-blocking grade of 85.2 this season is currently the third-best single-season mark for a right tackle, trailing only Todd Weiner in 2006 (86.2) and Jordan Gross in 2007 (85.4). Schwartz has allowed just 16 total pressures on 531 pass-blocking snaps this season, which is the fifth-lowest pressure percentage (3.0%) that's ever been allowed by a right tackle.
Some gems from Schwartz's great season include allowing only one pressure in each of the two games against the Broncos, who are known for their productive pass-rushing duo of Bradley Chubb and Von Miller. Schwartz also allowed only two pressures (and no sacks) against the Jacksonville Jaguars back in Week 5. By averaging only one pressure every 33.2 pass-blocking snaps this season, Schwartz has repelled defensive pressure with the best of them.
Despite Schwartz's all-time great year, he's only human, and he's still able to get outdueled once in a while, and that's exactly what happened last week against the Baltimore Ravens. Schwartz allowed six total pressures, which is more than double his previous season-high, and he allowed three of those to the up-and-coming outside linebacker Matthew Judon. Schwartz finished the game with a 65.4 overall grade, which is his lowest grade this season since the opening week against the Chargers – a game in which Joey Bosa did not play.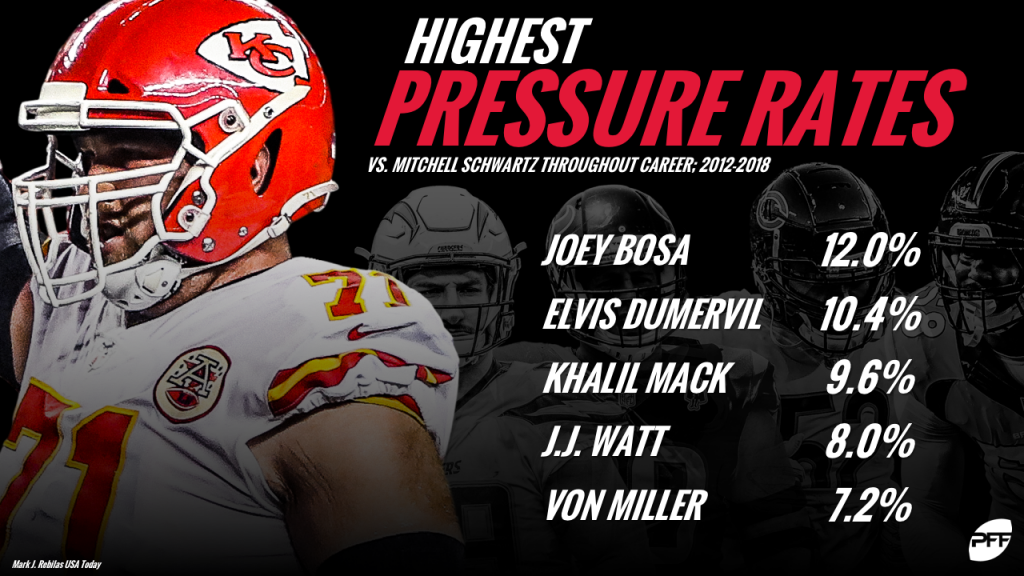 Bosa has since come back, and he has terrorized offensive lines to the tune of 18 total pressures in only four games. Since Bosa's return in week 11, he is tied for the 13th-best pass-rush grade (78.2) out of 111 qualifying edge defenders. Considering that Bosa's season just started, that's pretty impressive. What's even more impressive – and scary for Chiefs fans – is that among edge defenders with at least 50 career pass-rush snaps against Schwartz, Bosa has the best pressure percentage (12.0%); that's higher than some all-time great pass-rushers like Khalil Mack (9.6%), J.J. Watt (8.0%), and Von Miller (7.2%).
With the Chargers only one game behind the Chiefs, tonight's matchup is as big as it gets. The AFC crown is still up for grabs, and although the highlights and the top 10 plays may be filled with receivers, running backs and defensive backs, the real battle will start in the trenches. Schwartz has a chance to redeem himself after last week's bad game, but it's going to have to be against Joey Bosa, one of the best pass-rushers in the game.