"Credit to Judon. Judon's going to be a heck of a player. Doggone Judon."
The above words came from Oakland Raiders Head Coach Jon Gruden after Baltimore Ravens' Matthew Judon beat Gruden's rookie offensive tackle Brandon Parker on three consecutive plays for sacks in the Raiders' Week 12 loss to Judon and the Ravens. Judon earned a season-high 91.0 overall grade in the contest, a notable peak in what has been a strong six-game stretch for the 2016 fifth-rounder.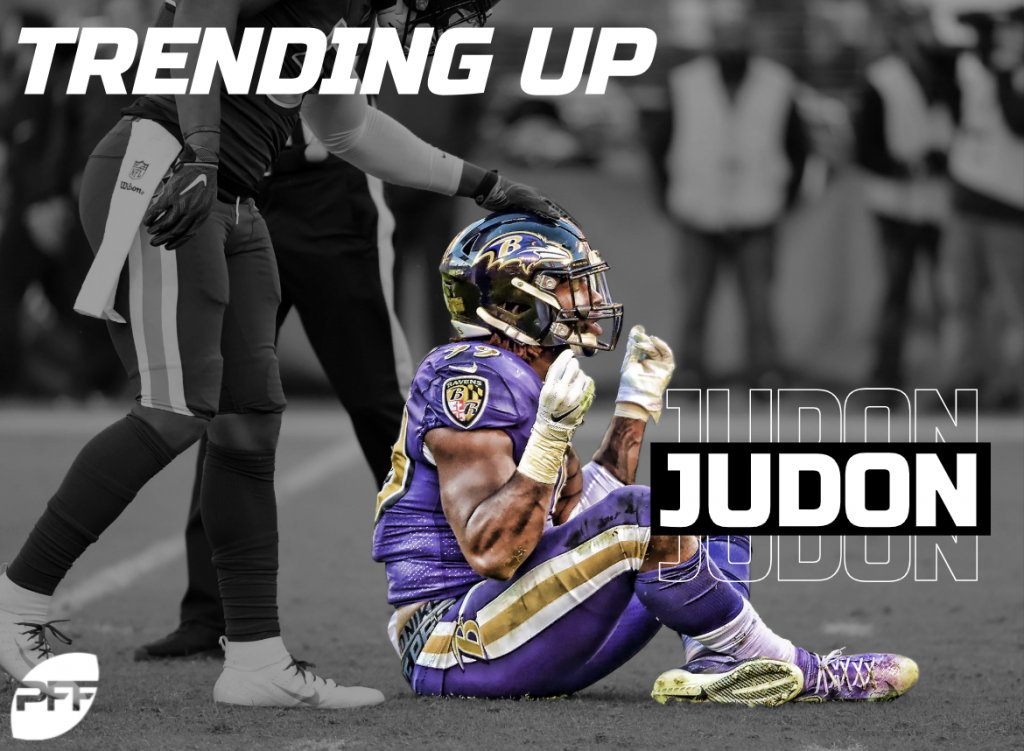 Adding a stellar performance against the Kansas City Chiefs on Sunday, Judon has now earned a 75.2 overall grade and an 80.2 pass-rush grade in Weeks 8-14 (six games), ranking 22nd and 10th, respectively, among the 66 NFL edge defenders with 200-plus defensive snaps in that seven-week span.
Judon's improving pass-rush ability is driving his rapid ascent. Recording 24 pressures (10 hurries, eight hits, six sacks) across his 127 pass-rush snaps, Judon's 18.9 pass-rush win rate and 18.9 pressure percentage rank sixth and second, respectively, among the 69 at his position with at least 100 pass-rush snaps in Weeks 8-14.
On his 47 pass-rush snaps on third and fourth down in that span, Judon recorded 10 total pressures, including three hurries, five hits and two sacks. His 21.3 pressure rate and 23.4 pass-rush win rate ranked third and sixth, respectively. He also recorded the third-highest pressure rate (17.5) across his 80 early down pass-rush snaps in Weeks 8-14, a testament to his ability to win pass-rush snaps on non-passing downs.
OK, Judon did beat Parker like a drum to the tune of three sacks in his six-game tirade, but his pass-rushing success wasn't limited to rookie FCS offensive tackles.
Chiefs' Mitchell Schwartz entered Week 14 as the top-ranked offensive tackle in PFF's pass-blocking efficiency (98.6), but he didn't look the part against Judon.
#Chiefs' Mitchell Schwartz has been outstanding in pass protection all year — one of the league's best at the position. #Ravens' Matthew Judon rag-dolls Schwartz, here. Great play. pic.twitter.com/NKhYhahthX

— Austin Gayle (@PFF_AustinGayle) December 9, 2018
In the above play, Judon throws Schwartz to the side with relative ease and sacks Patrick Mahomes as a result. This is only the second sack Schwartz has allowed all season. Judon finished the contest with three total pressures against Schwartz and another three against former No. 1 overall pick Eric Fisher.
And there's more.
Judon also beat Pittsburgh Steelers' Andrew Villanueva, PFF's current leader in pressure percentage allowed (2.4), for a pressure in Week 9 and registered two hurries and a sack against Cincinnati Bengals' Cordy Glenn in Week 11.
The game has finally slowed down for the former Grand Valley State product. Odds are Gruden won't be the last to say, "Doggone Judon."