Several NFL teams have capitalized this season on having not one, but multiple top performers at complementary positions. For these teams, having a dynamic duo at any given position has really helped to shape their team's identity. Now, 12 weeks into the season, PFF has a clear-cut view of the impact certain duo's can have on their respective teams and the league at large.
Using our grades and PFF Elite signature stats, here are the league's top performing dynamic duos at complementary positions through Week 12: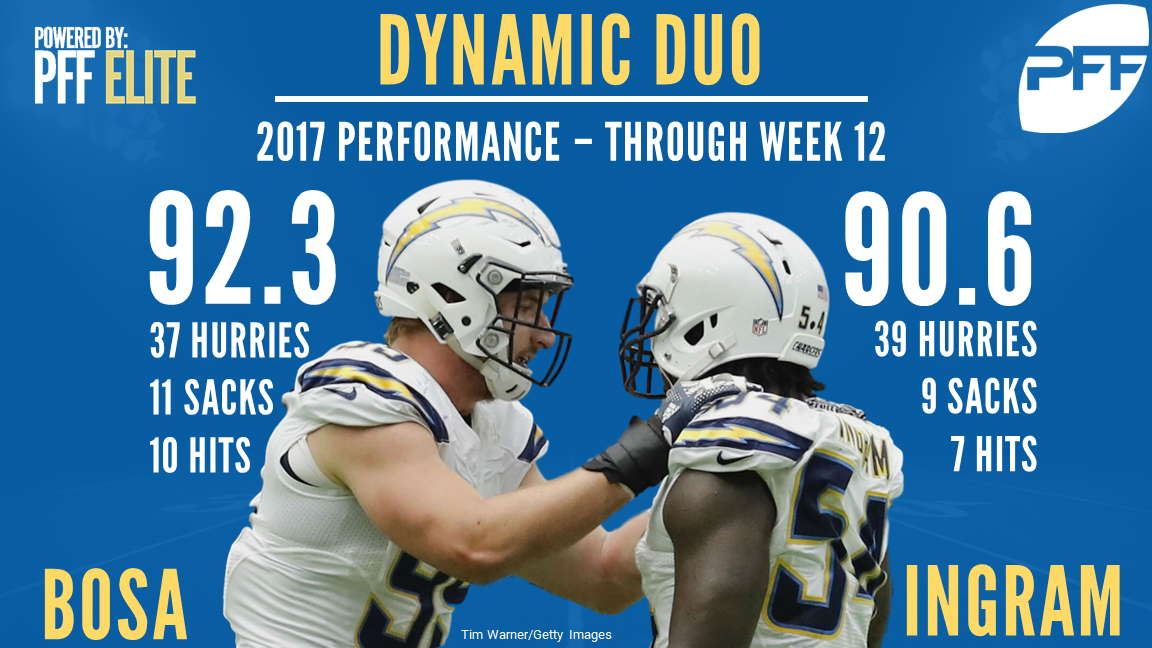 Continuing their incredible success from a year ago, both Bosa and Ingram are playing at an elite level, ranking in the top-10 among edge defenders in overall grade with Bosa producing a grade of 92.3 and Ingram a 90.6. The two have been a nightmare for opposing quarterback's week in and week out. As Bosa's 94.3 pass-rush grade ranks first and Ingram's 92.0 ranks second, it's no shock they also rank first and second in total pressures with 58 and 55, respectively, among edge defenders. Among those 113 combined pressures, 37 have been either hits or sacks on the quarterback.
How quickly they win at the line of scrimmage and get pressure on the quarterback is extra impressive as they anchor a Chargers pass-rush that ranks first league-wide in time to pressure with a mark of 2.23 seconds.
Kelce has graded as the best center in the league so far this season, producing an 89.9 overall grade. He has arguably been the most effective run blocker across any offensive line position, producing a 96.8 run block grade. Kelce's ability to execute multiple types of blocks and create movement on the offensive line has been the catalyst for a strong Eagles run game. Brooks, his partner to the right, is also having a great season. His 87.7 overall grade ranks third among guards and has also been nearly as strong as a run blocker, producing a run block grade of 85.6.
Perhaps the most impressive feat, Brooks has allowed just 11 pressures on the quarterback on 410 pass blocking snaps. Importantly, he has kept Wentz relatively clean allowing just one hit on the quarterback and no sacks.
Both Ramsey (92.8 overall grade) and Bouye (90.8) rank in the top-five among cornerbacks. No cornerback tandem in the league has been stingier than these two, as neither of them have given up a single touchdown this season while logging over 300 cover snaps. When targeting their coverage, Bouye is surrendering a league-low passer rating against of just 31.7 while Ramsey sits comfortably in the top-10 also with a mark of 51.9. Collectively, the tandem is allowing a catch rate of just 45.9 percent, greatly limiting the options opposing quarterbacks can throw to. On third and fourth downs, both Bouye and Ramsey tighten up even more as the duo surrenders a passer rating against of 27.3 and 30.5, respectively.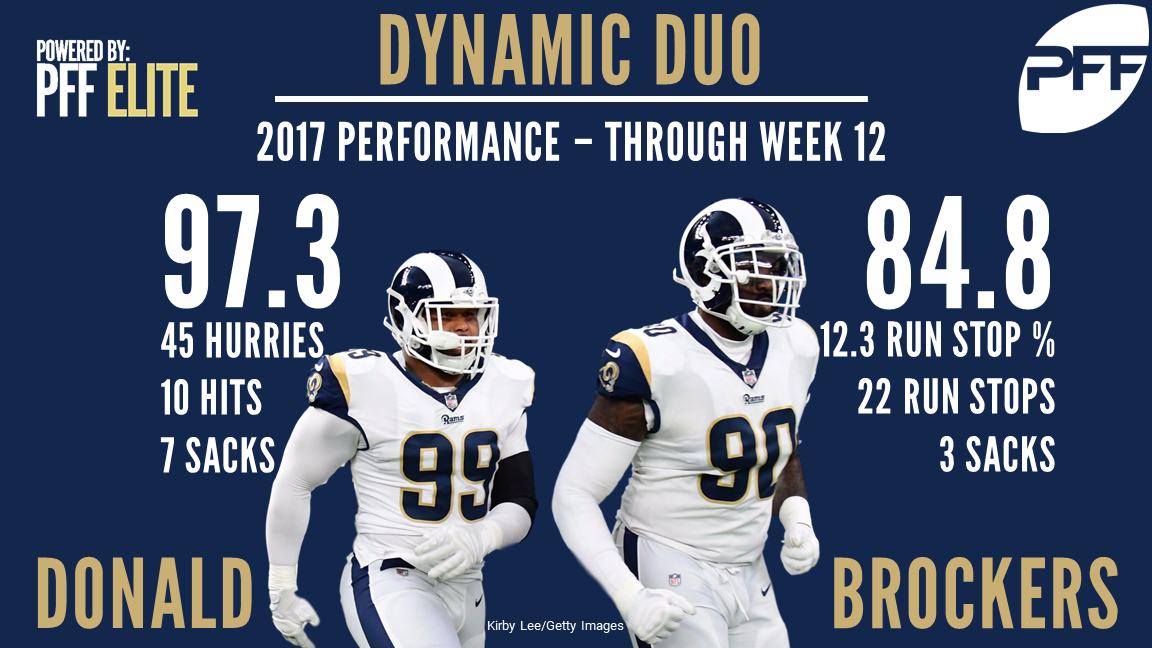 Donald has been the premier interior defender for quite some time now; however, this season is shaping up to be his best yet. His 97.3 overall grade ranks first among interior defenders and second across any position this year. Donald leads all interior defenders in pass-rush productivity for the third consecutive season, this year with a mark of 14.9. He has already produced 62 total pressures, the most among all defenders. While Donald is no slouch against the run, his partner in crime Brockers has been excellent in run defense and is a perfect compliment to Donald's pass-rush prowess.
Brockers' run defense grade of 89.8 ranks seventh among interior defenders while his run-stop percentage of 12.3 percent ranks sixth. He has been disruptive against the run all year, racking up 22 runs stops on 179 run defense snaps.
Kamara's historic rookie season has been well documented, as he has made a strong case for rookie of the year status. Kamara's 87.7 overall grade ranks third among running backs, and he ranks first among running backs in elusive rating at 122.9. He has been most impressive as a receiver, as his 91.4 receiving grade ranks second among running backs as does his 2.60 yards per route run. This season, the Saints have transformed their offense into the league's most effective rushing attack with Kamara and his backfield mate, Ingram, who has been very effective in his own right. While Ingram doesn't grade at the near-elite level of Kamara, his strong running style is a perfect complement to Kamara's game.
Ingram's rush grade of 79.2 lands him in the top-15 among running backs and like Kamara, he has been fantastic generating yards beyond his blockers. His 3.20 yards after contact per carry ranks fifth among running backs. As a duo, Kamara and Ingram have put up 20 carries of 15-plus yards or more, the most among all running back tandems.
Honorable Mentions:
Minnesota Vikings wide receivers Adam Thielen (86.9), Stefon Diggs (83.3)
Atlanta Falcons wide receivers Julio Jones (93.3), Mohamed Sanu (83.5)
Pittsburgh Steelers interior defenders Cameron Heyward (89.2), Stephon Tuitt (88.4)
Dallas Cowboys center Travis Fredrick (87.3), guard Zach Martin (88.0