Beyond providing data for all 32 NFL teams, PFF also supports network broadcasters with game-preview packets that are used to enhance the in-game experience for fans and viewers. This Packers-Rams preview features the same information our broadcast partners use for team research and in-game production.


Rodgers the master of third down
Aaron Rodgers gets it done when it counts. He leads the league in virtually every metric on third downs, including adjusted completion percentage, passer rating and yards per attempt. Rodgers has an overall grade of 90.2 this season, which is tied for sixth among quarterbacks.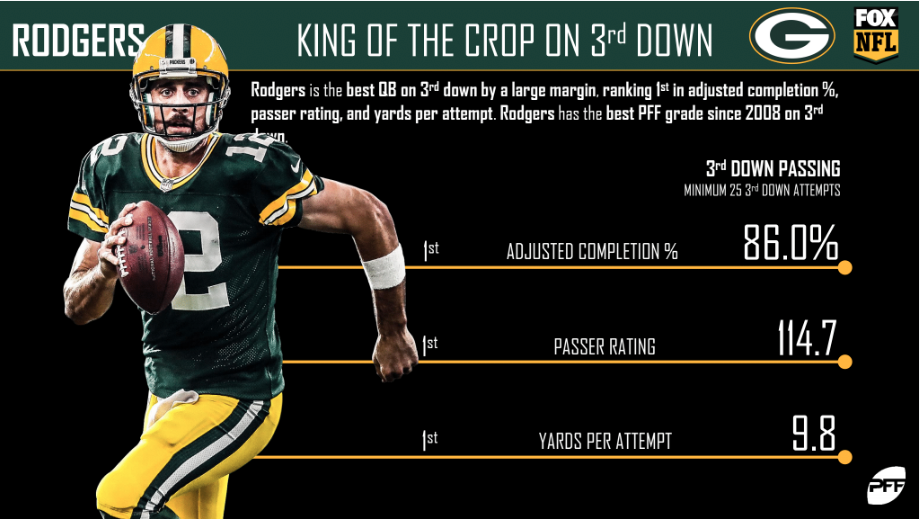 The offensive line doing their job
Aaron Rodgers is scary as is, but when you also give him one of the best pass-blocking offensive lines in the league, it just makes Rodgers and the Packers that much scarier. Green Bay's offensive line ranks first in pass-blocking grade (91.2); as a unit, they have allowed only 59 pressures on 296 pass-blocking snaps.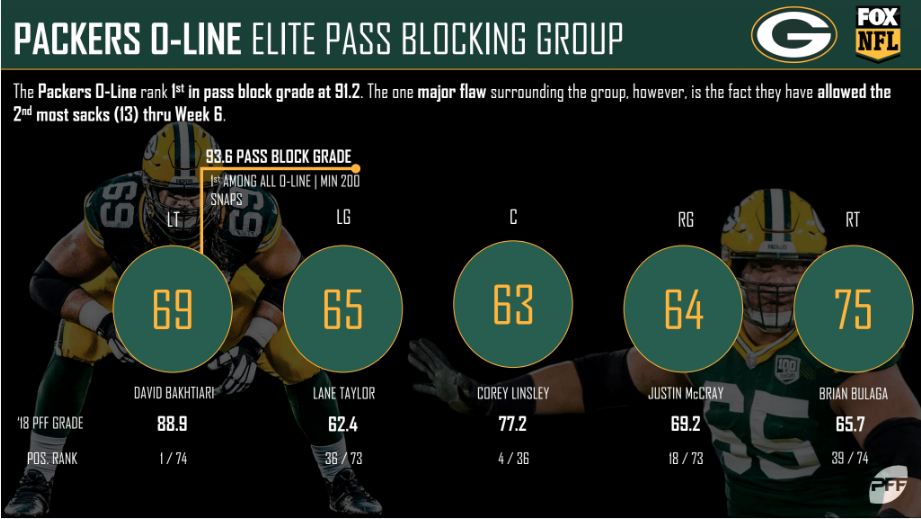 Packers' pass-rush improvement
The Packers' pass-rush is generating pressure on 38.4% of passing snaps this season, ranking third in the NFL. Much of that is due to Kenny Clark and Mike Daniels generating pressure from the interior. Both Clark and Daniels rank in the top 10 in pass-rush grade among interior defenders this season.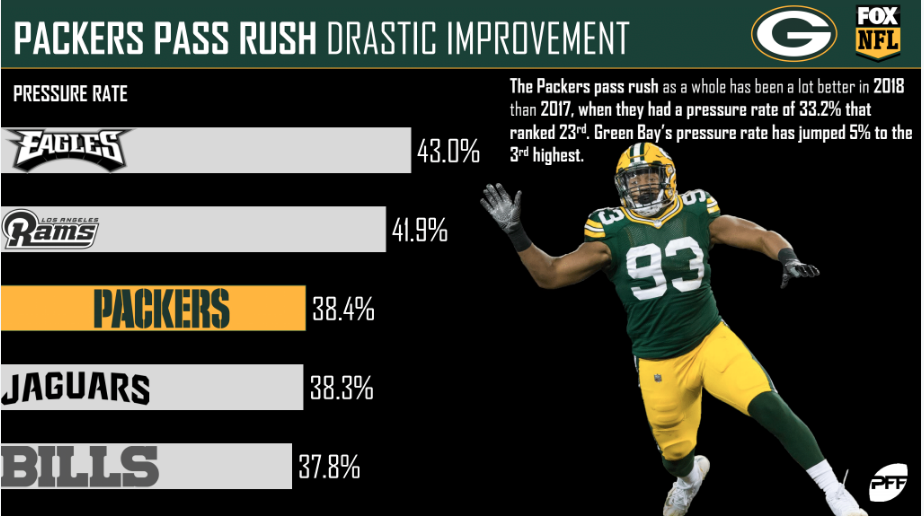 Packers going man-to-man
Green Bay has used man coverage on 46.5% of plays this season, which is the second-highest rate in the NFL. When playing man, the Packers have allowed a lowly passer rating of 84.7. The opposing quarterback this week, Jared Goff, has the second-best passer rating against man coverage this season (117.5). Something will have to give when these two duke it out, man-to-man.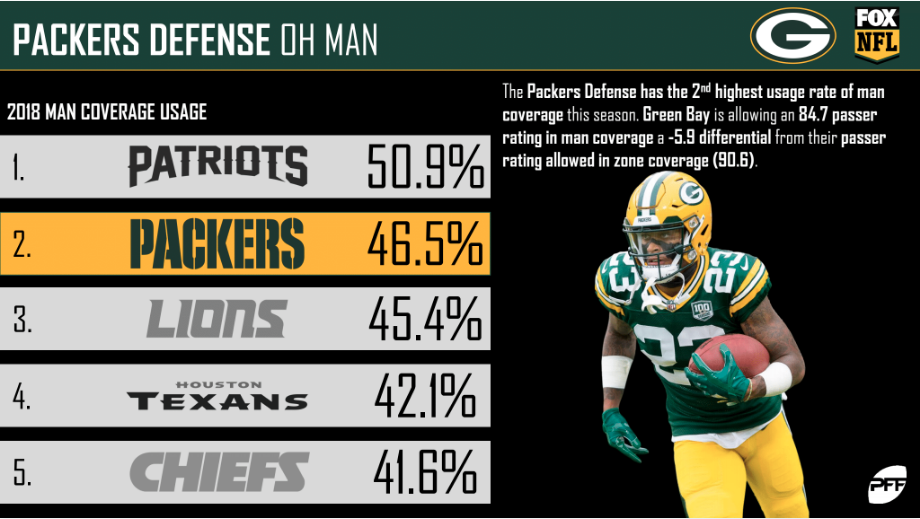 Goff is money over the middle
Jared Goff is in the midst of a breakout season, ranking third among quarterbacks with an overall grade of 90.8. Most of the damage Goff has dished out has been right down the middle of the field. He ranks third in passer rating and second in yards per attempt when passing down the middle.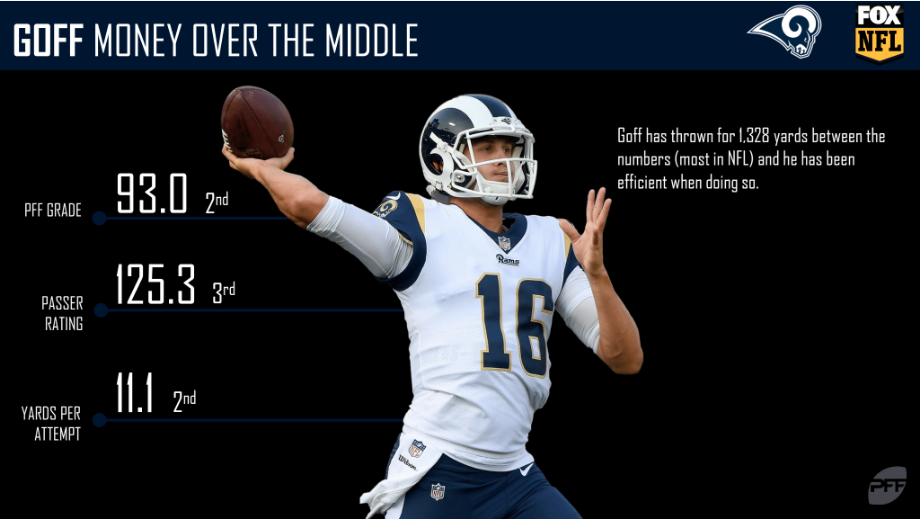 Gurley's red zone running
Todd Gurley is having an MVP type of year, and one of the reasons is because of his work in the red zone. From inside the five-yard line, Gurley has converted 7 of his 12 carries into touchdowns. Once Gurley gets close, he can't be denied.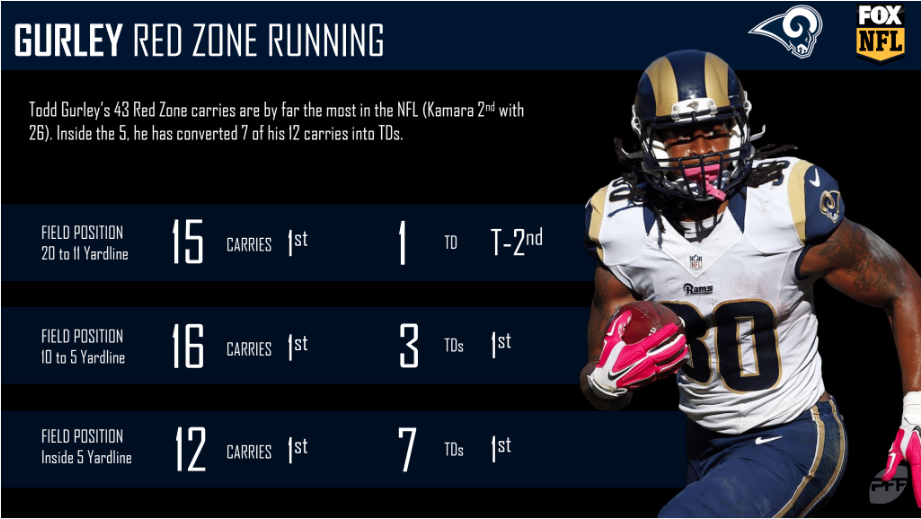 Donald wrecking the game
Aaron Donald is arguably the most dominant player in football. Before the halfway point of the season, Donald already has two games in which he registered 12 or more pressures in a single game. If there was ever a guy who was so good that he can win games by himself, it's Aaron Donald.
Pressure without the blitz
The Rams' pass-rush hasn't needed much help from blitzes, as they rank second in pressure percentage without blitzing (39.7%). Fortunately for Los Angeles, the ability to generate a pass-rush and still have extra coverage defenders has long been a recipe for defeating elite quarterbacks like Aaron Rodgers.
Key matchup