Week 7's slate of games came and went, with plenty of standout offensive performances to feature. We saw yet another Browns game head into overtime, a hail mary that fell just inches short of the goal line, and several other strong performances that highlighted six contests that were decided by one score or less.
[Editor's note: Our signature stats, like our grades, are subject to change upon review. These statistics will become final once the review process is complete, and will be available to all PFF ELITE subscribers]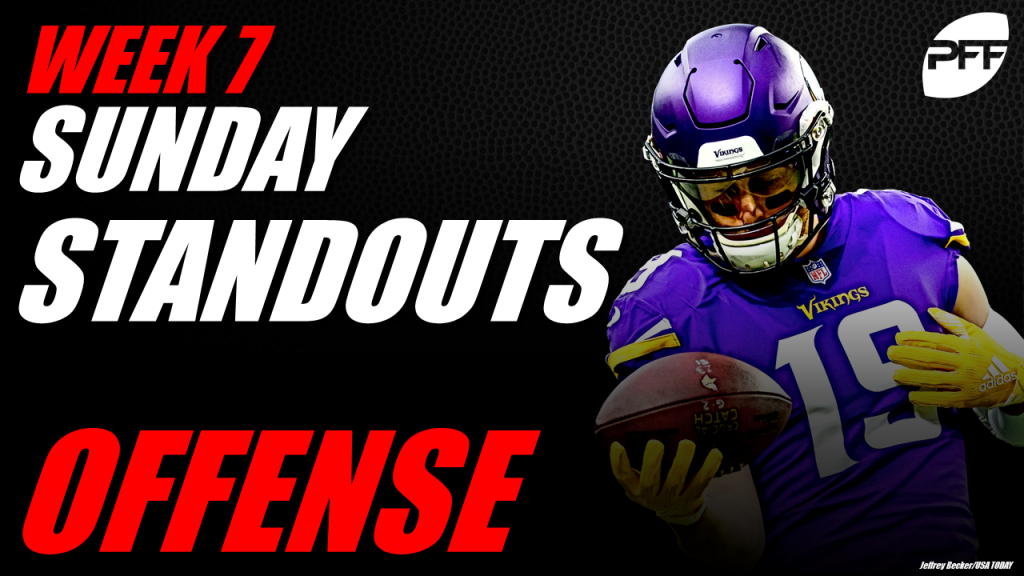 Key signature stat: Averaged 5.23 yards after contact per attempt
Over the last four weeks, Lewis has out snapped running mate Derrick Henry 159 to 85 on offense, and the reason why was on full display in London. Lewis was effective as a runner and a receiver against the Chargers defense with 91 yards rushing and 64 yards receiving on the day. He was tough to tackle in the run game, forcing eight missed tackles rushing to complement his 5.23 yards after contact per rush.
Key signature stat: Generated a WR rating of 145.8
Mr. Thielen has made this article his home this season, but he has given us no reason to kick him out. Another week yielded another 100-yard receiving performance for the talented Vikings' wideout. Thielen was targeted 10 times, catching all nine of his catchable targets for 110 yards and a touchdown. His 88 targets on the season are first in the NFL by 12 over the second-place Zach Ertz. With how Thielen is producing, Kirk Cousins would be wise to keep looking his way.
Key signature stat: Averaged 4.06 yards per route run
Speaking of Ertz, the Eagles' tight end continued his string of impressive performances against the Carolina Panthers on Sunday. Ertz caught all nine of his catchable targets on the game for 138 yards. He picked up receptions when lined up as an in-line tight end, in the slot, and out wide. That kind of versatility makes Ertz a mismatch weapon, and it shows in his slot production. No tight end has more slot receptions on the season than Ertz's 32.
Key signature stat: Averaged 4.89 yards after contact per attempt
It's been a long time since the Lions had a competent rushing attack, but their rookie running back may be giving them just that. Johnson ran for 158 yards on only 19 carries, and explosive runs were what fueled his day. 113 of those 158 rushing yards came on three rushes of 15 or more yards. No other running back had over 60 yards on 15-plus yard carries in Week 7.
Key signature stat: Posted a passer rating of 158.3 on deep passes
Rivers continued his excellent season in London, turning in an impressive performance with limited opportunities. On just 26 attempts, Rivers threw for 306 yards and two touchdowns. Once again, it was the deep ball that was Rivers' biggest weapon as he went 3-for-3 with 156 yards and two touchdowns on passes that traveled 20 or more yards in the air. Over the last three weeks, Rivers has a perfect 158.3 passer rating on such deep attempts.
Key signature stat: Didn't allow a single pressure on 31 pass-blocking snaps
Saints quarterback Drew Brees was only under pressure on 19.4 percent of his dropbacks against the Ravens, and his left tackle Armstead had a lot to do with that. Armstead did not allow a single pressure on 31 pass-blocking snaps against the Ravens stout defense. To go along with that, he helped pave the way for Alvin Kamara, Mark Ingram, and Taysom Hill in the run game with a strong run-blocking performance.
Key signature stat: Posted a passer rating of 123.0 from a clean pocket
The breakout campaign continued for Mahomes under the Sunday Night Football lights. Mahomes threw for 358 yards and four touchdowns, but those numbers could have been even more gaudy. He led all quarterbacks in dropped air yards with 77 which included a sure-fire touchdown to Tyreek Hill that was dropped. Mahomes was sharpest in the quick passing game, going 17-for-18 with a touchdown on passes that came out in 2.5 seconds or less after the snap.
Key signature stat: Forced six missed tackles on just 15 attempts
Hunt reminded everyone that he is an integral part of the Chiefs' offensive attack with a second straight outstanding performance in the Sunday finale. After receiving just eight targets and turning those into 66 receiving yards over the first five weeks, Hunt has now amassed 11 targets and 160 receiving yards over the last two weeks. Per usual, he was a hard man to bring down; only Dion Lewis forced more missed tackles than Kareem Hunt this week.
Key signature stat: Averaged 3.62 yards per route run
Joe Flacco had a perfect passer rating of 158.3 when targeting Brown on Sunday. Brown caught all 7 of his targets for 134 yards and a touchdown. The shocking part of his performance, though, was that Brown turned in that production without the use of his biggest threat – the deep ball. Brown was not targeted once on a pass that was 20 or more yards downfield. Despite that, he still leads the NFL in such targets with 21.
Key signature stat: Posted an adjusted completion percentage of 95.0%
For a quarterback that is accustomed to being relied on for all the offensive production of his team, Stafford had a nice reprieve from that on Sunday with the continued emergence of Kerryon Johnson. That is not to say that Stafford did not have an excellent game himself. He was sharp on limited attempts, going 18-for-22 on the day with one of his incompletions coming on a drop and two more on batted passes. Taking those into account, Stafford had an adjusted completion percentage of 95.0%.