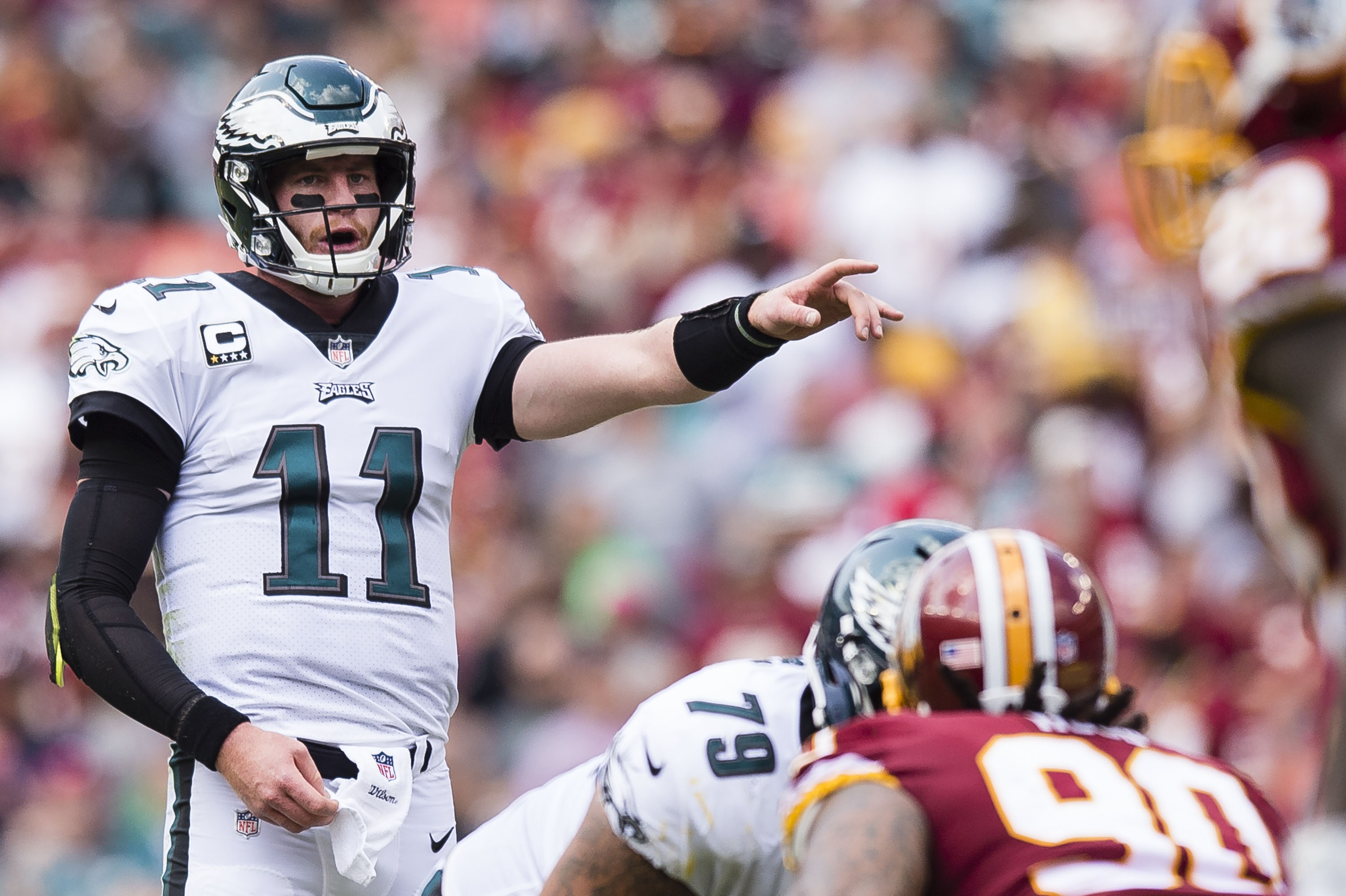 LANDOVER, MD - SEPTEMBER 10: Quarterback Carson Wentz #11 of the Philadelphia Eagles in action in the second half against the Washington Redskins at FedExField on September 10, 2017 in Landover, Maryland. (Photo by Patrick McDermott/Getty Images)
What an interesting NFL week.  Only three games were decided by seven points or fewer, the least of any season-opening week since 1973. This didn't keep us from having some success, going 3-1-1 in our featured picks, along with 8-4 against the spread overall.
Each week provides an exciting slate of games, along with the knowledge generated from additional 15 games of PFF data. For the second consecutive weekend we will back the Falcons against the spread and pick the Sunday Night Football game as one of our featured picks. Each of the five feature pick comes with a point/counterpoint analysis, with a deeper dive into our "Lock of the Week" on the PFF Preview Podcast. For the remainder of our spread picks, check out PFF Elite, and for our thoughts on Thursday Night Football's spread, follow us at @PFF_George and @PFF_EricEager on Twitter each week.
Pick: Chiefs 24 – 17 (the Chiefs cover)
Point (Eric Eager): Chiefs QB Alex Smith (83.7) was fantastic a week ago against a Patriots secondary far better than the Ronald Darby-less group the Eagles will use this week. If the Chiefs offensive line (third in pass blocking efficiency in 2016) can hold up against Fletcher Cox and Brandon Graham (who combined for three sacks and 11 total pressures in Week 1), look for Smith to find Tyreek Hill (80.0), Kareem Hunt (85.9) and Travis Kelce (82.4) enough times for the Chiefs to win by a touchdown or more in Arrowhead.
Counterpoint (George Chahrouri): List of quarterbacks I would rather have than Carson Wentz: – . In all seriousness, the Eagles passing game seems to be improving; with Nelson Agholor in Week 1 earning a the sixth-best game grade for a WR (82.7). While the Chiefs now rank third in our PFFELO rankings, I refuse to buy the narrative that Alex Smith has suddenly turned into Joe Montana after he threw deep a grand total of four times against the Patriots; one on a busted coverage and another when Kareem Hunt made Cassius Marsh look more like a guy leaving a rave in Ibiza than a linebacker playing in the NFL. Let us not forget that Smith has the shortest average depth of target in PFF history (since 2006) at 7.5 yards.
Pick: Chargers 26-23 (the over hits)
Point (GC): Little known fact: Kristin Cavelleri fell in love with Smokin' Jay Cutler when he was under the tutelage of Adam Gase. And she had good reason to do so, Cutler made a "Turnover-Worthy Play" on only 3.4 percent of his dropbacks that season, his best mark of any season with at least 200 dropbacks. Philip Rivers and crew (not his children… his teammates) should have a much easier time scoring points this week after putting up 21 against the Broncos top-ranked coverage unit from 2016. A better question might be whether the point total eclipses the total number of "fans" in attendance. Welcome to Los Angeles.
Counterpoint (EE): Teams got off to a slow start a week ago, with the average total throughout the league being 40.4 points per game. The Dolphins do not have the benefit of playing Week 1, and may experience a similar slow start to their season offensively. Adding a new quarterback to the mix may or not help either, and it'll be interesting to see if Jay Ajayi can maintain his 76.0 elusive rating (third among running backs) to compensate for mediocre-to-poor run blocking up front.
Pick: Rams 24-22 (Washington covers)
Point (EE): These teams could not have had more opposite outcomes Week 1, with Washington losing a close one at home to the Eagles and the Rams blowing out the Colts. Jared Goff was one of our highest-graded quarterbacks during the first week, but did so against a Colts defense that was bad to begin with, and was without their best player (Vontae Davis). Yards will be harder to come by against Josh Norman (79.2) and a Washington defense that added Zach Brown (83.0 grade last season) and D.J. Swearinger (87.1) this past offseason. I'll need to see the Rams beat a team like Washington to believe they're worthy of being favored by more than a point or two, even at home.
Counterpoint (GC): Kirk Cousins had a passer rating of 48.5 while taking four sacks when under pressure against the Eagles in Week 1. [insert "YOU LIKE THAT?!" joke here]. The Rams also welcome back interior force, Aaron Donald, who earned the top PFF grade regardless of position in each of the last two seasons (99.3 in 2015 and 98.5 in 2016). Terrelle Pryor was underwhelming in his Washington debut catching just six of his 11 targets including a drop en route to a 45.4 overall grade. While I'm hopeful the Redskins offense turns it around, recent history says that good changes aren't coming from the district anytime soon.
Pick: Falcons 28 – 24 (the Falcons cover)
Point (GC): 156.3. That's the passer rating Matt Ryan had on the 12 throws he sent in Julio Jones' direction against the Packers in last season's NFC championship. Our PFFELO rankings don't just look at Week 1, so the Falcons rising up to the No. 1 spot makes some sense considering how potent their offense was last season. Meanwhile, the Packer defense might be a bit overrated after obliterating the non-existent Seahawk pass protection. The Falcons proved they can block Mike Daniels (87.4 2016 grade) and Nick Perry (81.6) long enough to take advantage of the Packer secondary that is now starting Davon House (40.5 grade in 2016) who played only 53 snaps after Week 4 despite not being injured.
Counterpoint (EE): Last week, the Falcons looked a bit sluggish against the Bears, needing a fluky 88-yard touchdown pass to a tight end to eclipse 20 points against a Bears defense that many believed to be a middle-of-the-pack bunch at best. Additionally, after watching the struggling Chris Chester (who allowed seven sacks, 13 hits and 28 hurries a season ago) retire, the Falcons saw his replacement, Wes Schweitzer, struggle to a 32.3 grade in the opener against the likes of Akiem Hicks. The Packers have a player arguably better than Hicks in Mike Daniels (90.9), and will need to neutralize him to see a repeat of the 2016 NFC Championship game in their new stadium.
Pick: Giants 23 – 20 (the under hits)
Point (EE): Our first under pick of the year hinges on the strong defense of the Giants holding their own against a Lions offense that showed well in their first outing of season against the Cardinals. Despite losing their opener, the Giants held the Cowboys to 19 points by producing the ninth-best pass coverage grade among all defenses week 1. Landon Collins (91.4) was especially impressive, generating four stops and allowing just three yards into his coverage. If Darius Slay (who allowed only nine yards into his coverage week 1) can slow Odell Beckham in his 2017 debut, look for a low-scoring game resembling their Week 15 matchup of 2016 (if Beckham can even go in this one).
Counterpoint (GC): The night is darkest before the dawn. Like the phoenix, Eli Manning will rise from the ashes. After throwing only one pass more than 20 yards downfield against the Cowboys (and no it was not caught), Eli might regain the services of the one player in the NFL capable of making something out of his five-yard heaves. Since he entered the league, OBJ has dominated the "slant" route, ranking first in passer rating when targeted, YAC/reception, and TDs on that route. If he can manage to stay on the field the Giants offense might score a touchdown, or even two!
For the remaining picks against the spread and much, much more, join PFF Elite today! The additional spread are available in our Elite Facebook group.